Customer stories
How Copper "Turned Selling into a Team Sport" for RHR
How Copper "Turned Selling into a Team Sport" for RHR
Meet RHR International: a global firm of management psychologists and consultants who help develop senior management leadership of Global 1000 companies. Its mission? To shape the leaders who shape the world.
The team at RHR is managing relationships with leaders at some of the largest companies in the world, and it's no surprise that they sought out a CRM to help them do the job. Finding a solution was especially difficult because RHR has a very distributed team; though they have brick-and-mortar offices, most of the consultants are on the road and working remotely. They needed something that was both accessible and secure, and that could store the crucial sales data and financial insights that leadership relies on. And of course, it had to be a system that people would actually use.
"Our previous solution had a very low adoption rate," says Ariell Heacox, RHR's Project Coordinator. "It didn't give us enough insight into our sales, delivery, and ultimately the numbers we needed for financial reporting.
So, they turned to a CRM that could cover all of these bases.
Side-note: even though the biggest challenge for most teams using CRM is low adoption, this has not been the case for RHR: since implementing Copper, they've gone from 90 to 108 users.
Is there a Google-friendly CRM out there?
Because the team was already familiar with Gmail, Google Calendar, and other G Suite apps, it was easy to decide on a CRM.
"Copper was a natural choice for us, because we had already moved to G Suite and were reaping considerable benefits from it," says Sarah Gilbert, Director of Operations and IT. And since Copper integrates so seamlessly with G Suite, RHR's team needed very little training. "It was easy to get our staff up and running," Sarah recalls.
"Copper not only made it easy to centralize all our communication, but also gave us more transparency and visibility into our business. Copper really turned selling into a team sport."
For the first time, they have a CRM that sits right in their inbox and fits in with their existing workflows, letting everyone organize contacts, meetings, and customer information all from one place—basically, everything that's required to help someone focus on maintaining customer relationships. "Copper also makes it easier for us to remember the proposals we've sent out months ago and have yet to follow up on, which should lead to increased sales," adds Sarah.
Better collaboration, improved sales.
With Copper, RHR has established a more targeted approach to sales. "Even if people are on the road, at the airport, or on site with a client, they can still access everything they need to be effective because Copper is so remote-friendly," says Ariell.
When employees share contacts with each other in Copper, the CRM shows them if someone else already has a relationship with those individuals. This helps everyone make a more efficient and concerted effort to work together to close deals.
"Collaboration has really improved. Now, people don't step on each other's toes when they're selling. It's a big business boon, because if you have two people selling to the same client, it can look unprofessional. So we've cut down on those instances a lot, which is great."
Just how well is Copper working for RHR? In just nine months, stored contacts have increased from about 12,800 to almost 18,000. That's a 40% increase in the number of relationships they're tracking and managing seamlessly with a CRM! This has not only boosted their marketing efforts, but also helped greatly with consultant collaboration.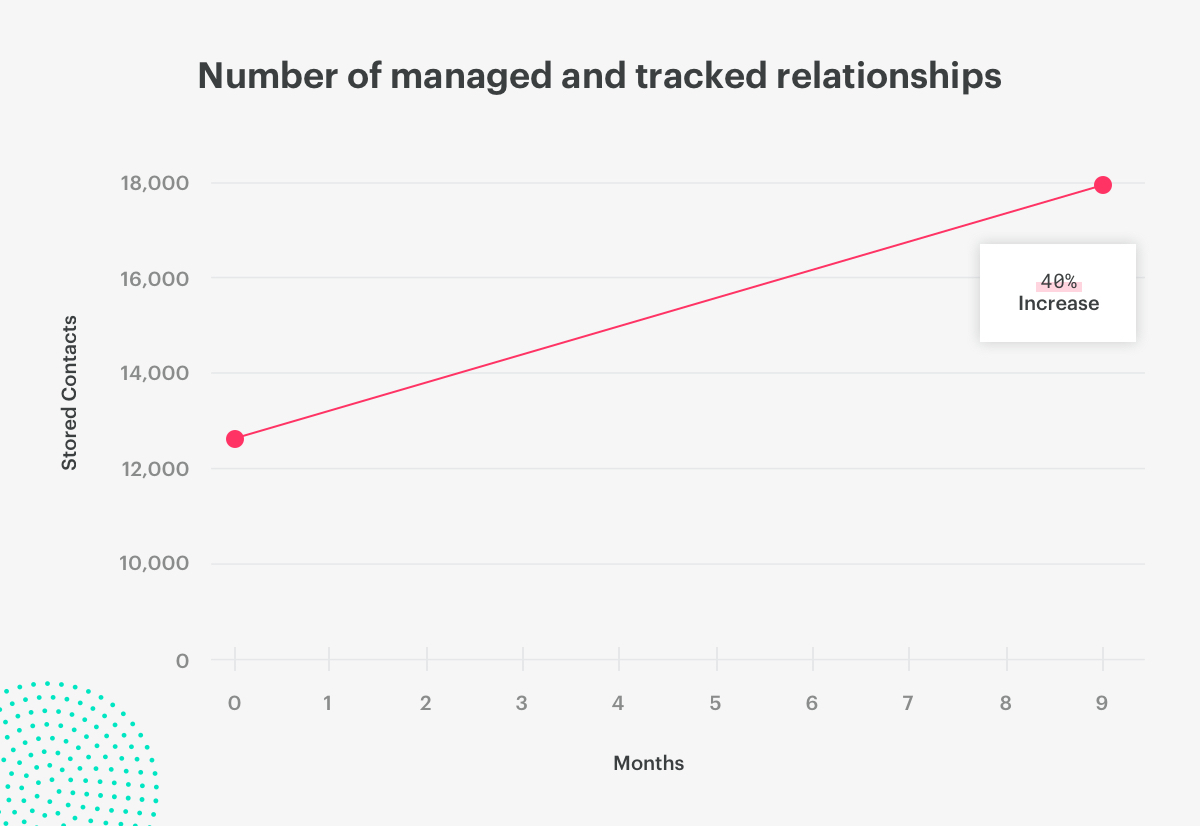 And the kicker: RHR's average deal size increased by 23% in 2018 compared to 2017. Sounds like the collaboration and insights are resulting in exactly what every business wants to see: more revenue.
And while improved results are great, you still need a way to track this awesome performance. "We now have a more accurate picture of our pipeline to better gauge sales projections," says Ariell.
No resources to build your own security features? Your CRM can handle that.
In addition to all the other problems RHR ran into with their previous CRM, there was also a dependence on third-party apps that could (and would) often break—in addition to the lack of security. "Every time RHR assesses someone, we use a lot of identifiable data including psychometric testing," says Ariell. "We have to make sure that we're in full compliance." Leaving files vulnerable to malicious attacks and unintentional breaches just was not an option.
Sarah agrees. "We handle sensitive materials from CEOs and top executives of Fortune 100, Fortune 500, and Fortune 1000 firms. Because of that, G Suite's built-in security features are extremely important to us—they're more powerful than ones we could have developed ourselves."
A CRM must-have: integrations—especially if you're #TeamGoogle.
Another way that Copper is saving RHR money is by helping the company get more out of apps that are core to its business. Sarah says that the team is saving 60-80% on system costs by using G Suite—and since they've started using Copper, the number of software systems being used has actually decreased from 27 to 22 because they've been able to consolidate their work in fewer pieces of software.
"I love that we can just connect files from Google Drive into an opportunity in Copper," says Ariell. "When someone is looking for something specific and need it fast, they can just go in there and find that file. That's been super helpful."
At the center of these integrations is G Suite, which includes CRM time-savers like automated recurring tasks, automatically organized email threads, hands-free calendar invites (Copper allows your contacts to book your calendar directly), and more.
"The more organized you are in client meetings and the more insights you can offer, the better you can grow that relationship," says Ariell. And you know what? We can't disagree.