EBOOK
The sales recruiting handbook
Learn how to recruit an amazing sales team.
Hiring a sales team isn't easy.
There are many different (and constantly changing) roles, and each one has unique responsibilities.
In other words, if you want great salespeople, you can't just hire a few fast-talkers and call it a day.

So how do you find these people—and recruit them to your team?
We partnered with CloserIQ, who are experts in sales jobs, to create a guide that'll make sales hiring easier. Learn about:

How the structure of sales teams has evolved
How to set compensation that's fair (for both the candidate and the company)
Where to find the best candidates
How to screen candidates
And more!
Ready to hire sales folks who will get the job done? Browse the guide now. 👉
EBOOK
The sales recruiting handbook
The sales recruiting handbook
Everything you need to know about hiring and recruiting, from where to find candidates to setting compensation and more.
Introduction
Hiring in a Modern Sales World
Hiring a sales team today is very different than in generations past. While "salespeople" is a term that has survived for decades, the different traits that you'd want to hire for have definitely changed.
According to Howard Stevens in Achieve Sales Excellence, over 50% of U.S. college graduates, regardless of their majors, are likely to work in sales. But of the 4,000+ colleges in this country, fewer than 100 have sales programs, or even sales courses.
And even if companies are lucky enough to find qualified grads, increased data and analytical tasks have lengthened productivity ramp-up times. Each hire is now a bigger sunk cost. Combined with the notoriously high turnover in sales teams, this means that bad hiring decisions can cost you.
Essentially, hiring is more challenging than ever. Hiring well—in sales? Even harder. And the stakes are high.
This guide will cover every crucial step of the sales hiring process, from understanding the role you're hiring for to interviewing candidates effectively. Let's dig in.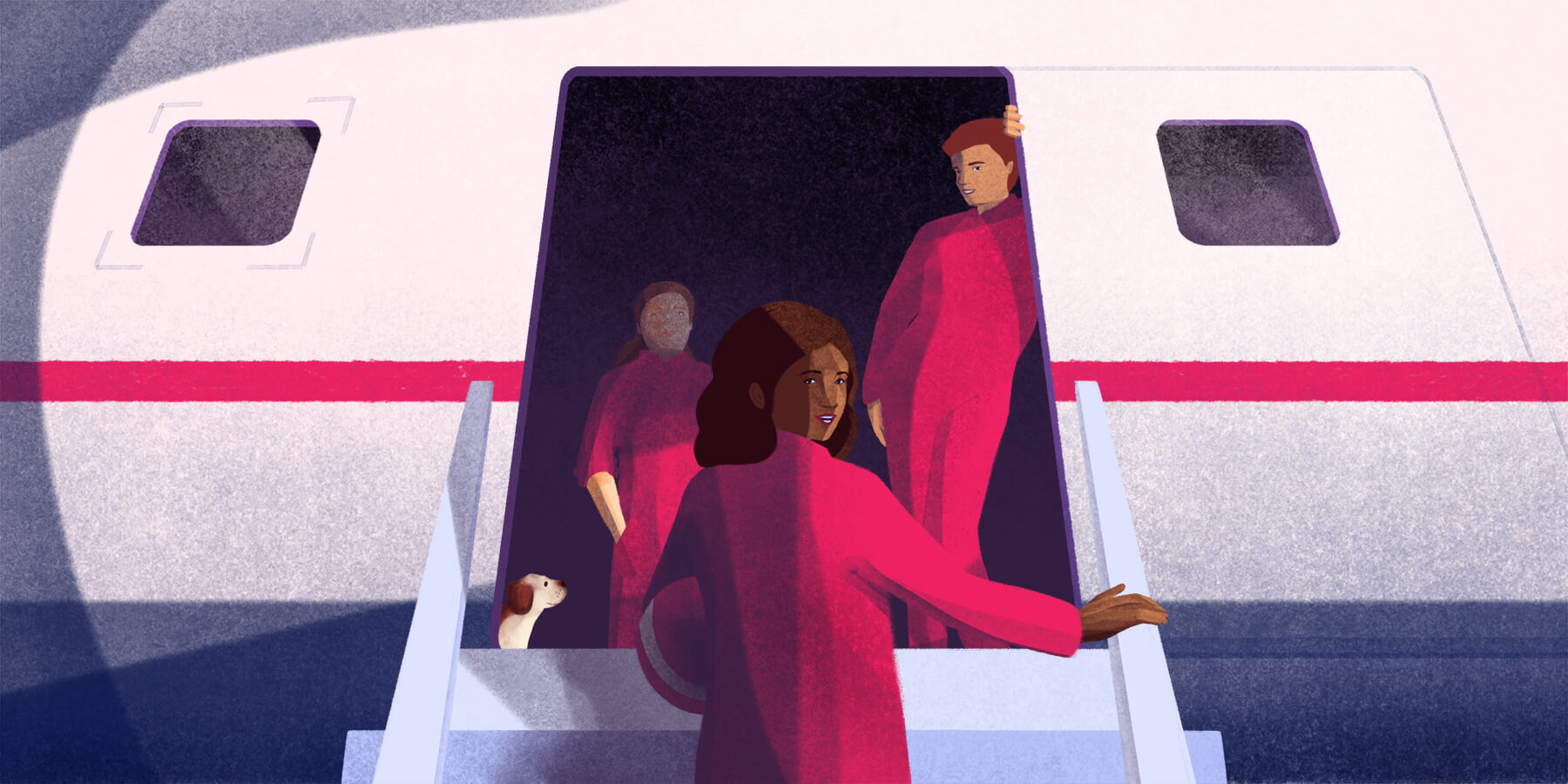 Chapter 01
What Does Today's Sales Team Look Like?
Today's sales teams are no longer made up of just "salespeople." There are SDRs, BDRs, ADRs, AEs, territory managers, and more.
The most prized skills in sales are evolving too. Being well-versed in different sales methodologies is a foundational skill that not every junior salesperson possesses—yet many might be familiar with the latest sales tools and social selling practices. On the other hand, experienced salespeople may ignore new sales technology to their own detriment, often missing out on legitimate time-saving features like automated data entry and task assignments.
In any case, before deciding on who to hire, it's probably helpful to look at your sales team's structure. Every team is different, from the size of the team to how it is divided into subsections.
Here's an example of how a sales team can be organized along the customer journey: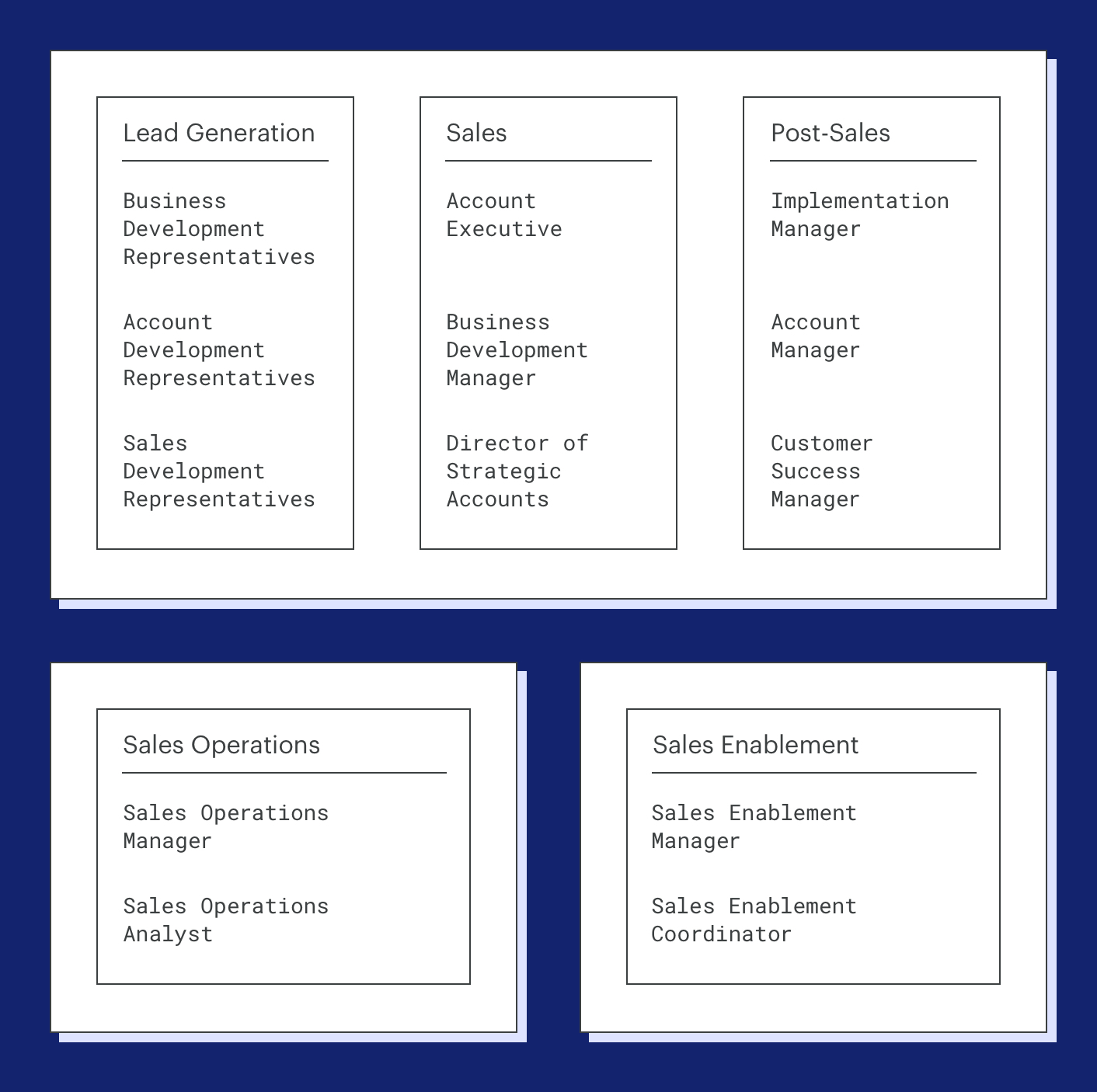 Lead gen
Example roles: Business Development Representatives (BDRs), Sales Development Representatives (SDRs), Account Development Representatives (ADRs)
Goal: Create qualified meetings for AEs to close
Responsibilities:
Research and engage cold prospects
Work with the marketing team to qualify leads and assess fit
Book meetings and hand off qualified prospects to AEs
Sales
Example roles: Account Executive (AE), Business Development Manager, Director of Strategic Accounts
Goal: Close deals
Responsibilities:
Run the whole sales process (from discovery to demos to negotiating pricing)
Prospect and create their own opportunities if needed
Manage and nurture their pipeline of leads to close
Post-sales
Example roles: Implementation Manager, Account Manager, Customer Success Manager
Goal: Nurture customer relationships and upsell / cross-sell
Responsibilities:
Onboarding and continuous product engagement
Troubleshooting and support
Increase net revenue by upselling, cross-selling, and preventing churn
Sales ops
Example roles: Sales Operations Manager, Sales Operations Analyst
Goal: Increase day-to-day sales productivity through tools, analytics, and strategy
Responsibilities:
Sales rep operations: territory planning, deal routing, account assignment, commissions
Optimizing compensation, forecasting, and reporting
Managing tools and systems like CRMs
Sales enablement
Example roles: Sales Enablement Manager, Sales Enablement Coordinator
Goal: Help sales teams close deals by strategizing, analyzing performance and improving efficiency throughout the sale process
Responsibilities:
Broader and more big-picture than those of Sales Ops—can include sales training, performance tracking, and quota management
Sales content planning, mapping, and analysis
Work with marketing (and other) teams to make sure everyone is aligned on strategy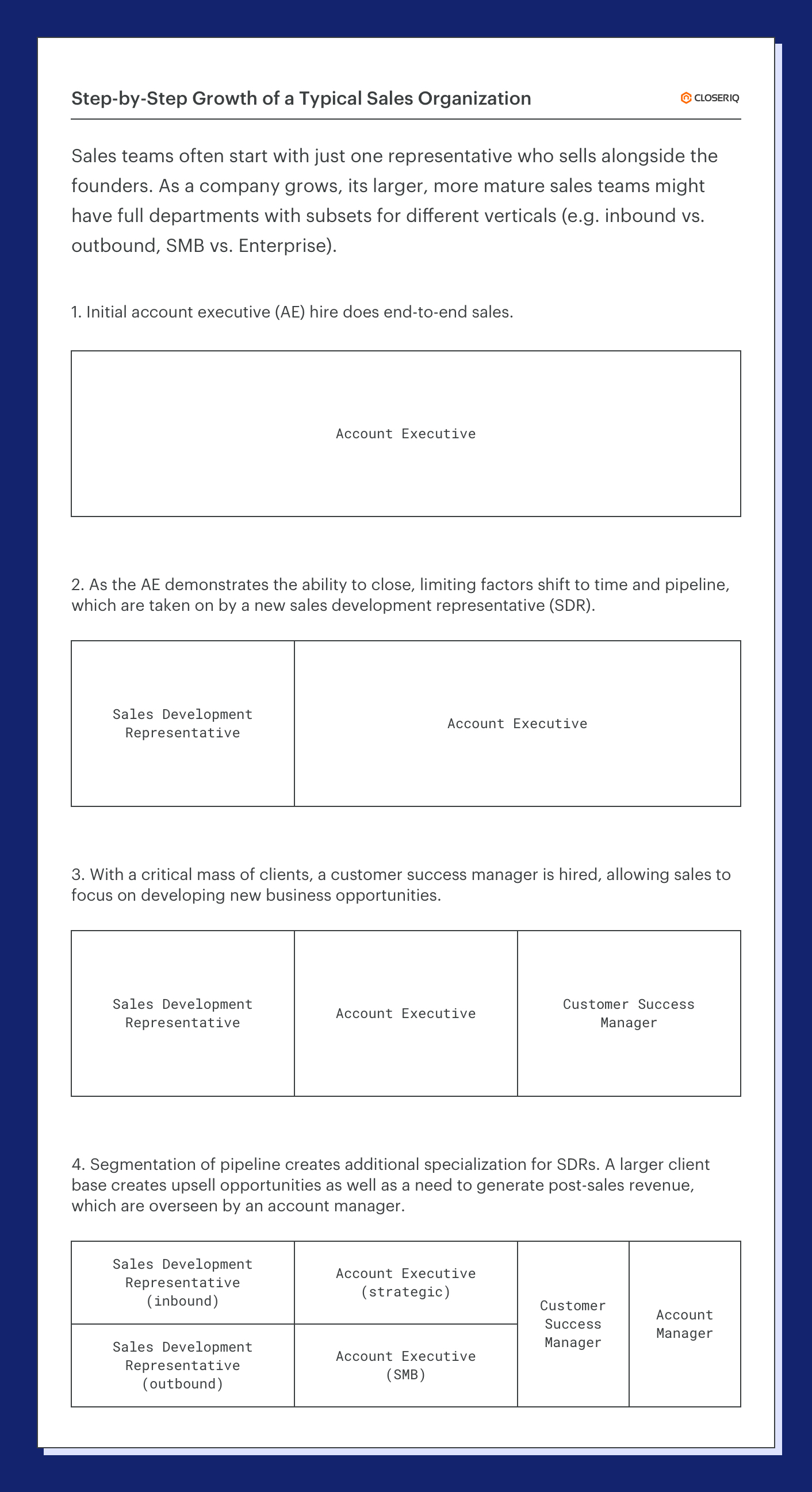 Build your Ideal Candidate Profile (ICP).
The hiring profile is one of the most important steps in hiring for any sales role. It's also where most mistakes are made—in fact, many companies miss this step completely.
In your hiring profile, it's very important to look at qualities beyond the usual education levels and titles in previous roles. For example:
What traits, both professional and personal, do they have?
What's their best-case-scenario potential? How achievable is it?
How important is it that your ideal hire can pick things up quickly without much direction?
How do you think this candidate would handle constructive criticism?
These are all possible questions to ask as you're building a hiring profile. Tailor yours to the type of team that you want to attract and lead.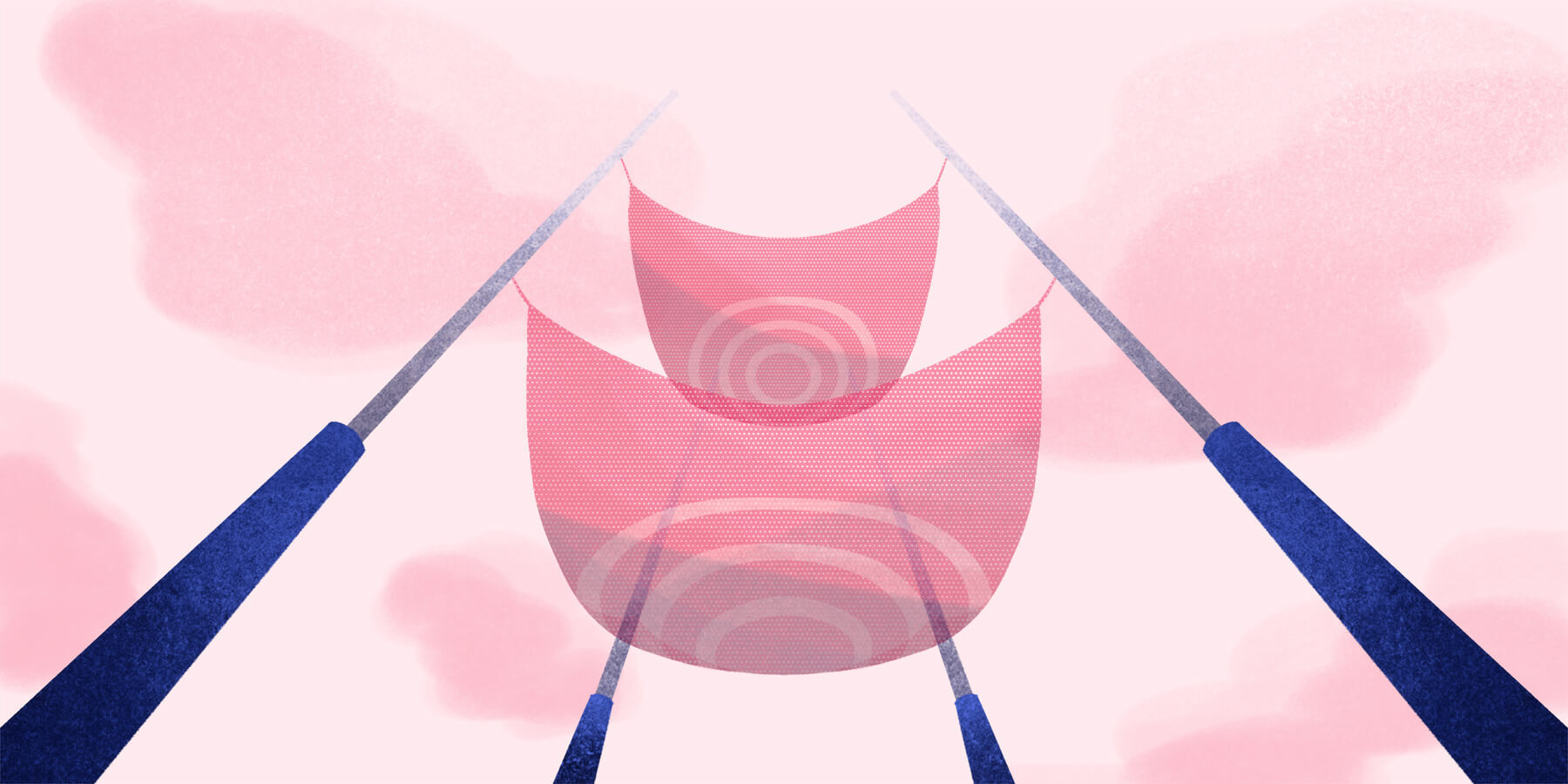 Chapter 02
The Mini-Guide to Setting Compensation
Every sales team designs its compensation plans differently—before we look at examples of compensation plans, here are the terms you should be aware of when hiring.
Base salary
The guaranteed minimum income a rep will make. Most companies offer a base salary + commission compensation structure.
Variable compensation
Commissions, aka. income based on performance. This can be calculated in a variety of ways depending on the type of sales cycle, the salesperson's influence on the sale, and more. If it's a super simple and short sales cycle where the salesperson's role is relatively minor, the variable compensation would reflect this (i.e. base salary would make up a higher percentage of the rep's earnings while the variable compensation portion would be smaller).
On-target earnings (OTE)
As the name suggests, OTE is a commission that's paid out if the company hits 100% of its targets—usually added on top of base salary.
Commission rate
The amount paid to a rep based on their closed revenue, usually expressed as a percentage.
Accelerator
An "overachievement commission," or an exponential superboost in a rep's commission rate that kicks in when they go beyond revenue goals. Accelerators are good motivators for reps to hit overperform and stretch goals.
Draw
A loan against future expected earnings/commissions. (Essentially, an advance.)
Recoverable: Rep has to pay it back in event of termination. The outstanding draw amount accumulates from month to month.
Non-recoverable: The rep doesn't have to pay it back if they're terminated. No accumulation—it's like an elevated salary for a defined period of time.
Here's an example of a compensation plan for an SDR from CloserIQ.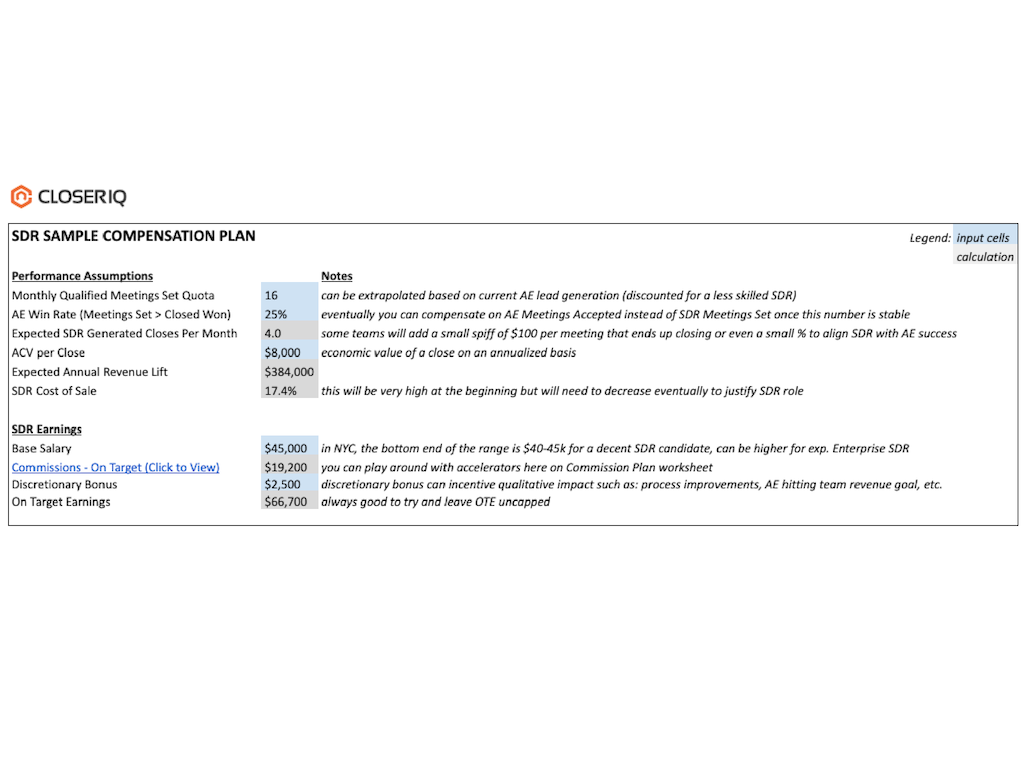 And here's an example of a compensation plan for an AE: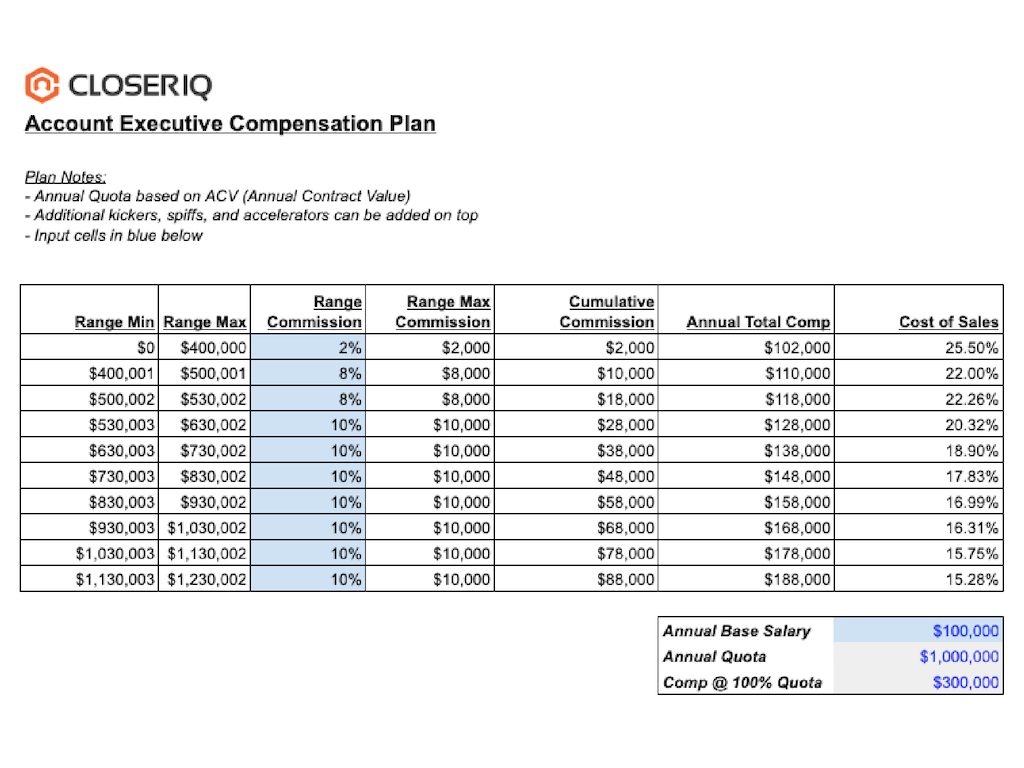 There are literally a million different types of sales compensation plans that you can create by combining different commission rates, ratios and types. But watch out—while you should design a plan that motivates both high- and low- performers, overly complicated compensation plans may have the opposite effect.
After all, if it's not clear to reps how they're being rewarded (even if it's great for them), how can this reward drive them to hit quota?
According to a study in The Harvard Business Review on the psychological effects of different types of commissions, "overachievement commissions were important for keeping the highest performers motivated and engaged after they'd hit their quotas. Quarterly bonuses were most important for the lower performers... more-frequent goals helped keep lower performers on track."
Pro-tip: Here are some questions to ask when setting compensation.
How big of an impact do your sales reps have on the sales process?
Can you afford the time and resources to set personalized compensation plans for each rep? Will that be too complex?
How does the team respond to different types of motivation? Can they be pushed to perform at a high level consistently with certain types of commission?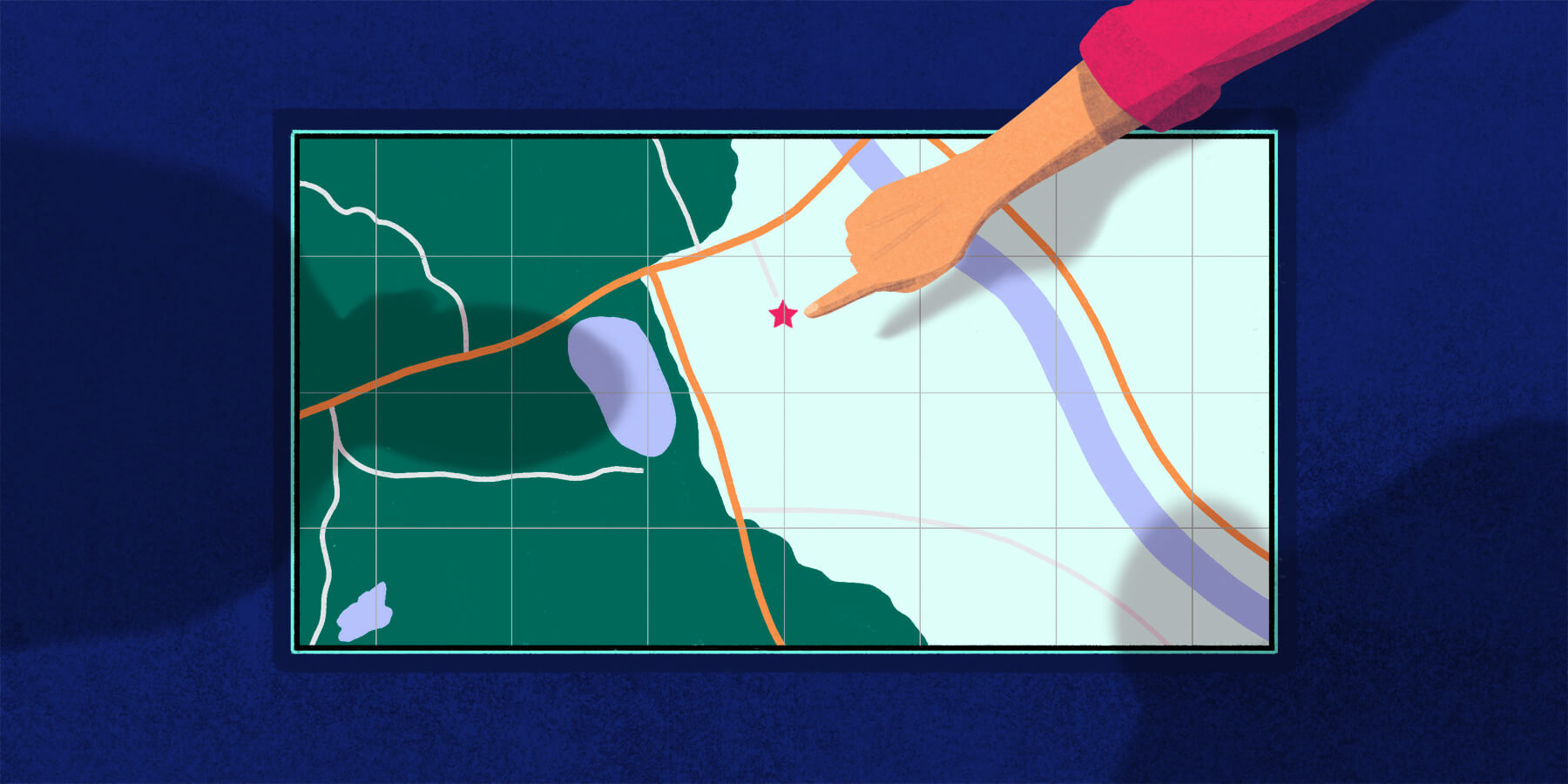 Chapter 03
Where Do I Find the Best Candidates?
When it comes to finding smart and qualified sales reps, there are two main ways to go about it: you can take on the search yourself, or you can go through an agency.
The DIY options:
Job boards
Put up your (well-written) postings on job boards. There are countless sales-specific job boards out there including Rainmakers, Salesjobs.com, and Sales Gravy. Don't forget about social media and other more general sites either—LinkedIn groups and Glassdoor are hot spots for jobseekers.
Direct reach-outs
Nothing beats an in-person touch (if you can afford it), so set up a happy hour and some booths at hiring events or university campus job fairs. Of course, this all helps if you have a strong employer brand. That means showing off the office space, parties, and team-building activities on social media channels so that interested applicants can easily see what a day in the life at your company looks like.
Referrals
Referrals are one of the most valuable recruitment tools you can take advantage of, especially if you already have a strong team and you believe that high-performers are more likely to hang out with other high-performers. One way to encourage your team to look through their networks for friends and past colleagues is to offer rewards like gift cards—or you could really gamify it and make it a referral competition. Way cheaper than shelling out thousands of dollars in referral fees.

The hands-off option:
If you want to use a talent agency or recruiters instead, that's an option too. It'll cost you anywhere from 20 to 30% of the annual salary of the role you're hiring for, so for some companies, this is a luxury.
Pros
Need someone right away and don't have time to go through the searching and vetting yourself? A recruiter or agency is your best friend—and the right one can be your valuable shortcut to getting high-performers onboard.
Cons
If you have specialist knowledge about the roles you're hiring, then you'd probably be able to vet candidates better than someone from the outside. This option is also more pricey, plus it's hard for you and the candidate to get a feel for cultural fit.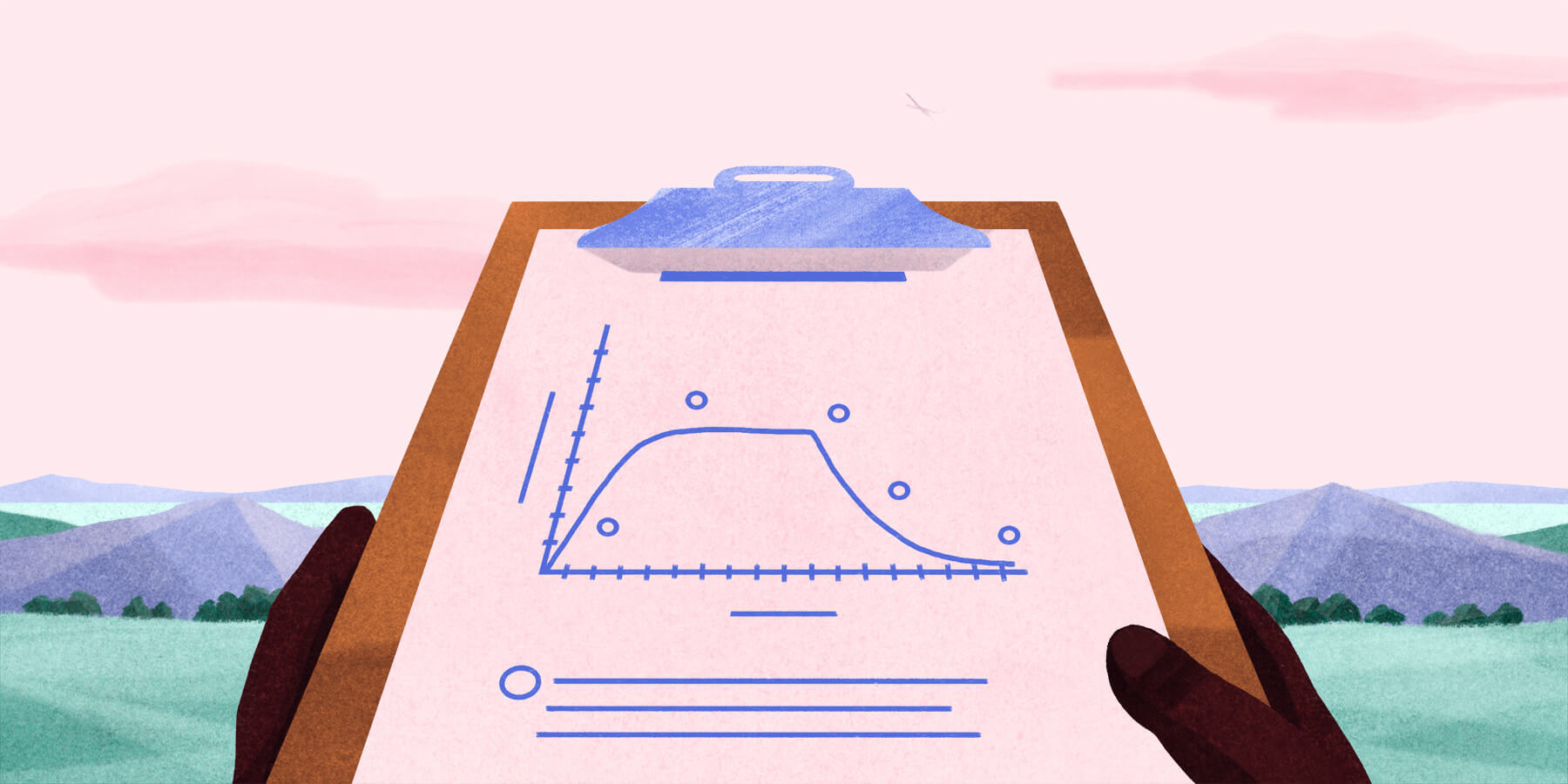 Chapter 04
How to Write the Job Posting
As you're writing your job description, start thinking about the experience level of the candidates you want to hire; these can vary even within a role that's more junior like an SDR role.
You've got two main options here:
you can hire "blank slates" who are less experienced who can be coached or developed in house, or
hire more seasoned people who can hit the ground running
Of course, this depends on what you need and how much spare time you can afford.
Now let's take a look at the top tasks you must accomplish in your job description.
6 job description must-dos:
1. Be in a candidate-centric mindset first.
Hiring a good candidate isn't a walk in the park—to attract top talent, you have to be creative and put in the work. Before you start writing the posting, put yourself in the candidate's shoes and look at this job from their point of view.
Think about a job applicant's journey in applying for a job: what are they looking for? Of course, this doesn't mean that your posting shouldn't talk about your team and company. But all of this needs to be framed and communicated in a way that makes it easy for the candidate to understand what they'll get out of this job.
2. Use the right keywords.
Whether someone is searching on Google or LinkedIn, they're going to be using keywords to find jobs. And if you want your posting to be found, it needs to have these keywords. This is not the place to try to be cute—don't put something like "sales rockstar" in your headline. You want to A) maximize your hits here and B) be clear about the role you're hiring for. Use terms that most people are familiar with (like "SDR" and "inside sales").
3. Talk about company culture.
What makes your company a great place to work? It might be tempting to just focus on job details in a posting, but not showing off your company culture here is a miss. There are a ton of SDR jobs out there. What makes yours better? If your team is fun, reflect that by adding humor to your posting.
If your company has diversity and inclusion as a key focus, be sure to highlight that as well. (And if you don't, this is a good time to consider if you need one.) Not only would you be part of a positive movement, teams that are diverse also bring in more revenue. If you do care about bringing on an inclusive team, then start with looking at the language on your job postings.
Are you subconsciously using overly aggressive language? Does your team sound like a bunch of bros whose priority is Friday beers? There are high-performers of all stripes, with all sorts of personalities, hobbies, and habits. Think about how the language you use attracts (or repels) them.
4. Don't list every single job responsibility and qualification.
If your job posting has a long list of responsibilities and qualifications that take up half the screen, see if you can shorten it. Be selective. You don't want to bore job-seekers or make them self-reject when they're otherwise a great candidate.
5. Include the important stuff (salary, benefits, and advancement opportunities).
Seventy-two percent of job seekers look for salary information before anything else, and not including salary information results in 25-35% fewer applications. So unless you have a huge candidate pool to choose from already, make sure that it's easy for your job-hunters to find compensation information.

Bonus perk: By providing this information upfront, you're establishing your company as transparent and building trust early on—and besides, people can easily find it on Glassdoor or through word of mouth anyway.
6. Sell your company and product.
When you're applying for a job, it helps to know that the company is cool and the product is useful. What makes you great? What would get a salesperson excited about this product that they'll have to talk about every single day? Have a vision and make it exciting.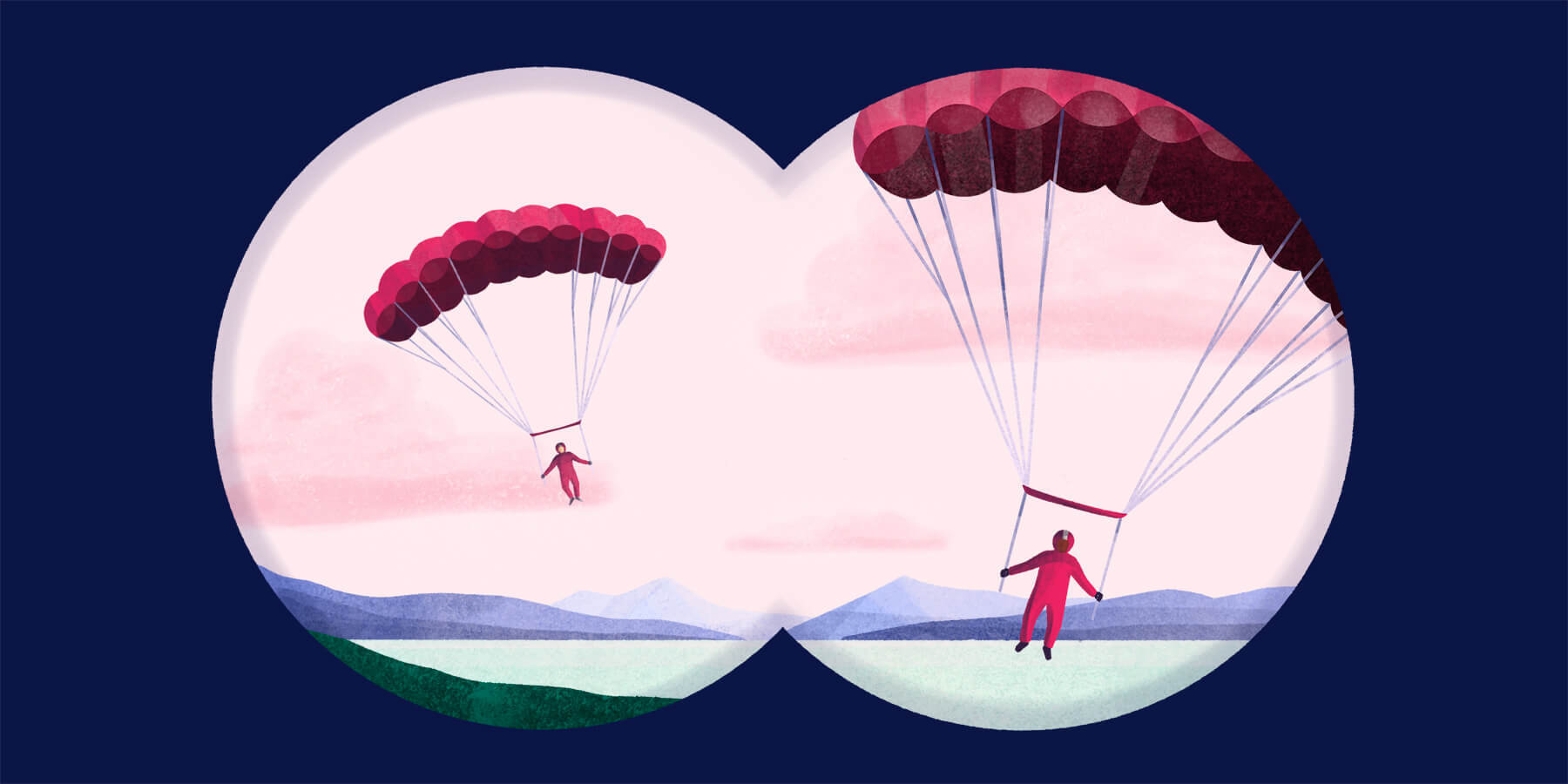 Chapter 05
Candidate-Screening 101
Depending on your personality type and working style, you may look for traits that are unique to your team. Experience is important, of course, but there may be other traits that beat even that for you.
Look for people who play for the love of the game. They're engaged, accountable, hold themselves to a high standard when they're with customers and also on the floor.
7 traits to look for in resumes:
1. Details, details, details
If a candidate came in for an interview looking sloppy, that's going to affect your first impression. We'd argue that technically, that's actually a second impression because first, you're going to see their resume. They don't need to be the best writer in the world, but at the very least, they should be able to summarize their experience and abilities in a clear, easy-to-understand way.
Think of grammar and spelling as how a candidate is presenting themselves to you—in word form. If they didn't even bother to run a quick spell check or check for grammatical errors, what does that say about their attention to detail?
2. Career progression
Depending on how experienced of a role you're hiring for, this is often a telltale sign of whether someone is good at their job. Candidates who are hard workers or go-getters tend to progress steadily up the ladder, and although this could also be the result of incredibly good timing (e.g. their manager leaves inexplicably and they just happen to be there to fill the void), it's usually a good indicator of your candidate's potential.
3. Numbers
Even the most brilliantly written resumes out there rarely tell the whole story. You need numbers. Especially if you're hiring in sales. If a candidate broke sales records and hit or exceeded quota every month, would they omit that information from a resume? Unlikely.
Look for sales numbers, including contextual information so that you can be sure they're not manipulating numbers or presenting them in a certain way that makes things look rosier than they were. Bonus points if the numbers can show the candidate's performance relative to their team. Were they average? Above average? Or one of the best?
4. Leadership and awards
For entry level candidates, you won't have any metrics to look for, but you can look for a track record of achievement in their work and extracurricular history as an indicator of future success.
Achievements don't necessarily need to be work-related either. Case in point: Athletic achievements show the candidate is competitive and can work in a team; leadership achievements show an ability to support and motivate others toward success; being part of a social club demonstrates interpersonal skills; volunteering shows the candidate can work with others toward common goals.
A salesperson who can be motivated to do (and be recognized for) outstanding work can be a valuable asset to your team.
5. "Je ne sais quoi"
At Copper, when we think about the attributes in an outstanding salesperson, we think of traits that are typically harder to coach and that'll more predictably give you that culture you're looking for.
Generally, what predicts success at the highest rate is predictability, willingness and ability to learn, accountability (which we define as owning your results and work 100%), resilience (the ability to continue to learn in the face of failure, which is a part of any job, certain in sales), integrity.

Beyond numbers and figures, a good sales candidate should have the all-important—and usually hard-to-teach—intangibles as well.
For junior sales positions, this is even more important because they don't have a ton of experience at other sales organizations that you can analyze.
Even if someone didn't have a 4.0 GPA in school, they could still have high drive and determination. For example, are they interested in continuously learning new skills? Do they captain any sports teams or play in leagues? How do they show leadership outside of the job? These are all intrinsic sales personality traits and signs that you have a budding sales star on your hands.
6. (Good) references
References should be people who've actually worked with your candidate before—ideally, as a manager. Understandably, it can be awkward to ask a current manager for a job reference. In this case, a co-worker is fine. It goes without saying, but using a friend as a reference is probably a red flag (unless they have a good explanation for that).
7. Familiarity with sales methodologies
How familiar is your candidate with sales lingo? Even if you're hiring for a more junior position, a candidate who understands basic terms like ACV and QBRs either has good experience or has taken the initiative to read and learn about sales techniques. That's the kind of self-direction and enterprising spirit that'll serve any team well, sales or not.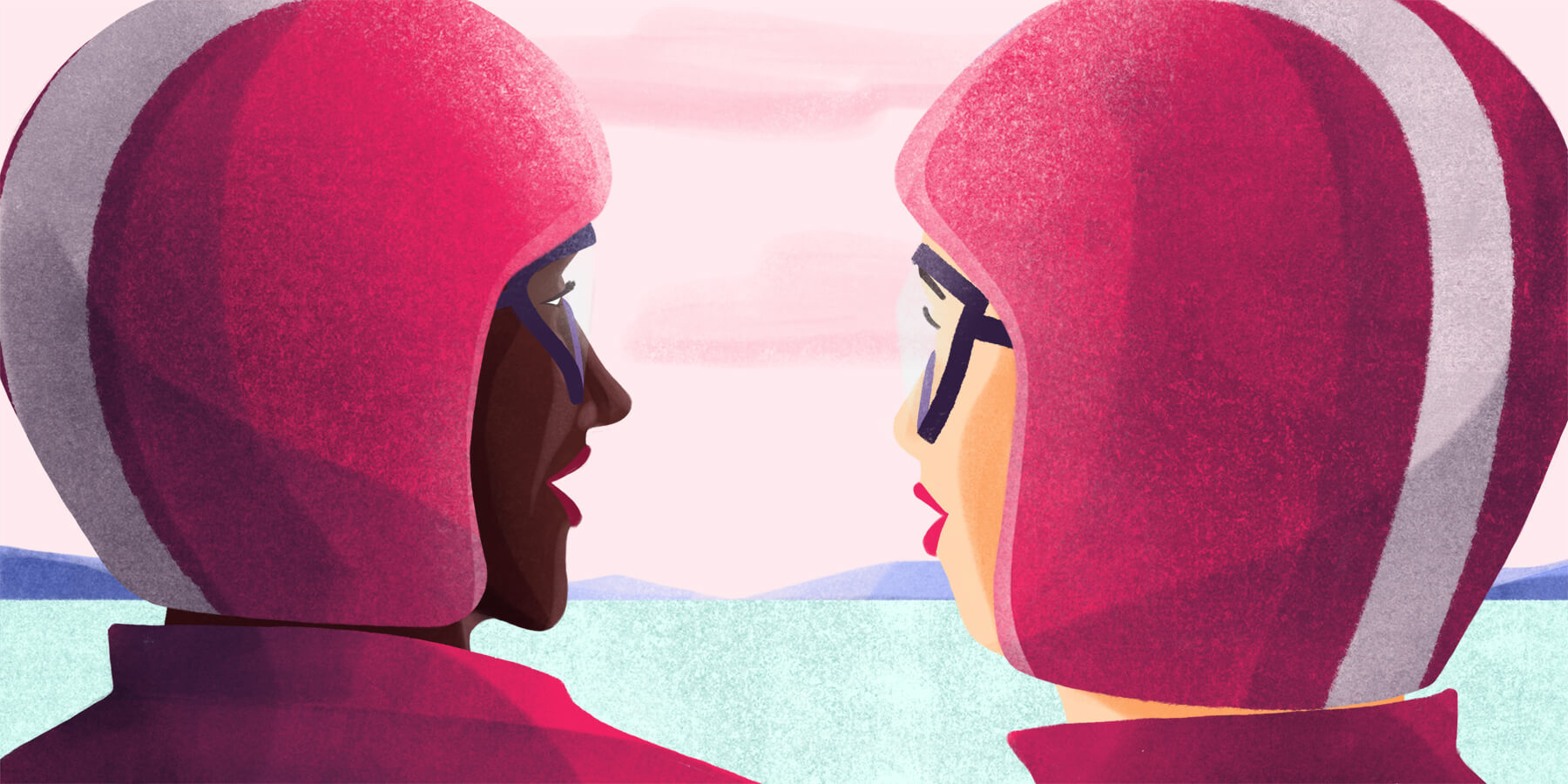 Chapter 06
How Are Your Interviewing Skills?
Now, the fun part: interviews. Here are a few types of interviews to go through with sales candidates.
1. Phone screen
First step is usually the phone screen. Be familiar with your candidate's resume and information and have your introductory pitch ready. Your role, an overview of how your team works, and a quick description of what the company is up to are all good areas to hit on in your introduction. This is a conversation—be present and engaging, and don't read off your company's boilerplate description.
During this early stage, some companies assign simple tasks based on the role. For example, SDRs may be asked to write two emails to the ideal customer profile (which can range from CFO to COO or even IT) on why they should take a look at your company.
2. First on-site
The first in-person interview is a great opportunity to understand candidates better. Now you can observe how they carry themselves, how they react visibly to questions, and what their communication styles are like. Continue to center this conversation on the interviewee—the skills they bring, their vision for this role, and of course, be ready to answer more difficult questions or do a short presentation of their choosing.
3. Role play / mock call
There's no better way to get a good look at your applicant's abilities than by putting them through a test run. Try a role play scenario where they have to respond to challenging and unexpected objections from prospects, or test a candidate's presentation skills by getting on a fake video (or audio) call with them.
4. Team social
Once you know your candidate's got the skills, it's time to see if they pass the team social test. Whether it's over lunch or a team activity, see how they interact in a casual group setting. Do they seem like they'd fit in? Maybe your team will notice something about your candidate that you missed.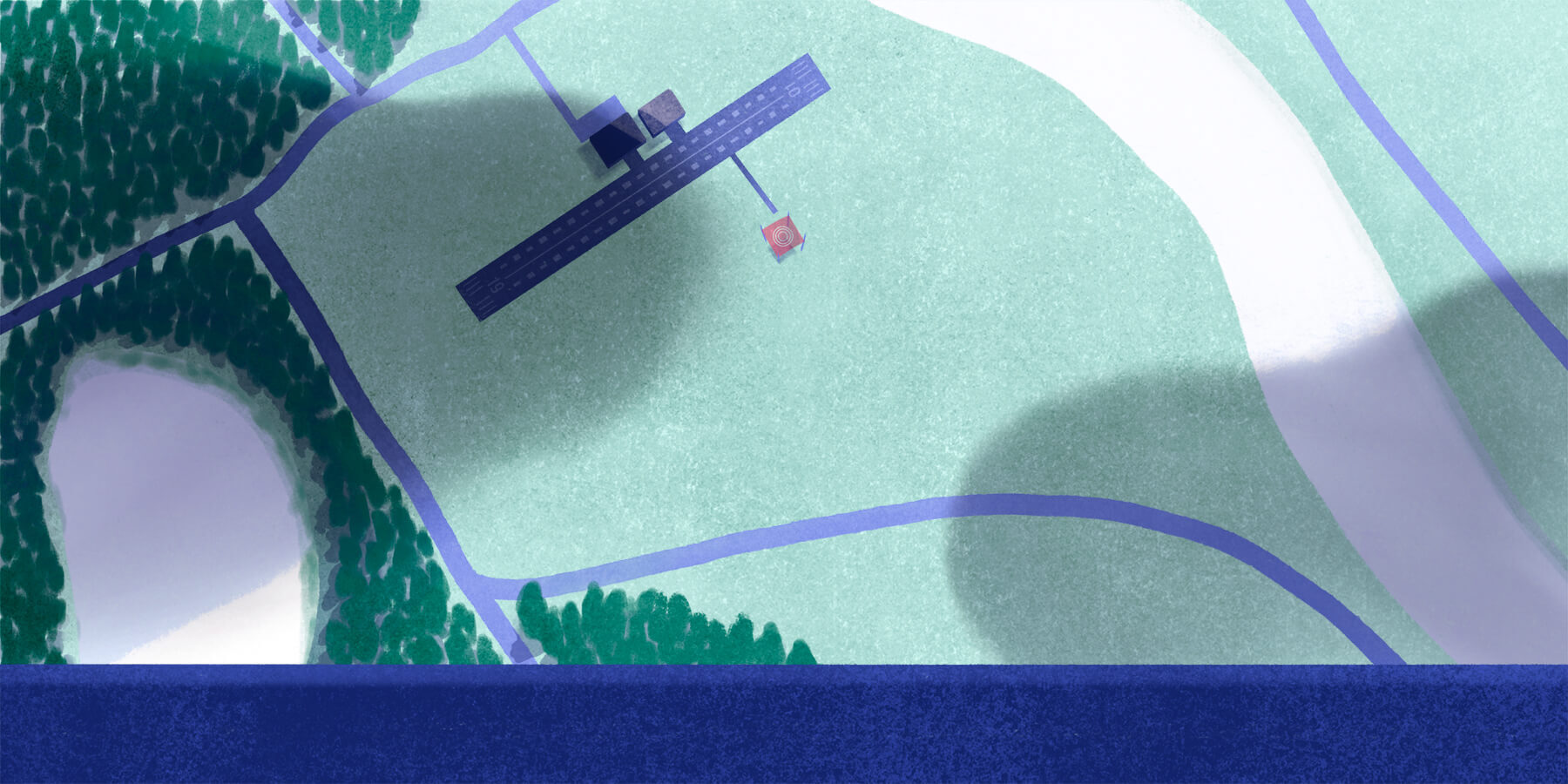 Chapter 07
How to Make an Offer
Now, you've got your dream candidate. They've made it through rounds and rounds of interviews, everyone on your team who's talked to them loves them, and you're finally ready to make an offer.
A crucial part of your offer will be the compensation plan you design. If you remember Chapter 2, you know that this will be different for each sales role, maybe even for each person. The more personalized it is, the more important it is that the compensation structure is easy to understand.
(And in any case, once you have the numbers for your offer, you should test it out with hypothetical deals closed or whatever factors you're prioritizing to see what the new hire will potentially make—and more importantly, if it's competitive.)
As you think through the specific offer you're making to each candidate, these factors may have an impact:
1. The ratio between base salary and variable earnings
What's the right balance that'll provide maximum motivation for this candidate? Side-note: Depending on the length of your deal cycle, you may need a higher base salary to compensate for lower potential commissions and variable earnings.
2. Variable earning factors
Not always the same as commission. You might encourage your team to generate revenue indirectly in other ways by compensating them for scheduling meetings, completing meetings, and creating pipeline. Whether you're going for quality or quantity, any of these can be designed to contribute to your new hire's variable earnings.

Pro-tip: Don't make things too complicated. Choose at most two factors, ideally with revenue being one.
3. Industry and geographic trends
Is your offer competitive with what similar companies in your area are paying? Cost of living, the current job market, and the generosity of your competitors should all factor into your offer. (A quick Glassdoor search should help.)
4. Opportunities for growth
The money is important, but there are other types of rewards too. What can you offer to motivate a potential high-performer to not just achieve but also exceed targets? It can be a higher commission rate, a shot at a promotion, or other growth opportunities—be creative and see what your competitors and other companies outside of your space are offering.
5. Ramp-up period adjustments
However long your ramp-up time is, it's probably going to impact your new hire's paycheck. They're still learning the ropes and probably won't be hitting targets right away—how are you going to make slight adjustments to make up for this brief transition period?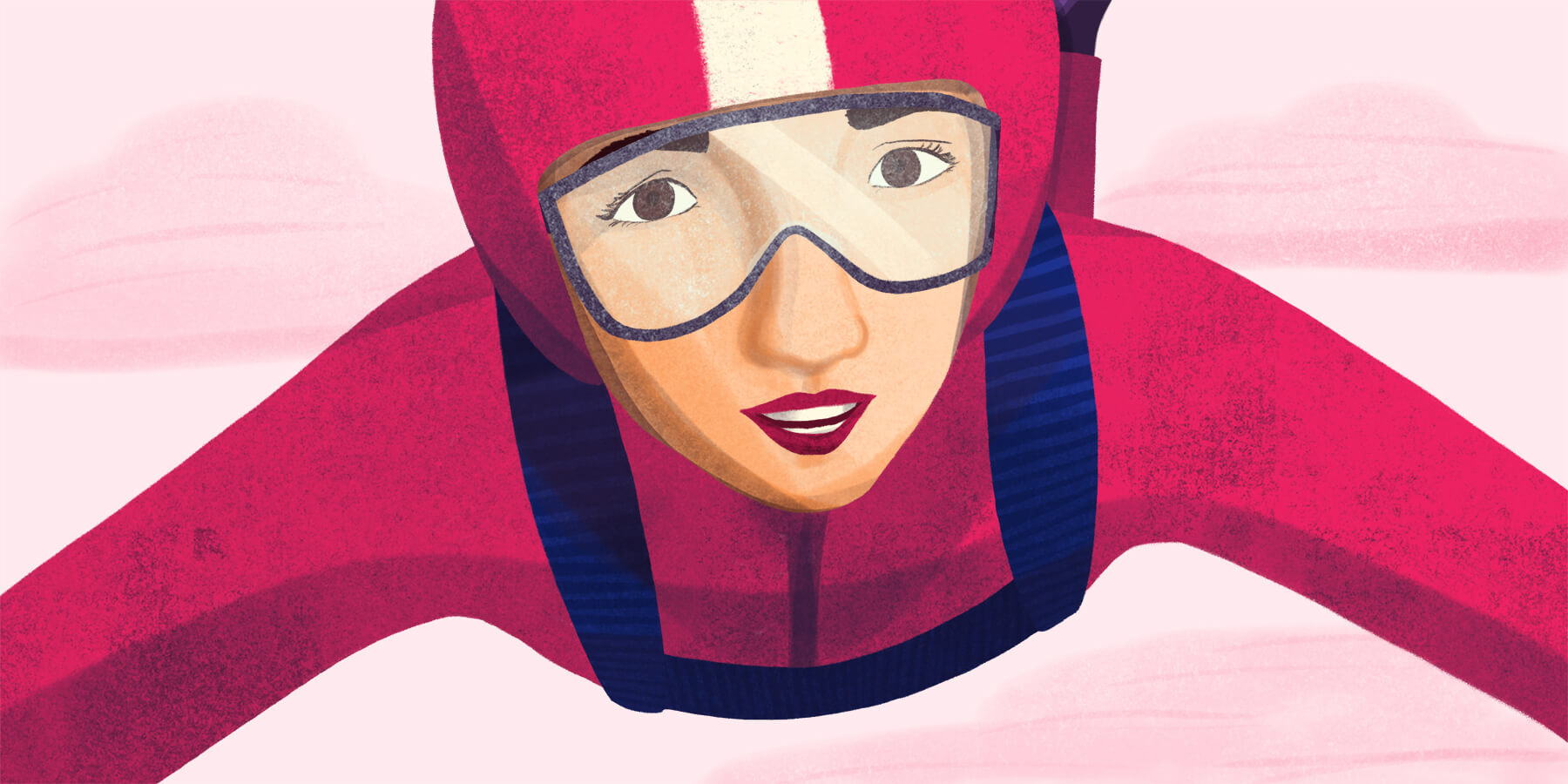 Chapter 08
Hiring Best Practices (and Mistakes to Avoid)
Like with most other tasks, there are no hard-and-fast rules that guarantee you'll hire the best candidate every single time. But there are some best practices that can give you a good shot at it.
1. Time is of the essence.
If you know this is the candidate you want, don't wait until you send the formal offer to let them know. Job-hunters typically interview with multiple companies, and good ones will receive multiple offers. Make sure you've made the stages of your interview process clear so that the candidate doesn't feel like they're left hanging at any point.
2. Respect everyone's time.
This goes for not only your interviewee, but also the interviewers you've assembled. Multiple interviews are the norm now, but avoid scheduling more interviews than you need. You don't know where your candidate lives—even if your office location is central, it can get annoying if they have to come out to your office numerous times.
3. Include leadership.
If your leadership team is so inclined, try to get at least one of them in for an interview with a candidate. Making your decision-makers accessible at this stage is a sign of respect and transparency, especially if your company is still in an early growth stage. However, this only works if your leadership is genuinely interested and bought in—if they come to the interview, only to be disinterested and on their phone the whole time, then this well-intentioned decision could backfire on you.
4. Tone is everything.
Be conscious of your tone throughout interviews. Don't talk down to your candidates—this is above all a conversation for you and the interviewee to get to know each other better and see if you can work together. You're the one who's in the driver's seat, and don't forget that you're pitching too; provide a frank, friendly environment and be open to questions.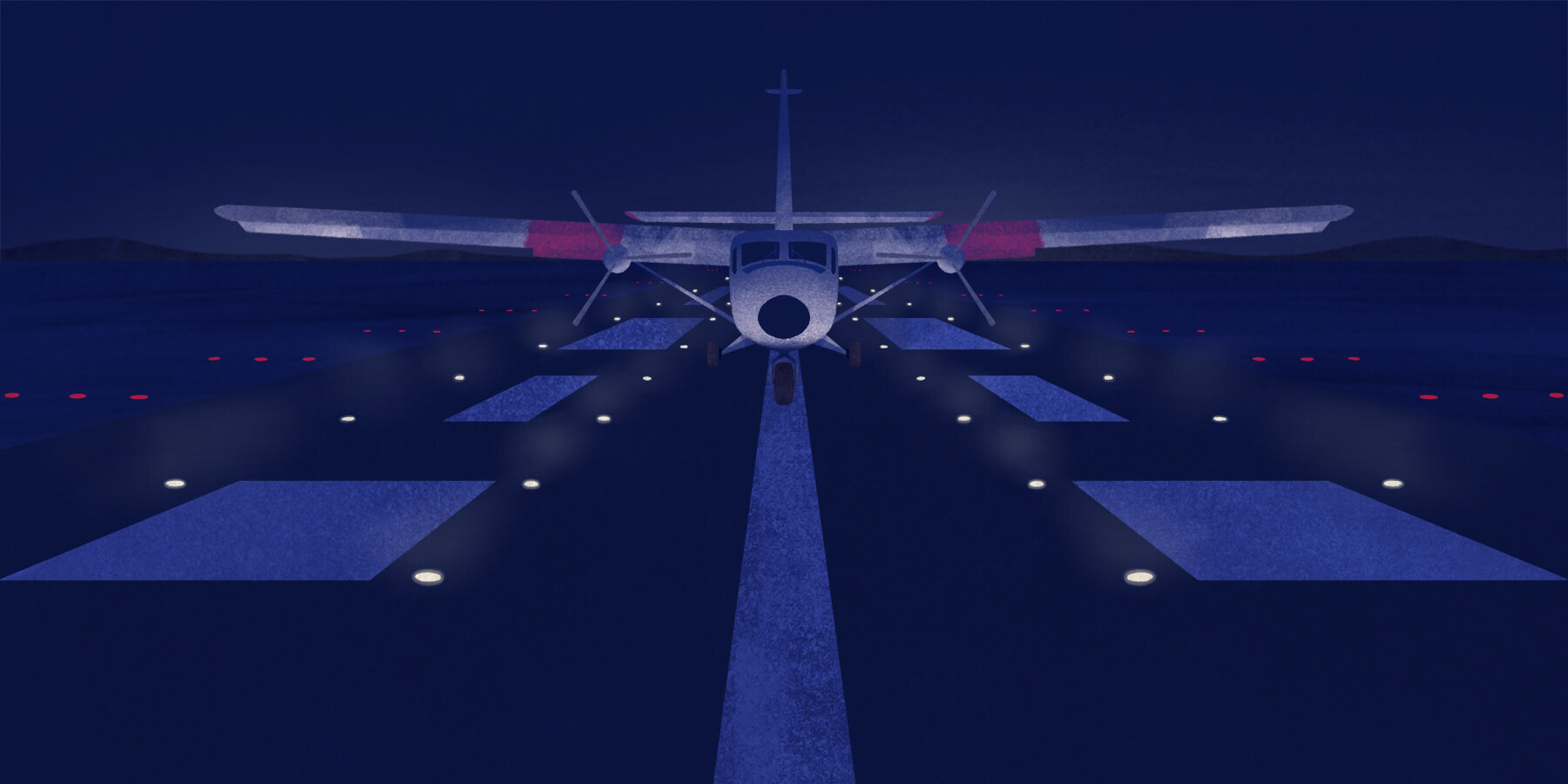 Whether your mission is to hire one person or 20 people, assembling a sales team isn't easy.
It's an investment in your team's—and organization's—long-term future, and will have a huge impact on whether or not you can succeed in hitting ambitious revenue goals.
Every step of the process has to be clearly planned out, from designing your organizational structure to the compensation plan in your final offer. After all, a team is an extension of its leader. What will the makeup and qualities of your team say about you?
Goodbye Data Entry
Hello Copper.
Try it free!
No credit card required. Start your 14-day free trial today.