Setting up follow-up tasks, creating new opportunities or updating your CRM are things your salespeople shouldn't spend their time on. With Workflow Automation, you can let Copper do all the work for you.
Copper's workflow automation engine acts like your personal assistant. You set the rules for what to do and when to do it, and Copper takes action! Set up, automate and run nearly any business process behind the scenes so your team can focus on what's important.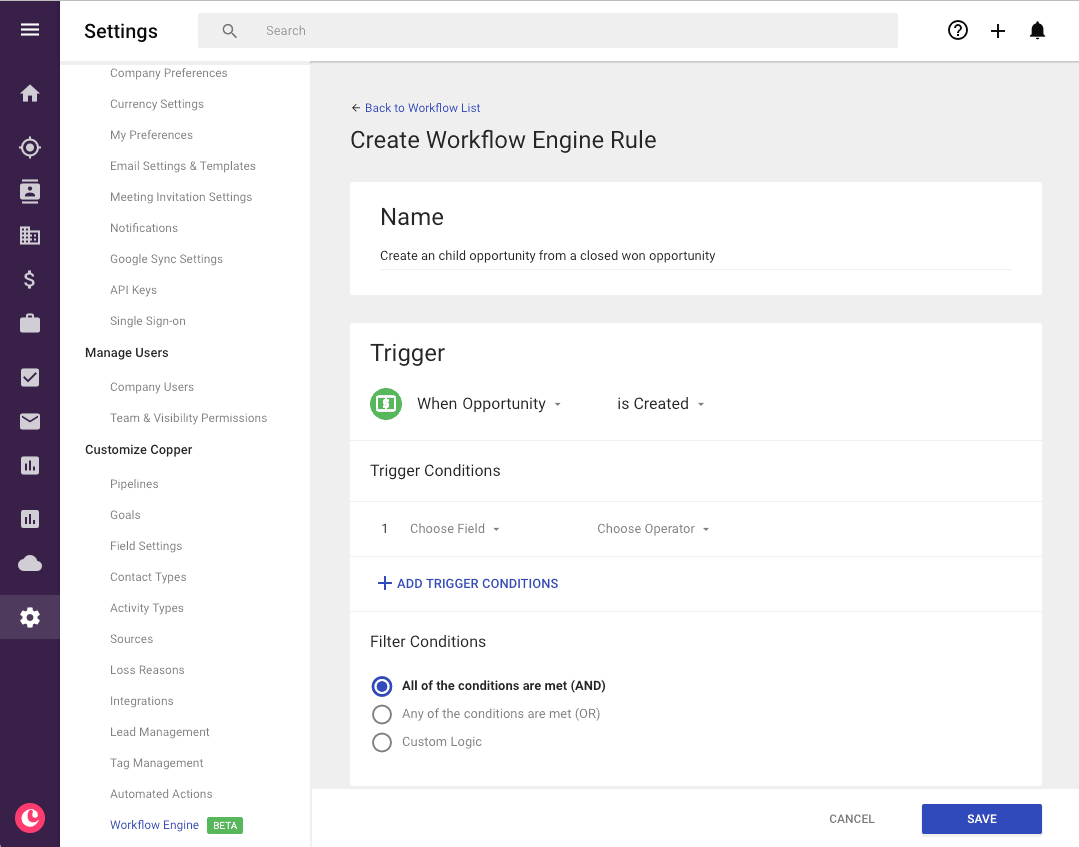 Examples of workflows to automate your day:

When Big Wheels Tire Supply signs their first deal with Ford, all contacts at Ford company should change from 'potential customer' to 'current customer'.

When the North Face moves from Alameda to Denver, changing the address on the company record will have it populate to all related contacts.
A real estate agent is helping a buyer purchase a home. When earthquake inspection, pest inspection and general home inspection are completed, update their status to 'inspections complete'.
How does it work?
Create and name your workflow
Define which record types will be monitored (e.g. Opportunities, Companies, People)
Select a trigger (e.g. when an opportunity is created)
Add in any trigger conditions (e.g. when the value is >$50K)
Set any action(s) to take (e.g. update the pipeline to "Big Deals")
You can think of these processes as "if/then" statements. Create several trigger conditions with AND/OR or custom logic in a single workflow and have several actions fire off in the same workflow.

Never let anything slip through the cracks, improve your sales team's productivity and eliminate manual tasks with Copper's Workflow Automation. It's available on Professional and Business plan—for more help on it, read our help article here.

Copper Admins: Navigate to Settings > Workflow Engine and start building rules and triggers to automate your team's workload.

Not a Copper user yet? Sign up for a free trial.