Looking for a new CRM and thinking about Pipedrive and Copper CRM? Here's a closer look at how Copper vs. Pipedrive compare.
A CRM isn't just the single source of truth for your business. We understand that you want a CRM system that your team loves — and that was designed to help you build meaningful relationships at scale so your revenue grows alongside your customer satisfaction.
Let's see how Copper vs. Pipedrive stack up.

1. Built for relationship-based organizations.
Copper CRM's focus is on organizations that value relationships. Our user experience, built specifically for Google Workspace users, offers immense flexibility to help your organization form connections with leads, customers and other stakeholders.
Pipedrive serves a different audience and use case. Pipedrive's CRM software was "designed by salespeople, for salespeople" and focuses on "activity-based selling" through scheduling, tracking, and completing activities — especially focused on sales teams.
While Pipedrive's sales methodology works really well for larger, high-volume, transactional sales organizations, it won't work for everyone. Agencies, real estate, technology, construction and nonprofits — among other relationship-intensive businesses — don't have a linear sales process, meaning their customer journeys are a bit more complex.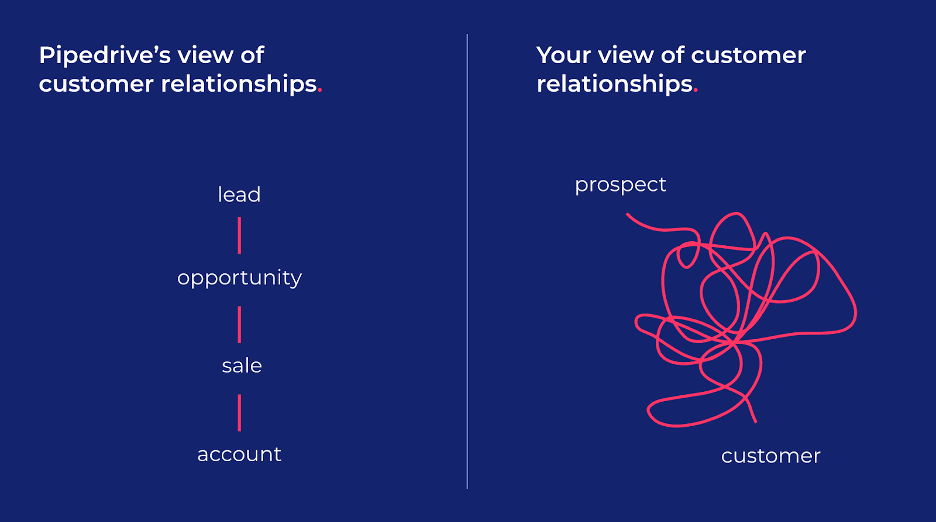 If your view of customer relationships looks more like the illustration on the right, then Copper will be a better fit for you. Copper CRM's features offer significant flexibility via features like custom fields to help you tailor your sales pipelines, sales processes, sales forecasting, automations and records to your unique business needs. This lets you focus on what matters: building genuine, long-lasting relationships — no matter what your sales process looks like.
2. Nurturing your entire customer journey
After a lead converts, your deal closes and the work begins, what happens next? Plenty of organizations separate their CRM software from their project task management system, but that can slow you down and unleash the pain of duplicate data entry each time you hand your customer off to a new team. Not good for data integrity.
Copper blends the best of project management and CRM software into one integrated platform. Our flexible, Kanban-style project boards tie back directly to your deal pipeline, keeping all your teams on the same page.
With Pipedrive CRM, the expectation is that your relationship management is complete when the sale goes through — so there are no project management features to help with post-sale activities. You'll have to use a separate platform, and either manually hand off the project or set up a series of integrations to ensure all important details are shared.

3. Full CRM functionality, right in Gmail
Copper is designed specifically for Google Workspace (formerly G Suite) and is the only CRM that's a Recommended for Google Workspace app. No need to spend hours in training sessions learning a new tool — it feels and looks exactly like the Google applications you already know and love.
What this Google Workspace (G Suite) integration means for you: all your CRM data is now integrated with your Google Contacts, Calendar, Gmail, Google Sheets and more. Without you lifting a finger, Copper pulls emails and calendar events into your CRM contact records and creates detailed profiles for all your relationships.
Not to mention, the Copper Chrome extension places Copper CRM right inside the apps where you already work: Gmail and Google Calendar. This means you won't have to switch tabs to add leads, track email conversations, or manage tasks. You can also look up event details, participants and materials inside Google Calendar without breaking your workflow. Using workflow automation, Copper users can set up the system to automatically perform certain actions when a specific trigger is completed — like sending a thank-you email whenever a new web inquiry is received.
Pipedrive has a Google Workspace integration that will sync with your emails and calendar events, and they offer a light add-on to get additional deal context in Gmail. But the expectation is that you'll need to work in Pipedrive to take advantage of their productivity and email features. With Copper, you can access all that functionality — including email templates and merge fields — right inside your Google apps, so you can pursue pipeline and lead management from exactly where you prefer to work.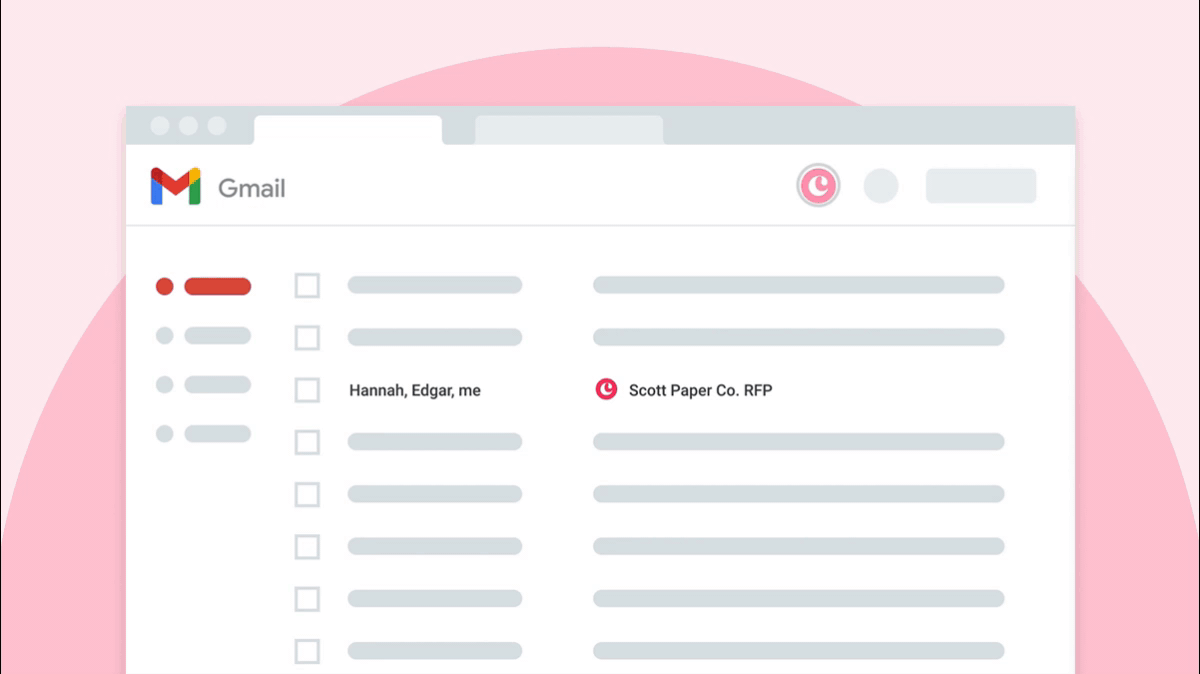 "Love the direct integration with Gmail and being able to stay in Gmail for the majority of my day instead of switching back and forth for mundane tasks." – G2 Crowd Review
4. Focused on your success
Copper CRM is user-friendly and easily customizable — no IT required to get up and running. And when you do need some help, you won't have to deal with endless email chains or unhelpful answers. Our Copper customer support team is conveniently available via chat inside both the Copper web and mobile apps. We also offer complimentary onboarding for Copper users on accounts that meet our minimum seat requirements.
A more complicated system like Pipedrive (similar to Zoho CRM and HubSpot CRM) might not be as simple and intuitive to set up, and it might take a while for your admin team to configure. This is especially challenging for small businesses with limited resources. While Pipedrive offers an implementation program, it's reserved exclusively for their Enterprise plan customers.
If your company needs to move quickly and doesn't have a ton of time to devote to onboarding new tools or training your team, a CRM like Copper that fits effortlessly into the tools you already use and is a natural addition to your day-to-day workflow will save you a ton of headaches in the long run.
"I have spent weeks of my life searching for a CRM that is the best fit for my business and I can confidently say this is it. Also, their support is amazing! If you really want to voice your opinion on the future development of this software, they absolutely make that happen!" - G2 Review

Sharing the love, one customer at a time.
Customers today expect more from the businesses they work with. They don't just want to be viewed as a transaction or sale, they want to be treated like the unique individuals they are — and they want to feel like you care about them. At Copper, we understand that relationships matter most to building enduring businesses. We've built a tool that helps you nurture those relationships and show your customers the love that they deserve.
Using an uncomplicated, elegant tool that your team will love, that organizes your workflow, streamlines processes with automation, and meets all of your relational requirements, will give you one less thing to worry about, leaving more time for other meaningful tasks. Together, we can build the experiences your customers expect, and drive growth for your business.
Want to see Copper in action? Try it for free today.