Days are busy and you have work to do. The last thing you need is to waste time on repetitive, manual to-dos and hunting down data from multiple sources. Copper is a new kind of productivity crm that simplifies busy work, so you can focus on moving relationships forward.
If you need to schedule meetings, collect leads and sales data, or follow up with tasks and contacts, then these six amazing features will make your life (significantly) easier. Read on to learn how Copper can increase your productivity and help you close more deals.

Meeting scheduler
We've all experienced the painful number of emails it often takes just to set up one meeting with a customer or contact. We're ending that back and forth with our meeting scheduler tool so you can spend less time on admin work.
Meeting scheduler sits right inside Copper, so you can send contacts your availability by generating a link with one click. From that link, meeting attendees select the time that's best for them (also with one click), and you're scheduled. Yep, that's it.
To avoid a meeting being scheduled outside your working hours, you tell Copper what hours of the day you're available to meet with your contacts. For example, you may work Monday - Friday 8:30am - 5:00pm. Copper then looks at your Google Calendar to see what times are available between those hours. Even better, you can specify meeting types that are different lengths (we call these event types), so each meeting is scheduled for the appropriate amount of time.
Read more about how to use the meeting scheduler.
Read-only fields
Data integrity is critical when it comes to running your business. Read-only fields allow Copper admins to specify which fields cannot be edited by non-admin users. This means your team will be able to view the data in Copper, but won't be able to change it. You can also choose to make fields required when you create them and then make them read-only when you're editing. This makes it easy to ensure your critical data stays locked and your processes are being followed.
Customers on our Professional and Business plans will be able to take advantage of this awesome security feature. Get the full rundown on how to set up a read-only field.
Required fields
There are certain data points that every business needs to track in order to work sales opportunities, manage customers, and make critical business decisions.
Required fields are your guarantee that these vital relationship moments are entered at the right stage in the process and attached to the relevant records so you have all the data you need where and when you need it. Because Copper makes sure that your team inputs the required field(s) before moving forward in their process, you can rest assured your data is accurate and don't have to worry about the validity of your lead, sales and pipeline reports.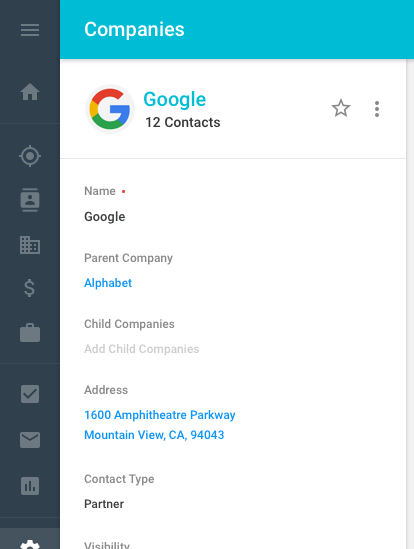 Connect fields
Sometimes, your business relationships are interconnected in complex ways. That's when you need a way to clearly see how all your relationships are related.
Connect fields are a set of record fields that keep track of relationships within Copper, similar to a lookup field. You can build connections between employees, people, companies, opportunities, and projects. This will help you and your team accurately track how contacts and opportunities are related inside your crm. With this added visibility, you'll save time hunting down whom is related to whom.
The Copper API also allows you to import relationships from a master list or connect to other reporting or analytics tools like Google Data Studio.
Connect fields are available to Copper users on the Professional and Business plans. Here's the deep dive on how to get them set up and start connecting your relationships.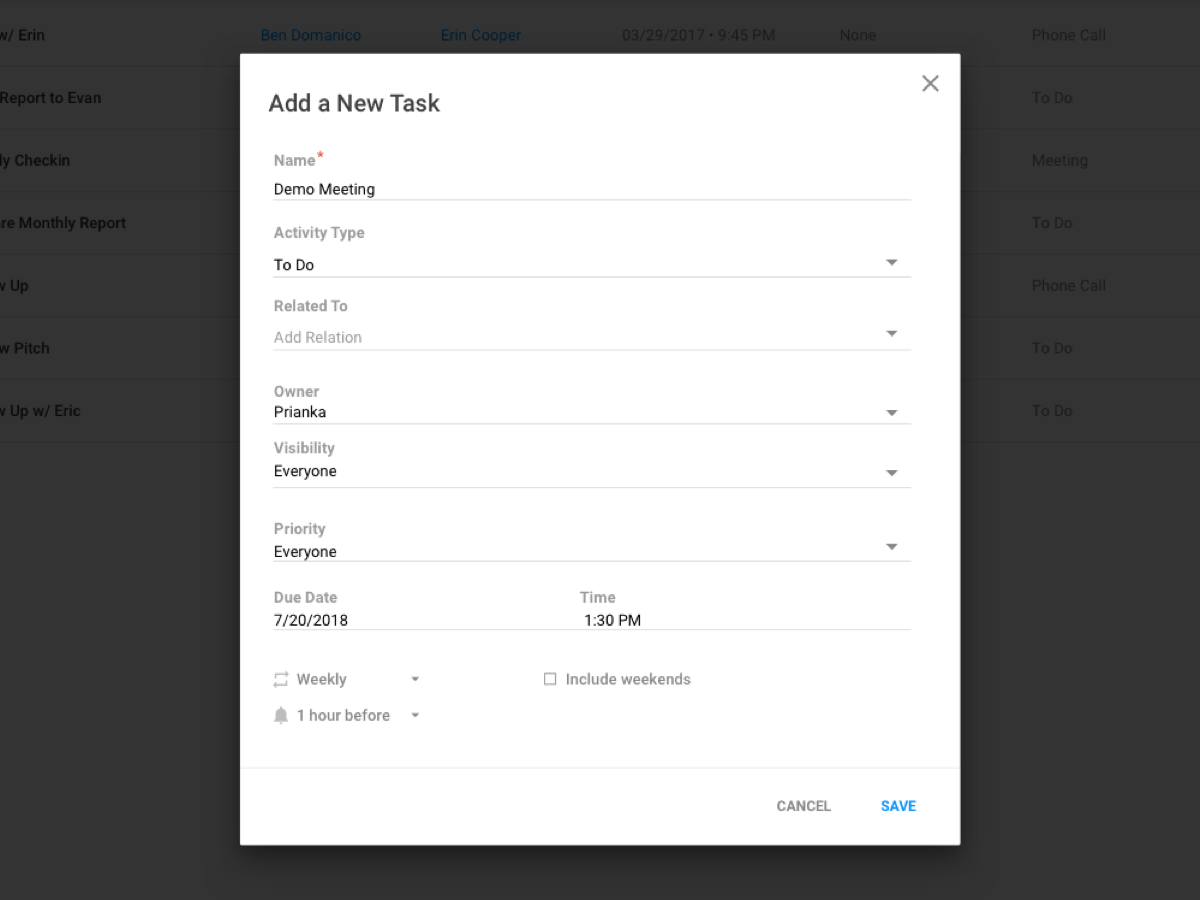 Recurring tasks
There's nothing that slows productivity down like manually entering tasks. Copper takes the pesky task of resetting and recreating to-dos that happen on a regular basis and makes it automatic. With recurring tasks, you'll be able to set tasks to reoccur on a daily, weekly, monthly, or annual basis. Custom dates can also be set if that's more your style. This is awesome for functions like account management, sales prospecting, or event management where you come up against contract renewals or repetitive tasks for a high volume of leads.
Recurring tasks will be publicly available in the next month for our Professional and Business plans.
Relative reminders
Relative reminders allow you to set alerts about tasks that are coming up so you're prompted to take action when you need to—without having to remember on your own. Set a notification 30 minutes, 1 hour, 1 day, 1 week, or any amount of time before the task is due to be reminded of it. With automated reminders like these, you can easily stay on top of your to-do list and never miss a follow up or action item. After all, consistency is the key to establishing trust and credibility with your customers.
And that's a wrap! Copper is a new kind of productivity CRM that proves its ROI, so give yourself a productivity boost with these features today by logging in or starting your free trial!