Customer stories
How an Olive Oil Company Saves Time Like Never Before with Copper
How an Olive Oil Company Saves Time Like Never Before with Copper
Il Fiorello is a family-owned company, producing extra virgin olive oil from their own certified organic groves in Northern California.
Along with providing high-quality products, they are dedicated to serving a variety of customers from all over the world.
After seeing exponential growth in the last year, their team needed to break away from traditional methods of contact management.
"We were literally using manila folders, Excel and QuickBooks to keep track of everything," recalls Events and Sales Manager, Stephanie Oriarte. "It quickly became overwhelming, and we needed a CRM to take its place."
Turning to Copper
Upon learning about Copper from a software advice rep, Stephanie was immediately drawn how easy the system was to use.
"Copper is simple and customizable—our team began using it right away. We didn't even touch the filing cabinet at all this season."
The Il Fiorello team uses Copper in a few different ways. The first way involves "Grove Club," an initiative that the company runs—it allows members to receive product shipments and special discounts on purchases.
With a minimum of three deliveries per year to hundreds of members, implementing Copper was absolutely necessary.
Consolidating to one system
"Moving to Copper has been a really great transition, particularly for our Grove Club team," says Stephanie.
"We've been able to eliminate toggling between Excel, Gmail, Stripe, WooCommerce, QuickBooks and a POS system to keep track of our members."
And integrations have made streamlining operations even easier. "Our Grove Club manager uses Mailchimp alongside Copper [via Zapier] so that members can automatically be contacted upon signing up, and stay in the loop with any club updates or special promotions," says Stephanie.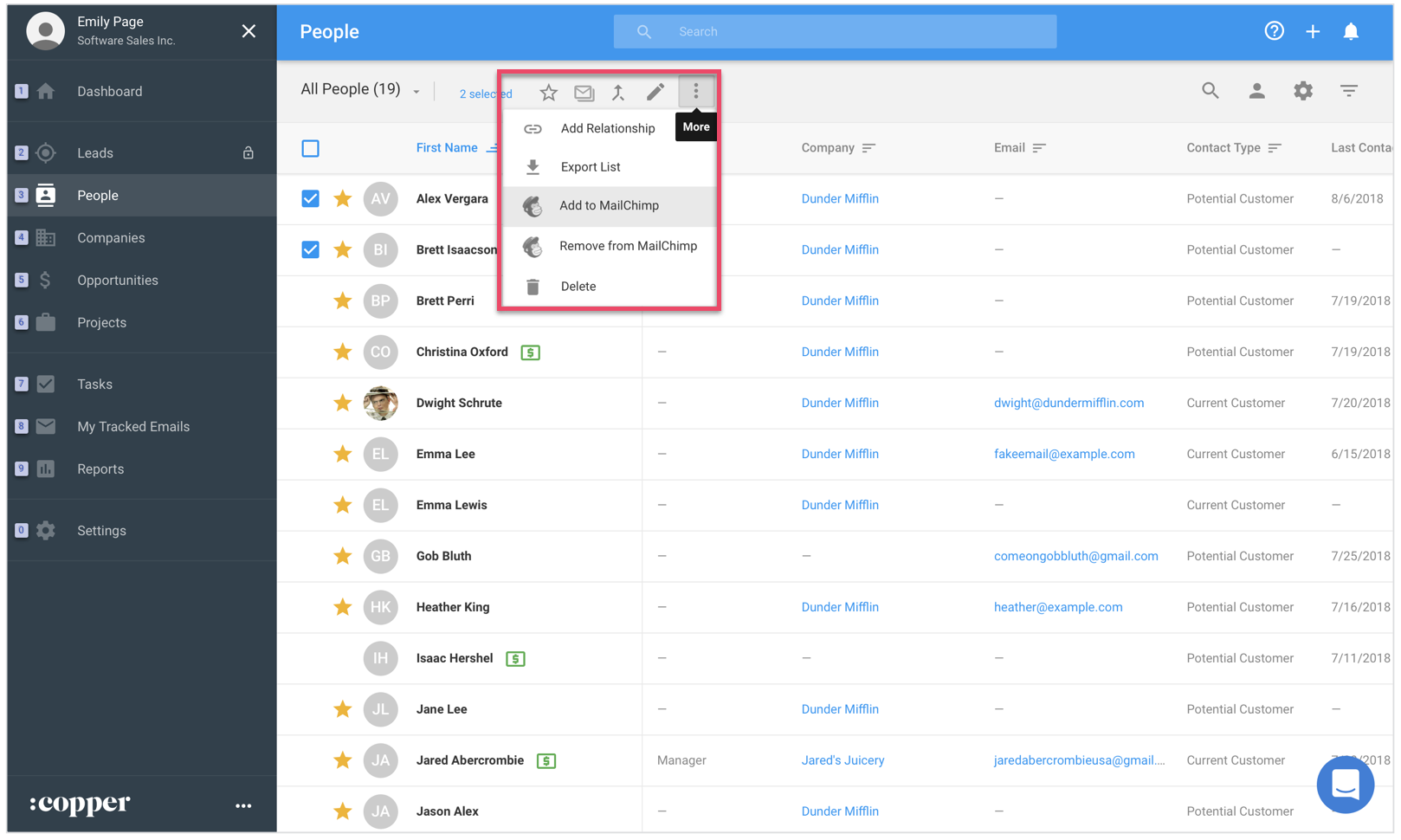 Copper's Mailchimp integration makes it easy to align CRM records with marketing campaigns.
With Copper, the team cut down billing and invoicing time by 92%.
In addition to the Grove Club, Il Fiorello uses Copper to manage their milling services. While known for growing their own olives, they also mill a significant amount for wineries and other companies.
"In terms of streamlining operations, this is where we've seen the largest area of improvement," says Stephanie. "Our team is dependent on task reminders so that nothing slips through the cracks. We're also frequently tagging each other with order updates—it's a seamless way to know what's going on."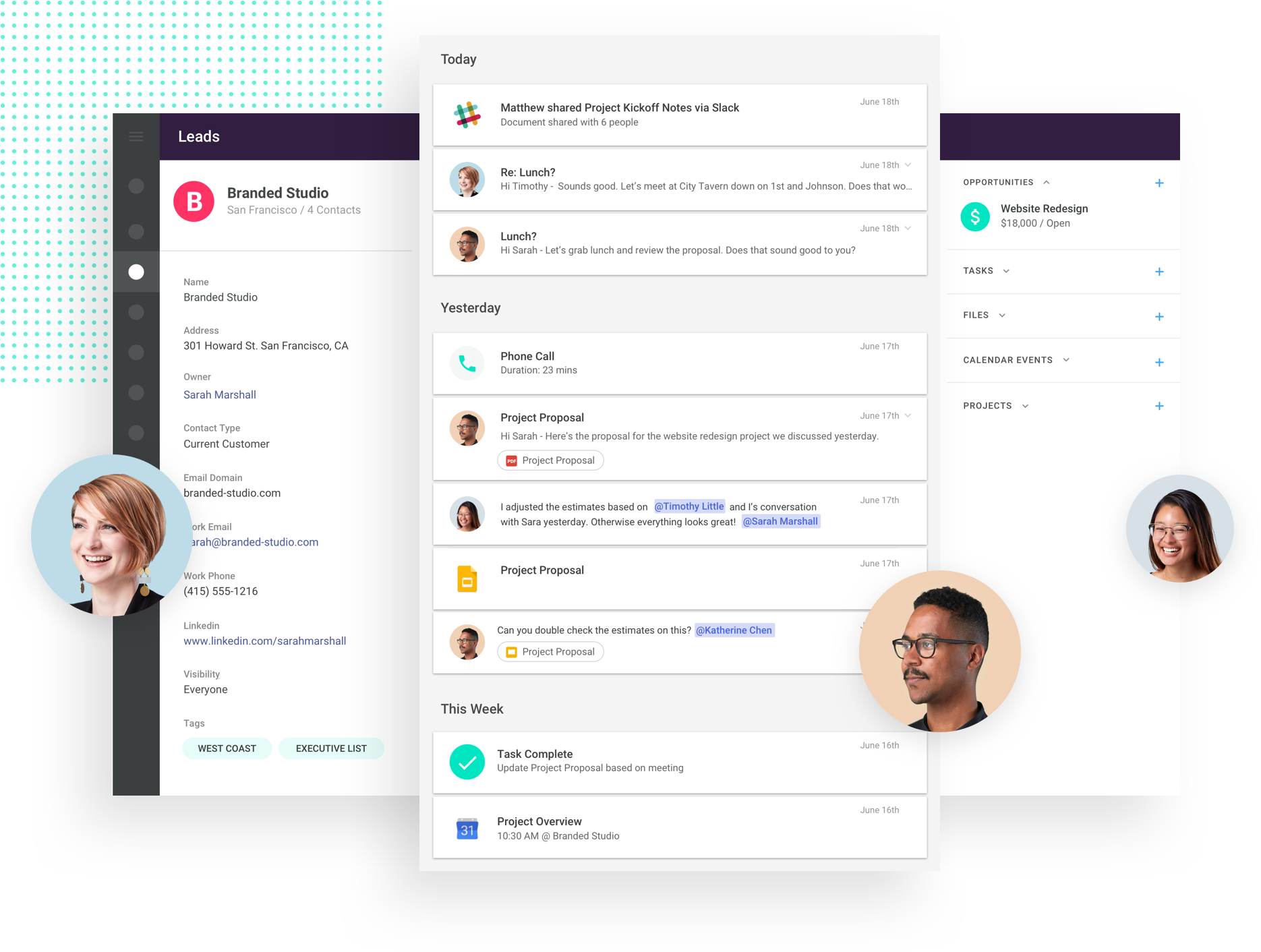 Il Fiorello's team can tag each other in each contact's records to keep everyone in the loop.
As a result, Il Fiorello has seen concrete returns in terms of the amount of time they've saved. "Milling season ends in November. Before implementing a CRM, it took us until January or February to complete billing and invoices. But in 2016, we wrapped everything up within a week after the season ended."
Spending less time on billing and invoicing by 92% has allowed Stephanie and her team to "service customers like never before." She adds, "We can now use January and February to focus on moving our business forward."
Events can be a huge opportunity too.
Finally, Copper helped Il Fiorello gain a better grasp on their private events. Accommodating both indoor and outdoor gatherings, the venue is in high demand throughout the year. "Our events are a way to keep Grove Club members interested, while also bringing in new leads," says Stephanie.
The team uses Copper to store attendee information, along with any supporting data used to inform others about an event.
"We don't need to bounce from Excel to Gmail to send out an invitation. In fact, the Chrome Extension keeps us from ever having to leave Gmail."
As Il Fiorello continues to streamline a variety of operations, Copper is excited to be included every step of the way.