Customer stories
How IrishAngels Doubled Its Deal Pipeline with Copper in One Quarter
How IrishAngels Doubled Its Deal Pipeline with Copper in One Quarter
Meet IrishAngels, a venture capital firm that started out with a unique model: funding high-potential startups in which a founder, board member, or active investor has ties to the University of Notre Dame.
IrishAngels invests mainly in early seed stage deals, and has an impressive Angel network of 230 investors and eight team members who are all focused on sourcing deals and managing relationships with founders, LPs (limited partners), and members.
We sat down with Caroline Yeager, Associate at IrishAngels, to chat more about how VCs can work more efficiently and close more deals using a CRM.
The problem with scattered deal data
Before Copper? There were Google spreadsheets. Lots of them. Not that it was terrible, but when you're working in a bunch of different spreadsheets, it can be challenging to keep track of important (and fast-moving) email conversations and deal data. If you've ever had to dig through scattered information in different tabs and files, you know what we're talking about.
For IrishAngels, this made it hard to quickly get visibility into deals—and made team communication very inefficient. The problem is, when you're a VC, you're talking to hundreds of founders and companies at once. Remembering the last time you reached out, or what the valuation is—for every contact—becomes impossible. Not only do you lose out on potential deal targets, you also miss the opportunity to build and nurture relationships that could turn into investment opportunities.
Finally, a single source of truth
IrishAngels looked at a few different solutions, but ultimately chose Copper because of how easy it is to navigate, customize, and that it worked in all the tools they already used — Gmail, Docs, Sheets, and Calendar. This meant the team was freed up to do the important work: being in the market, meeting founders, deepening relationships, and actively working on an investment.
How they got organized in Copper:
IrishAngels created five pipelines in Copper, one for each of its distinct initiatives.
Investor pipeline - to track their many investors
Co-investor pipeline - for relationships with other investors that IrishAngels shares deals with
LP prospect pipeline - for possible companies to invest in
Member recruitment pipeline for angel network - a tracked waitlist of potential investors (membership is capped at 230!)
Follow-on investment pipeline - to keep track of portfolio companies that'll likely raise another financing round later on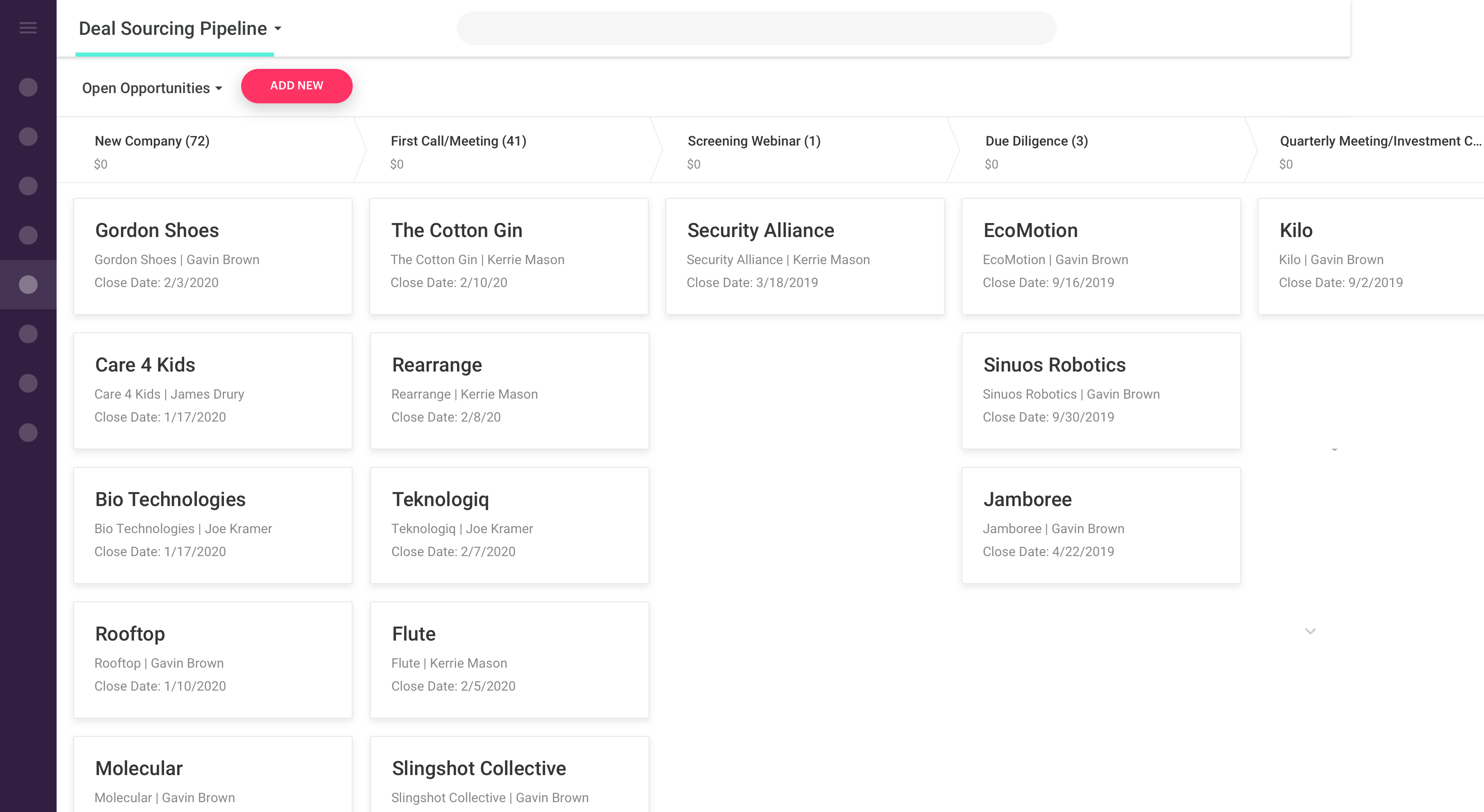 An example of what a VC's deal sourcing pipeline looks like.
Setting up one pipeline is difficult enough if you don't have the right tool. With Copper, IrishAngels could easily set up five, all due to Copper's easy customization options. With a click of a button they could create a new pipeline, edit the name, change the order, and adjust which fields show on the opportunities.
With five unique workflows to maintain, they needed a tool that's easy to implement—and even easier to use. "Copper is so intuitive, after one day I felt like an expert on the system." says Caroline.
One of her favorite features in Copper? The many customizable automations. "We love the automated tasks—you can set a task for yourself to follow up and it automatically syncs with your calendar."
From reminders to reach out or follow up, to automatically syncing data between apps, there are a ton of different ways to save time using Copper.
One common example is when Caroline meets with entrepreneurs of great startups whose business is not quite yet at a stage the team is looking to invest in. "I can set a task to follow up with them in three months to pick up the conversation and check-in about where the business is at," says Caroline.
This way, she stays on top of her outreach to IrishAngels' roster of contacts and can nail the right time to start partnerships with them.
The secret to doubling the deals in a pipeline...
Since using Copper, IrishAngels has been able to move more deals across the finish line because they have one source of truth for all the touch points with a company. Copper has given them a whole new level of visibility, enabled faster follow up and improved team collaboration.
One way that Copper helped immensely was by offering the team deeper insight into each other's conversations with entrepreneurs. To invest in a company, two teammates have to interview—and like—a candidate.

"Thanks to Copper, we can easily find and look back at email conversations, each other's notes, and even create custom fields for questions asked to make sure we're getting a full picture of the candidate."
Deal flow has increased significantly because we're able to stay on top of relationships effortlessly by automating follow up tasks. "We went from tracking 100 companies per quarter to over 200 companies in our deal pipeline thanks to Copper."
As a result, Copper has enabled the IrishAngels investment team do a better job of maintaining its relationships—now, everyone remembers to follow up and is more organized, which means they miss out on fewer deals.