How much do you hate prospecting calls?
If you're like most sales reps, you'd probably agree that prospecting calls are the hardest part of your job.
And things aren't getting any easier. Compared to five years ago, 61% of sales reps are finding selling much harder today.
#thestruggleisreal.
If you struggle with prospecting calls, don't lose hope!
In this guide, we're going to discuss four key steps to prospecting calls—and how to succeed at each one. This includes:
Preparation
Starting conversations
Continuing conversations
Closing the call
Ready to give your prospecting calls a makeover?
Before you dial the number...
Craft a roadmap, not a script.
Sales call scripts are a thing of the past. It's time to throw that baby in the trash!
Seriously, throw it away.
People don't really want to talk with sales reps at all, and they certainly don't want to listen to you monologuing about your product's features.
If they must talk to you, they'd much rather have a conversation.
However, you still need to make sure you're hitting the important points. How can you do that without a script?
Simple: create a roadmap.
A roadmap is much more adaptable than a script, because it helps you flow with the conversation instead of dragging your prospect back to your single line of thought. It allows for questions and overcoming objections.
To start, you want to craft the perfect one-line opener.
In one sentence, answer the question: Why are you calling me?
For example, you could say: "My company offers a task management software that helps marketing teams increase productivity by up to X%." [P.S. That really does exist.]
After that, set up your roadmap with some questions and prepare for different answers. List the main points you want to cover and use the roadmap to ensure you cover them.
Setting up a roadmap is as easy as creating a flow chart, like this: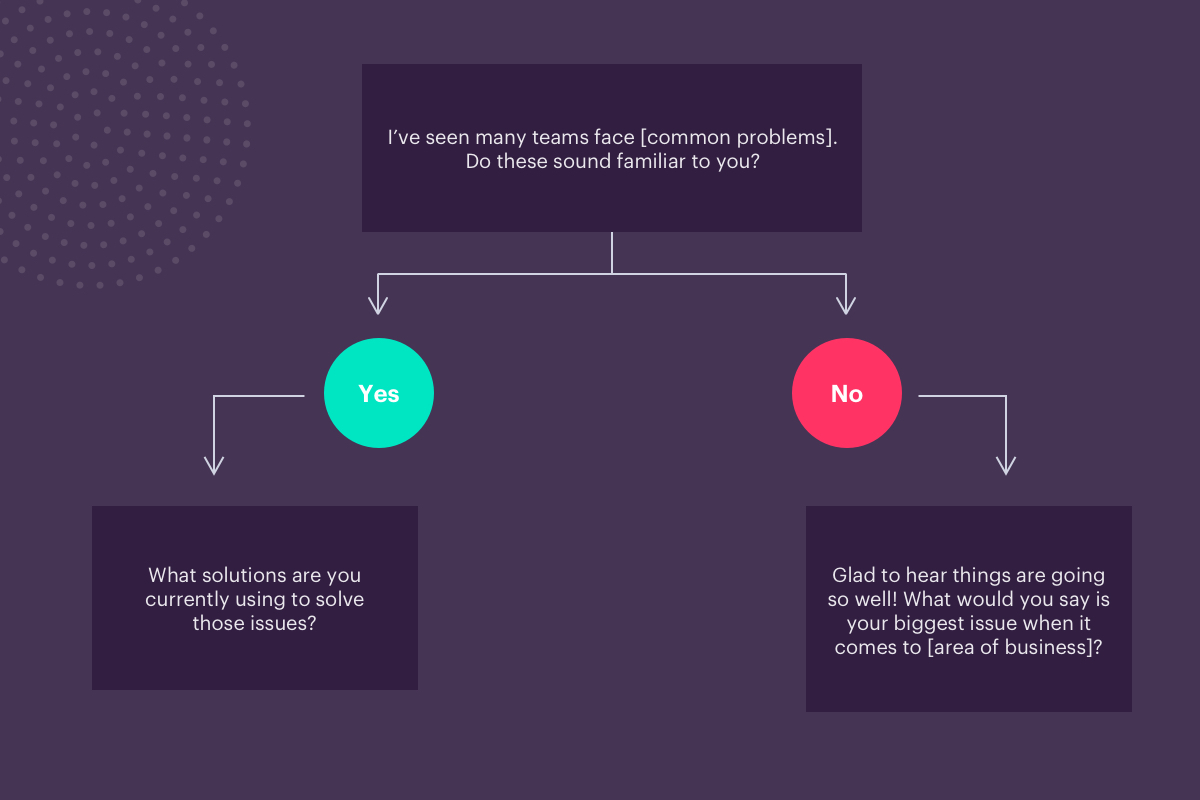 By adapting your roadmap to common responses you receive, you can have a conversation that flows naturally—but still has a clear direction.
Prepare for objections.
Your prospects are going to put roadblocks in your conversation. It's up to you to find the right detour and continue the conversation.
Start by listing the most common objections you face. Some of these might be:
"I'm not interested."
"It's not in our budget."
"It doesn't fit our needs."
Next, think about what each of those objections really means.
For example, does "I'm not interested" really mean "I don't see the value of this product?"
Finally, craft quick replies that acknowledge the objection, but enable you to continue the conversation.
For example, if the person says your product is out of their budget, you could say:
"I understand that your budget is set, I know my budget at home doesn't have a lot of leeway either! What's interesting about [product] is the money you get back from using it. Some of our customers actually saw a 20% increase in profits after implementing [product]. Would that interest you?"
Prepare in advance for common objections and save a dying conversation!
Connect with your prospects on LinkedIn.
Imagine getting a call from someone you've never heard of, promoting a product that's completely unfamiliar to you.
Now, imagine getting a call from someone whose name you recognize. Even if you don't know the product, wouldn't you be more likely to listen?
LinkedIn is used by over 562 million people worldwide, and over 40 million of those are in decision-making positions.
In other words, your prospects are almost guaranteed to be on LinkedIn. Sending an invitation to connect with a friendly note could be the start of a relationship.
At best, this will make your name and company familiar to them before you even make the call. And at worst, even if they don't connect on LinkedIn, you'll find out a little more about your prospect before your call.
From their LinkedIn profile, find information such as:
Where are they from?
Where did they go to college?
What companies have they worked for in the past?
How long have they been with this company?
(And make sure your headline and summary are updated too.)
This information will help you establish common ground while talking with your prospect.
From the moment they say "Hello..."
Establish common ground.
Hey, I saw on your LinkedIn profile that you went to University of North Carolina. I actually grew up in that area! Don't you love the…
Adding a simple, yet personal touch to your call is all you need to build the foundation of trust. Once your prospect sees you as a real person, you can move on to the meat of the conversation.
Be cool, but confident.
We all know the sound of a typical sales rep: in a word, excited!
Every sentence sounds like it's full of exclamation points! You're wondering how many Red Bulls they drank this morning! It doesn't sound natural!
Don't be that person.
Practice doing prospecting calls in your normal speaking voice. You could even record yourself while practicing then listen to how it sounds. If you sound like you're on your fifth cup of coffee, you probably need to tone it down.
On the other hand, avoid sounding unsure or nervous. If your voice doesn't portray confidence, your prospect won't have confidence in what you're selling.
The key is to balance a natural tone with confidence.
Once the conversation gets going…
Ask questions, and then listen!
What do you really know about your prospects and their needs?
It's dangerous to assume you understand your prospect. Imagine spending 60 seconds talking about how your product solves a specific problem—only to realize that your prospect doesn't have that problem.
Instead, ask questions.
To be more specific, ask 11 to 14 questions.
Why? Because a study by Gong found that asking 11-14 questions leads to an average success rate of 74%.
So, pick 11-14 targeted questions, such as:
What are your top business priorities right now?
What is your biggest problem when it comes to...?
What solutions are you currently using to solve those problems?
Are you satisfied with those solutions?
What would make you consider switching providers?
What concerns do you have about using a [product]?
If you starting using [product], what kind of results would you expect to see in the next year?
This may sound obvious, but after you ask these questions, listen.
It may even help to have a piece of paper in front of you to jot down some of those responses. That way you can refer back to them later in the conversation.
Talk about value, not features.
When talking about the product you're offering, it can be easy to get caught up in its features.
But remember this: features don't sell products. Value is what makes a sale.
So, what kind of specific value can this product offer your prospect?
Since you've already asked questions, you should have a good idea of what problems your prospect is facing, or where their current solutions are falling short.
Use this information to guide the conversation towards the value of your product.
For example, imagine your prospect said their goal was to reduce time spent on data entry. You could respond: Data entry is such a time waster! That's why our software captures data and organizes it automatically. Some of our clients save more than five hours per day by automating data entry.
By using examples from current clients, you can show the real-life value that your product provides.
At the end of your prospecting calls…
Make a definite plan for your follow-up.
How many times have you heard the phrase: "Thanks for calling, I'll think about it and get back to you."
And then, crickets.
That's why, at the end of your call, it's essential to confirm a definite follow-up.
Pro-tip: This is where a CRM comes in handy. With automated task alerts, you'll minimize data entry and still remember to follow up, even if your lead is too busy to confirm another meeting.
Whether you're setting up a free trial of your product, a time for a meeting, or a business lunch, make sure you know when you'll talk to that prospect again.
Want to make sure your prospect shows up at the next meeting time? Whet their appetite with a topic of conversation they're interested in.
For example: Thanks for taking the time to talk to me today. I know I probably caught you in the middle of something, so why don't we set up a video call for the end of this week? I'd love to address some of the concerns you had about app integrations.
Ask for a step forward, not a leap of faith.
Asking outright for a sale could be a fast way to derail an otherwise good conversation—but you still want to close.
First, try to feel out what your prospect is thinking by asking questions such as:
If we move forward, when would you be looking to implement this solution?
Who else would be involved in the decision process?
At the end of our next call, would you be ready to give me a firm answer?
Based on what we've talked about so far, do you think [your product] would benefit your company?
If you feel like your prospect isn't quite ready to make the sale, don't worry. There are other ways to move forward without directly asking for a sale.
For example:
Set up a trial account.
Send the prospect a customized video about your product.
Set up a meeting to present specific benefits your product can bring to their company.
Whether you directly ask for the sale or simply a step forward, you'll be moving closer to closing the deal.
Ready to give your prospecting calls a makeover?
The tips outlined above are meant to make sales calls not only easier for you, but also more successful. Remember, implementing a solid strategy when making prospecting calls is the key to closing more deals.
Only one question remains: Are you ready to get started?