We've just launched, in partnership with Google, a connector between Copper and Google Data Studio to turn your data into easy-to-read, easy-to-share and fully customizable reports. Bring together Copper data plus data from other systems in fully-customizable dashboards to get a holistic view to make more informed decisions.

Empower the whole team with insights
Data Studio makes every bit of your vital data accessible and useful, so your team can find and share the answers to your most important questions. Real-time data empowers everyone to act on the insights and unifies every department so everyone knows more, works together better, and gets more done, faster. With everyone on the same page you can increase alignment, accuracy and effectiveness across the entire company.

Key benefits:
Intuitive drag and drop interface lets any user build reports from scratch or use templates for faster report creation
Create reports and dashboards for any role, industry or use-case – all without needing to be a technical whiz
Measure and track performance to find opportunities for growth

Display dashboards in a variety of visualizations like bar charts, scatter plots, pie charts and more
Share them as you would any Google Doc or Slides - it's that easy!
"It's incredibly powerful to easily integrate several data sets with Copper by using Data Studio, instead of spending countless hours manipulating spreadsheets." - Eric Barros, Door, Inc.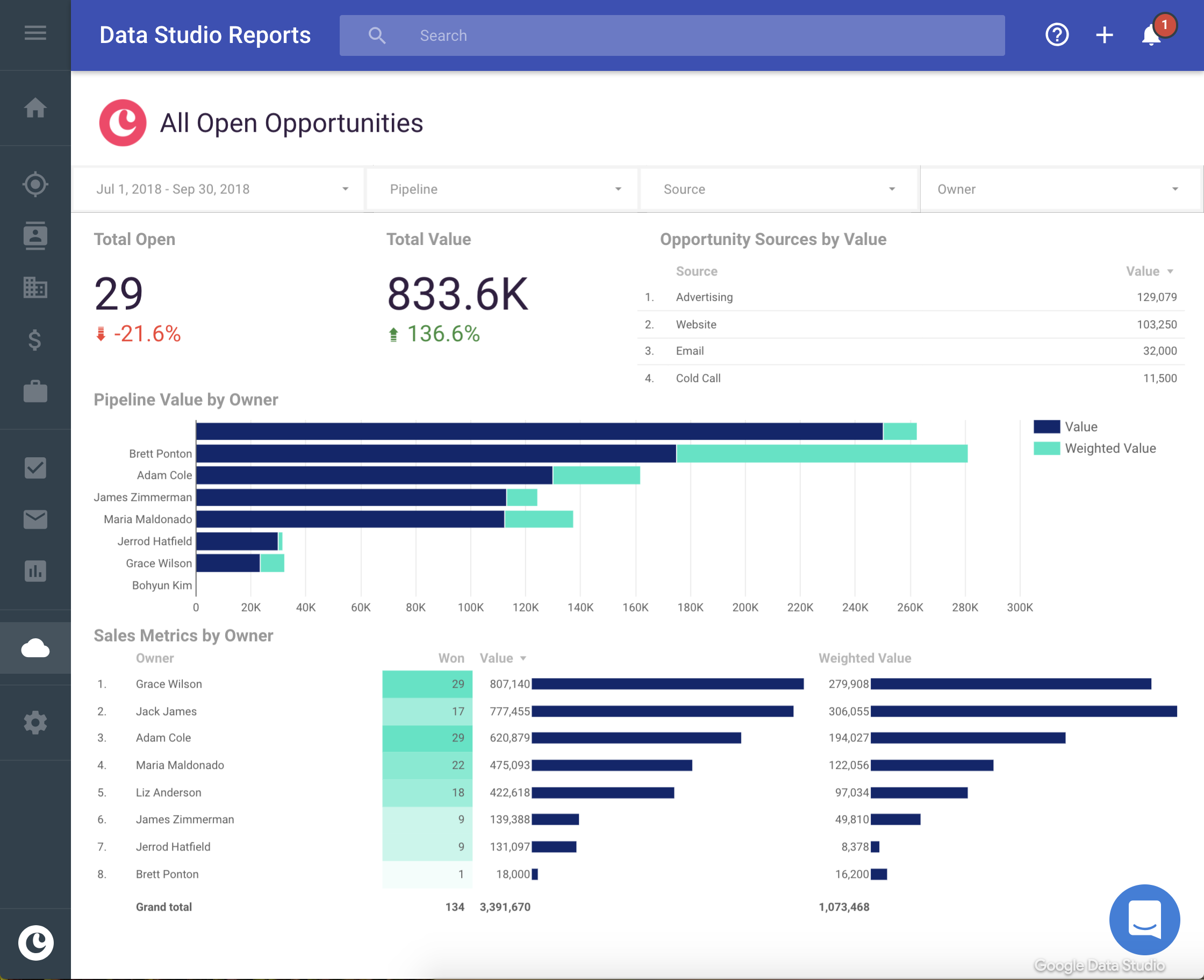 How do I start using Data Studio + Copper?

Any Copper user on Professional or Business plan can enable the Data Studio connector by creating a free Google Data Studio account. You can download Copper's report template or create custom reports and dashboards that are easily shareable. Non-admins can only see the data their permissions in Copper allow them to view. For a deeper dive on the Copper connector to Data Studio, visit our Knowledge Base.
Build your first customized report in Data Studio today!
Data Studio is best-in-class provider of data visualizations that allows you to connect to multiple data sources (CRM and others) to create charts and reports with drag-and-drop ease for quick visualizations of information. Our partnership with Google allows us to leverage their tools to extend the Copper platform.