Customer stories
How SwingSearch Stays on Top of Recruitment with Copper
How SwingSearch Stays on Top of Recruitment with Copper
It takes top talent to hire top talent—that's why VCs trust SwingSearch to place top performers at their portfolio companies.
SwingSearch (or "SWING" as they commonly go by) is an Oakland-based recruiting firm specializing in finding all-star individuals—or sometimes, entire teams—to help VC darlings and portfolio companies grow.
We sat down (in the digital sense) with Adam Jackowitz, the Head of Operations at SWING, to find out how his team uses CRM to help build teams for some of the hottest startups on the planet.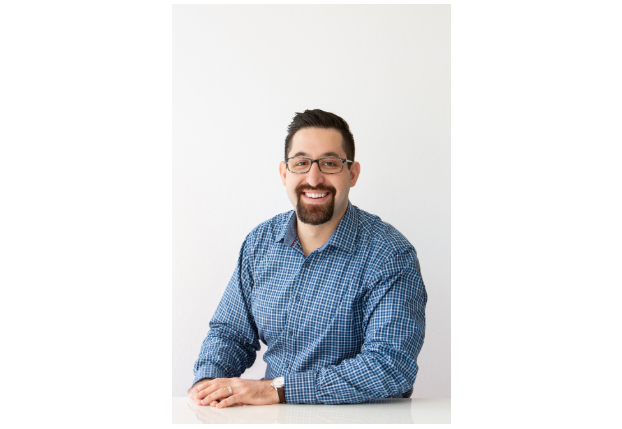 Adam: Head of Operations at SwingSearch.
It all started in a spreadsheet abyss.
Before moving to Copper, SWING was using spreadsheet software and their ATS (applicant tracking system) as their primary workflow and relationship-management tool. Whether it was for collaboration, recruiter management, or monitoring which stage their clients (and prospective clients) were at, there was typically a spreadsheet for that.
Which wasn't the greatest solution.
A typical workday at SWING would involve team members speaking with a whole lot of different people: VC firms, clients, prospective partners and clients, and of course, job candidates.
Spreadsheets and their ATS just didn't give them the ability to keep track of all these relationships, let alone to effectively maintain or grow them. The fact was, most of these interactions lived—and still do live—in Gmail or LinkedIn, which means they're completely separate from the rest of their data. (Spoiler alert: one of the reasons they moved to Copper was its G Suite integration.)
"We just didn't have that single source of truth at SWING," recalls Adam. "With lofty goals of scaling our business, that would have been a non-starter way of thinking about how to grow."
And so, business growth in mind, it was time to find a better solution.
Pro-tip
Hack your sheets 👇
Learn how to use a CRM to be more efficient with your spreadsheet data + workflows with this webinar.
The features SWING actually needed—without the fluff.
Adam and his team considered a number of different solutions to help take SWING to the next level, including top names in CRM like Salesforce, Zoho, and Hubspot—and of course, Copper.
Being new to the team (about seven months in), this was a big decision for Adam to make. "I had to come in, understand our business, and then see where there were opportunities to streamline how we operate, and improve workflow and visibility into what we're doing."
"We're such a close-knit team, but it turns out we didn't know as much about what was going on as we do now with Copper."
And that close-knit team wasn't all sitting in one office either. SWING employs a number of remote employees—Adam included. So, being able to communicate and collaborate effectively and have everyone on the same page despite the geographical distance between teams was extremely important. They needed a CRM that would give everyone clarity and insights into the business quickly and easily.
One of the things that made Copper stand out was how easy it was to pick up, since it follows the same design guidelines as G Suite—a platform already familiar to many at SWING.
"Copper is going to be something that my team can quickly adopt. And being the primary source of implementation and onboarding to the software, that is a key factor."
Adam went on to elaborate, "To be able to implement this remotely shows just how friendly the user interface is."
Adam described other CRM options as being "too robust" for what they needed—and not in a good way. "'Robust,' not in the sense of more features and opportunity, but feature bloat compared to the value that we were looking to derive, especially being a small team," clarified Adam. SWING knew what they were looking for in a system and were focused on these core functionalities, which meant they weren't impressed by feature fluff. "Copper allowed us to get the closest to replicating the vision of what that looked like."
A good CRM will make client interactions seamless.
Sure, you can list clients on a spreadsheet. But you can't effectively manage relationships with them. A common example that many companies, including SWING (pre-CRM), struggle with is knowing if and when a prospect has previously interacted with your company. Who did they speak with? What was the conversation about?
Copper's Google extension makes this clear as soon as you start typing an email.
"As they start to type their message, they can see in the Copper extension, 'Oh, look! There's already an opportunity that somebody in our company is working on. I probably shouldn't reach out because they're already engaged with us.' That immediate visibility is such a differentiator."
This means no double-dipping on clients or job candidates, internal communications are streamlined, and everyone's on the same page. At last, the "single source of truth" they'd been looking for.
More data, fewer assumptions.
Aside from its compatibility with G Suite and easy team adoption factor, another feature in particular stood out about Copper: its Google Data Studio integration.
"We hear great things through word-of-mouth, have some great assumptions, and some data. But to really be able to pinpoint a number of different statistics, especially in our industry… using the Google Data Studio direct integration is tremendously valuable. We even use this to track performance across teams in easy-to-read dashboards."
Copper's Google Data Studio integration lets Adam and the rest of the leadership team at SWING create custom reports on items like their total yearly revenue, number of placements, active job requisitions, compensation by gender, and more.
This gives them a clear view of: what their goals are for the month, quarter, and year; how close they are to reaching them; what their business development pipeline looks like; and their average deal value. It also allows them to see at a glance what projects their recruiters are working on and their dollar value.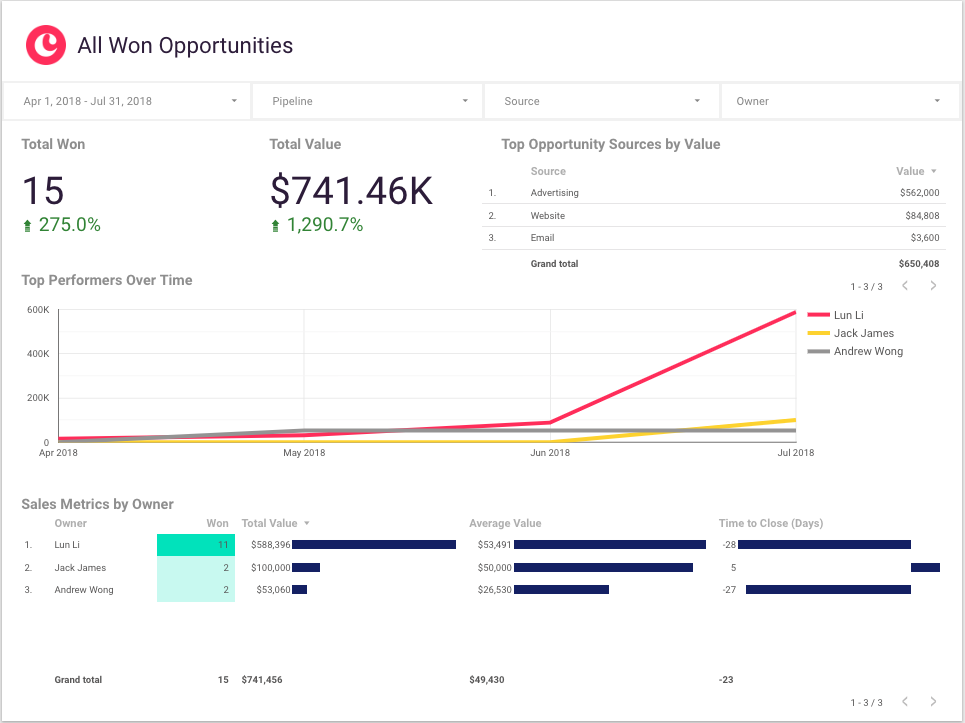 For example, the dashboard can show all won opportunities, their value, where they came from, and even the top performers.
"The feed from Copper shows us the value that our VC partners and clients are actually bringing us: the number of job requisitions, number of placements per year, revenue associated with their portfolios. So we can actually think about where there are opportunities to re-engage with them. It totally changes how we examine the business."
When we asked Adam if his spreadsheet system gave him similar reporting power, his answer was a resounding "No."
All this information means SWING can now operate based on data—not assumptions—about if and when they're going to hit their goals.
Growing companies love scalability.
Just late last year, SWING had 17 employees. They've grown since then and have their sights set on being a team of 25 by mid-year.
Edit: It's March and they've already hit this mark with the two latest hires!
When asked if Copper had a hand in their impressive growth, Adam responded, "I think it has given us justification behind some of the aggressive hiring decisions we have made. Copper gives us the ability to closely monitor individual, team, and overall company performance."
With Copper as the team's CRM, SWING is expanding on the East Coast. "Towards the end of last year, we were talking about how we're going to need to hire more," revealed Adam. "We actually recently hired our East Coast General Manager to help scale in New York, and SWING officially has boots on the ground in Silicon Alley!"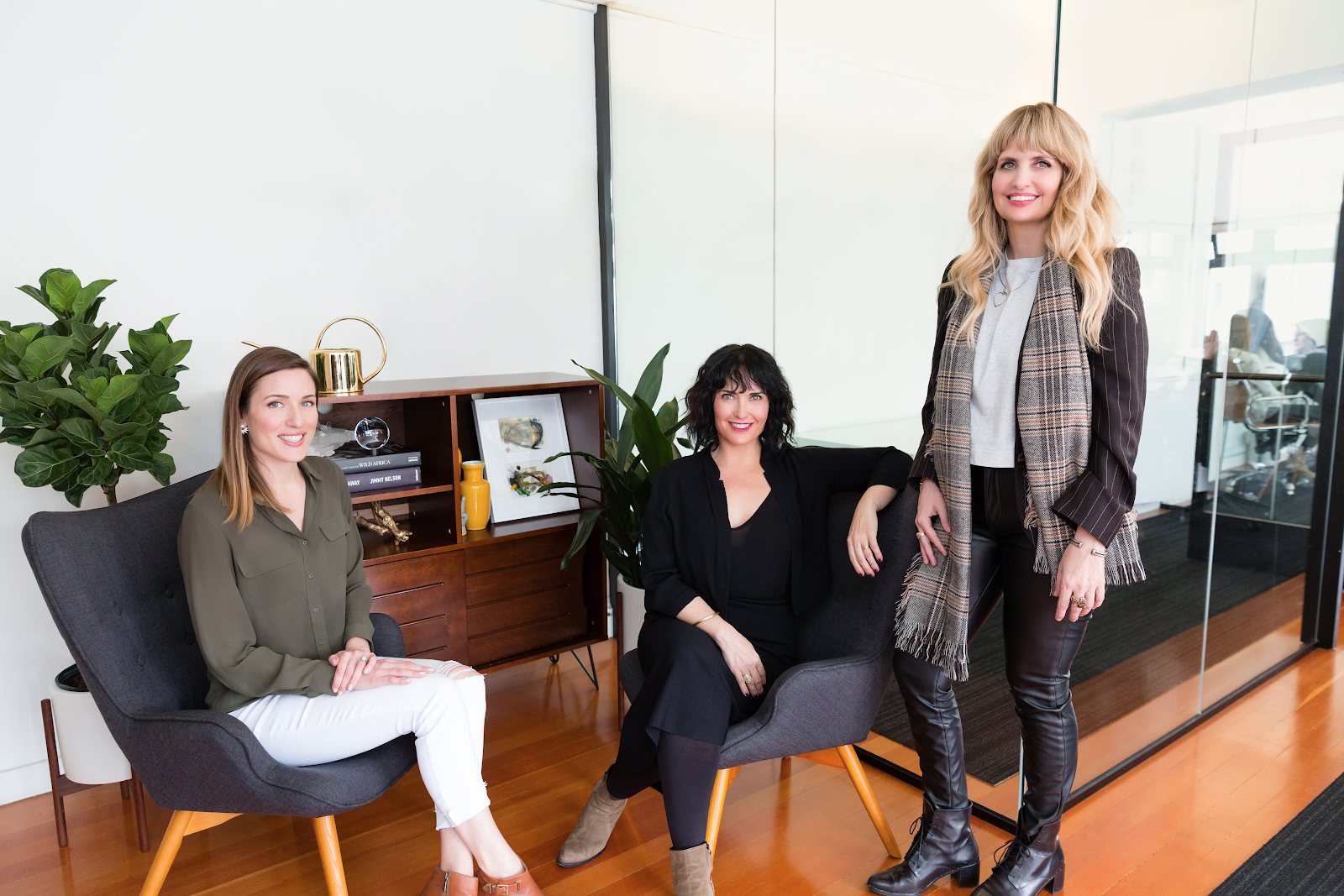 Annie Wenzel, Jennifer Loftus, and Mandy Edmund: Associate Partner, Founder/CEO, and Partner/COO, respectively, at SwingSearch
We look forward to watching SWING continue to grow!