Did you know that that 37% of salespeople say that their biggest challenge is getting in touch with prospects?
What that tells us is that over a third of salespeople out there are banging their heads against the wall at the mere thought of trying to find a prospect's email address. It doesn't matter how brilliant or optimized your marketing campaign is, it's a non-starter if you're not able to get in contact with prospects in the first place.
Submitting a request through a prospect's contact page is all well and good but, as we all know, being able to talk to a prospect directly is a game-changer.
Which is why in today's article we'll be outlining a near-foolproof process to find someone's email address. Here's how it works:
1) Start with LinkedIn and Skrapp.
The very first step of the email finding process is to use a combination of LinkedIn and a nifty tool called Skrapp.
With over 500 million users worldwide, LinkedIn is truly the world's largest professional social network. Chances are whoever you're trying to connect with has a LinkedIn account which is why it is the best place to start when looking for an email address.
The most obvious way to get a hold of someone's email address is to just add them on LinkedIn and click on the "See contact info" button, which should bring up their contact details.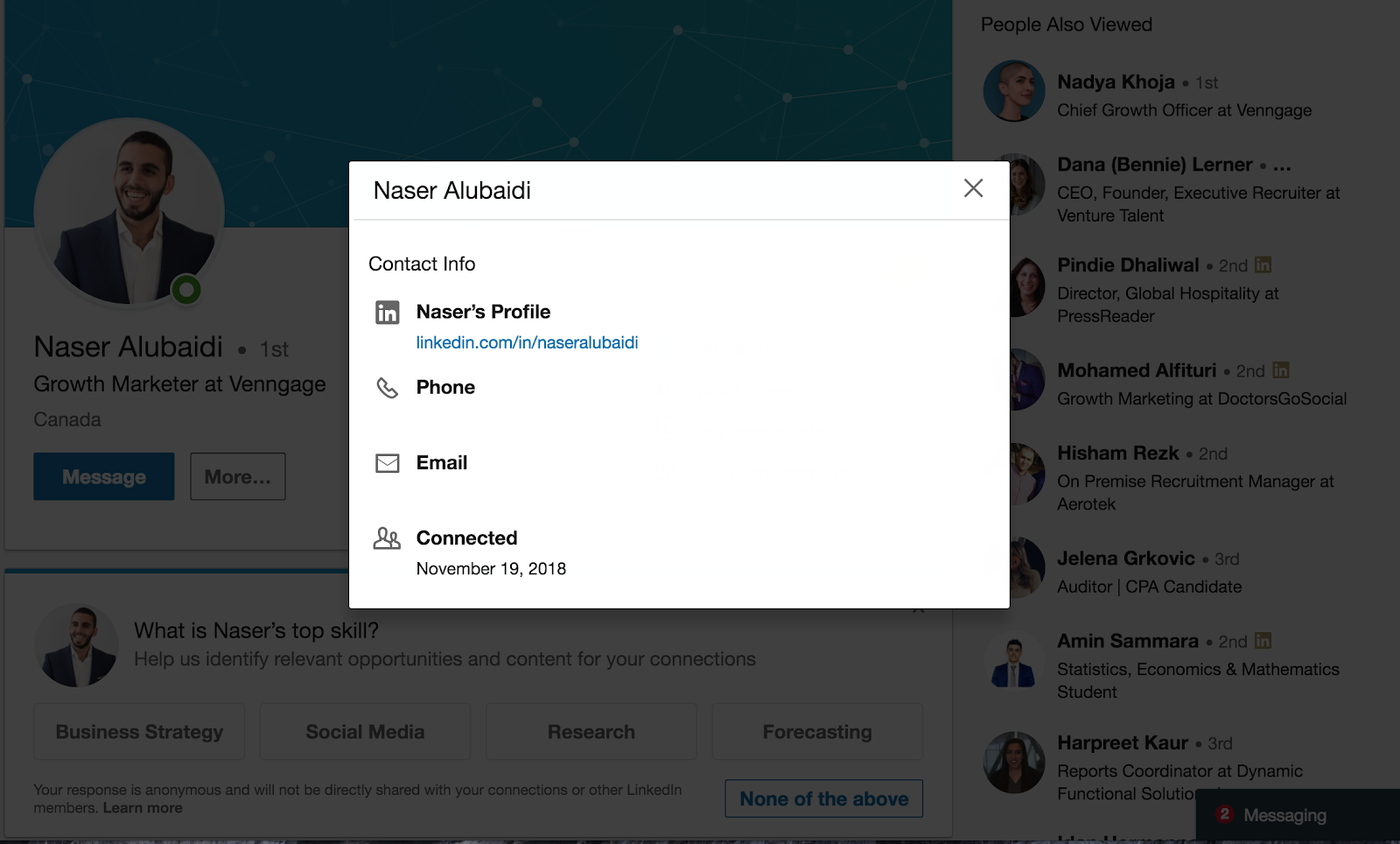 However, not every prospect is going to accept your request to connect which puts a bit of a wrench in things.
If you're unable to connect with a prospect over LinkedIn, then it's time to turn to Skrapp. Skrapp is a tool that integrates with LinkedIn's Sale Navigator interface to find email addresses associated with whatever LinkedIn account you happen to be viewing.
By using their Chrome Extension, all you have to do is click the little blue button and it'll immediately pull up their contact details.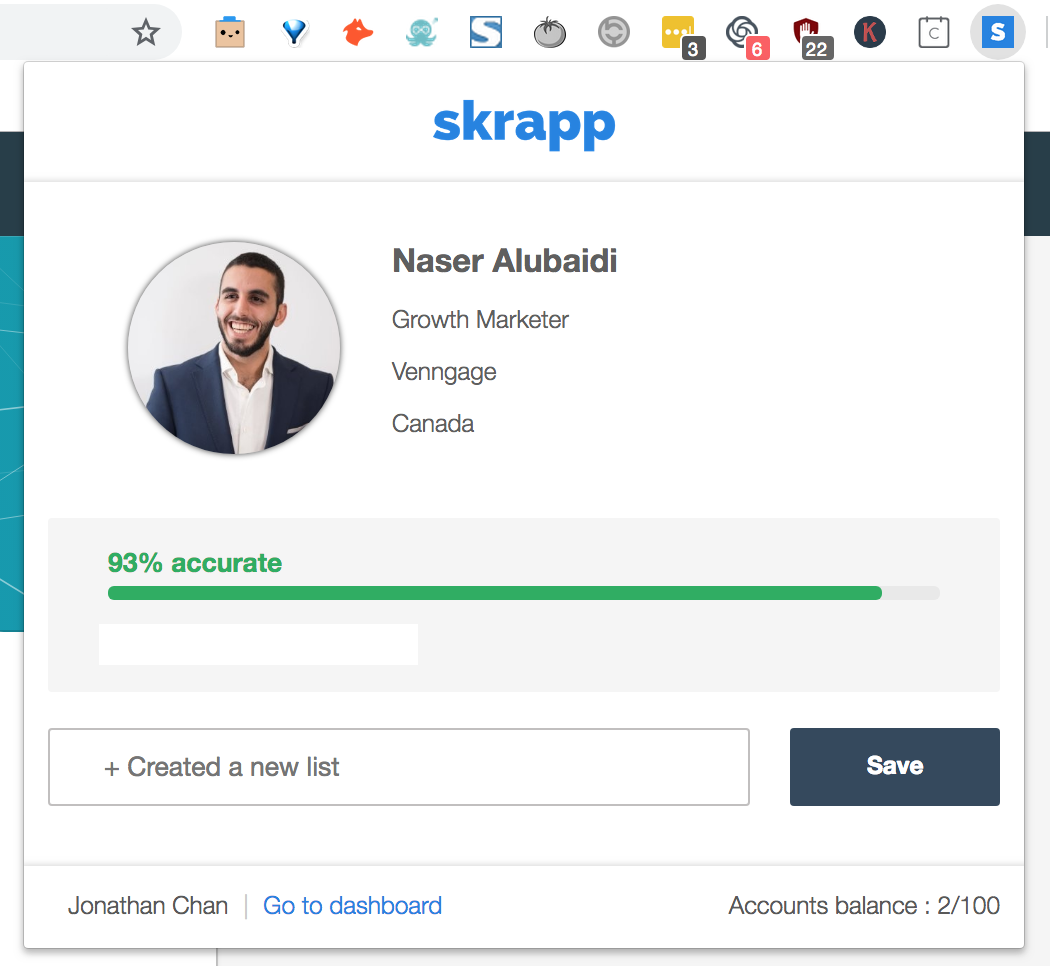 Another neat little feature in Skrapp: it can also search for email addresses in bulk, which is particularly useful when you're looking to contact more than one prospect. Whenever you're running a search for prospects in LinkedIn, you can use Skrapp to export an entire page's worth of results into a CSV file.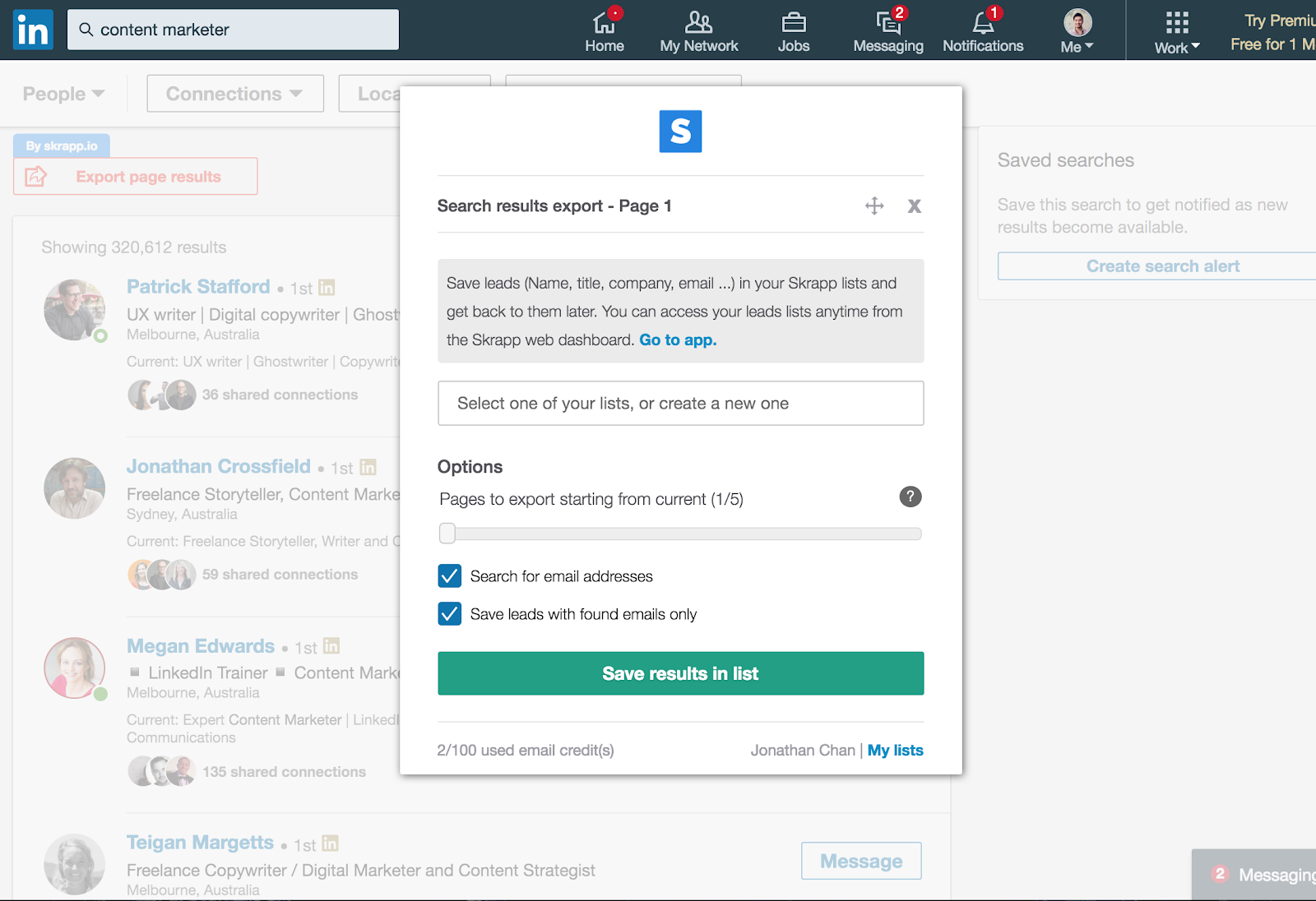 Note: Keep in mind that Skrapp allows up to 100 email searches a month. If you need more than that, then you'll have to purchase one of their plans—the cheapest starting at $49 a month for 1,000 emails a month.

2) Use an email hunter.
Most of the time you should able to find someone's email address with just Skrapp, but on the off chance that you don't get the result you were looking for, then we suggest turning to another tool called Hunter.
Hunter is a simple Google Chrome Extension that finds all the email addresses publicly associated with any given domain name.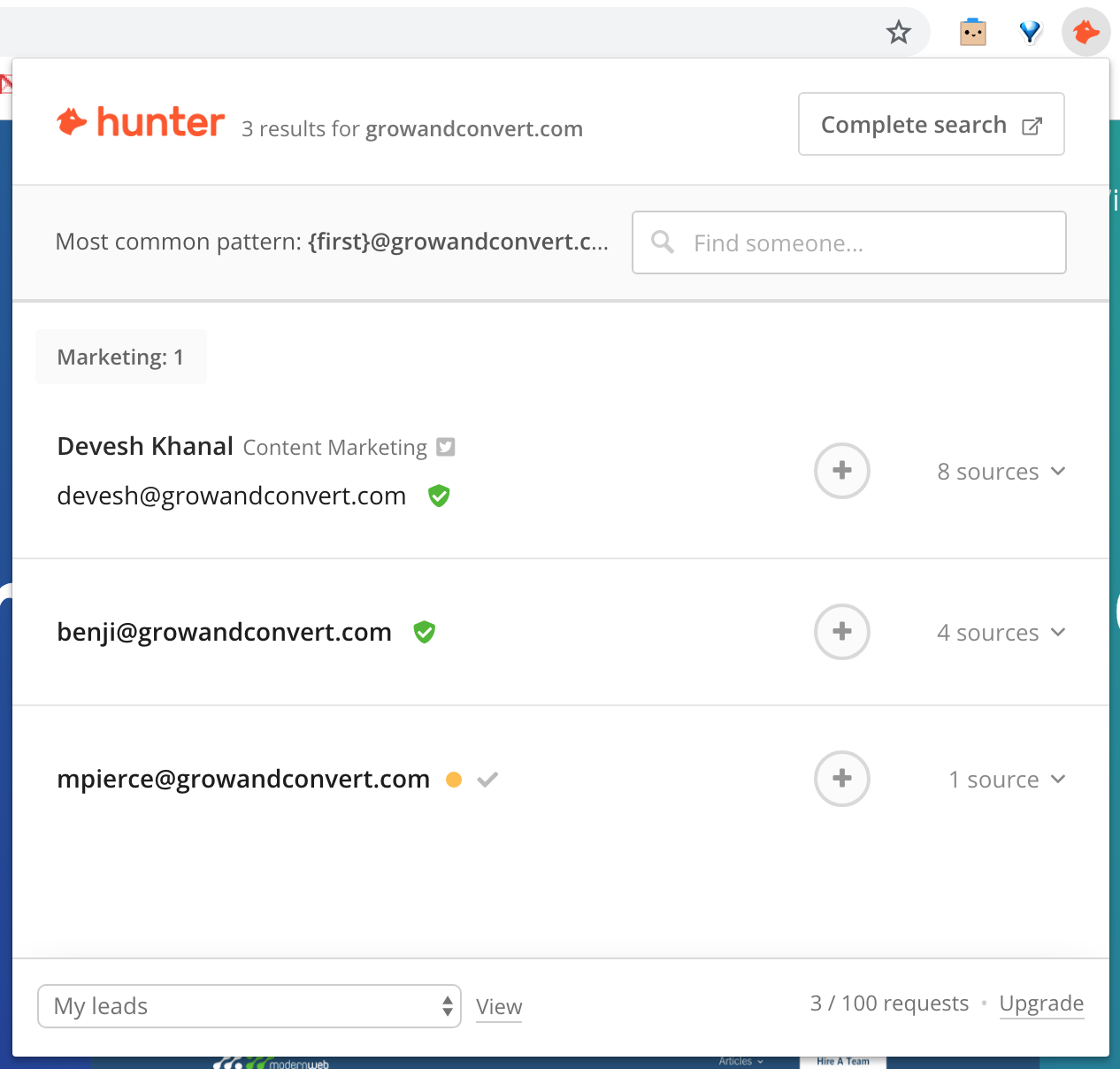 What we particularly like about Hunter is how it gives us a score on how likely that email address is active based on the number of sources it can publicly find. Another benefit of Hunter is that it'll provide you with the common pattern behind that domain's associated email addresses—even if you can't find out the exact email address of your prospect, you'll at least be able to guess what their contact details are.
Note: Just like with Skrapp, a free account with Hunter only allows up to 100 email lookups a month with paid plans beginning at $39 a month for 1,000 emails a month.
If you prefer something more robust, then VoilaNorbert is another alternative. Like Hunter, with VoilaNorbert you can find someone's email address by searching for their name and the company they work for and it'll pull up all publicly known email addresses for that person.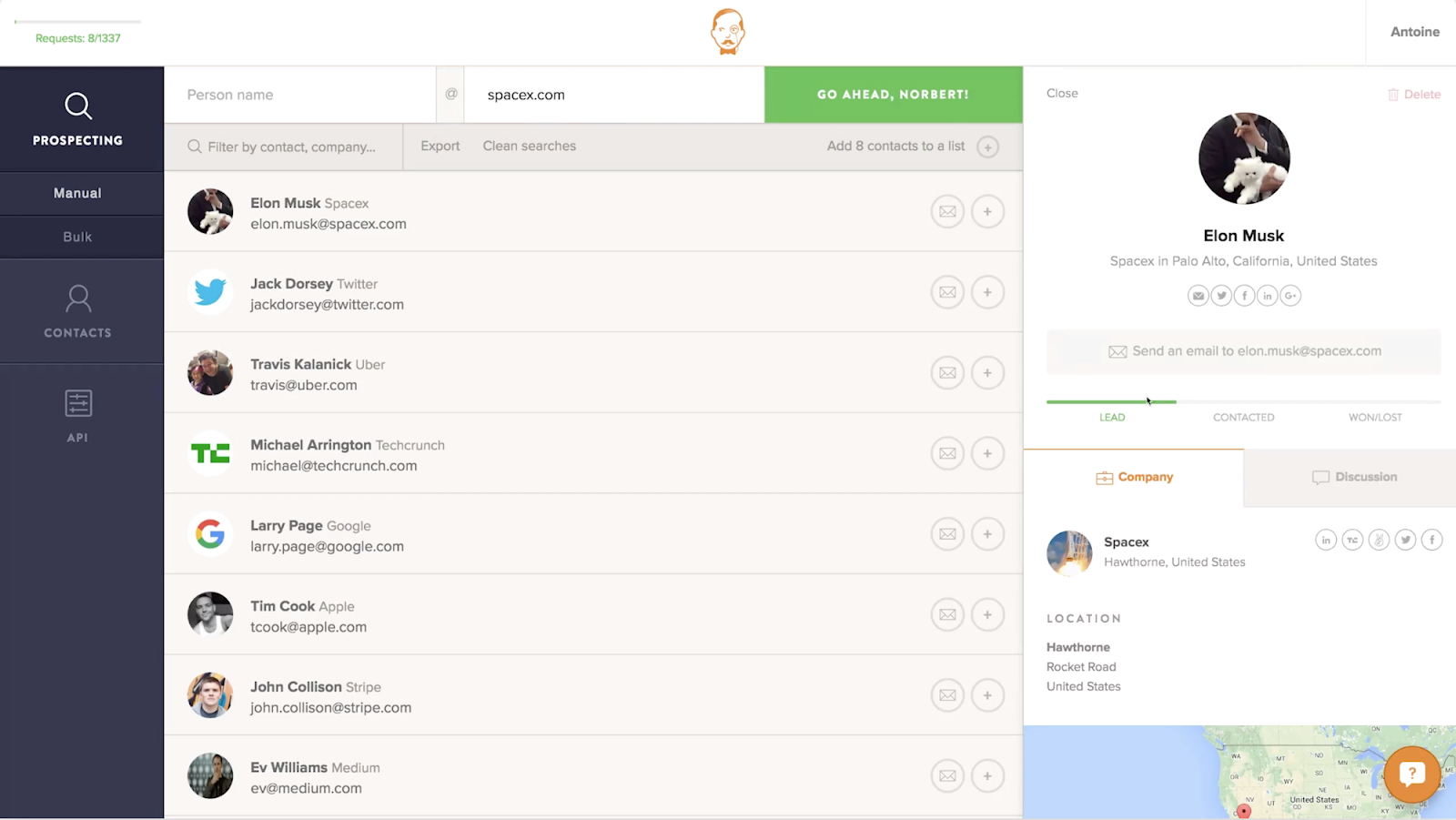 What separates VoilaNorbert though are its extra features. Specifically its Gmail plugin, which allows you to schedule emails, set reminders, and create automated email sequences for individual prospects.
With a free account, you can search up to 50 emails a month and paid plans begin at $39 monthly for 1,000 emails a month.
3) Tag-team the guessing game with Email Permutator+ and MailTester.
If you still aren't able to find someone's email address, then it's time to take an educated stab in the dark.
When it comes to email addresses, most businesses will follow the same basic formula (unless they happen to be a really big fan of alphanumeric emails).
Hunter should be able to provide you with the email pattern that your prospect is using, but just in case, you can always pull up every possible option with Email Permutator+ from Metric Sparrow.
All you need to do is fill in the required fields and it'll pull up every single possible email variation.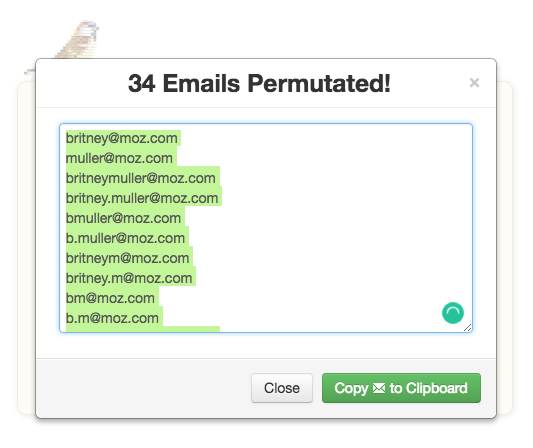 While you can CC every single one of those email addresses into a single email, save yourself the trouble of receiving dozens of "Delivery System Failure" emails by using MailTester, another super simple tool.
All you have to do is enter the email address into the search field and it'll let you know which one is active based on a number of checks.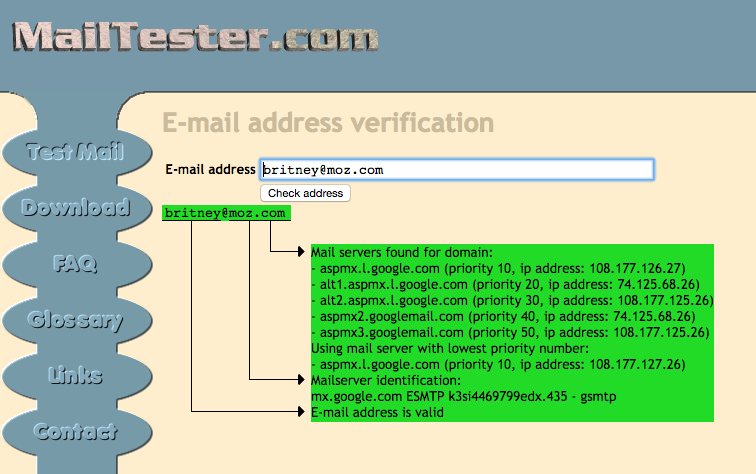 Unfortunately, their batch checking application is only available for Windows, so if you have an Apple computer, you'll have to find an alternative or check each email address individually.
4) Locate a gatekeeper with LinkedIn.
As most of you reading this will know by now, contacting a prospect via a referral is much more effective than getting in touch with them cold. If you have the option to be referred by a mutual connection, you should always go for that first.
But for those of us who don't have a mutual connection we can turn to, you can always try this tactic.
Even if you're not able to connect with your prospect, you can always find someone else who can. That can be as simple as going through LinkedIn and seeing if you have any mutual connections, or you can make contact with one of their co-workers to help make the introduction.
You can do this by going to the company's "About Us" page and pulling up a list of all their current employees.
From there you'll be given a list of all active employees and you can find someone who is in a similar position, or preferably someone at the executive level, and get in touch with them instead.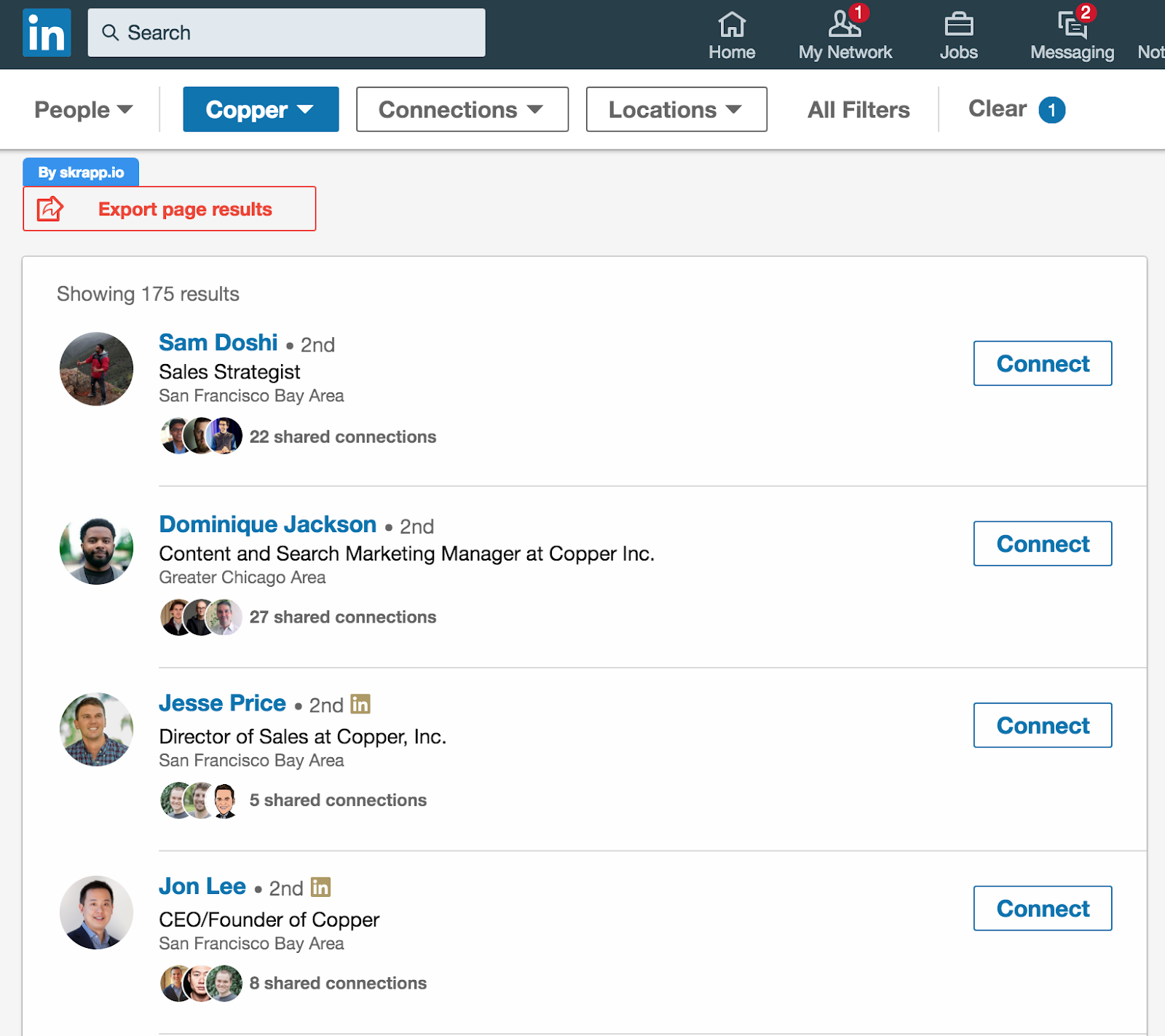 Once you have your gatekeeper's contact details, it's as easy as reaching out to them and asking for a referral. If you need help on how to write an email asking for a referral, check out this article.
5) Just ask.
If all else fails and all your options are exhausted, just ask.
Reach out to your prospect through social media or simply submit a request to connect through their company's contact form and connect with them there.
While this is definitely the least sexy of all methods, sometimes all you need to do is ask.
If your prospect has a regular email newsletter, then you can also start a conversation through there. In my experience, unless that person receives thousands of replies to their newsletter every single day, chances are that person will engage with every reply to their newsletter.
You can see how Nick Churik of Ahrefs used this approach with Brian Dean. Nick simply responded to one of Brian's newsletter blasts by asking for some advice and Brian replied through his personal email account.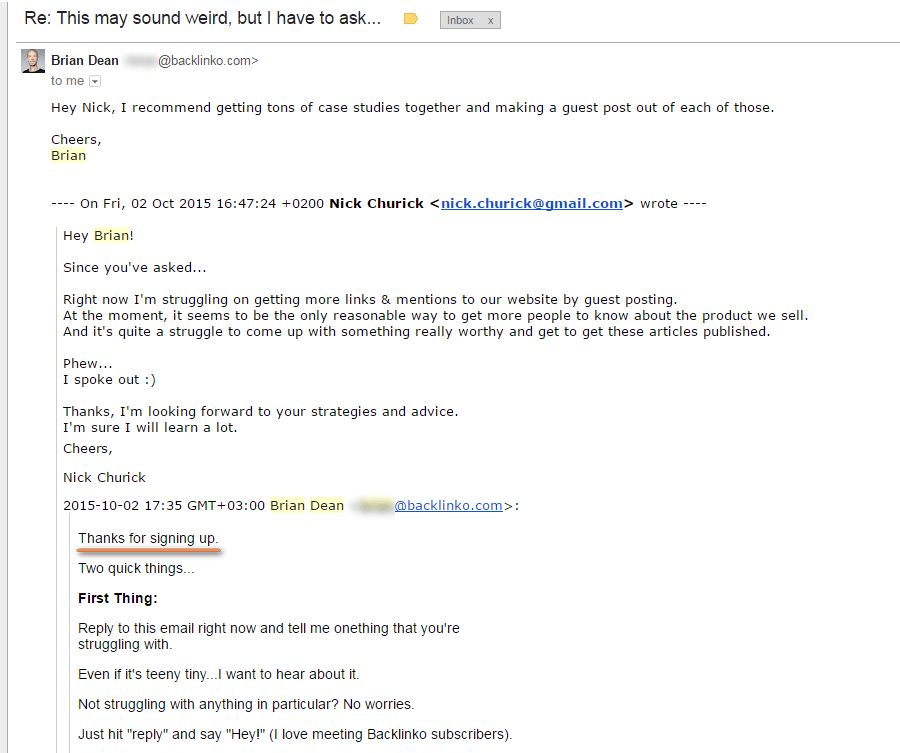 Start emailing!
And there you have it! A five-step process on how to find anyone's email address. Of course, you don't have to follow this exact process step-by-step, but this has worked well for us in the past.
Also, don't forget that there are also more obvious ways to connect with someone such as sending them a message through social media—you'll (generally) find yourself achieving a higher success rate by emailing them directly.
One other thing to keep in mind: it goes without saying, but by no means should you abuse the process we've outlined here. Just because you have someone's email address does not give you permission to spam them with continuous emails until you get a reply. Always make sure you respect a person's personal boundaries.
How do you find someone's email address? Any tactics or tools that we've missed out on? Tweet us and let us know!