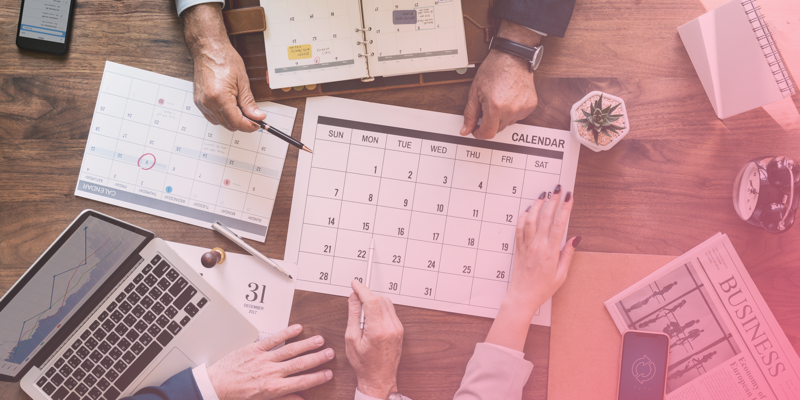 Customer Retention : 8 min read
Proven Strategies for Customer Marketing
Be honest: is your business guilty of practicing one-size-fits-all marketing?
Hey, we're not here to judge you.
But consider this: all-purpose marketing often produces sub-par results.
How you treat prospects who've never heard from you before should be different from how you approach customers who already know what you're all about, right?
How you treat the latter group is one of the most overlooked aspects of marketing today if you're interested in dedicated, long-term business (versus a bunch of one-off purchases).
Enter the world of customer marketing.
What is customer marketing and why does it matter?
The concept of customer marketing is simple:
Customer marketing is a type of marketing that is laser-focused on your current list of customers, rather than new prospects who don't know you.
From ads and emails to social media and offers, understanding how to speak your current customers' language is, well, critical.
And not only do the customers who've handed you their hard-earned cash deserve your attention, they expect it too.
While explicitly marketing to your current customers may seem like a no-brainer, you may very well be overlooking your most eager buyers in your pursuit of new ones.
But why does customer marketing matter so much anyway? Let's break down the three big-picture benefits.
Stop us if you've heard this one before: it costs five times as much to acquire a new customer than it does to retain a current one.
Simply put, keeping your current customer base engaged and happy means more money in your pocket over the long run. (More on customer retention here.) Likewise, the more you get to know your customer base, the more likely you are to form meaningful, long-term relationships with them.
More referrals and positive word-of-mouth
Boasting a base of satisfied customers is arguably the best word of mouth you can possibly ask for. In fact, brand advocates are 75% more likely to share a great experience with fellow consumers. The end result? More referrals and more positive attention on your business.
Customer marketing = social proof
On a related note, customer-centric marketing does double duty, appealing to your current base and new prospects at the same time. After all, customer marketing serves as proof of your track record and can help increase conversions with people who may not know you already.
With all of this in mind, what exactly does effective customer marketing look like in action?
Glad you asked.
8 customer marketing strategies from InVision, Squarespace, VSCO, and more:
Highlighted below are eight strategies that are staples of customer marketing today. Ranging from emails and social posts to the simple act of how you approach your customer communication, any combination of these tactics is fair game.
1. Give them VIP treatment—right from the get-go.
How you welcome your customers is a make-or-break moment.
How so? Welcome emails boast three times the transactional value of a traditional marketing message. Likewise, welcome messages are your chance to make an ever-so-valuable first impression.
Whether it's hyping up exclusive content or setting expectations moving forward, stressing the value of being associated with your brand is a must-do. This welcome email from Beardbrand is a shining example with its laid-back tone and message that creates a sense of community.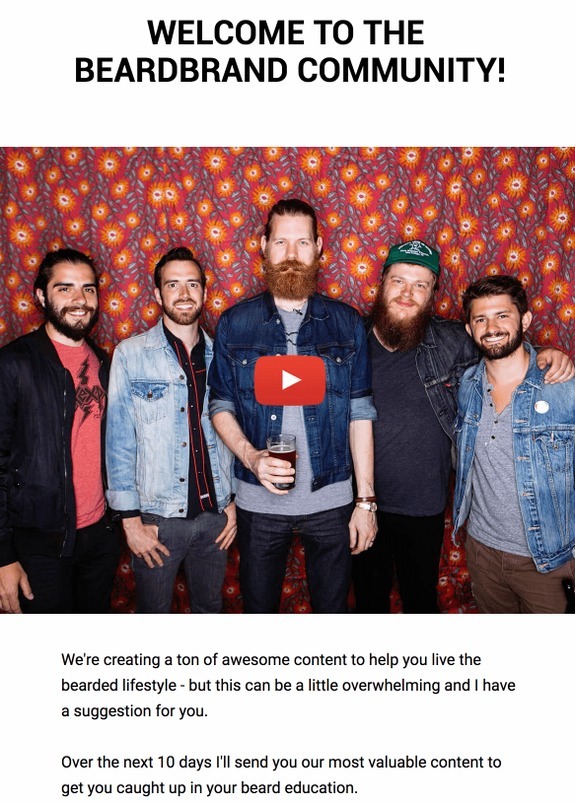 This onboarding email from InVision is another great one, with its message emphasizing the halo effect of being associated with their product. Who doesn't want to be in good company? The invitation to take action and get inspired is way more proactive marketing than just saying, "Thanks."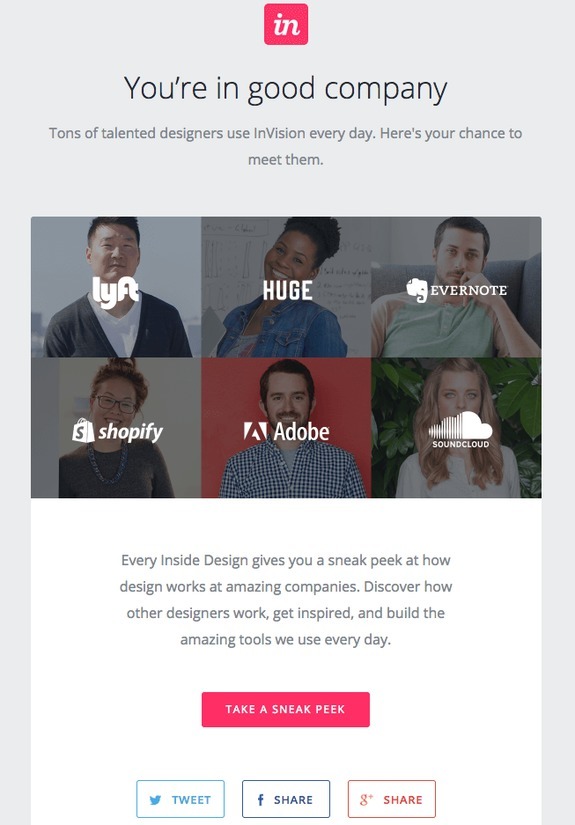 2. Let customers be your best billboards.
The sooner you can start nurturing a sense of brand loyalty, the better. Beyond your welcome emails, one of the best ways to make it happen is by curating and sharing user-generated content (UGC).
Simply put, UGC is content that customers create on your behalf rather than content you create yourself.
Whether it's in the form of a customer photo, positive feedback, or even a passing comment, UGC represents your marketing dynamic. In fact, 75% of consumers say that UGC feels more "authentic" versus a traditional ad.
For example, Squarespace regularly gives shout-outs to its customers by highlighting their stories and content on Instagram.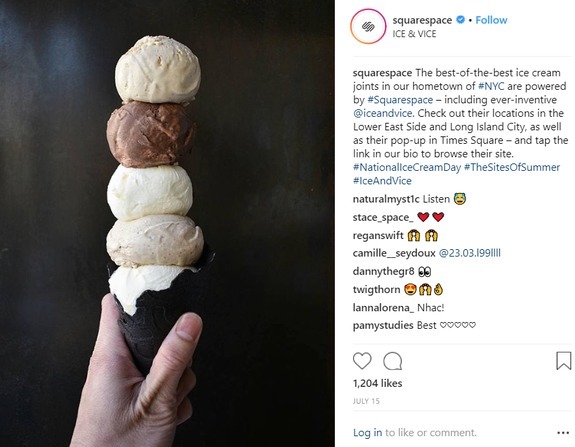 Similarly, by using a branded hashtag (#interiorsonVSCO), app-maker VSCO curates the creative content of their customers to show off to their millions of followers. Classic customer marketing doing double duty.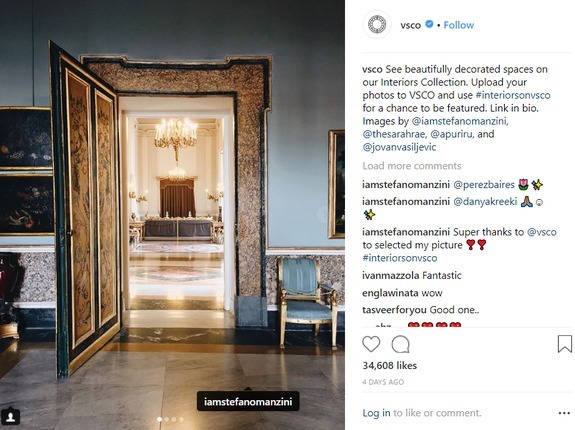 UGC doesn't necessarily have to be customer photos though. Something as seemingly simple as a Twitter mention can serve as UGC as well. Businesses like Trello regularly retweet clever comments and thank-you notes from their dedicated users.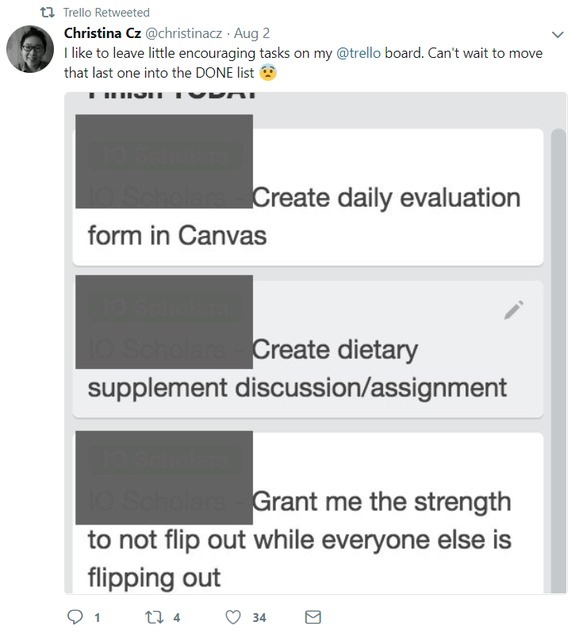 This "show, don't tell" style of marketing centers on customers and their positive experiences. Customer marketing via UGC shows buyers you're invested in them—while proving your worth.
3. Highlight specific customer success stories.
So. You already know that your customers' content and experiences can serve as your best marketing firepower. Now, you need it to take it to the next level.
If you have a case of a customer who's truly knocked it out of the park, you may consider putting the spotlight on them beyond just a social post.
For example, Skillcrush crafts in-depth interviews and blog posts delving into how their courses and resources helped customers find jobs in the tech field. This sort of content is engaging and insightful for both prospective and current customers.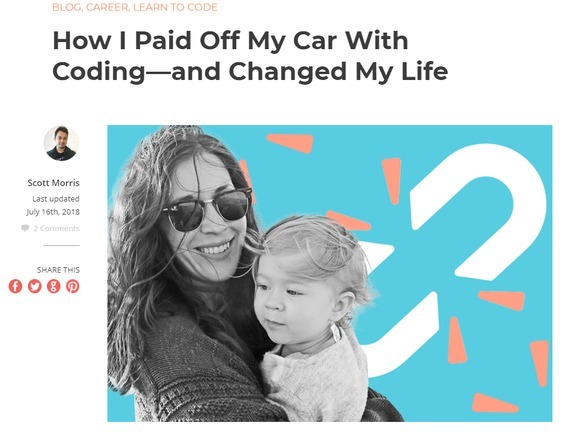 And beyond blog posts, Bitly has produced a full-blown ebook highlighting successful brands who've used their platform. Again, this serves as a valuable resource for both new and existing customers.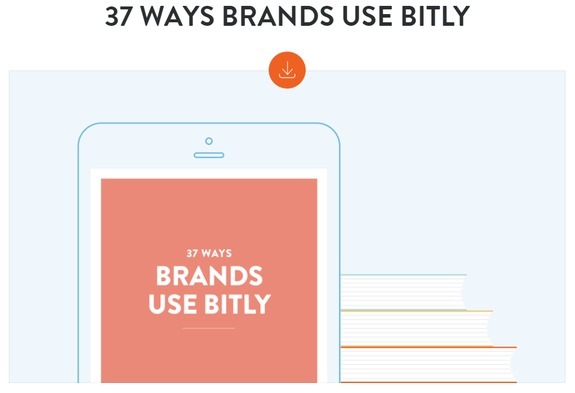 It's also common practice for businesses to showcase pages dedicated to case studies or testimonials for customers to draw inspiration from. Here's a great example from Zendesk: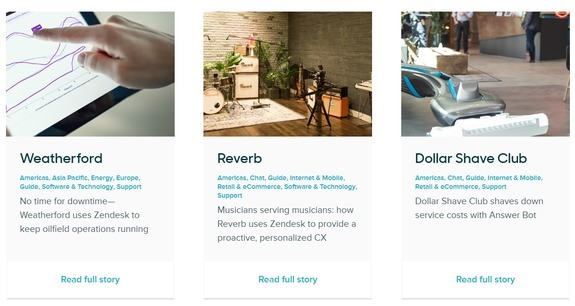 When it comes to gathering these pieces of customer marketing, don't be afraid to ask. More likely than not, your customers would be happy to share their stories. This is especially true if you're already in contact with them on a regular basis.
And that leads us to our next point.
4. Become a better listener.
Could customer marketing be as simple as hitting "Reply?"
Sometimes, yes.
Responding to comments, social posts, and emails in a timely manner is a (relatively) easy way of doing customer marketing. After all, you're showing your investment in your customers' long-term success through your willingness to communicate with them.
Rather than leave them hanging, a swift response shows that you're there for them.
We're not necessarily talking about providing customer service, either. The simple act of saying "thanks" or responding to a shout-out shows that you're listening, as shown by this reply tweet from Airbnb.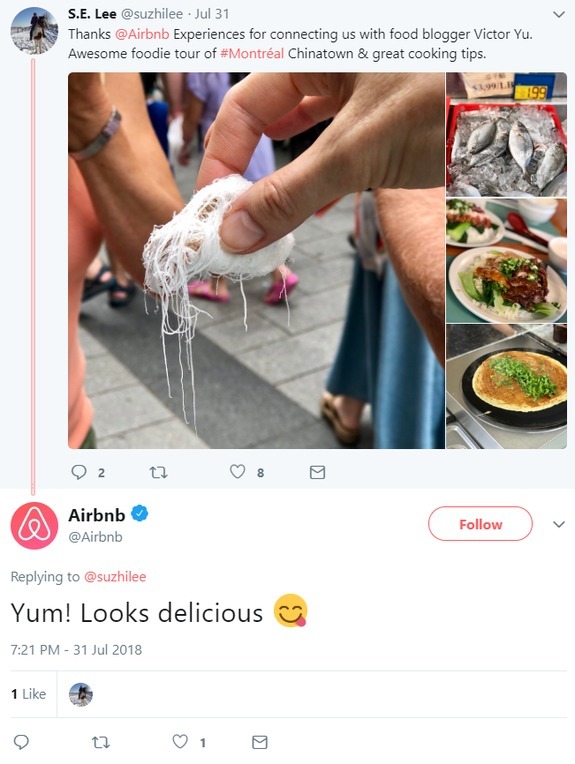 Listening also means asking your customers for feedback from time to time, whether it's through social or email. Here's an example of Evernote picking their customers' brains on Twitter.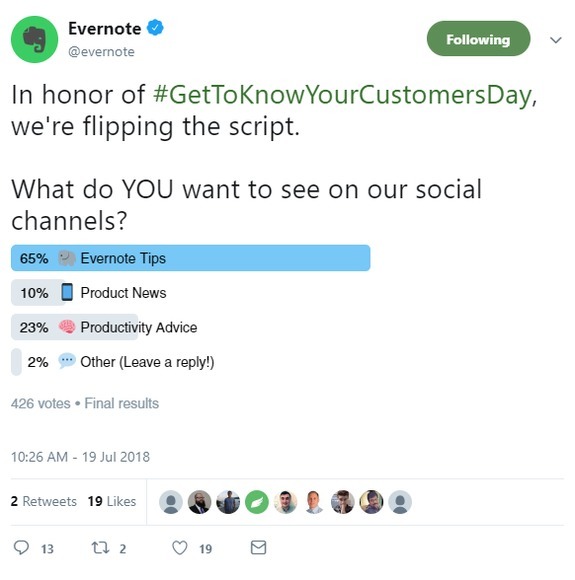 These touch points might not seem like much on the surface, but they reinforce the positive relationship you have with your customers.
Besides, it's so easy to stay in touch with customers through social and email that there's really no reason for leaving them hanging. If you can spare a few seconds, hit that Reply button.
5. Reward your base—just because.
Freebies and rewards are always welcome whether they're in-person or digital. Giveaways are a prime way to renew interest around your product while positioning yourself as a helping hand.
Skillcrush's recent summer giveaway showered students in career-boosting swag—and is a prime example of a thoughtful reward.
Referral codes and discounts are another way to reward your customers while also encouraging new ones to come through the door. Here's a three-month referral discount deal from Clear that does this brilliantly.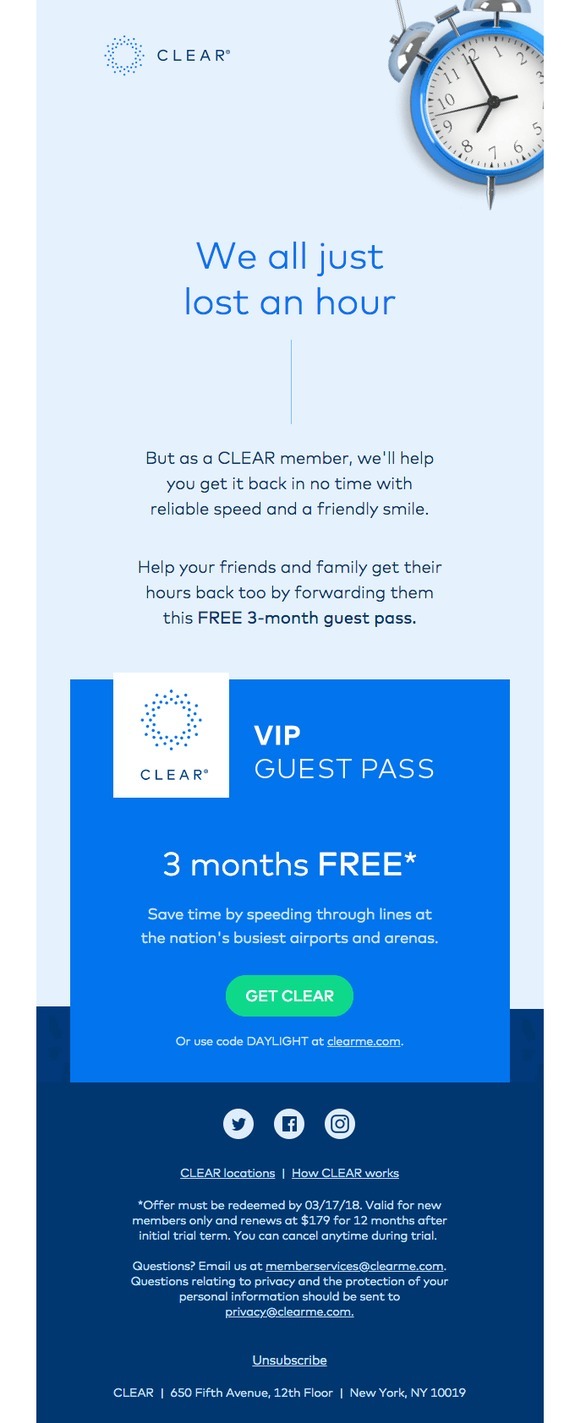 6. When in doubt, dig into your data.
If you're struggling to figure out what exactly it is that your customers want in terms of offers or education, look no further than your CRM data.
Here's some food for thought: 81% of consumers crave personalization, wishing that businesses knew more about them and their specific needs.
In short, segmenting your content via data is a solid starting point when you're trying to do customer marketing that feels more personal. With the help of your CRM, you can do exactly that.
7. Deliver your content consistently.
When it comes to customer marketing, half the battle is the act of showing up.
Producing content. Coming up with new offers and deals. Blasting a newsletter.
Bear in mind that your customers' attention is valuable and there are only so many brands they can support at once. By consistently delivering value to them, you'll always stay fresh in their minds.
Also, there's no need to be shy when you're offering content—if what you're sending is relevant. According to a recent Square survey, consumers want to hear more from brands and businesses in the form of content, deals, and advice.
8. Aspire to inspire.
Last but not least, let's not forget the human element of customer marketing.
Developing relationships with your customers means connecting and interacting with them, but the best relationships are the ones that lift you up. To create that sense of community, it pays to send positive vibes.
Brands like MailChimp regularly post lighthearted content to show their customer base some much-needed love.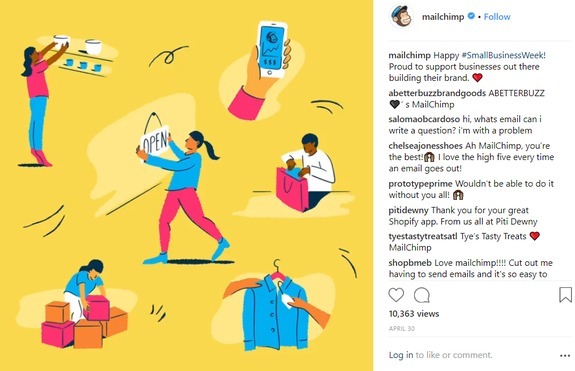 The reality? Sometimes your customers just need to know that you're rooting for them.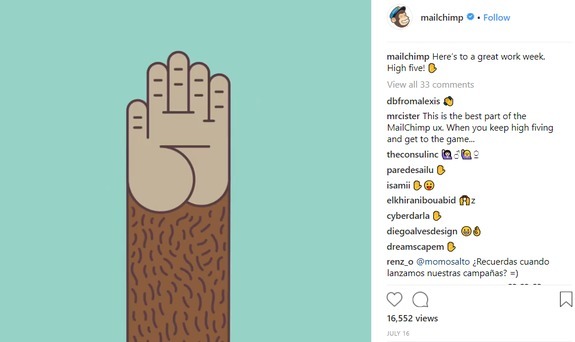 When you show your support, you remind them that they're part of something bigger than a product or service.
Injecting that human element into your customer marketing can truly help your brand stand out. Emphasizing that you're a personable, helpful resource versus just another business in the crowd is key to forming those long-term relationships.
And that's what we're all after, right?
How are you marketing to your current customers?
No matter how you look at, businesses today need a strategy to encourage long-term customers. Beyond just producing positive business results, creating a sense of advocacy and that warm fuzzy feeling will help keep people around you for the long haul.
The good news? The better you get to know your base, the easier customer marketing becomes. Go on, try it and @ us to let us know how you're finding it!