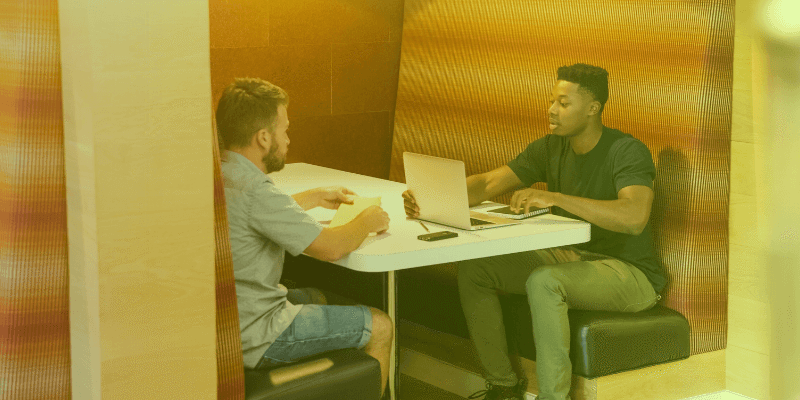 Sales Tactics
The Ultimate Guide to Sales Pitches
Have you ever poured time and effort into creating a sales pitch, only to close zero deals and spend half your time leaving voicemails?
You're not the only one.
Sales pitches are one of those tricky, hard-to-master elements that make or break the survival of your company.
Why? Because sales pitches build relationships—something that customers look for when weaving their way through purchasing decisions.
Fail to master a convincing speech and you could be left with barely any customers purchasing your product or service. But, if you manage to write and deliver a pitch that flat-out sells, there's no limit to the amount of new customers you could acquire (and the relationships you can build).
Want to experience the latter?
Here's everything you need to know about the sales pitch you'll need to create.
What's the definition of a sales pitch?
First of all, let's look at what a sales pitch actually is.
A sales pitch is a conversation that persuades someone to buy something. It covers basic details of the product or service you're selling, along with the company selling it.
Sales pitches can be formal or informal, and given by any type of company in any industry—from engineering and B2B to fashion and eCommerce.
6 types of sales pitches to master:
Since sales pitches can happen anywhere, there are several types of sales pitches you'll need to know well.
These include:
One-word pitches: A word that best-describes your brand.
Elevator pitches: Fewer than five minutes in length, detailing key points of your product or service.
Social media pitches: Self-explanatory—given through social media, rather than via email or in-person.
Cold calls: Contacting a potential customer via phone and convincing them to buy.
Sales pitch emails: Sending an email, also known as a "cold email," to a prospect.
Follow-ups: Attempting to contact a person you've pitched previously but didn't respond. Usually done through cold calls or emailing.
The key here is to master each type of sales pitch and practice it. This will make sure you're never caught off-guard—especially if you're in an elevator to your shared office and someone asks, "So, what do you do?"
Every speech has a basic anatomy.
If you're wondering, "How do I have the time to remember all of these pitches?", don't panic.
Every sales pitch follows a basic anatomy, and the initial sales pitch that you create can be rehashed to create another.
For example: You're likely to introduce yourself when delivering a sales presentation. That same introduction can be re-hashed, along with the key bullet points, to form an elevator pitch—without needing to rehearse an entirely new speech.
To take advantage of this, you'll need a solid understanding of sales pitch anatomy:
Preparation to understand your prospect and their pain points.
The aim you'd like to achieve after the pitch has been delivered.
An introduction to you and your company.
An introduction to the product or service you're selling.
Case studies, testimonials, and statistics to prove what you're selling works.
A conclusion including a call to action to convince them to hand over their cash.
How to write your own pitch:
Now we've got the structure of your pitch sorted, it's time to flesh it out and put some meat on your speech.
Follow this guide to writing a sales pitch:
Know who you're targeting: What pain points do your ideal customers share? For example: If you're pitching to a group of CEOs, they might struggle to find a software that allows them to understand where their marketing teams are wasting cash.
Solve their pain points: How can you help them solve this dilemma? Using the example above, you can explain that your cash flow software helps to solve this problem by analyzing the cash you're spending and comparing that against other business' expenses.
Include case studies: Can you prove your product or service has solved this problem before? Collect feedback from similar customers you've worked with in the past to build trust.
Follow up in a timely fashion: It's okay for a potential customer to mull over their decision before purchasing. But don't forget that the power is in the follow-up—you don't want them to forget about you.
Remember, effective sales pitches set your product or service apart from competitors.
Always question how you can differentiate yourself from your competition and prove you're more worthy of a prospect's cash.
Delivery is just as important as creation.
Writing a good sales pitch isn't enough.
People want personal relationships with brands before they become customers, which means the delivery of your sales pitch is just as—if not, more—important than what you're actually pitching.
So, put some thought into how you're delivering your sales pitch.
The body language you use, the personality you express, and the stories you tell all play a role in building those all-important personal connections with the people you're selling to.
How to make your sales pitch unique:
Every company has a sales pitch script.
That's why making yours unique—enough to stand out in a prospect's mind when they come to purchase—is tough.
Make your sales pitch unique by:
Building your speech around a story
Basing your pitch on a question your potential customer has asked
Using powerful words to convince someone they need to buy
Testing a different format—for example: presentations vs. product demonstrations
7 sales pitch examples to inspire your own:
One of the best sales pitches we've ever seen comes from G2 Crowd. It goes like this:
"G2 Crowd is the user voice platform for people to be able to say what they actually think about software, and not be told by the analysts or people who don't use it, or the reference from your best customer."
But why's it one of the best?
It gets an A+ for its straightforward language that replicates the way its prospects speak, and also for hitting a few pain points—while recommending G2 Crowd as a solution.
That's a key part of any sales pitch.
To discover more inspirational sales pitches, check out these six examples. Each comes from a real brand and salesperson, with one script even closing a $10,000/month contract!
Time to get to work.
Building a sales pitch that sells takes time, effort, and persistence.
And there's no better time to start than now.
Start by using the anatomy we've shared and tips for setting your pitch apart from competitors. Refer to the examples if you need any help.
You'll soon be delivering incredible sales pitches, each and every time.