B2B sales prospecting is all about seeing if a lead, or potential customer, qualifies as a potential buyer.
Should you and other sales professionals follow up with a given lead? Does the person fit into your ideal customer profile? Only after you've qualified a new contact can you really know whether someone, especially a potential customer, is likely to give you their business.
Despite its simple definition, prospecting for B2B sales isn't easy.
In fact, more than 40% sales reps consider it to be the most challenging aspect of a sales process.
On top of that, B2B buyers—the decision-makers with the keys to some of your biggest sales—are notoriously difficult to get a hold of.
However, anyone with direct prospecting experience can tell you that with the right tools and strategy, you can gain insight into the B2B buying journey and separate prospects from "suspects" (aka. leads that aren't qualified enough to enter your sales pipeline).
Check out 3 effective sales prospecting tips for B2B reps and the sales process.
If you're ready to prospect more effectively, the following techniques should help you refine your approach and get more conversions.
1. Ask for an introduction on LinkedIn.
According to the Harvard Business Review, 90% of B2B buyers never respond to any type of cold outreach, let alone give a positive response. One of the best ways to stack the odds in your favor is to ask a mutual LinkedIn connection for an introduction.
The idea behind LinkedIn introductions for sales reps is simple: if you get referred to a prospect by someone they know, like, and trust, you won't have to work as hard to get their attention.
The only requirement is that the prospect has to be your second-degree connection. These are the people who are connected to someone you directly know on LinkedIn (your first-degree connection). You'll see a "2nd-degree" in front of their names on their profile page and in search results.
Reps can see if they share any mutual connections with their prospects by taking these simple steps:
Click on the prospect's profile image or name to open their LinkedIn profile.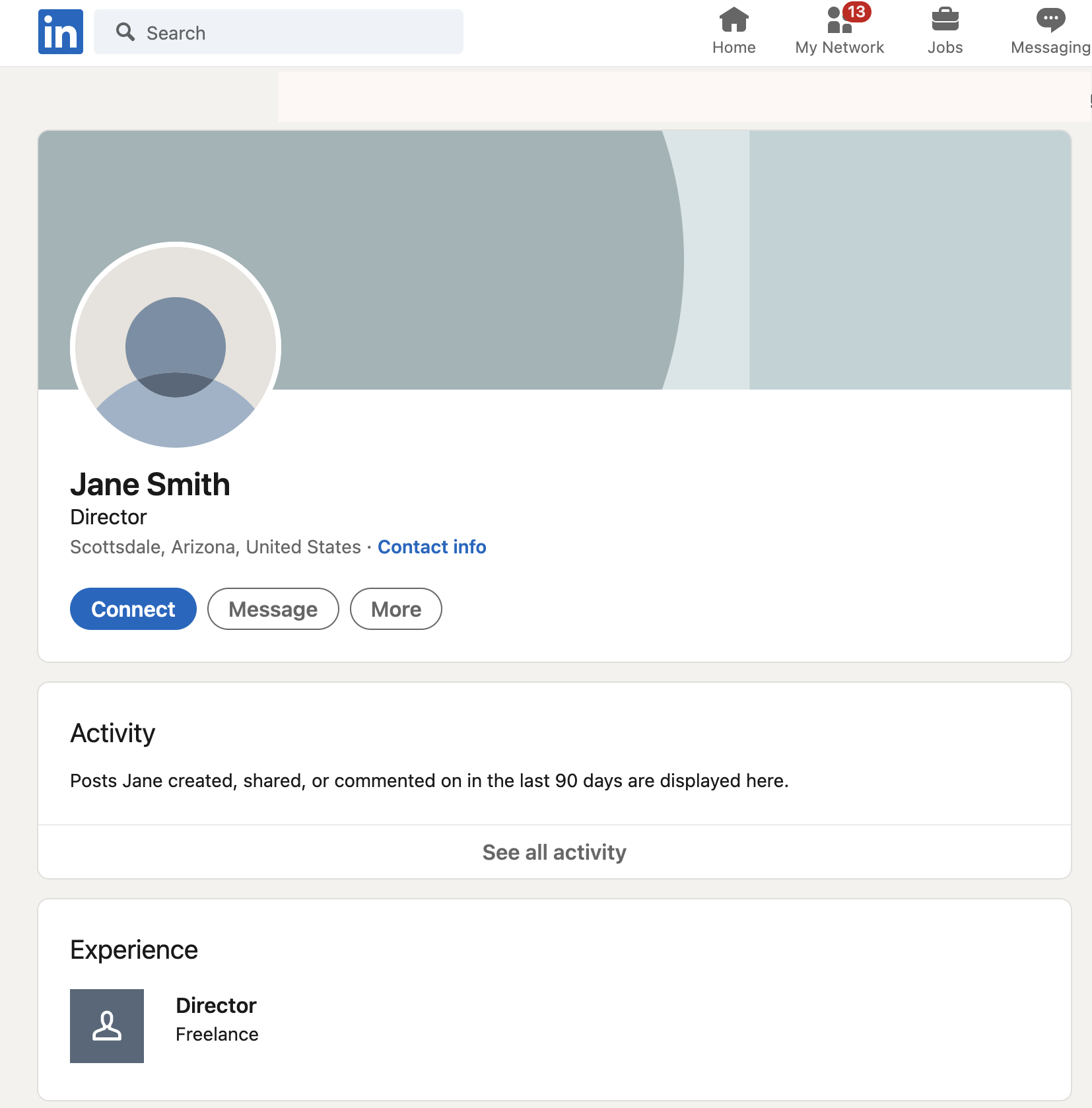 Scroll down and click on "mutual connections" in the Highlights section.

LinkedIn will now present you with a list of first-degree connections. Take a look at the results to measure the extent of relationship you currently have with each connection that knows a potential sales prospect.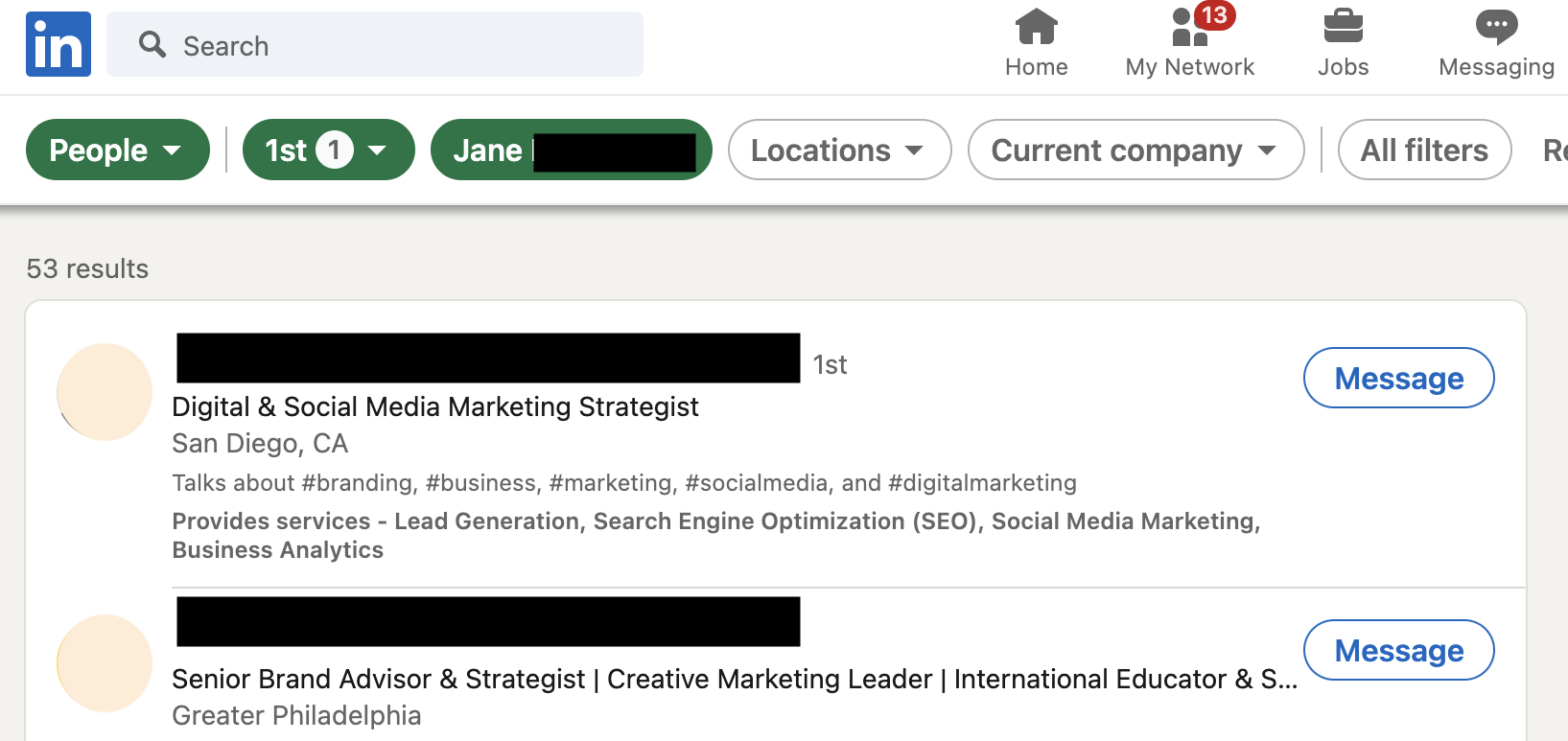 Ask the connection you share a good relationship with to introduce you to the prospect, after making it clear that you are a sales professional.
If you're using LinkedIn Premium, you'll get a "Get Introduced" option when you're about to send a message to your first-degree connection. This lets them know your purpose in advance. Basic account holders have to request an introduction manually.
Requesting an introduction based on a connection alone, however, isn't a best practice. Instead, you should try to ask in a way that the person is not only pleased to refer, but also mildly delighted that you considered them instrumental to achieving your goals.
Here's a template you can use to request introductions for B2B prospecting and B2B sales:
Hi [connection's name],
It's been a while since we talked but I hope you're doing well at [connection's company name].
I came across [prospect's name] and realized she's a connection of yours. I think there's a good chance I can help her team at [prospect's company name] to write better emails with our [your flagship product's name] because her company shares many of the same traits of our most successful customers.
Would you be comfortable introducing me to her?
Thanks!
P.S. Please don't hesitate to contact me if there's anything I can help you with.
[your name]
If you don't hear back from a second-degree connection after your mutual connection has introduced you to them, there's a good chance that they're not a viable sales opportunity to pursue.
2. Create great content for prospects
In the Relationship Era, you have to do more than introduce your company to build trust with B2B prospects. You have to establish rapport with them and continuously work to nurture relationships with new and existing customers alike, as part of a successful prospecting strategy.
That's where creating quality content and using it to build great relationships can be a big help.
Case in point: LeadPages founder and CEO Clay Collins knew they had to do things differently to be able to grow in an industry dominated by VC-funded giants like Infusionsoft and Unbounce (the landing page software company had been bootstrapped since its inception).
So Clay developed a growth hacking plan based on the idea that a team of four content experts could outperform a sales team of 80+ persons at most companies. With this plan of action, the company developed content marketing assets that included:
A marketing blog that covers lead generation, B2B digital marketing best practices, and all sort of relevant topics.
Weekly webinars featuring experts who talk about online marketing.
A pool of marketing resources featuring ebooks, case studies (here's how to create your own), infographics, and industry-leading courses, all of which can be accessed for free.
Clay's plan worked to perfection. Content marketing helped LeadPages grow exponentially, gaining 35,000 customers within 3 years and hitting $25 million in recurring revenue in 2017.
The numbers show that good content that's relevant to your target market is key to getting people, aka B2B prospects, to subscribe to your communications, and ultimately helping you generate an ongoing revenue stream.
When it comes to the type of content B2B reps should focus on to qualify leads, Demand Gen Report has some useful insights.
For example, 40% of B2B buyers said they read three to five pieces of content before engaging with a salesperson while making a purchase decision.
Based on findings, a B2B content marketing strategy includes some combination of:
Podcasts
Infographics
Case studies
Webinars
Blog posts
Third party/analysis reports
Video
Interactive content
Once your marketing team finalizes what content they'll create for B2B sales prospecting, set up a social media calendar. Use analytics to find out when most of your prospects are online and try posting more during those hours. Better yet, use a scheduling tool like Hootsuite, Buffer or Sprout Social to save time and ensure you're sharing content with someone new on a regular basis.
3. Send highly personalized emails
Email is one of the few sales prospecting tactics that has stood the test of time and a message can be used as a sales prospecting tool. For B2B audiences, it's the third most trusted source of information, behind only peer recommendations and industry-specific experts.
But with the overwhelming amount of messages flooding prospects' inboxes today, every single line in your email to a key decision-maker has to be well thought-out.
Look at your prospects' Quora contributions, LinkedIn profiles, and company bios to discover mutual interests and identify two or three key findings that you can mention in your emails and tie your company's offering to.

For maximum impact, try getting your hands on actionable data about your prospects. This includes:
Company revenue
Number of acquisitions
Business model
Annual growth rate
Industry popularity
Software used on website
Awards won
Funding raised
Imagine how much personalized your prospecting emails will become when you mention this information in your email copy.
The email below is an excellent example of a message sent after prospect research:
It shows the prospect that the rep has done his/her homework: in the opening paragraph, Emilia touches on a milestone by mentioning she's impressed with the company's growth to $200 million.
Prospects have a choice. They can spend time with you—or not. And the email above is saying to the buyer, "I've been researching your needs and I am here to help you make a bigger impact."
Forget about qualifying a prospect in one email. Focus instead on asking for a call or getting more in-depth on how your offering can be a huge benefit to your client.
Here's a template you can use to personalize a prospecting email:
Hi [prospect name],
I noticed from your LinkedIn account that your company has achieved [milestone]. That's a big achievement!
How, if at all, would you like to do one better? [company x] has been using our product since 2008 and they're consistently saving [$ amount] every month.
[your flagship product's name] has helped companies like yours to:
[notable stat]
[notable stat]
[notable stat]
I'd love to share more details with you and spend more time understanding your existing setup.
What's the best way to set up a quick 10-minute chat?
Thanks,
[your name]
At the end of the day, your aim should be to strike up a conversation. And only once that happens will you be able to prospect at will.
To make this process go more smoothly, use marketing automation technology to keep track of all your prospecting emails and execute things like follow-up emails and lead nurturing campaigns, well automatically.


For example, in Copper, you can see when prospects open and read your messages so you know the best time to follow up.
One of the big benefits of having the right automation software in your marketing tech stack is that it'll help you capture more data on prospects, which is key to identifying if a lead has enough potential to be passed onto closing sales reps.
It's your time to shine.
You're ready to find diamonds in the rough and become a B2B sales prospecting rockstar using sales prospecting techniques.
Don't be afraid to get creative and try different techniques for B2B prospecting. What works for B2C prospects may also work for B2B prospects, and what doesn't work to qualify a prospect this time just might work the next time you try it in different circumstances.
Take as many different approaches with sales prospecting techniques as you deem necessary but most importantly, measure each of them meticulously in order to continuously improve your strategy and your connections with B2B prospects.