Knowing how to write and create case studies in various formats is a crucial skill—and a very necessary component of your marketing strategy.
Especially if you work for a B2B company with a relatively complex product. (Hello, software startups.)
But what exactly is a case study?
A case study, in the business context, is essentially an analysis of how your company helped a customer or client achieve their goals. It establishes you as an expert with supporting evidence from your existing customers, and can be used to pitch to new customers and market yourself in different ways.
In this post, I'll show you how to write a case study, step by step. By the time you finish reading, you'll know:
First, let's look at the basic components of a successful case study.

Don't overlook this case study must-have: the interview
In my experience working in different marketing teams, this part of the case study almost never gets the attention it deserves.
Your case study doesn't begin with a rough draft or an outline of how you want to promote your company or product; your case study begins with the interview.
Without the right customer and the right questions, your case study will more likely be weak and too general to stand out from those of your competitors. (This is probably a good time to remind you that you won't be the only one creating case studies—your competitors are building their libraries too.)
So, here's how to make sure you start your case study off on the right foot: with an interview that gets you the answers and material you need to create a compelling story.
1. Choose the right customer.
I'm going to be honest: you won't always have the luxury of choosing.
Often, I've had happy customers who were also objectively very successful using our product (the two ingredients you want when you're looking for a customer to do a case study with) and they wanted to do a case study for us…
Only for their Legal or Comms team to shut it down because they weren't allowed to endorse other companies or even add their logo to a "Happy Customers" page.
It's a huge bummer, and it happens more often than we as marketers would like.
But if you're lucky enough to have an abundance of customers who are both willing and able to do a case study for you, choose the ones who are:
genuinely, enthusiastically happy using your product or service, and
can show stats or tangible improvements in their business as a result of using your product or service
People often neglect that second requirement, but "Look at how happy this customer is with us!" probably won't be enough to sell other prospects on giving you a shot.
Your potential customers want to see the benefits of using you, and if you can show the numbers to back it up, even better.
This also means that you should choose customers who've been with you for a decent length of time. New customers probably won't be familiar with your product yet and won't have used it enough to see dramatic results.
Because my team uses Copper, we can see where all our customers are at in their life-cycles with us and their account histories—this makes it a lot easier to choose good candidates for case studies:

Pro-tip: The industry of your customer matters too. For example, if you know that ad agencies are a great fit for your product but you're not very well-known in that industry, focus on finding ad agency customers to do case studies on. This could be great enablement material for your sales reps.

2. Ask the right questions.
Now that you have the perfect customer who has the enthusiasm and cold hard numbers to prove how awesome you are, you need to interview them in a way that tells a good story about you.
If you're an experienced interviewer and you're comfortable having a 100% free-flowing conversation with a customer, go ahead and do what you normally do while inserting some of the questions below where relevant.
Otherwise, let your customer know at the beginning of the meeting that you have a few questions in mind that you'd like to ask, but that ultimately of course, you're flexible and the conversation is open. This sets expectations for everyone and doesn't put too much pressure on your customer if, say, they don't have the exact ROI statistics you're looking for right now.
Typically, these are the questions we'd ask when doing a case study for Copper—and each one contributes to a story that really illustrates the benefits of using Copper. Feel free to take these and reword them to fit your product and industry:
What was life like for your team/company before you started using Copper?
Were you considering other similar CRM tools? What made you choose us in the end?
How did you find the experience of learning how to use Copper?
What are you using Copper for?
What's been the biggest difference that Copper has made?
Have you seen any improvements in your revenue, productivity, savings, sales…? Rough estimates are okay!
Remember, your goal in this interview is to probe and understand. Don't be afraid to ask "Why is that?" or "Can you tell me a bit more about how you did that?" The more that you can draw out of your customer, the stronger your case study will be. If you end up with too much information, you can always pare it down.

Pro-tip: Case studies are used by your marketing team, sales team, and prospects who are considering giving you their credit card. Keep your audiences in mind as you're asking questions and fleshing out your story—what information would they find valuable?
Again, if your team is already using a CRM, it's a great tool for keeping track of all your customer marketing opportunities. For us, Copper is indispensable—here's more on how we use ours.
3. How do you choose the best quotes?
One of the trickiest things about writing a case study is deciding how to incorporate quotes. If you're doing an interview, everything your customer says is basically a quote, so how do you write that up into an article-style piece (like this one)?
Essentially, you want to maximize the impact of the good stuff that your customer is saying about your company. So, if they say something like, "We automated over 1,000 tasks every week with Copper. It was unbelievable," then keep that as a quote! That is an extremely powerful testimonial to have, straight from the mouth of your customer—and you should keep it that way.
For all the other more boring, descriptive dialogue, like "Well, we started out about three years ago in Brooklyn, and now we've expanded to two offices and fifty-ish staff," you can turn that into a part of your narrative, like this:
"Aliyah started the agency three years ago in Brooklyn. Today, she's expanded the team to about fifty people on staff and two offices."
This type of content is still good to include because it helps you build out the story, but it doesn't have to be written as a quote—it doesn't really impact the power of the case study.

Okay, now that you have the bulk of your content, it's time to decide what you want your case study to look like.

Pro-tip
Know thy customer 🔍
Learn how to gather and use customer data effectively with this free handbook.
Creating the case study: which format to use?
There are a ton of different formats that you can do a case study in. To answer this question, you'll have to ask another question first: how much time and money do you have?
Let's go through the most common types and the perks and drawbacks of each one.
Blog post or article
A blog post is your trusty go-to when it comes to case study formats. It's relatively easy to do and doesn't strain your resources like a video would—all you really need is a writer and a designer if you want images.
At Copper, this is the most common style of case study that we do.

Here's an example:
If you're looking for something a little more dynamic and engaging though…
Video
Videos cost more, take more time to produce—and can tell your story brilliantly if you devote enough effort and resources to it. Ideally, your case study would include a video but not every team has that kind of time (and money). Do you have the design and video budget to shoot a case study? Can you send your videographer and/or creative director on that trip? If it's not possible, best to stick with the more traditional written formats.

We don't do as many video case studies at Copper because of the time constraints, but here's an example of one we did with Storm Ventures:
One-pager
Similar to the blog post or article format, the one-pager is exactly what it sounds like: a concise page that highlights the main points of your case study. It's kind of like a cheat sheet for your sales team, with only the most important details that they need to address when pitching a certain type of customer or client.

Pro-tip: Get the most out of the content you've collected for a case study by creating multiple formats out of one interview. e.g. If you shot a 30-minute interview, turn that into a short video and write a blog post for your marketing website and create a one-pager for your sales team.
Now, let's get into the actual writing of the case study.
Writing a case study in 3 steps:
1. Outline and draft up your story.
First, lay out a rough draft of your story. Every story is different, but should include these fundamental components:
A brief introduction of the customer this case study will feature

You don't have to go super in-depth, but this can help "ground" the reader and get them invested in your customer's challenges—which you'll solve.

How the customer met your brand

Were they being wooed by your competitors? Did you save them from disaster and catastrophe?

How the customer used / is using your product or service

Be as specific as you can. You're painting a picture for a prospect who probably doesn't know you very well—describe features and benefits in detail. And lay off the jargon.

Plenty of product images and screenshots

Wherever you can, use photos and screenshots to illustrate what you're talking about. Especially when you're talking about your product, and especially if your product is not the easiest to grasp (which goes for most software companies).
The aha! moment

This is the climax of your story. When your customer realizes how much they love your product, or how much money they saved because of using you, or how many more sales they closed… you get the idea. Always, always look for the highlight and try to make it stand out, whether using a block quote or some other visual indicator.

Numbers, numbers, numbers

This can be folded into your aha! moment, but not always, and that's okay. Praise and complimentary quotes are great, but in the B2B line of business, numbers tend to be the clincher.
2. Double-check the quotes.
You should be doing this as you go through your transcripts or notes, but if you haven't, make sure to remove the ums and ahs. They can really take away from what would've been a powerful quote.
Look out especially for any awkward phrasing or repetition (this isn't usually noticeable in conversation, but becomes very obvious once you see it written down) and do some minor editing to make everything sound smooth.
3. Get your customer's sign-off.
Once the copy is done and the images are in, do a final check for spelling and grammar, then send it off to your customer to take a look.
Some companies have multiple stakeholders that would need to review this, so it's best to find this out ahead of time—or if you forgot, just budget enough time knowing that more than one person may need to provide feedback.
After you get the green light, your case study is good to go!
Now, let's get inspired to start writing. Here are a few examples of case studies with elements that you can incorporate into your own.

Case study examples: a quick analysis of different case studies
This case study is clearly laid out, namely with "Challenge," "Solution," and "Results" sections. All of these are typical of most case studies and not terribly unique, but including a photo of the person who was interviewed near the bottom of the page helps put a face to the story.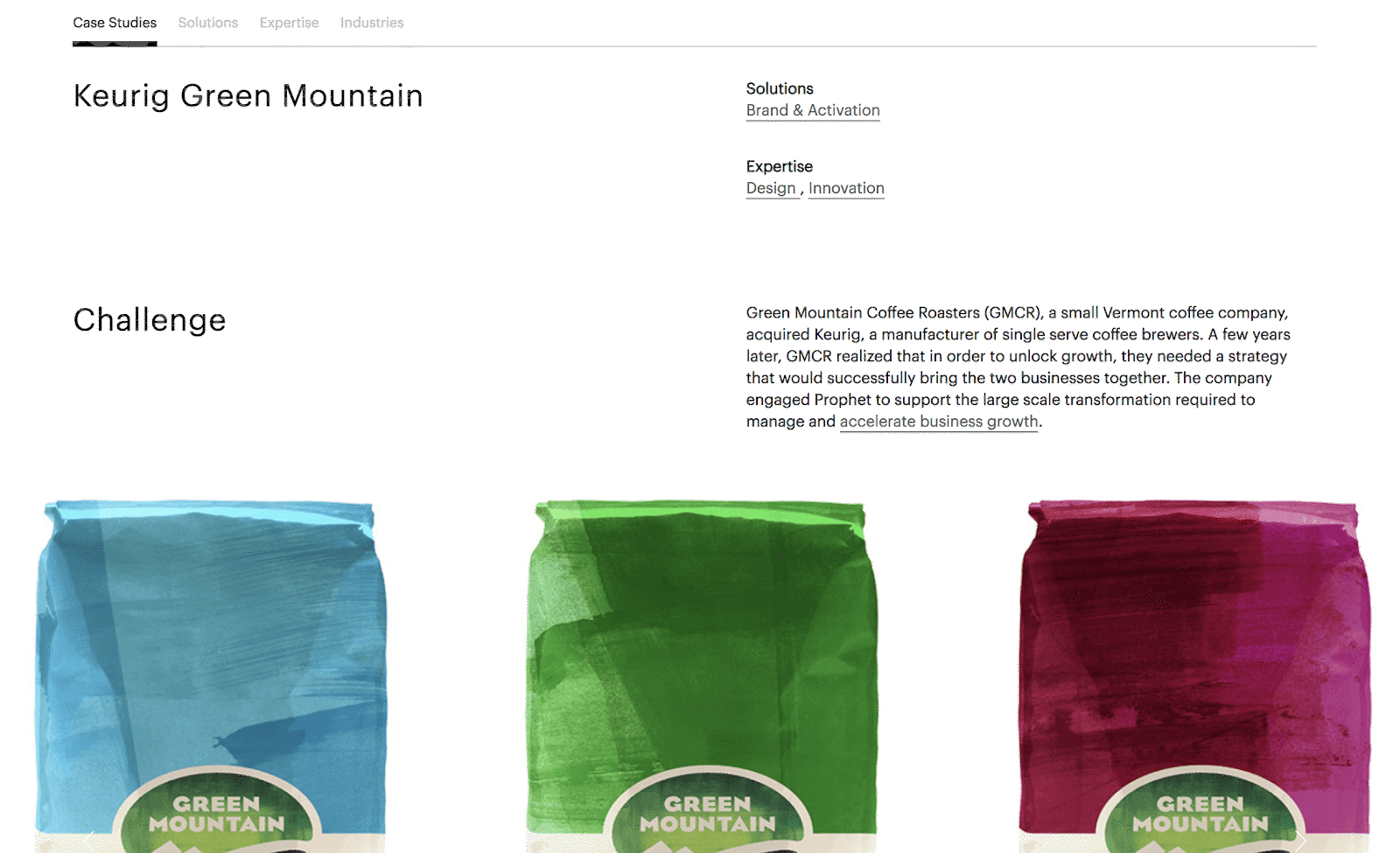 The cool part is that this case study includes a video as well, making it a hybrid of the formats we talked about above. Keurig is a big-name customer to have, so it's not surprising that Prophet decided to put some money behind this case study.


Probably the most basic out of the case study examples here, this one only has three paragraphs: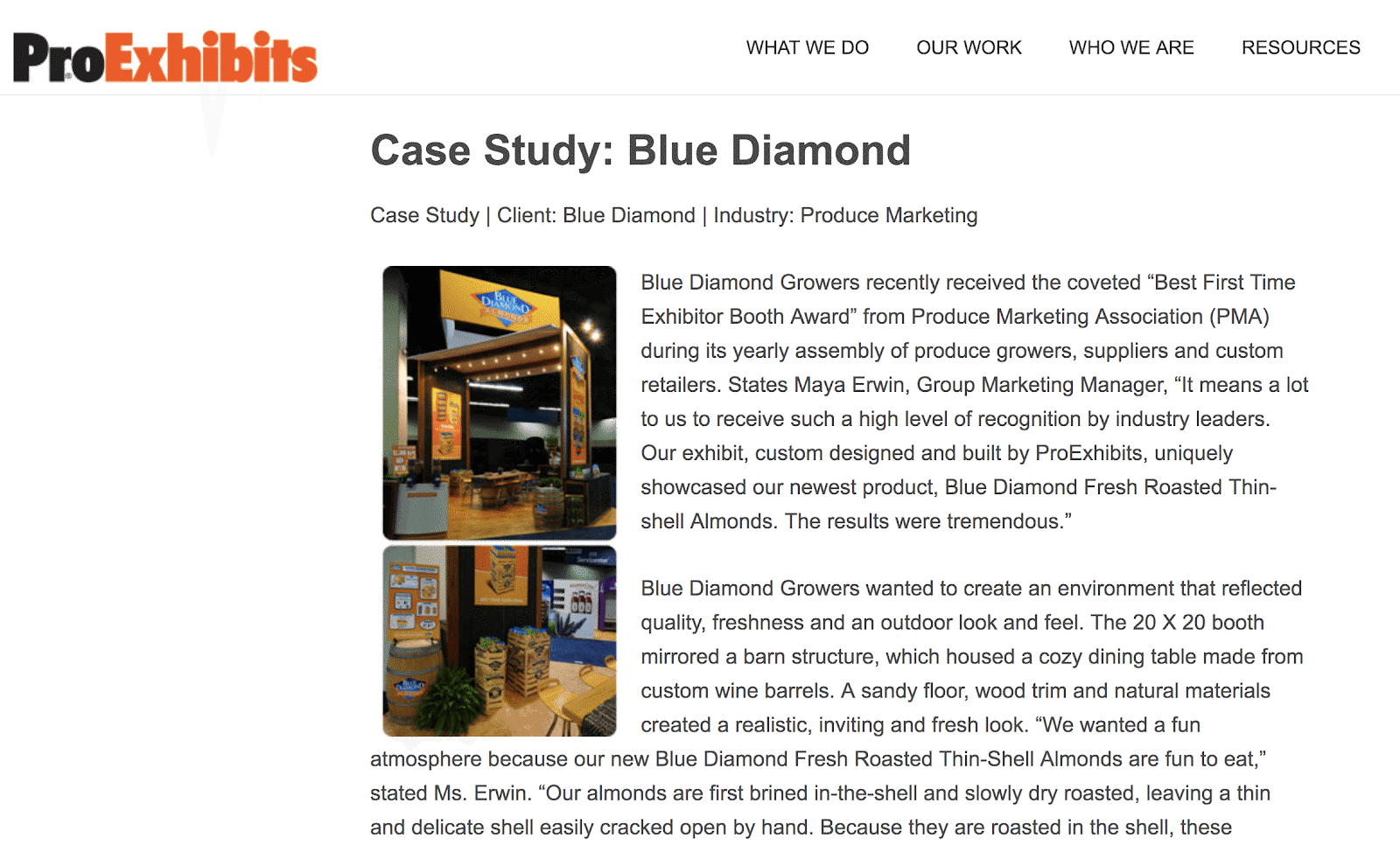 They have some nice quotes in there, but nothing at all on ROI. How much sooner than the expected turnaround time did they complete the booth? How many attendees did Blue Diamond attract? (Is that more than their previous number?)
Overall, it doesn't do a bad job of telling the story, but could've gone into more detail.
Out of the four, this Landor case study is my favorite in terms of layout—the design is clean with high-quality photos (and though it's stylish, it doesn't distract from the case study content):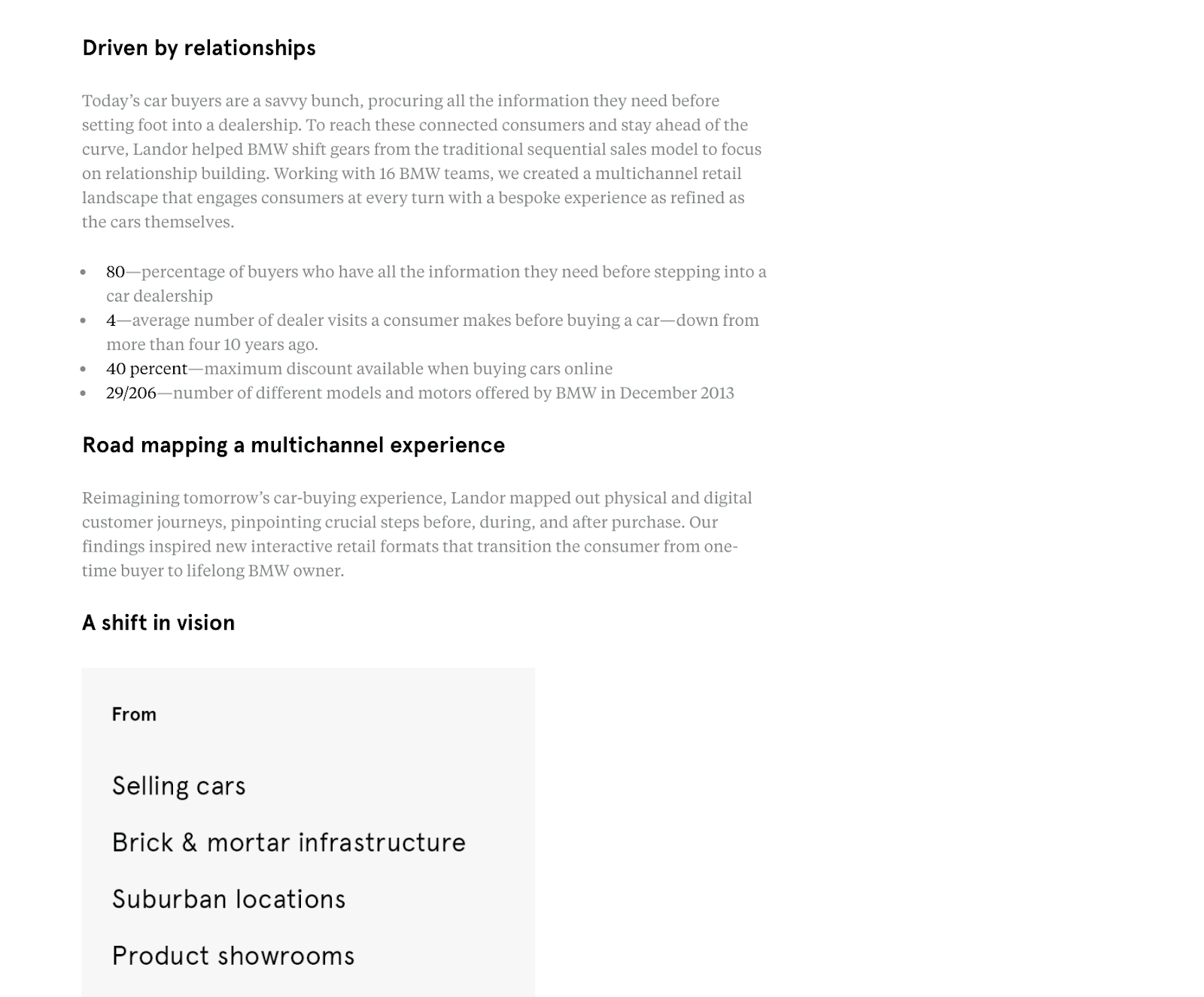 Each section is clearly laid out and skimmable, and the "A shift in vision" section is cleverly done as an image with bullet points.
They could've written that out as a paragraph (like many marketers do), but this way is much easier on the eyes and really drives home the contrast in the improvements that Landor made to BMW's retail showrooms.
Again, a beautiful case study—probably the most extensive out of the four here: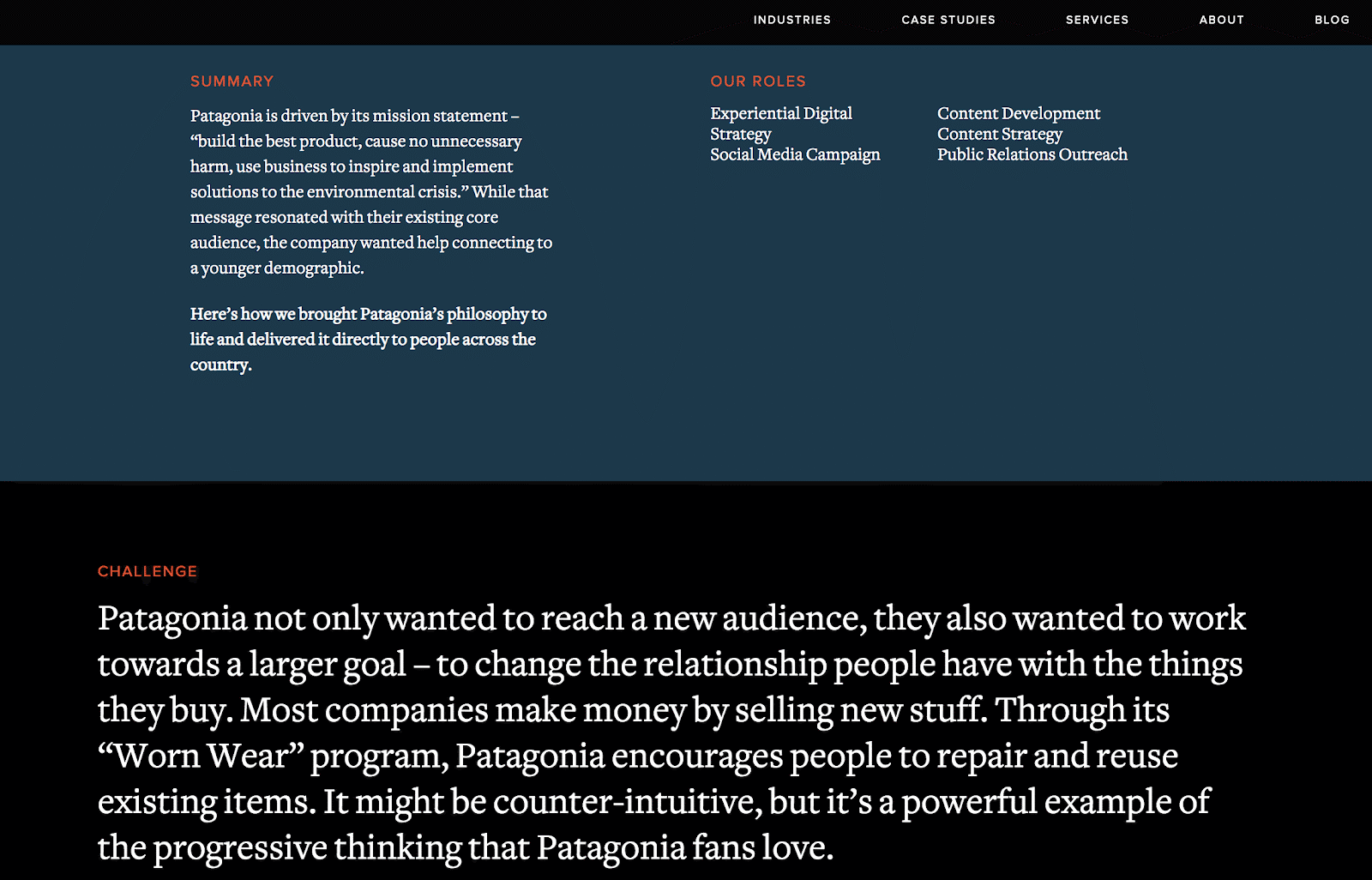 Amp Agency included the usual sections like "Challenge" and "Solution," but they also have an "Insights" section, which is unique (and a great differentiator if you want to show that you're a smart, thoughtful agency.)
What makes this an excellent case study? They have the numbers to prove it! They're all the way at the bottom though and there's a typo in the "68,5481" number, but it certainly helps to know that Amp Agency's efforts led to an "88% merchandise sell-through rate during the tour."

Ready to write an awesome case study?
Building up a library of case studies is no easy task. Not only do you need a dedicated writer and designer (and videographer, if you're fancy), you also need to find the right customers to feature and the right questions to ask.
With this step-by-step guide and a list of interview questions to start you off, you'll be building solid social proof in no time.