Copper goes everywhere with you, helping you be more productive so you can make the most of your time in the field. You can access important lead, sales, and customer data from anywhere, log sales notes after a first meeting, @mention your boss and teammates on deals, add the new contact you just met, or refresh your memory on the last time you interacted with a company. With the Copper mobile app, you'll always stay connected to your prospects and customers even if you're away from the office.
"Our sales reps use the Copper mobile app to enter customer information while they are out in the field. Since appointments are set for them by a different team, in a different location, the app helps keep everyone on the same page!"
- Ashli Smick, Marketing Director, Current Solar.
Over the last year, we've been working really hard to improve the Copper mobile app experience so you can be just as productive on the road as you are at your computer. So, with that in mind, we'd like to reintroduce you to the Copper mobile app and all the features that keep your relationships moving forward while on the go!
If you haven't already checked it out, you can find it on the iTunes or Play store.
Visualize your opportunities with visual pipelines
The view on mobile can be pretty crunched, especially when you're trying to see what's going on in your pipeline. Copper's mobile sales pipeline software allows you to visualize the health of your entire pipeline and move opportunities forward in either a list view and a visual view. Navigating between pipeline stages? Just swipe right (or left)!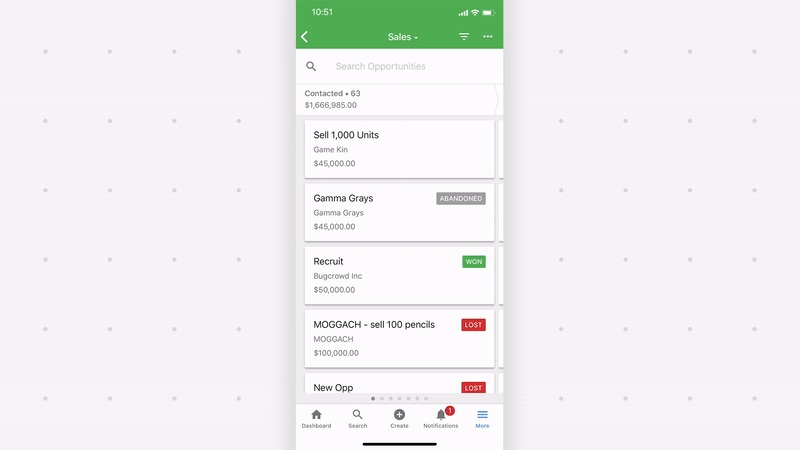 Visual pipelines allow you to track, sort, filter, and view activity in real time so you never miss out on deals. This way, all the details related to your opportunities are kept up to date as you meet with clients on the spot instead of waiting to get back to the office.
The actions you need, right at your fingertips with navigation shortcuts
We've added a navigation bar with shortcuts to the top of records based on the most common tasks that our mobile users complete in the Copper mobile apps.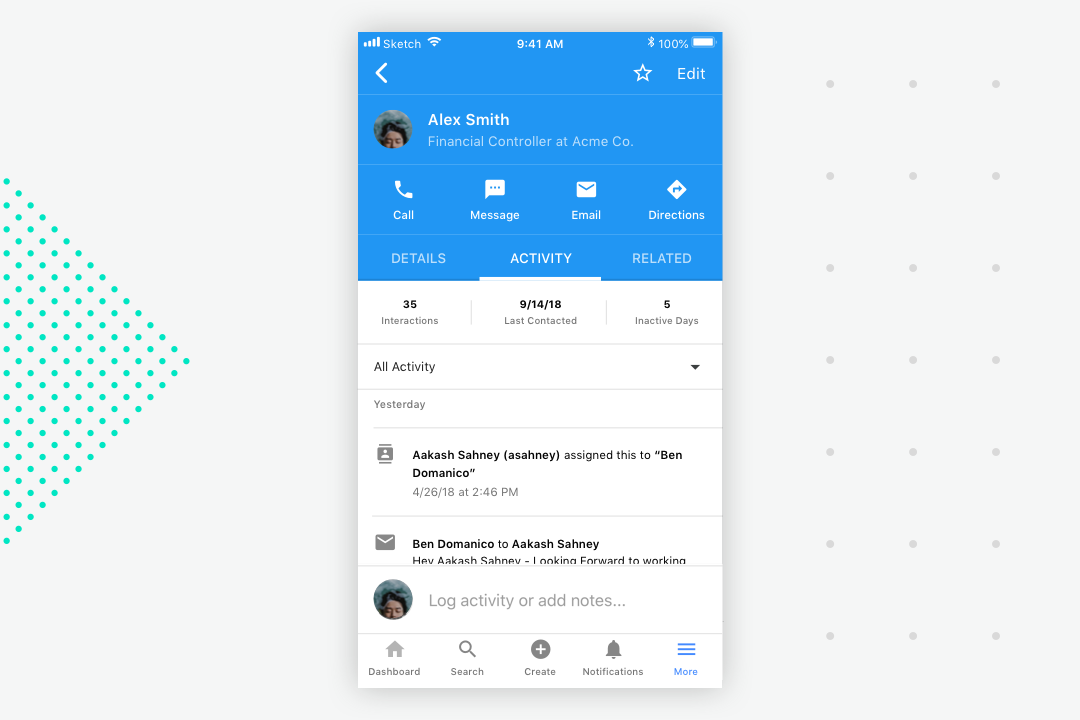 Now when you're viewing a contact, you've got one-tap access front and center to call, text, and email that individual. You can even get instant directions to their business!
Copper speaks multiple languages
Do your teams and partners speak other languages? So does Copper. The mobile app is now available in English (en), Spanish (es), French (fr), German (de), and Dutch (nl) with many more on the way so international teams can now all work in sync using the same tool and in the language they prefer.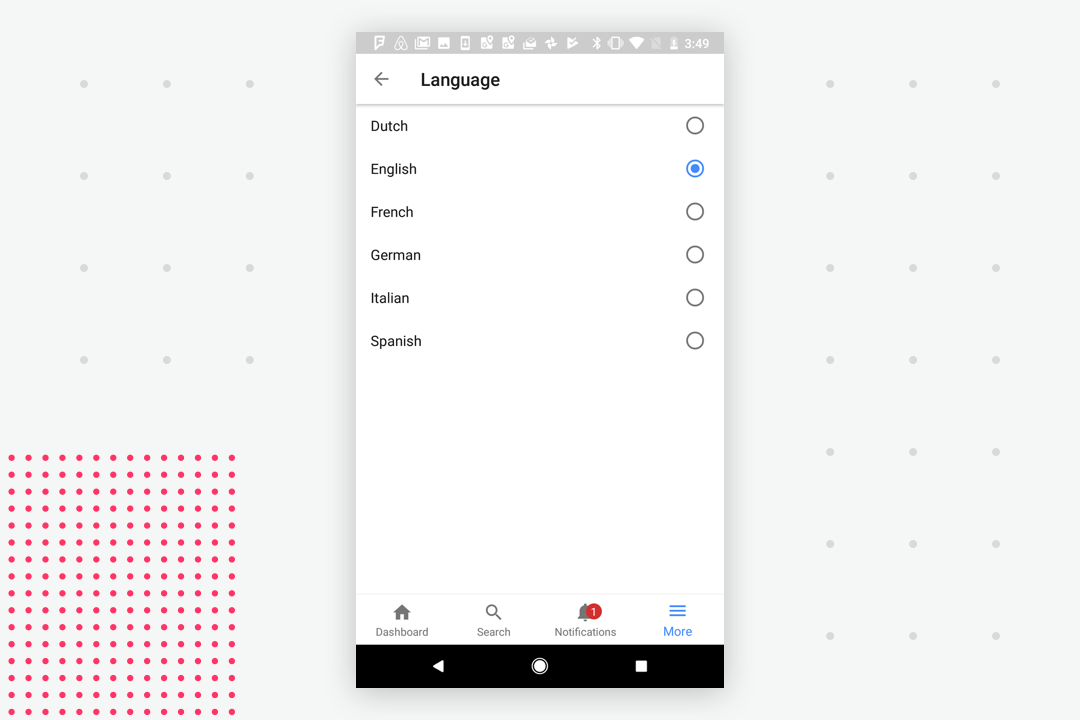 Each user is able to set their individual preferences on their mobile device. Here's how to set your default language.
Instantly find the relationship data you need with activity feed filters
Scanning through your sales interactions, customer data, and activity feed can be overwhelming on mobile. We've added filtering capabilities so you can instantly find and access the exact type of activity you're looking for whether that's an email, note, task, meeting, or file.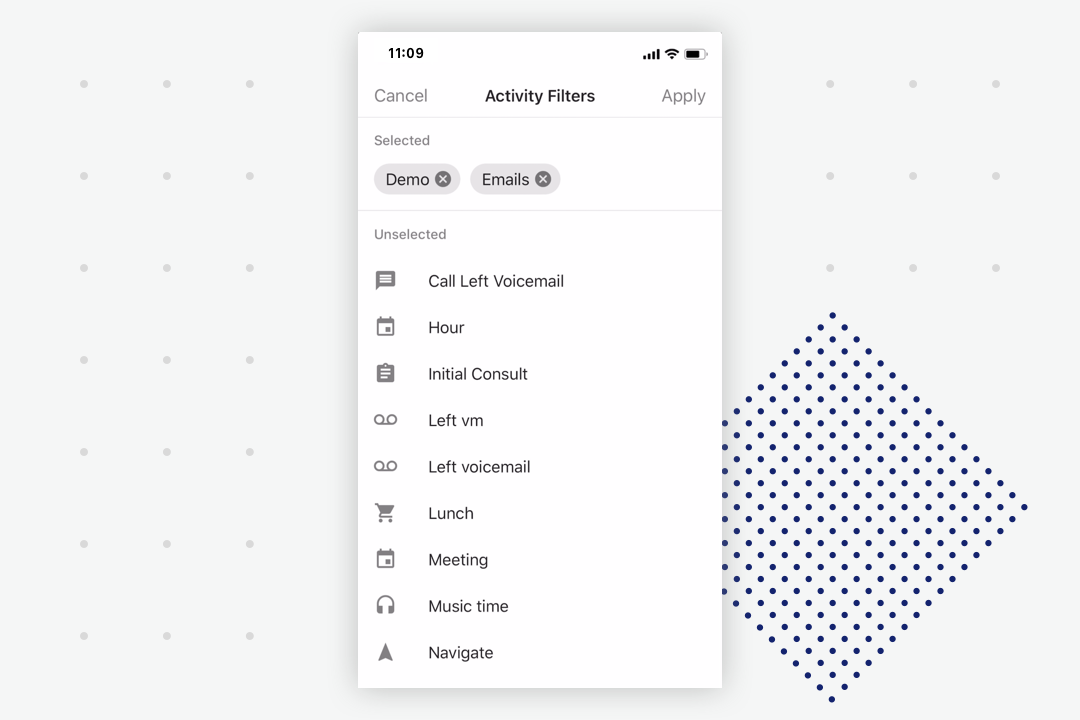 Simply tap into the activity section of contact you need information on. There's a drop-down menu of all your filter options at the top. Select the activities that are most relevant to what you need, hit 'Apply,' and you're in business!
Use the mobile device you feel most comfortable on, including iPad and tablets
You can use Copper no matter what device you use, from desktop, to mobile app, to tablet. With a bigger screen and a device you feel most comfortable on, you can access even more important contact details, client interactions, and pipeline information.
The iPad and tablet experience looks and feels just like the web and mobile experience. All you need to do to get started is to download the apps to your specific device on the iTunes or Play store.
Log notes and activities without all the typing
There are days where typing all the necessary follow-up notes and action items after a meeting into a phone seems like a mountain to climb. And what if you're driving between client meetings and can't use your hands? It's critical to log data while it's fresh in your memory so your notes are accurate and more importantly, actually recorded.
With the Copper mobile app, you can log activities and notes by speaking into your phone—no typing required. Simply hit the microphone on the lower half of your screen, say what you need, and it's logged!
Stay logged into the Copper app longer
Mobile sessions have been extended from 3 days to 90 days! That means that you won't have to log in again and again after the first time (within 90 days).
Never switch between apps to send email again
Send and reply to emails without ever leaving the Copper app. Suddenly thought of something you need to send before tomorrow's client meeting? Send a quick note straight from Copper.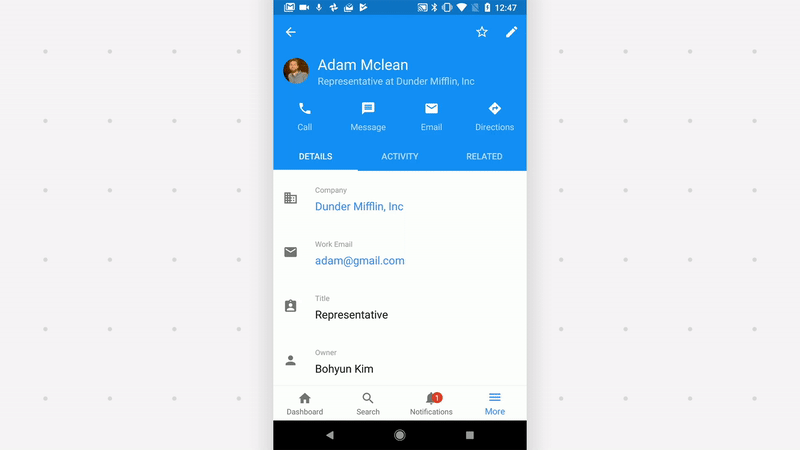 When you receive an email, you'll see it in the activity feed on your phone or tablet and be able to respond directly from the app. You'll never have to switch back and forth between the Gmail app to send an email again.
Know when you're top of mind with email open tracking
With email open tracking, alerts are sent to your mobile phone immediately when contacts open your emails so you can reach out while you're top of mind.
You'll find these alerts on the emails in your app's activity feed—it'll say 'Opened x times' if a tracked email has been opened, telling you when contacts are particularly engaged with what you sent.
Collaborate from anywhere with @mentions
Working with teammates remotely has never been easier. @mention anyone in the office to keep the ball rolling, let your boss know that you're working the lead that was just assigned to you, and notify teammates that you're on top of that deal stuck in the pipeline.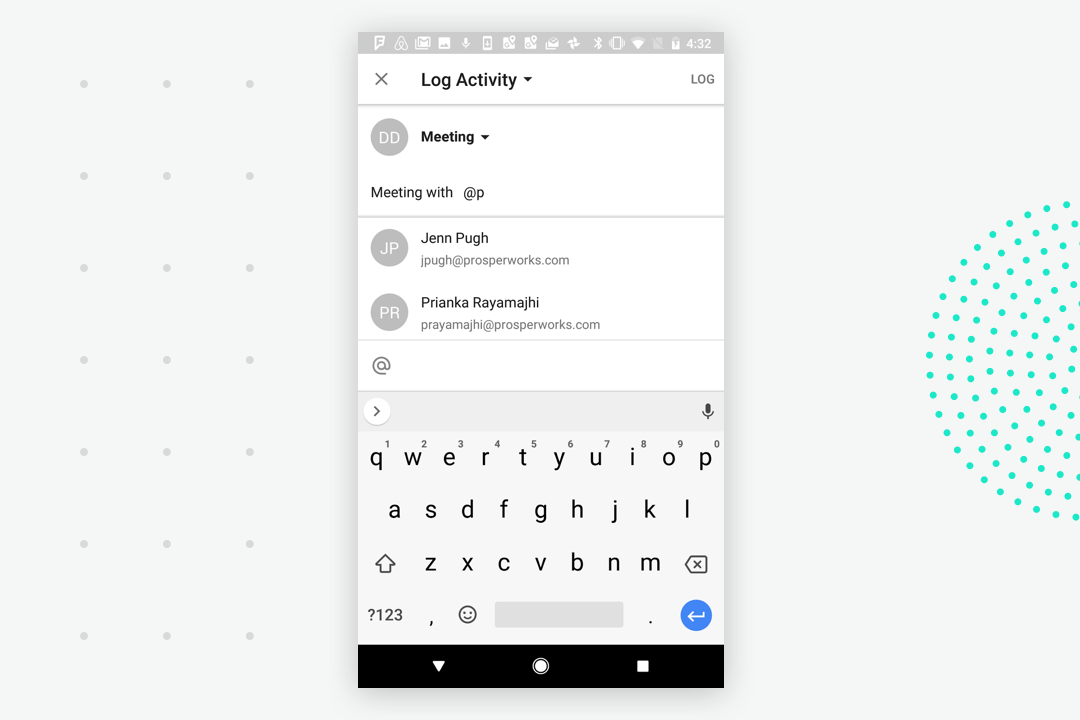 All you need to do is type '@teammatename' and your message. They'll get a notification in real time and can start on next steps right away.

The Copper app helps you manage your day, complete to-dos, and keep your relationships moving forward while you're away from your desk. Download it from the iTunes or Play store and get your team on the road!