Copper Staff
Contributors from members of the Copper team
Email marketing is one of the biggest double-edged swords in the modern sales world.
Done right, you leave your readers salivating for your next email and eagerly looking forward to new products or releases. Done wrong? You're in the spam folder.
The line that separates the two is incredibly thin. Drip marketing is one email marketing technique you can use to stay out of the spam folder and get to where you need to be: in the inbox, closing sales.
Let's take a closer look at drip marketing and how it can benefit your brand.
What is drip marketing?
Drip marketing is an email strategy to move prospective leads (and customers—yes, you've got to market to them too) through your sales funnel (such as an automated sales funnel) by "dripping" emails to them over an extended period of time.
The emails you drip could be one-off promotions based on your customer's behavior or a larger campaign to get your leads to the bottom of your sales funnel. Whatever email campaign you send, it should have one goal in mind: to nurture and convert.
How you got your lead's email address in the first place will decide the first kind of drip campaign they receive.
For example, if they simply signed up for your newsletter, you might choose to have them on a softer, less aggressive email sequence to gently nudge them down your sales funnel as opposed to someone who has subscribed to an e-book or product, as they've already shown a level of trust in your company.
Remember, the most important aspects of creating and sending your drip campaigns are to make sure you're thinking of ways to nurture, manage, and convert your leads.
And note too, that drip marketing is not just for email anymore! The tips in this article are applicable for other mediums as well, such as Facebook Messenger.
What type of drip marketing campaign should I use?
Not all drip campaigns are built the same. Some will welcome your new leads and nurture them at an entry-level stage, whereas others can target previous customers to upsell them.
Here are five of the best drip campaigns you can use to nurture your leads.
1. A re-engagement drip
If you're seeing your list whittle away each month, you aren't alone. Marketing Sherpa predicts marketers lose nearly 23% of their lists every year.
That statistic alone should jolt you into realizing how important it is to have an engaged audience, and the re-engagement drip is for precisely that.
The main aim of a re-engagement campaign is to gently poke people who are already on your list and remind them of why your product is great and what they're missing out on.
Take this example from automatic writing companion, Grammarly.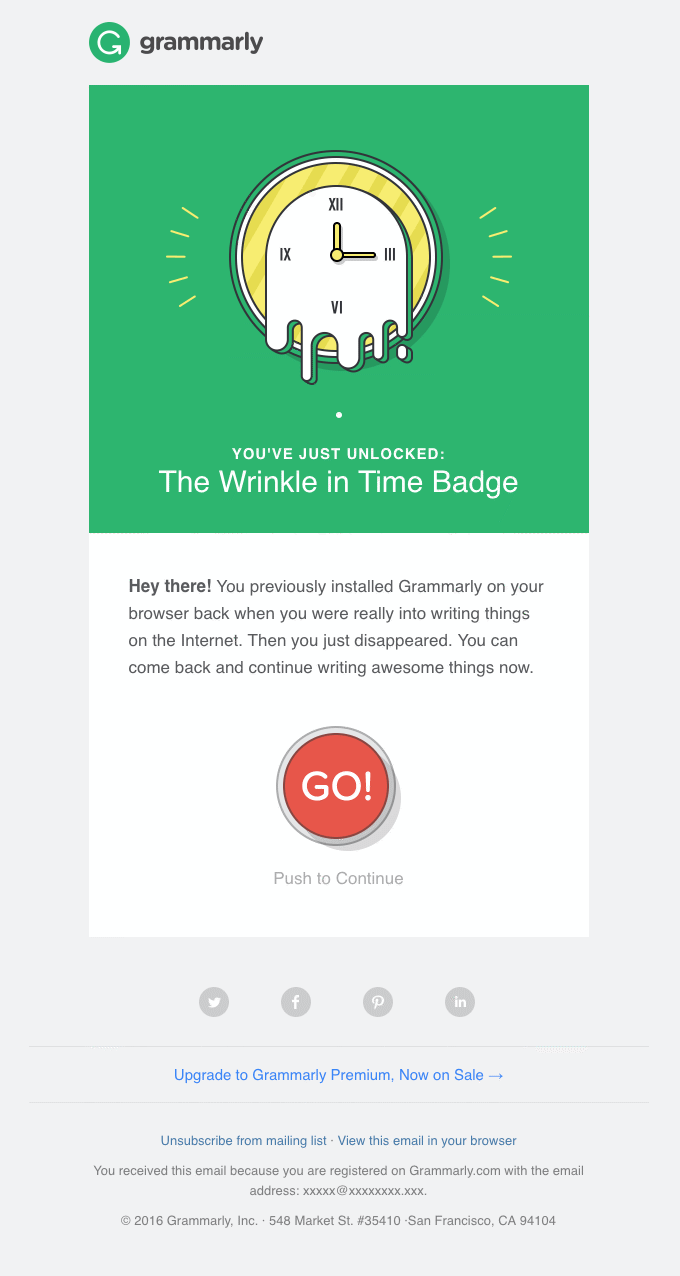 In three sentences, they've reminded their lead that they once used the product while cheekily attributing their productiveness to Grammarly. The user is then given a clear call to action (CTA) with their unmissable "GO" button.
At the very least, this re-engagement email could help cut Grammarly's churn rates and re-engage their otherwise dormant list-goers.
Of course, the main intention of Grammarly's re-engagement email is not just to get their subscribers to start thinking about using their product again. It's also being used as a trigger to get the lead to scale up, as you can see in their CTA to upgrade at the bottom of their email.
Nicely done.
2. The welcome drip
The welcome email drip is the most commonly used drip marketing campaign. But if done wrong, it can also be the only campaign your subscribers receive before they remove themselves from your list.
Avoid any strong calls to action like "BUY NOW" buttons on your welcome email. Rather, it should be a casual 'Hello, nice to meet you!' type of email.
Why not send a single email to your new list recruit to explain your product and highlight how it will help them? Or, send a full campaign that starts with a welcome email and leads into a story to move them along your sales funnel through a week-long email run.
Take this perfectly executed welcome email from task manager, Asana.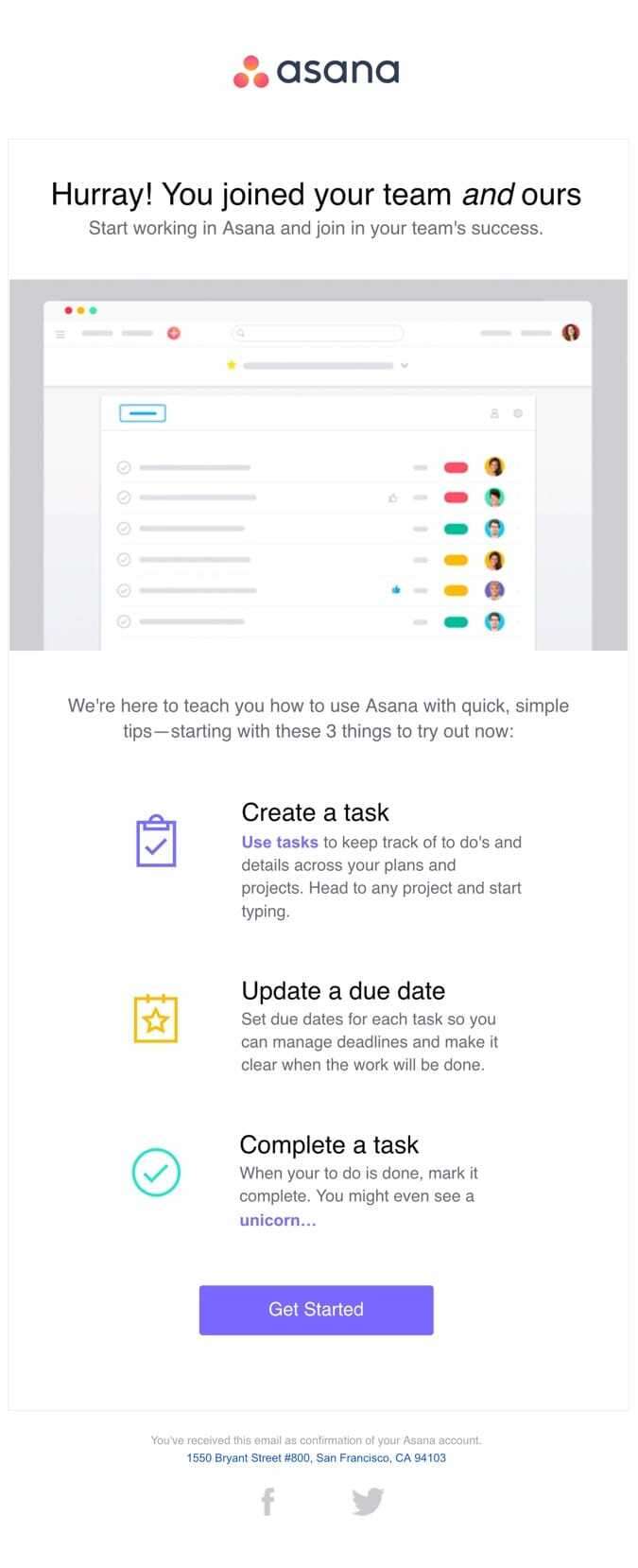 They haven't pushed an upsell or tried any sales pitches. Instead, they're welcoming their new user with open arms and providing a CTA to learn how to use their product easily.
3. The product-focused drip
The product drip is all about putting your product in the limelight and showing your potential customers that yes, your product can solve their problem.
Product-focused drip campaigns normally have five to six emails sent out automatically to build the receiver's trust while you're nurturing them along your sales process.
The first email usually outlines a typical problem the user may be having (which led them to sign up on your website in the first place). To help them see how your product can solve this problem, it's best to subtly introduce it at this stage and expand on features in the next emails in the campaign.
Here's an example of a way to build a product-focused drip campaign. (The blueprint could be a great starting point for you to begin sketching out your product-focused drips.)
Product-focused drip email campaign blueprint
DAY 1 - OUTLINE A TYPICAL PROBLEM TO YOUR LEAD
Be specific and get into your lead's head. Outline their problem very thoroughly and make it relatable to your lead. Once you've set out the problem, create a sense of urgency about how important it is that the problem is solved quickly and detail how your product can do that.
DAY 2-3 - WHAT DO THEY GET?
Use your second email to really get your message across about how your lead could benefit by using your product to solve their problem. Really elaborate on the problem your product can help to solve. Make them feel it.
DAY 4 - GET LOGICAL
By your third email, your lead will want some logic behind the problem-solving. Use your third email to give your lead some logical advice about your product or brand along with some comparisons, social proof or endorsements.
DAY 5 - FEAR
Your lead will buy with their emotions as well as logic. Use your fourth drip email to create a sense of fear within your lead and what they'll miss out on if they don't use your product to solve their problem. Highlight how their problem will continue if they don't use your product.
DAY 6 & BEYOND - FOLLOW UP & CLOSE
Use your follow-up emails to check in with your lead and see if they have any questions or concerns about moving forward and purchasing your product.
4. The follow-up drip
If someone has signed up for a free trial or they've shown signs that they might use your product but still haven't engaged with it, a follow-up drip campaign could be worth a shot.
By using a follow-up drip, you can let your lead know that you care about their goals and are willing to help them solve their problem with your product if they give it a chance.
With each of your follow-ups, it's important to make sure you know—clearly—what kind of message you're trying to communicate. Your aim could be to let them know that you're touching base or that this will be your last email before you stop contacting them—just make sure each email has a core purpose.
5. The promotional drip
Promotional drips are the drip that will get you a reward for the work you've put in on your previous drips. If from previous drips, you've noticed a customer has taken particular interest in a certain product or feature but hasn't taken any action, you should target that interest with a promotion.
Your email automation software should be able to split up these users for you automatically.
Setting up a promotional drip to target not only new products but also a lack of action from your leads can nurture them into making a purchase decision.
How to convert on a drip campaign:
Once you've figured out which drips you think will work best for you, it's time to actually build them. It's crucial to lay a good foundation for creating your drip campaigns and to take the time to write unique and read-worthy material.
Each email needs to add value in one way or another or your lead will unsubscribe. The emails in your product-focused drips need to be thought-out and precise.
An effective lead nurturing email should be short and accomplish these things:
Specifically identify a problem the user may be having
Offer a solution
Give a clear call to action
Short. Sharp. Effective.
Once you've thought through which of your campaigns are best suited to each segmented group of leads, it's important to map out every single email in the drip and when the campaigns will be sent. This will give you the best chance of converting different leads at their own pace.
For effective drip campaigns, make sure to outline your campaign with different triggers that are influenced by how your lead is interacting with your emails. It's important that you set up your triggers correctly on your campaigns so you can move your leads to the right drips based on their behavior, and move them to a more aggressive sales-focused drip at the right time if they're indicating a strong interest in your product.
Setting up the right triggers can be as important as the content of your drip emails. If you invest your time in getting these triggers right, they can nurture your leads for you in your different drips and funnels.
Remember, each campaign you send should have a specific target audience. There's no point blasting your entire list every time you send out an email, especially since a product-focused drip will have a completely different goal than your re-engagement drips.
What's the difference between drip marketing and traditional email campaigns?
Traditional email marketing campaigns follow a "blast" method where a company sends an email to their entire list and basically disregards where their leads are in their sales funnel. (More tips on how to manage your funnel here.)
A drip campaign can help you track your leads and their engagement with your brand—and make it easier for you to decide when to start pushing a sale for your product.
Drip campaigns also give you the ability to do segmenting, meaning you can categorize leads into groups based on their behavior.
If a customer is consistently clicking on your free material but has yet to actually purchase a product, this may mean they need a little more nurturing to trust your brand.
Remember, humans aren't all built the same and we all have different buying behaviors. Sending email campaigns to target each of these behaviors is going to benefit you a lot more than blasting out the same email to your whole list.

This one tool can benefit your drip market campaign.
A winning drip campaign starts as soon as you collect a lead, and automating this process makes building your campaigns so much easier.
You can use a CRM tool to assist with drip marketing campaigns to automatically push data into your email marketing software while collecting other important information like buyer profiles.
A CRM such as Copper will even allow you to add and remove leads to your list in just a few clicks—while seeing when the next drip campaign is scheduled and who's receiving it.
Start drip marketing your way to more sales.
Whatever drip campaign you choose, it's important to make sure that every email hitting your lead's inbox will interest them enough to not only open it, but also be engaged in its content.
If you're able to keep track of how leads interact with your brand (or if they interact at all), you can then create more targeted and individualized drip marketing campaigns. With this insight into your prospects' behavior, you can focus on nurturing them and helping them along your sales funnel at their own pace rather than blasting them with impersonal—and ineffective—sales emails.