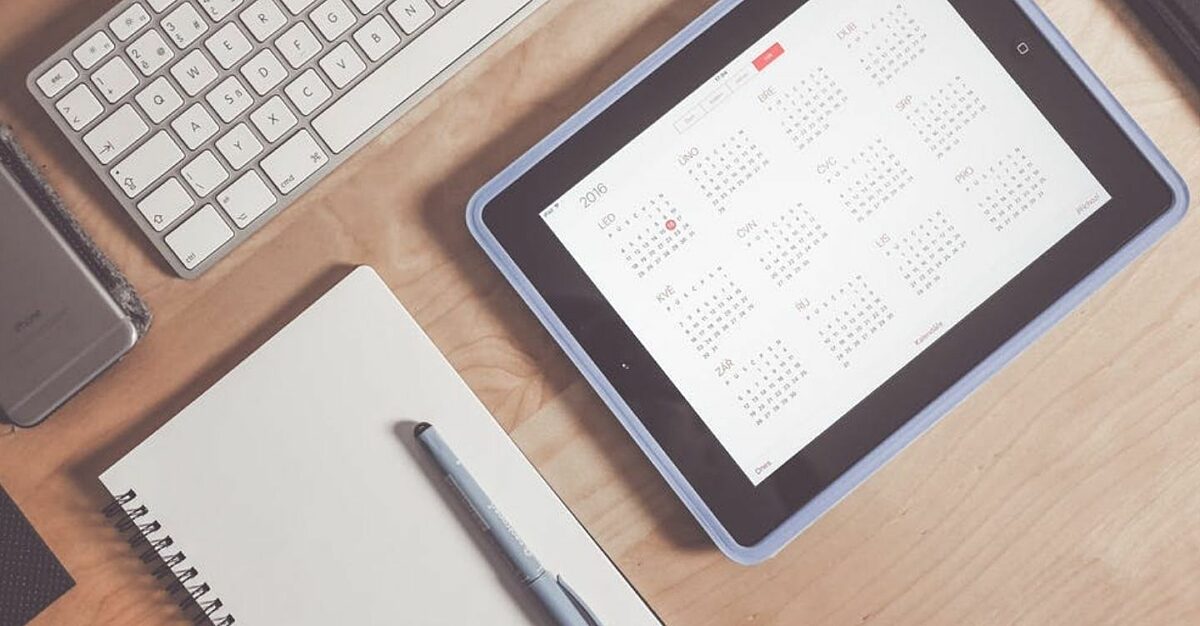 Productivity : 7 min read
How to Use Google Calendar to Plan Your Workday
Imagine this scenario: you're at work with a to-do list a mile long, and no clue where to get started.
You're trying to check things off, but feel like you're not even making a dent. Your colleagues keep popping by your desk asking for help and meeting invitations keep pinging your inbox.

It's impossible to get ahead.
Before you know it, the rest of your office has headed home for the night and you still haven't made any progress on your list of tasks.
This probably isn't too difficult to imagine, is it?
We've all been there before. When projects get rolling, it can be difficult to efficiently manage your time. Luckily, you most likely already use one of the best resources for getting on schedule: –Google Calendar.
Google Calendar can be much more than a place to record your meetings or phone calls. It 's also a powerful time management tool for planning out your workday.
Get back on track and start having more productive workdays. Here are a few best practices to get the most from your Google Calendar, including:

1. Make a to-do list.
Before you start plotting work time on your calendar, you need to know what you have to accomplish. The best way to do this is to create a basic to-do list.
Your to-do list acts as a place to write down everything and anything you need to get done––regardless of how big or small the project is. When creating your to-do list, think in both the long and short term. Record projects or tasks that you'll need to complete, even if you don't need to get them done today or even this week.
For larger projects, try to break them down into actionable steps. This will make it easier to plot time on your calendar.
For example, let's say one of your projects is to update your company website. This is most likely something you can't accomplish in one sitting. To make your to-do list more actionable, start creating subtasks that will bring you closer to achieving that goal, like updating your company logo, finding a web designer, and re-writing your web copy.
Keep your to-do list as a work in progress. As new items come up, add them to the bottom: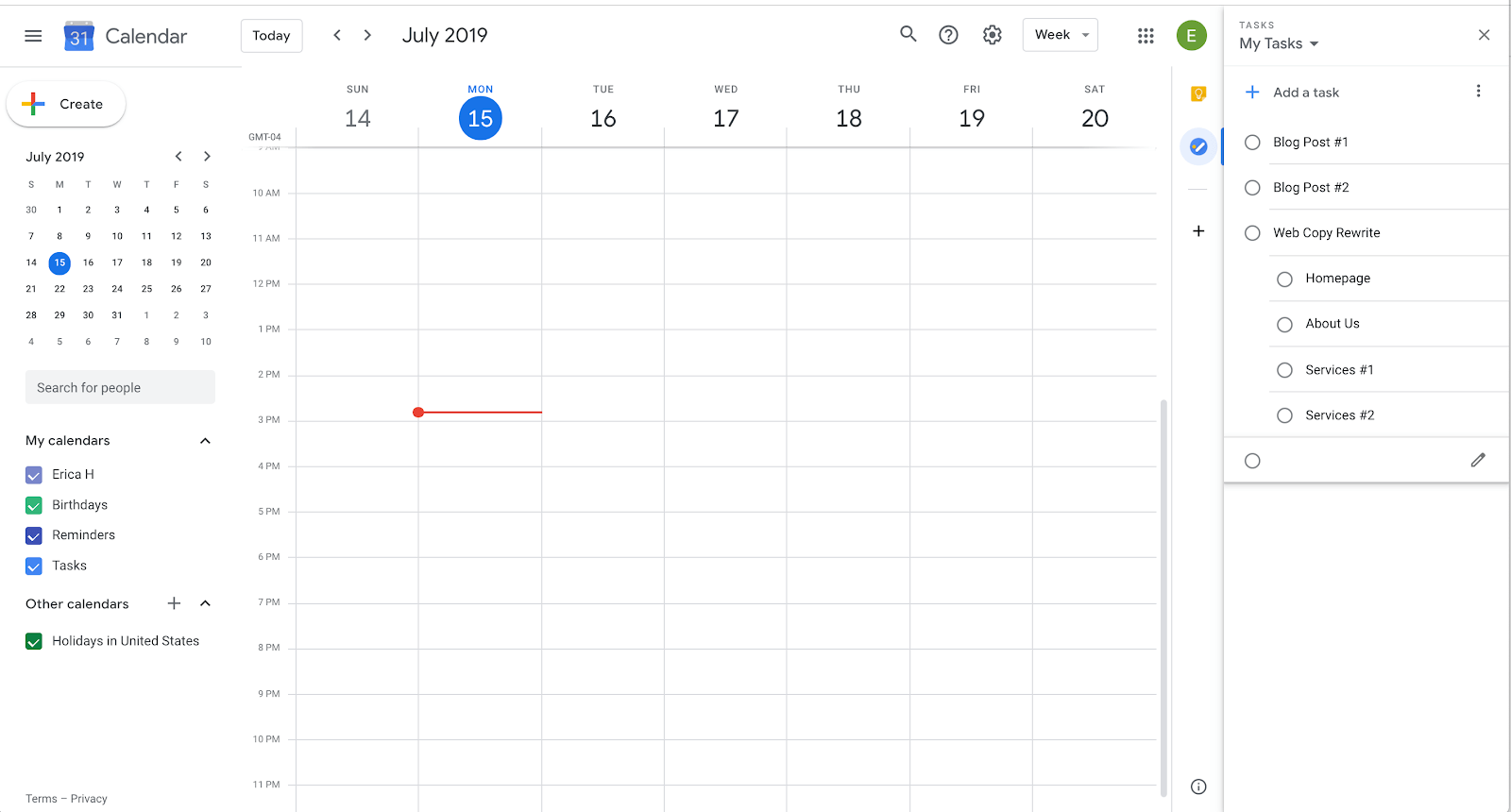 Google Tasks creates a simple to-do list for keeping all your projects organized.
Google Tasks is easy to use in conjunction with Google Calendar because you can view both in the same window. This makes it easier to see what you need to complete when you start blocking off time. However, feel free to use any to-do list that fits your needs (Todoist is another great option).
You can easily access Google Tasks from any of your Google Suite apps. Look along the right sidebar in your Google Calendar. Selecting the blue circle icon will open your list of Tasks where you can easily add and edit your items: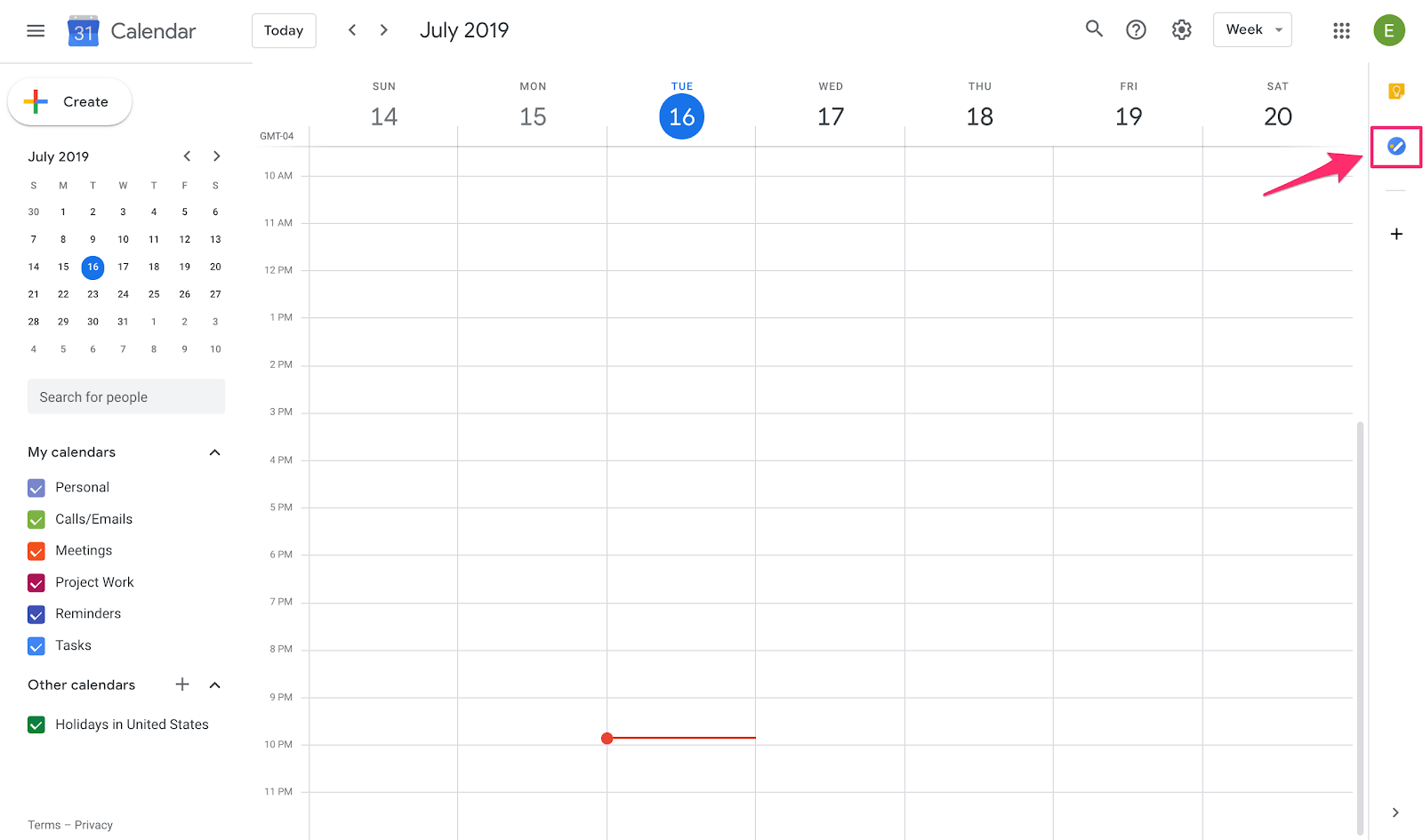 You can also edit and add new tasks from within your calendar or Gmail. This makes it easy to keep your to-do list updated throughout a busy day.
2. Create your calendar categories.
Creating different calendar categories is a great way to get a quick snapshot of what your day or week looks like. Using different color codes for each category can also make your calendar easier to take in.
There are dozens and dozens of categories you could break your calendar up into. It all depends on what works best for you and the projects you need to complete.
To get started, we're going to use the categories "Meetings," "Project Work," "Calls/Emails," and "Personal."
To create a new calendar, select the plus sign next to "Other Calendars." Then hit Create new calendar: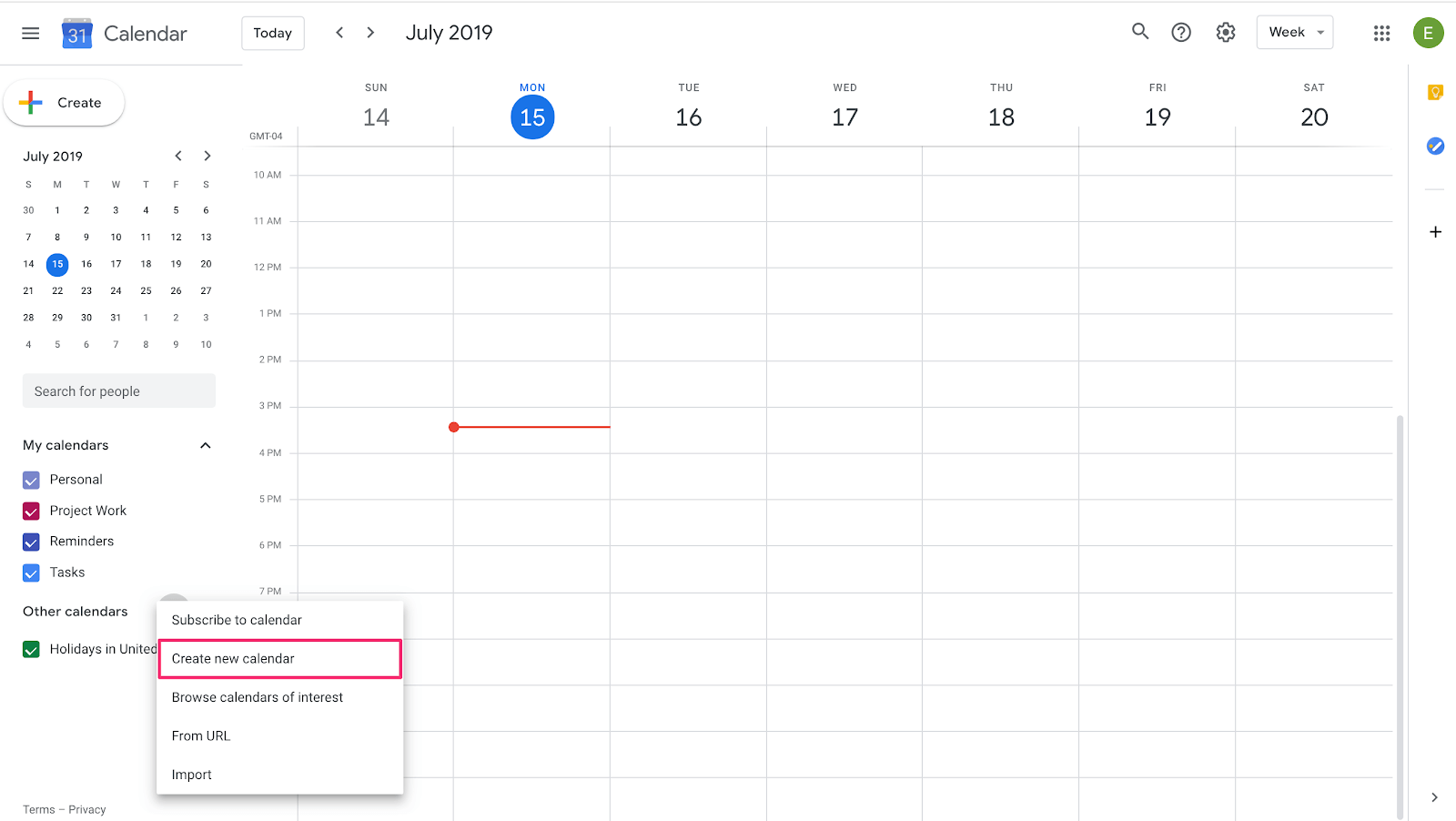 You can then enter a new calendar name and a relevant description: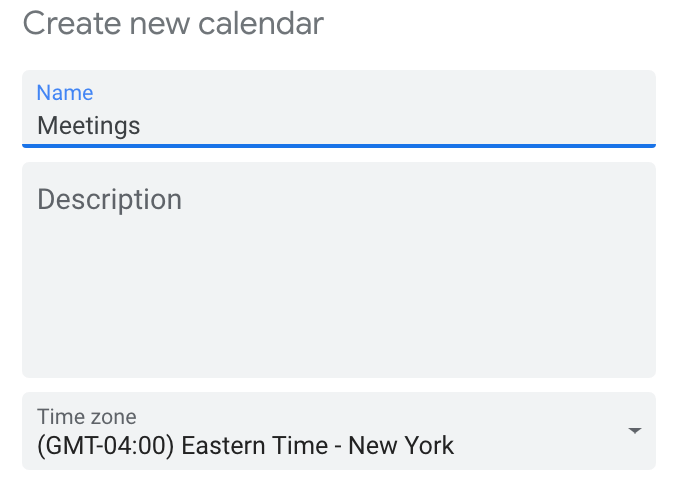 Follow this process for each of the categories you create. When you're finished, you'll see your new list of calendar categories in the left sidebar of your Google Calendar: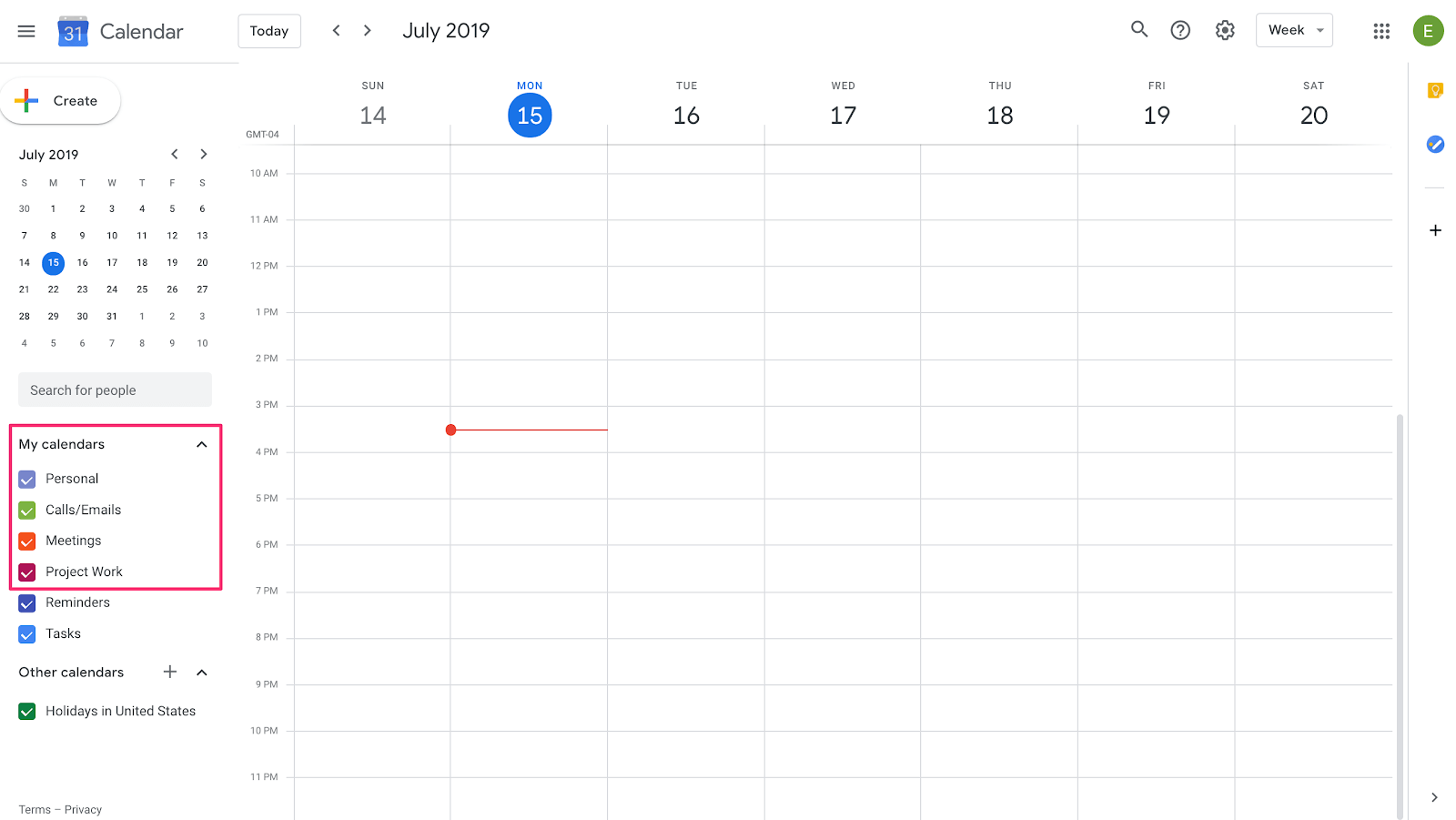 Separating your projects by category also makes it easier to pick and choose which calendars you'd like to display. Unchecking the box next to each calendar will remove it from your main page and gives you a quick snapshot of projects and tasks that are under different calendars.
3. Add your non-negotiables.
Your non-negotiables are any meetings, appointments, or events that need to take place at specific times on specific days.
If you already use Google Calendar to schedule your meetings or client phone calls (more Google Calendar hacks here), this step might be done. But if you're keeping track of your obligations elsewhere, you'll want to add these to your calendar before you begin planning anything else: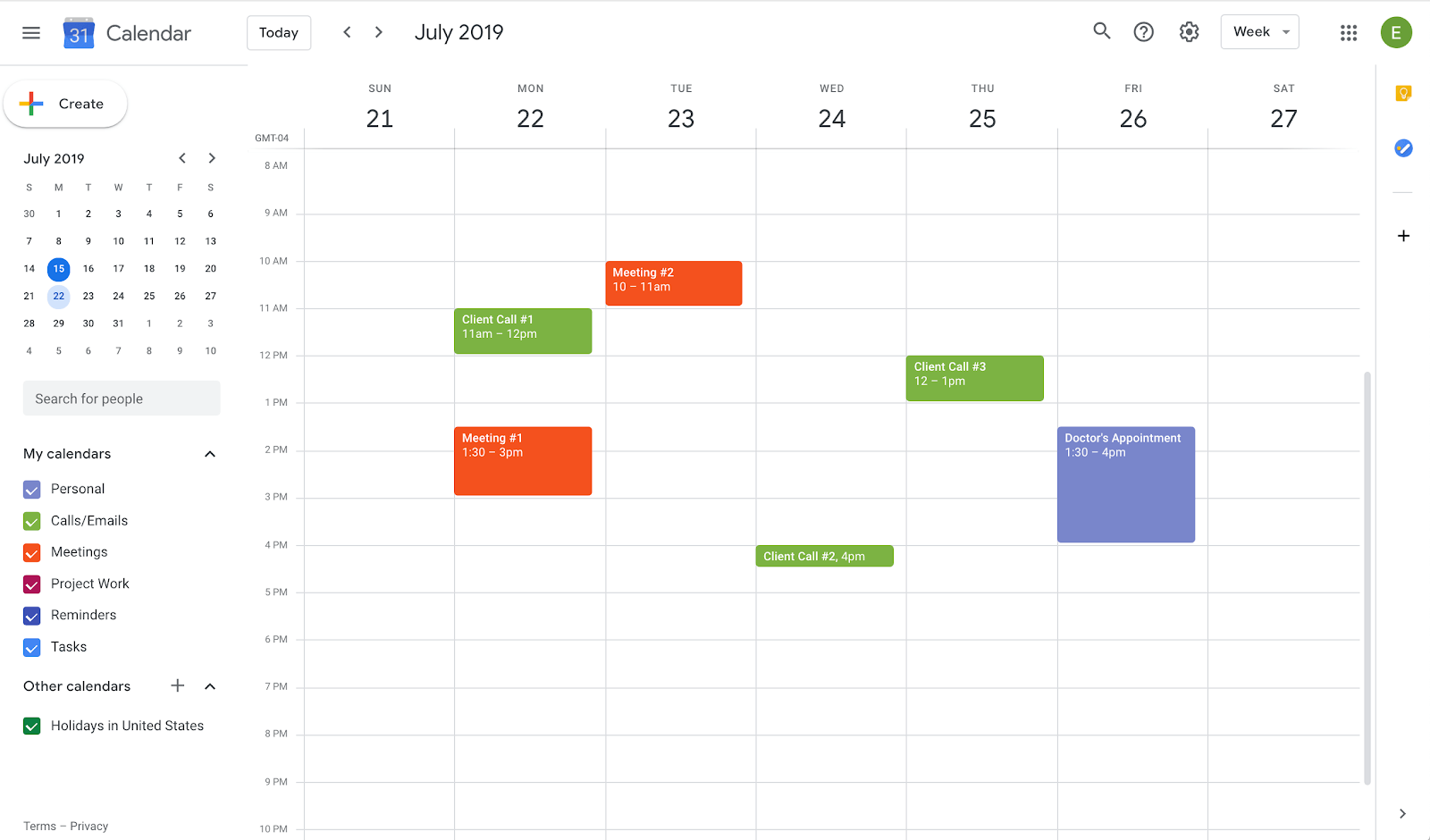 Also be sure to include any personal obligations, such as doctor's appointments, where you might need to leave the office early.
This should give you an idea of how much "free" time you have each week. The gaps between your non-negotiables will be when you can schedule out your other work.
Which brings us to our next step…
4. Start scheduling your most important tasks first.
Now it's time to jump back to the to-do list you originally created. Using your baseline calendar of non-negotiables, block out some time for your tasks––starting with the most important.
Your most important tasks probably require some level of deep concentration. To prevent yourself from getting distracted or needing to pull away from your work when you're the most focused, add your important tasks where you have a large chunk of time.
In our example calendar and to-do list, let's say Blog Post #1 is our top priority for the week. Because Monday is relatively busy with calls and meetings, we're going to block off a few hours Tuesday afternoon to complete the post: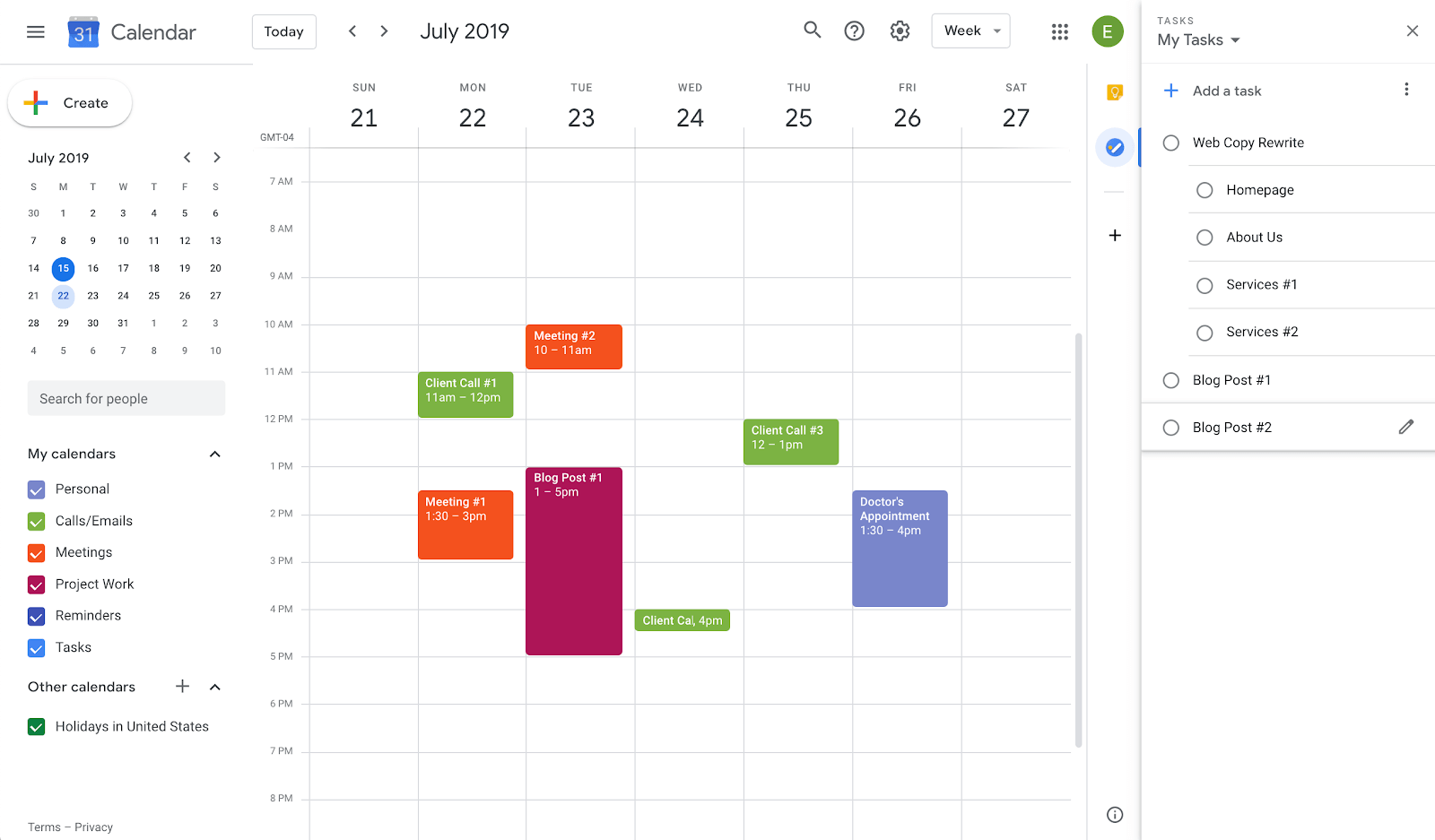 Cutting off the entire afternoon to focus on one task can make it easier to get everything complete in one sitting. However, this kind of work process might not be for everyone.
Another option is to break down that main priority into smaller chunks. For example, if your main task is particularly labor-intensive, you could schedule four one-hour blocks across your week: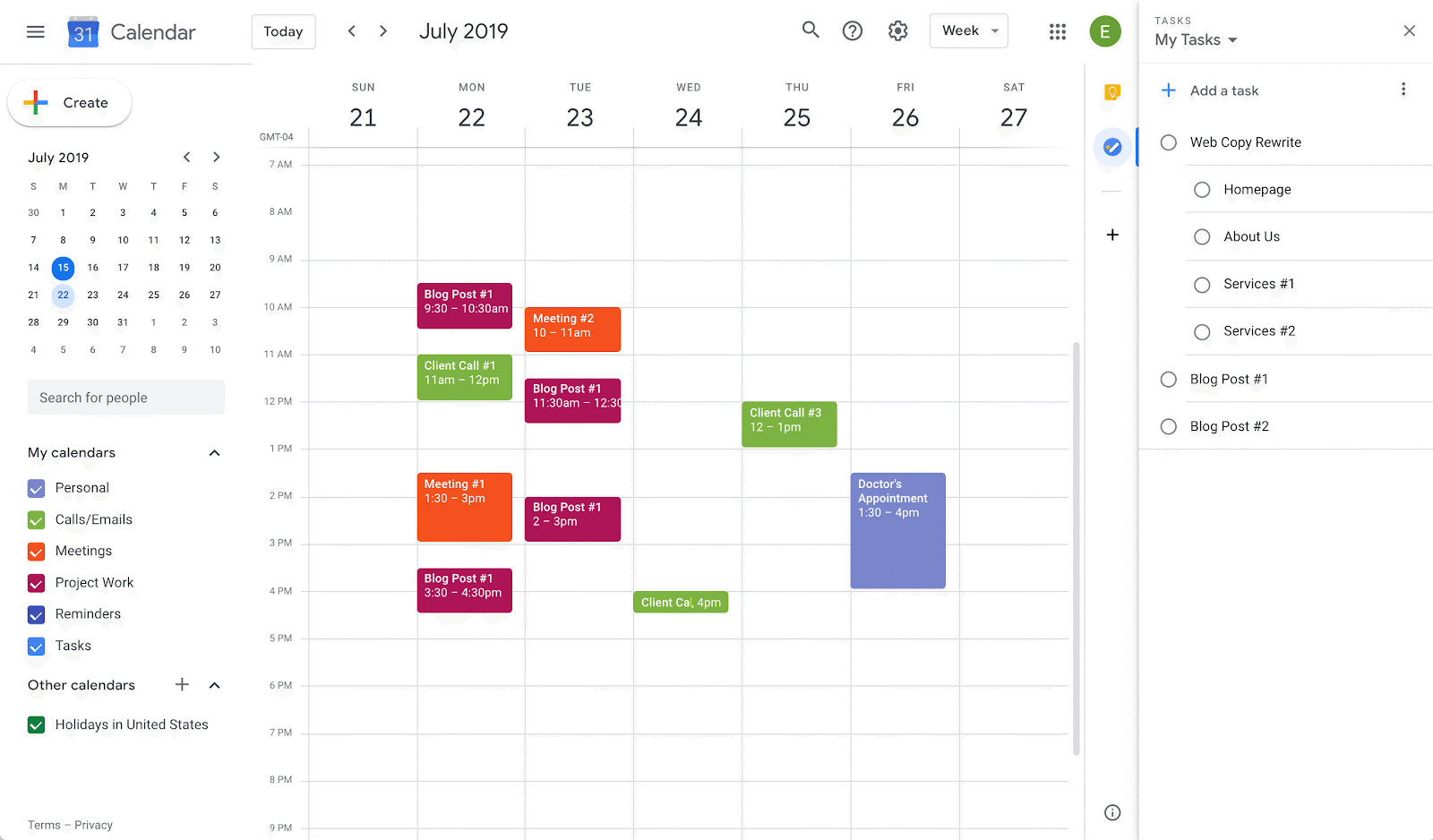 Think about what works best for you. Your main priority at this stage is just setting aside time to get your most important tasks done.
Follow through this process, moving down your to-do list by order of importance until you have a full calendar—or an empty to-do list.
5. Plan your breaks.
Taking regular breaks throughout the day is important for not only your health, but also your productivity. Getting up to stretch your legs, grab coffee with your coworkers, or just listen to a podcast can prevent you from burning out and allow you to come back to your work feeling refreshed.
However, when the day starts to get busy and your to-do list grows, it can be difficult to find the time to actually step away from your computer.
Adding planned breaks to your calendar can help ensure you actually take them: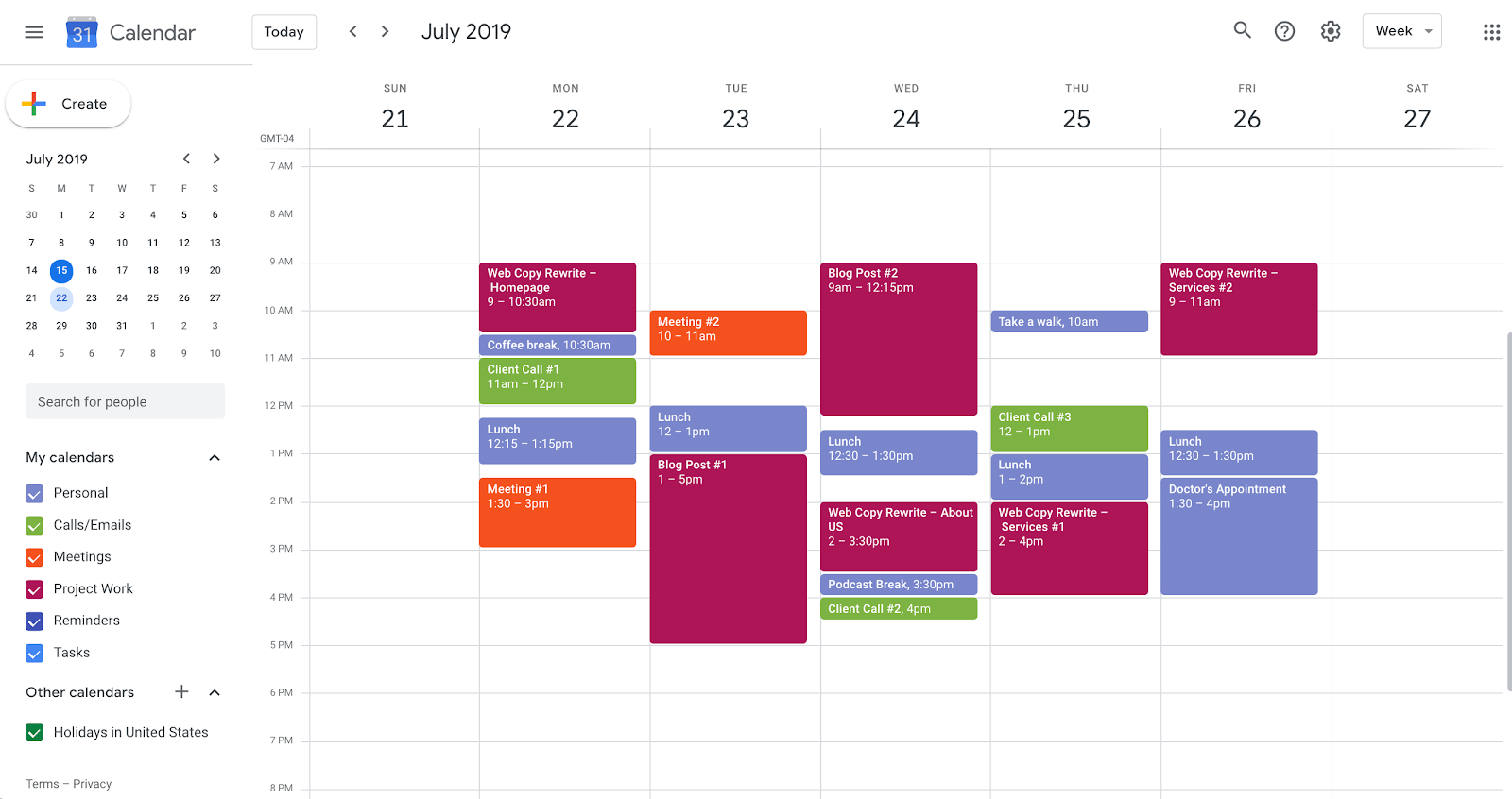 Pro-tip: Look for opportunities to squeeze in a break before important calls or when you have a busy day. This can help you decompress and contemplate the projects you're working on or prepare yourself to face a client.
6. Block time for calls and emails.
A phone call or email from a client or coworker can throw your entire day off––especially if you have to drop everything every time your phone rings.
Switching from one task to another can quickly eat away at your productivity. Instead of responding to each phone call or email as it comes in, put some time on your calendar to connect with colleagues and clients.
Similar to the way you schedule your breaks, look for gaps in your day where you can send some emails or pick up the phone. These gaps don't need to be long––you'd be surprised at what you're able to accomplish in 10 or 15 minutes.
You should also set some time aside in the morning to clean up your inbox and prioritize who you need to connect with that day. If you're starting at the same time each day, a recurring event can preemptively put this on your calendar for you.
To create a repeating event, simply create a block as you normally would. On the editing page, select the "Does not repeat" drop down below the time and date. You can then choose how often you'd like this event to repeat. In this case, we want to choose "Every weekday."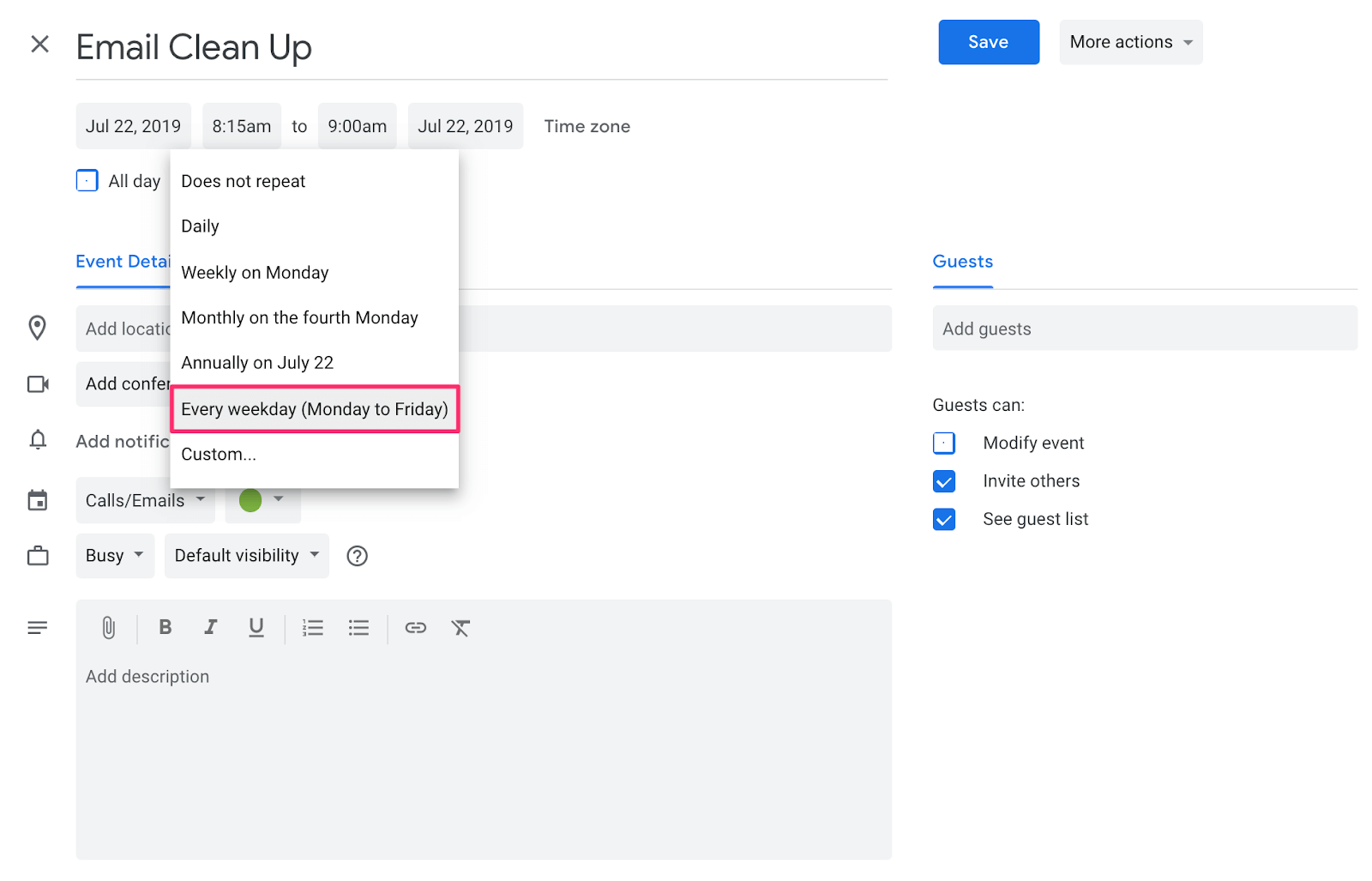 While there still may be some emails or phone calls that require your immediate attention, setting this time aside can ensure you don't fall behind in your inbox while also minimizing other distracting tasks: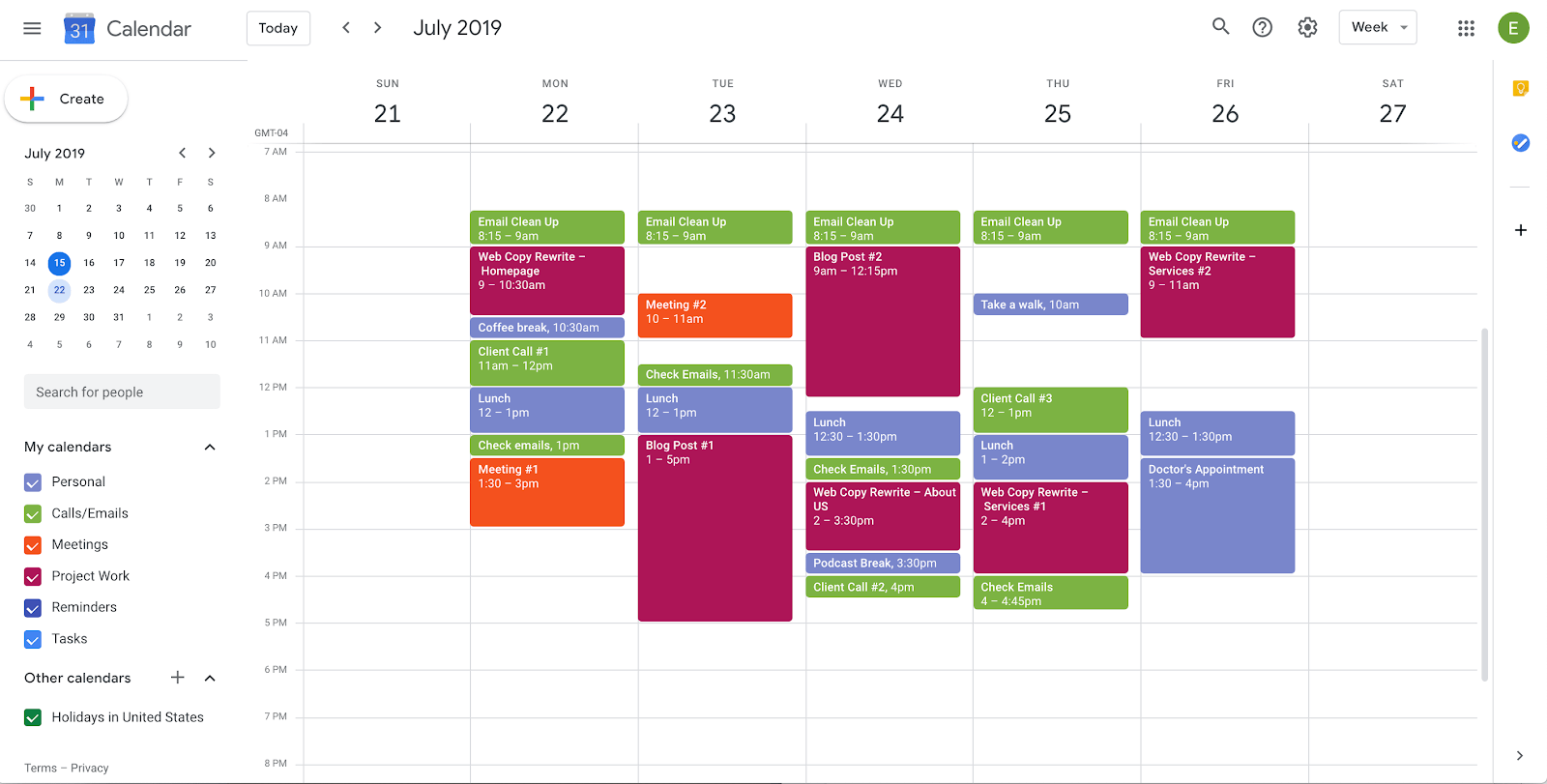 Look for other opportunities where you might be able to catch up on emails, such as waiting in line for lunch or on your commute. Taking advantage of these otherwise wasted moments can help you stay productive throughout your work day.
7. Set time aside for on-call tasks.
Planning out your workday or week is useless if you don't follow your schedule. However, sometimes projects or tasks pop up that need your immediate attention, throwing your entire plan off.
Scheduling in the unexpected allows you to stay focused throughout the rest of your day—and still have time to complete items you may not have been able to plan for. If a coworker gets a project back to you later than expected or a client appears with an unexpected problem, these built-in time cushions can prevent you from losing your entire schedule to accommodate.
Set aside a bit of time every day to deal with on-call items. The amount of time you schedule for on-call tasks should depend on how frequently problems like these pop up. If they're pretty frequent, you might want to block off the equivalent of a couple of hours a day. If not, 30 minutes to an hour should be fine: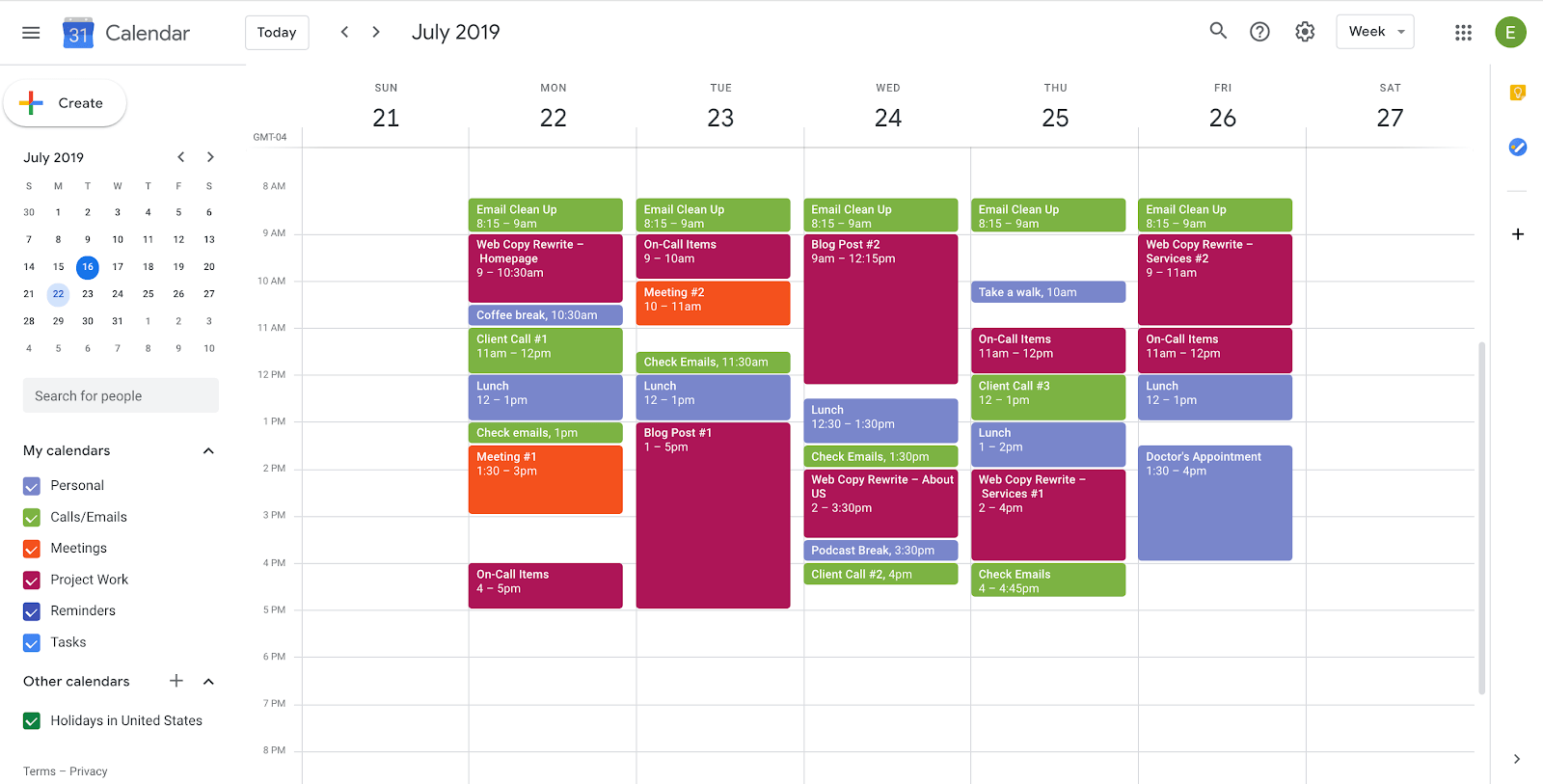 These time blocks can also give you an opportunity to get ahead on work, do some scheduling, or otherwise be creative with your day. If you've sectioned off time for on-call items but nothing appears demanding your time, get started on other project work or even take a short break.
8. Add calendar integrations.
Integrating your Google Calendar with other apps (beyond the usual G Suite apps like Drive and Docs) you frequently use can automate some steps of the organization process and help you stay on track. Integrations let you maximize the benefits of Google Calendar—and work more productively.
Here are some useful integrations to check out:
Asana
If you use Asana for project management, you can sync tasks and projects with due dates to your calendar. This can ensure you never miss an important deadline. And it integrates with plenty of tools you're probably already using.

Todoist
If you're not a fan of Tasks or you want a more comprehensive to-do list app, Todoist is a great option––and it easily integrates with Google Calendar.
The integration automatically adds tasks with due dates to your calendar. If you set a specific time for a to-do item in Todoist, it can also add an event slot for you.
Copper
Integrating your CRM with your calendar can help you keep track of calls, events, and tasks. Copper makes it simple to add meetings or projects onto your Google Calendar.
Copper's integration also works both ways. When you add a new event to your Google Calendar, it will automatically update in Copper.
Here's a quick overview of how Google Calendar + Copper looks:

Trello
If you use Trello to keep projects organized, you can add cards with due dates to your Google Calendar, allowing you to see all of your due dates in one place.
Trello technically considers calendar integrations a "power-up," so you may need to upgrade your plan to make this integration work.
Slack
Slack allows Google Calendar integrations in a couple of ways. First, you can add the Google Calendar app to manage your personal use and keep track of your work schedule: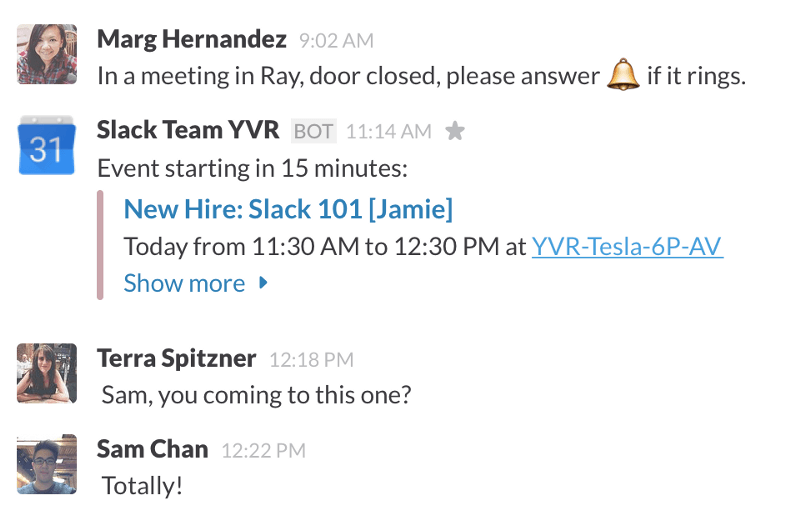 Pro-tip: Check to see if the apps you use have pre-set integrations with Google Calendar. If they don't, you can still use an automation tool like Zapier or IFTTT to add your other apps.
Planning is the first step for a more productive day.
Treat your newly organized Google Calendar as a tentative plan––not a set itinerary. While you probably want to stick to each time and item as closely as possible, don't get stressed if things don't go according to plan.
It's natural for things to pop up, for meetings to run longer than expected, or even for projects to not take as much time as you expected. When your calendar gets thrown off, just make some quick adjustments to get back on track.
When you have a plan for how you'll use Google Calendar to tackle your workday, you can stay focused and get more done.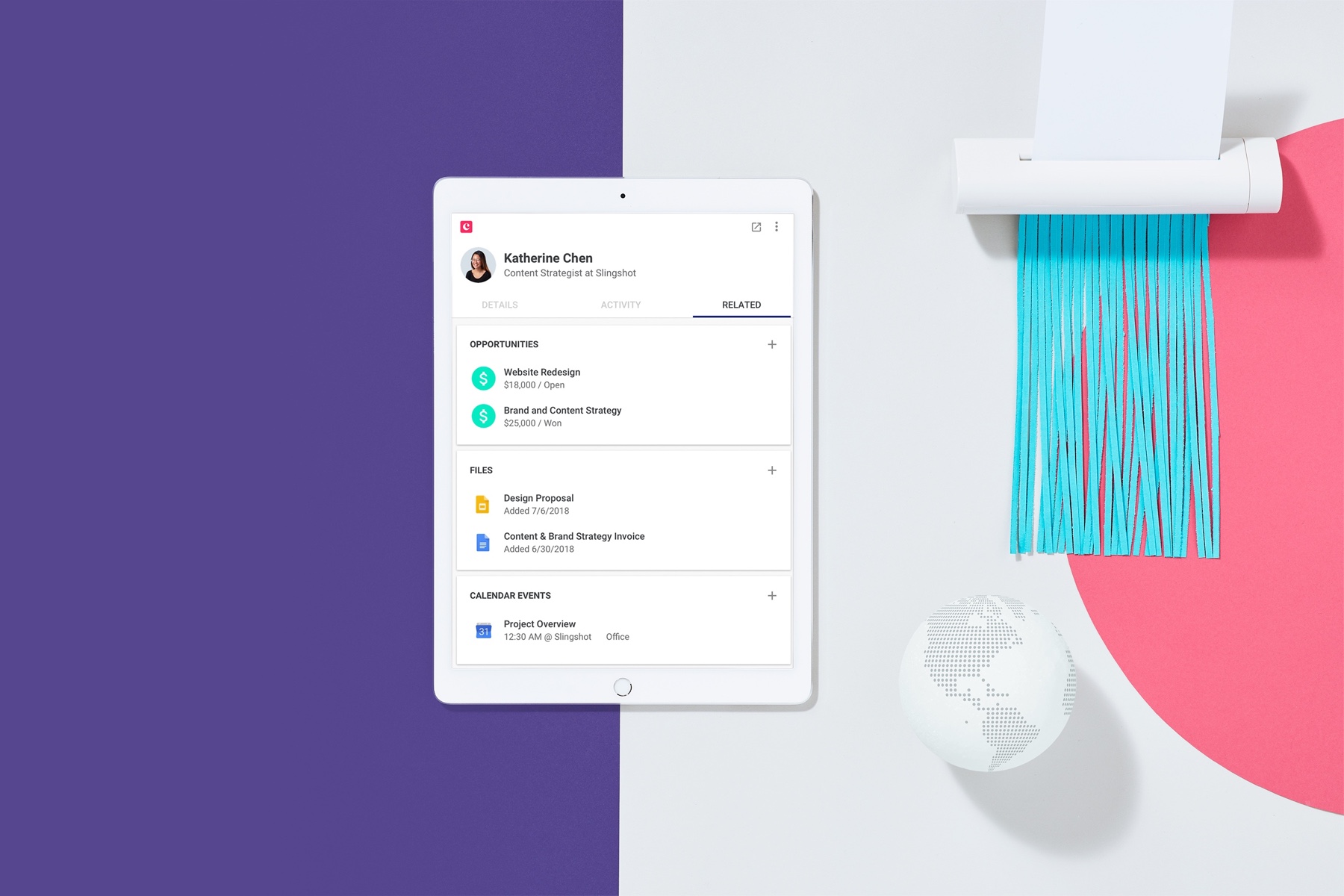 X
Try an actually easy-to-use CRM for free.
Manage all your contacts, deals, emails, files, and more in one place.
By signing up, I agree to Copper's privacy policy & terms of service.