Copper Staff
Contributors from members of the Copper team
Whether you love sales or not, it makes the business world go 'round. Sales prospecting is a necessary part of the sales process, helping you target qualified leads and warming up your relationships with prospects.
The thing is, sales prospecting gets a bad rap. People often say it comes off as spammy or cringey, and that certainly isn't a good look for your brand.
If you need to grow your biz in a virtual or hybrid environment, it's even harder to stand out to prospects, keep your sales team on the same page, and boost your bottom line.
So, how can you make more sales without turning people off? It comes down to having healthy, authentic sales prospecting techniques.
The 5 best sales prospecting techniques
Before we dig in, let's clarify the difference between a lead and a prospect.
A lead is anyone who shows interest in your company. For example, a lead could be someone who follows you or members of your sales team on social media, signs up for your newsletter, or downloads your ebook. Leads are great, but they're pretty general, and don't always have a warm relationship with your brand (yet). Leads are your unqualified folks who may or may not be ready to become a customer.
A prospect is one level above a lead. A prospect is someone who fits the profile of your target audience persona and has a serious chance of converting. In an ideal world, leads turn into qualified prospects. While lead generation is necessary, your sales team needs good sales prospecting techniques to convert warm leads into customers.
Are you ready to turn question marks into dollar signs? Keep reading to learn about five sales prospecting techniques that actually work — and how they help you turn prospects in the sales funnel into paying customers.
1. Be friendly + familiar
Before you even try to set up a call or send a sales email to a prospect, warm them up a bit by getting them familiar with you as a sales professional. In other words, be friendly!
Would you answer the door if a total stranger rang your doorbell? Maybe, but you're probably going to be wary of them. It's the same principle when you're doing online sales; you want people to be comfortable interacting with you.
Here are just a few examples of how you can be more friendly during the sales process:
Ask for an introduction from a mutual connection or colleague
Comment on or "like" one of their recent posts on LinkedIn
If the prospect downloaded a piece of content from your site, send them a personalized thank-you email introducing yourself and letting them know you're there to answer questions
This might sound like an extra step, but in an age where spam runs rampant, it's so important to make your name familiar with prospects before your big ask.
By adding this familiarity to your name (as well your company's name), you're increasing the chances that this prospect will be willing to chat when you make that initial sales contact.
2. Warm up your cold calls (and emails)
We're talking about your official prospecting call or email here.
If you take one thing away from this prospecting method, it should be this: the initial contact is not about making a sale. It's about building a relationship with the prospect first.
With relationships come trust — and sales comes after that. Be patient with every sales prospect.
Whether you decide to call or email (or both), make sure you do the following before contacting the prospect:
Research the prospect and their company: The prospect will respond more positively to your email or phone call if you sound like you actually know what you're talking about.
Prepare some talking points: This will ensure you, or another sales team member, don't get caught off guard or run into awkward silences during a call.
Define the goal of your contact: Why are you contacting this person? More often than not, it's to build rapport with the prospect, educate them on how your solution can solve their business problem, or give them your contact information. Remember, relationship-building for any sales rep is the focus at this point.
Wait to see how the prospect reacts to your initial message. If it's positively received, that's great! It's time to plan for prospecting emails and calls with potential customers.
Here's how a prospecting email works for the sales process:
Subject line: You want prospects to actually open and read your email, so start with an effective subject line.
Personalized opening line: Open the email by saying something about the prospect. If they're familiar with you already (going back to our first sales prospecting technique), you can bring up your past interaction to help them remember you. Otherwise, bring up something about the prospect's business that shows them this isn't just a cut-and-paste email template and that they'll gain something from reading it.
Get straight to the point: Now that you have your prospect's attention, jump right into why you're emailing them. Tell them at a high level how your product or service can solve their problem. Give them just enough detail to pique their interest while keeping it short.
Offer your expertise as a sales professional: Recover from sounding too salesy by letting the prospect know you're happy to have a casual chat about their business problem. No pressure! This will show you genuinely care about helping the prospect with their business and aren't just trying to secure your commission check by gaining a potential customer.
Call-to-action: Offer to set up a call and suggest a time using a tool like Calendly. End your email by asking the prospect to confirm if that time works for them. Basically, you want to make it as easy as possible for the sales prospect to say "yes."
Got a sales prospecting call scheduled? Here's how you can make sales calls sound less spammy:
Establish rapport: Open with something that encourages the prospect to have a conversation with you. If you've interacted with this person in the past, slide that in so they instantly feel some familiarity with you. Otherwise, make conversation like you would with a friend — building rapport can have a huge impact!
Get straight to the point with a sales prospect: This is the same as prospecting emails; don't beat around the bush. Let them know why you're calling and tell them how your product or service can help solve their problem. Keep it short and sweet. You have just 5 - 10 minutes to prove your value to prospects, so keep it brief! But remember, this isn't the sales call. You're just starting your relationship here.
Ask questions: This will make the prospect feel heard. Listening also gives you the knowledge you need to position your solution as effectively as possible when it's time for the sales call.
Schedule a follow-up call with the potential buyer: Let the prospect know it was great speaking with them and that you'd love to chat further about how you can help them. Start by suggesting a time. If the prospect can't make that time, tell them which day you're available next and have them propose a time, which will help the potential buyer through the sales funnel.
3. Be a knowledgeable resource
In the Relationship Era, you have to do more than just explain how a product works to make a sale.
You need to establish rapport with prospects and continuously work to build relationships with new and existing clients alike. That's why it's so important to position yourself as a thought leader — especially in an era where your reputation is a Google search away.
Invest in your own knowledge and build a reputation as a thought leader or subject matter expert in your industry. Not only will you build credibility, but by positioning yourself as a knowledgeable resource, you'll also get prospects coming to you versus you having to rely on outbound prospecting.
Translation: you'll find better prospects in less time. That's a huge win!
Even after you've closed a sale, your clients should be able to reach out to you for knowledge and expertise. In fact, 49% of shoppers say thought leadership influences their purchasing decisions. This means that, when you create deeper customer relationships, you make more sales, too. It's a win-win!
Stop thinking of yourself as "just a sales rep" and see yourself as what you really are: a connector. You connect people with solutions, and one way to do that is through becoming a thought leader.
Not sure how to become a thought leader? Here are some ways to establish yourself as a knowledgeable resource:
Be vocal on social media: Share your opinions on subjects you specialize in, become an active member in relevant groups and post valuable content like infographics.
Start a blog: Share helpful content like videos, tutorials and professional reviews.
Guest post on other blogs: Expand your reach by guest-posting on other blogs in your industry or niche.
Speak at conferences and seminars: Keep an eye out for local events in your area so you can land speaking opportunities — chances are good that your prospects will be there!
Bonus: Putting your name out there has the added benefit of adding familiarity to it, which ties into our first sales prospecting technique. The more familiar and trustworthy you are, the better your chances of connecting with your prospects.
4. Automate your marketing efforts
Look, you're human. Your prospects might expect you to be online and available at all times, but we know that isn't actually possible. Fortunately, marketing automation can handle a lot of prospecting work for you.
Marketing automation technology will keep track of everything, executing tasks like nurture campaigns and follow-up messages, well, automatically.
Here are some of the tasks you can automate, as well as our favorite tools to make it happen: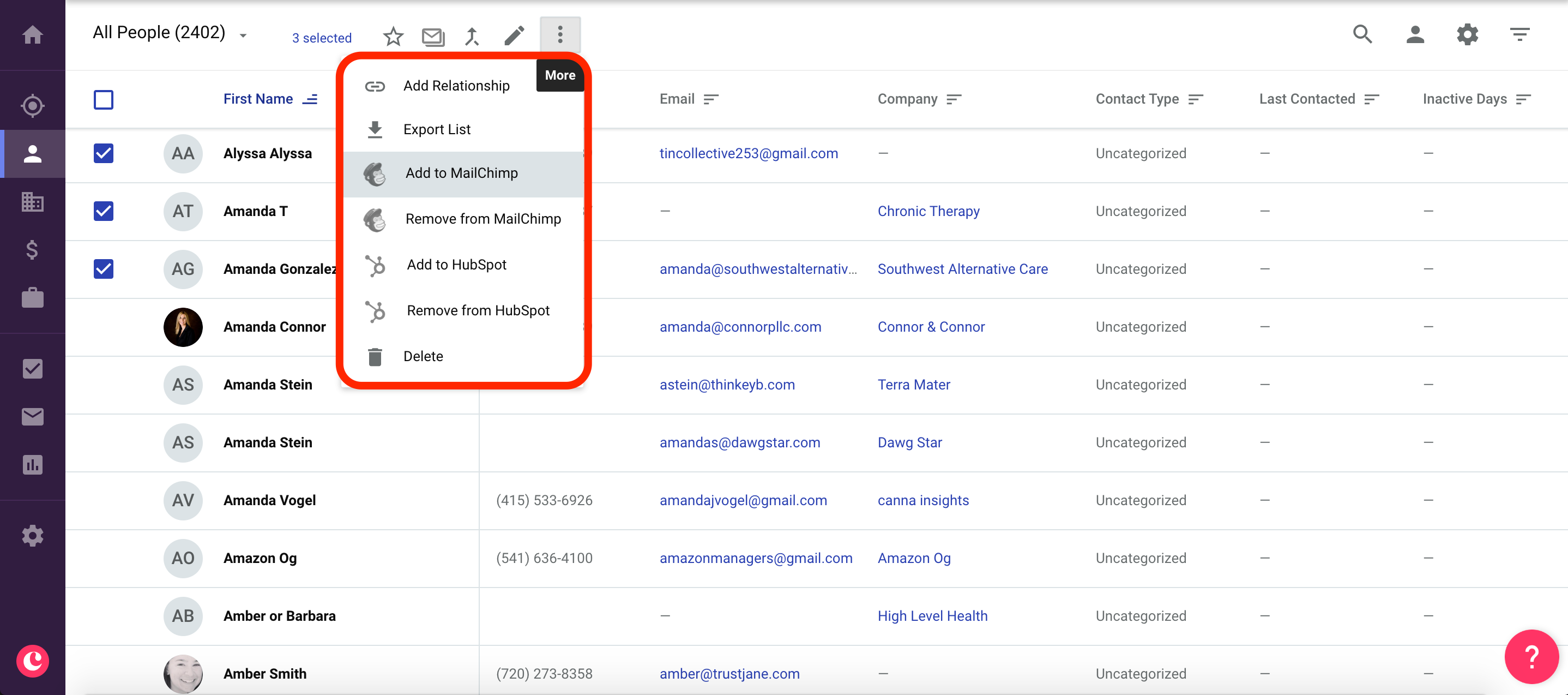 Easily add contacts from Copper to your MailChimp lists.
The right mix of marketing automation takes repetitive tasks off your plate, saving you way more time with both inbound and outbound prospecting. That gives you more time to get to know your prospects and build essential relationships.
5. Make prospecting a daily task
Prospecting is just like exercise: if you want to get results, you have to do it consistently. Most sales reps have 6-7 conversations per day, but reps who have more conversations tend to hit (and exceed) their quotas. This means that reps who make more calls using sales prospecting techniques get more results.
But more isn't always better. The quality of your prospecting calls matters a lot, too.
Sales prospecting isn't something that you can put off until the last minute. By doing so, you're reducing the chances of converting that prospect into a revenue-generating customer.
A fix for this is to schedule time each day — or at least, every other day — dedicated to prospecting. Considering the fact that it takes 5-8 touches just to schedule a meeting, scheduled prospecting can go a long way in cultivating prospects over time.
If that sounds overwhelming, don't worry. Tools like Copper make it a cinch to follow up with your prospects. Use the LinkedIn or Google Calendar integration to easily access your prospects' data and history without switching between different tools. It's a big sanity-saver in the remote work era.
Master your sales prospecting techniques
40% of salespeople say that prospecting is the hardest part of selling. But when you nail your sales prospecting techniques, you'll enjoy happier customers, more sales and a stronger business over time. Add these sales prospecting techniques to your arsenal — but make a plan for the next step, which is the ever-important sales call.
Need help making sense of remote sales? We have you covered. Copper is the Google-recommended CRM that makes relationship-building simple and — dare we say — fun. Try Copper free for 14 days (no credit card needed).