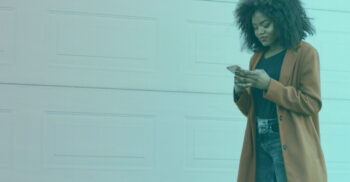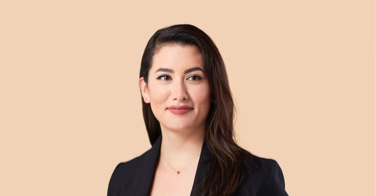 Get more out of your CRM.
Learn about all the tasks a CRM can take off your plate with this free guide.
Sales Tactics : 8 min read
What Are the Best Sales Tasks to Automate?
Automation has largely contributed to a paradigm shift in the way people get things done—both professionally and personally. Whether you're running a Tesla on autopilot or using IFTTT to declutter your inbox, using AI-powered machines, software or tools to save time is slowly becoming the norm across different verticals.
With sales reps spending less than 36% of their time performing tasks that can make or break a deal, can automation be the answer to their shrinking productivity?

According to a recent study, companies that have implemented sales automation processes have a 53% conversion rate and a 3.1% annual revenue growth. Not only this, but automating manual tasks can also reduce operating costs by up to 90%.
For sales managers looking to increase the efficiency of their team while on a budget, automation can be a game-changer.

Let's take a look at a few sales tasks that can be easily automated to save time:

Reporting
Fifty-two percent of sales reps waste time going through mostly out-of-date and inconsistent information from different sources to create performance reports.
As a sales manager, you're responsible for keeping tabs on the sales pipeline by maintaining a record of sales activities (like the total number of calls completed) and their outcome.
While spreadsheets are excellent for gathering and storing data, they make it difficult to distinguish and interpret the most important numbers at a glance. You're also looking at several hours of manual data entry and visualization—and there's no guarantee that the numbers are accurate—and there's no guarantee that the numbers are accurate. (Yes, a CRM is better for that.)
Automating your reporting routine frees up valuable time—no more tabulating data and screenshotting graphs to share with the exec team, internal employees and other stakeholders.

Before you start, it's important to list all the reports you need and the KPIs you want to track—for example, team performance comparison, sales calls or emails, qualified leads, and deals closed.
You can also use automated sales reports to:
Examine sales trends over a weekly, monthly or quarterly period of time to see how consistent your overall growth is.

Incorporate charts, diagrams, maps and infographics that are 30x more likely to be read than the text-only version.

Predict the number of deals that are expected to close and their estimated value.

Schedule a weekly email digest (or distributed dashboards) for individual employees to highlight their performance so they can tweak their sales approach accordingly. Remember, almost 25% of employees quit because they didn't have key information related to their own KPIs.
Identify bottlenecks in your sales pipeline and take the necessary steps towards addressing them. For example, you can integrate your CRM with Slack to receive real-time notifications when a lead is converted or moves backward through your pipeline.
Ultimately, automated reports can boost the sales productivity of your team (here are other tools for that) and strengthen your client relationships with minimal effort.
Email personalization
According to an Edelmann Group study, the majority of brands don't recognize the basic interests, concerns, and motivations of their customers. As a result, more and more people are moving on from brands that don't care about their preferences when sending marketing messages.

By personalizing just 20% of your email content, you can increase the open and reply rates by 40% and 112%, respectively. However, the numbers drop dramatically after the 80% mark, which means that getting too creative with the original template negatively affects customer engagement.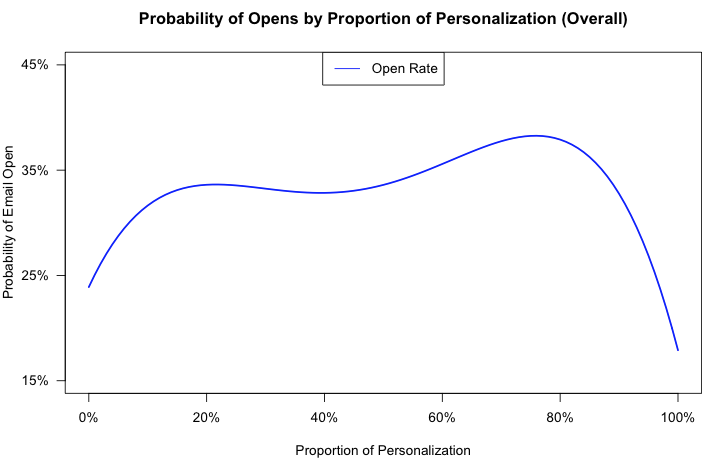 While personalization is important, you don't want a good chunk of your sales reps' time going towards creating and customizing email copy for individual leads.
After all, most of them already spend nearly 21% of their time on emails every day—a large part of which includes repetitive data entry tasks like importing CSV files and manually segmenting databases.

For sales teams that want to strike the perfect balance between input and ROI, the 10/80/10 approach—where you personalize only the first and last 10% of an email—works well.
As a result, your reps can save time by creating, saving and repurposing email templates that can go out to multiple prospects and customers at the same time.
For example, a 'schedule a product demo' email can have links to relevant videos and case studies to nurture a lead, along with customized placeholders and signature.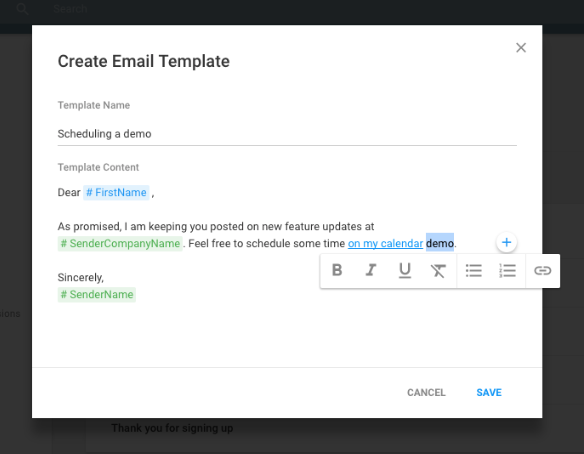 With automation, reps can focus more on emails that actually demand personalization—like the ones involving legal questions, pricing, or questions about premium features.
Even though there are so many benefits, many businesses struggle to create personalized emails—after all, how do you get started?
The easiest way to deliver a targeted message is to use transactional data to get a clear understanding of your customers' purchasing habits and preferences. Based on these parameters, your email content can be:
Unique to the customer (purchasing history)
Aligned to the customers' pain points (positioning your product/service as a problem-solver for a specific challenge your target audience faces on an everyday basis)
Based on the buyer's persona (age, gender, or job profile)
Based on the customer's position in the sales cycle (are they in the awareness or the decision-making stage?)
As a sales manager, it's important to move away from the traditional one-size-fits-all approach to email marketing and experiment with personalization to increase your bottom-line. Using automation to create emails that cater to the receiver's interests not only saves your reps' time but also results in high open and click-through rates.

Pipeline management
Considering that only 25% of the new leads are sales-ready, when's the right time to get in touch with them? More importantly, how do you know which leads to pursue first?
Most businesses rely on sales pipelines to track leads, prospects, and opportunities as they go through the different stages of the sales cycle. However, a lot of times, leads tend to get lost between the entrance and exit point of the pipeline.
Automation allows your reps to efficiently generate and monitor leads without the usual pressure, urgency, and workload. Here's how:

Lead generation: Sixty-one percent of marketers believe traffic and lead generation to be one of the most challenging processes. Regardless of what business you're in, having a steady stream of people in your sales funnel can be game-changing in terms of sales and customer retention. However, ensuring that your reps always have leads to pursue can be super time-consuming, especially, with the amount of manual work involved.

By automating your lead generation, you can increase your revenue by 10% in just six to nine months—and more importantly, save time.

For example, you can use the LinkedIn Matched Audiences to:
Target people based on their skill set, company, designation, and other professional parameters
Re-target landing page visitors and contacts in your customer databases.
When used alongside Copper, all the leads generated from LinkedIn are automatically added to your pipeline for your reps to go after.

Alternatively, you can also use contact forms, surveys, or mailing list signups to capture leads.

Lead prioritization: Some businesses rely on explicit signals like job profile, company size, and industry type to score leads, while others consider implicit signals like website activity, ebook downloads, and landing page visits to be more important.

Depending on the metrics your business uses, you can also go for a mix of both. For example, a CFO visiting the pricing page on your website is a more valuable lead (high score), as opposed to an intern visiting your landing page (low score).

By using an automated lead scoring model, reps are more equipped to prioritize leads and can spend less time on scoring each individual lead. That means more time spent on deals that are more important to your bottom line.


Lead distribution: In most cases, you'll receive leads from multiple sources—social media, landing pages, contact forms, blog—and they often remain untouched for an indefinite period of time because, well, because, well, sales reps are busy.

Research shows that a lead is 100x more likely to answer your call if you get in touch with them within the first five minutes of signup. By simply automating lead assignment based on company size, deal value, business location, or industry type, you can drastically reduce the response time and increase your conversions.

Ultimately, automated lead distribution increases sales efficiency as your reps are able to identify key prospects early on and avoid contacting the same lead multiple times without a response.

Whether you want to get the latest information on active deals, check progress on individual sales quotas, or get total visibility into the monthly sales trends, an automated pipeline ensures that no potential lead slips through the cracks. Considering only 46% of reps perceive their sales pipeline to be healthy, it's a business imperative for you to rally your team around tasks and deals that matter.

Use automation, you can customize your pipeline to be more in-tune with your sales process, so your leads stay in the funnel and the entire team is aware of what's happening.

Sales automation is less about "replacing" human contact and more about increasing employee efficiency.
Many marketers are still second-guessing sales automation because they feel that it demands technical expertise and a dedicated team of engineers to work. The good news is that most automation software today, especially CRMs, are designed to have a simple learning curve and are easy to integrate with the tools you're already using.

Ultimately, sales task automation has opened the door to a wide range of possibilities while ensuring less work and more sales. Handing off administrative, low-value tasks to the machines makes it easier for everyone to focus on the work that requires a human touch.


Which sales tasks are you looking forward to automating?