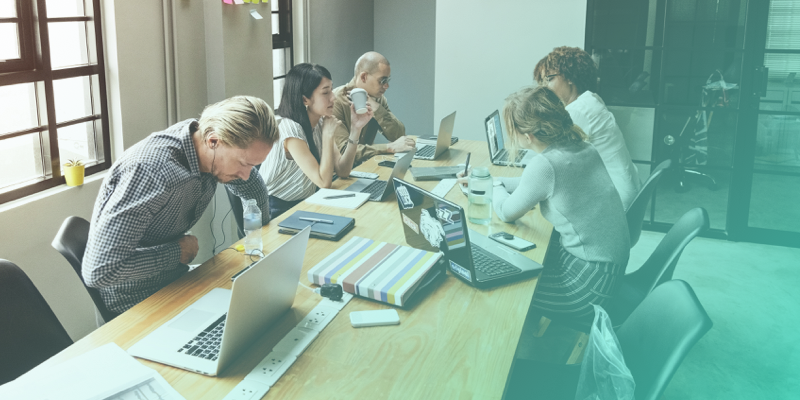 Customer Acquisition : 8 min read
A Non-Boring Guide to Sales Enablement
You've heard it a million times: sales and marketing have to work together. It's true, marketing is responsible for parts of sales enablement but today, it's common for companies to hire dedicated sales enablement staff.
To make money, your reps need to be busy closing deals. The whole concept of sales enablement means you're focused on making it easier for salespeople to close deals.
In this post, we'll cover what sales enablement is, why you need it, and how to implement sales enablement strategies into your business.
What is sales enablement?
Sales enablement means equipping sales teams and individual reps with the resources they need to turn a prospect into a closed deal.
One of the most important pieces of sales enablement is bridging the gap between the marketing and sales teams. In fact, Aberdeen found that 74% of high-performing companies foster a strong connection between sales and marketing.
Because sales reps rely heavily on marketing content (like case studies, ebooks, guides, etc.), it's essential that sales and marketing are on the same page on creating an enablement strategy.
What difference will sales enablement make for your team?
In a SiriusDecision study, 28% of all respondents have 7 or more full-time sales enablement staff, but this goes up to 43% for top-performing organizations.

More than 80% of sales reps on high-performing teams (those that increase revenue dramatically YoY) said that their company gave them the resources they needed to succeed.


Reps at high-performing companies are 2.4 times more likely to say their company empowered them with resources needed to engage customers.
How to create and implement a sales enablement strategy:
1. Streamline your sales processes.
First, you need to figure out what's not working, what is working, and get things running smoothly. Optimize the whole sales cycle, from the first contact to close. Here are some questions you can ask yourself to move toward a streamlined process:
What are the most effective methods of lead generation?
How are we qualifying (or scoring) our most qualified leads?
2. Give special attention to the lead-qualifying process.
Most buyers—82% to be exact—say they'd take a meeting with a rep who reaches out. According to research, this is the most significant determinant in getting a "yes" or a "no" for a meeting: whether or not the prospect feels they have a need for your product or service.
So, getting your qualification process right is critical. You don't want your sales staff reaching out to prospects who don't need what you're selling—it's one of the biggest time-wasters for your team.
3. Supply your sales team with the right content.
Content is an essential piece of closing a deal, especially for longer sales cycles and complex or technical products. There's a range of content types that'll help your sales team close.
Case studies showcase how your product or service benefited one of your customers. You should have case studies for your most popular use-cases (the most common ways people use your product).
Since each client is different, sales reps need a variety of case studies. You might organize case studies by product feature or by industry if your company serves more than one vertical. At Copper, we use case studies to show how our CRM benefits our customers in various industries, and it's an incredible sales enablement resources for our team.
Ebooks and handbooks get into the nitty gritty. Books dive deep into use cases, features, and how to use your product. Sales should work with marketing and product teams to request the content they need to be most effective.
Blogs are a great way to quickly get across the benefits or uses of your product. For example, maybe a prospect is trying to decide whether to build their own custom version of your company's product. Your sales reps could send over a blog post on building vs. buying software like yours.
Competition briefs! The best example of a competition brief I've seen provided not only information on the competitor, but also how to handle rejection from prospects about competitors being better at certain things.
For example, if you know a prospect might say, "Such and such has better pricing and similar features," this competition brief gives the script for how the rep should respond to that comment. Here's the template: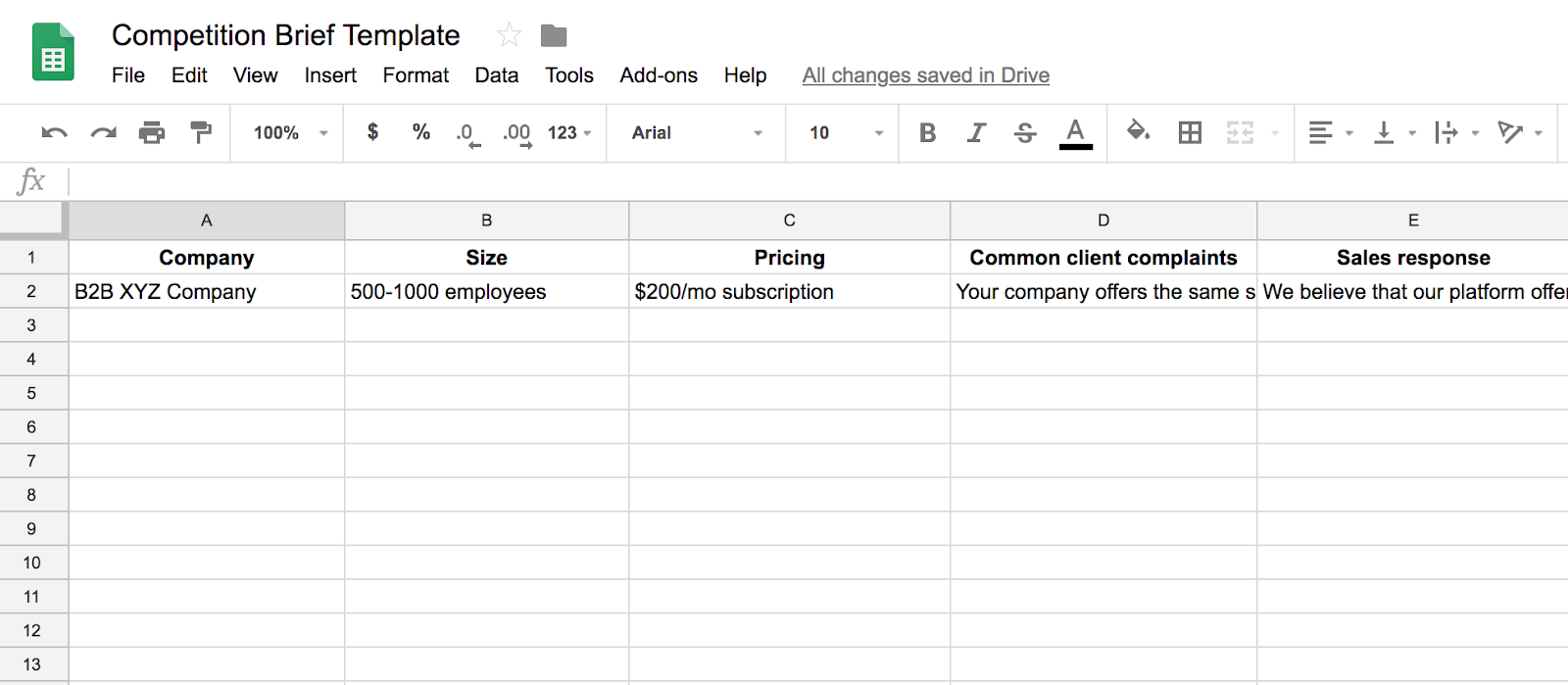 You can add any column your team needs. After you've populated the sheet, you could have a designer create a beautiful document that's easier for sales staff to read and so they don't have to click around on a
4. Create email templates and scripts.
Writing sales materials is a beast and it's something you can have a professional copywriter do, or you can go with an experienced rep or manager on your team who also happens to be a wordsmith.
Providing reps with templates and scripts makes their communication with prospects (particularly follow-ups) much faster.
Reps that respond to prospects within an hour are seven times more likely to qualify the lead than reps who wait longer.
If you're using a CRM like Copper, you can load up a bunch of email templates for different scenarios your sales team might need (cold emails, replying to clients that want to cancel, etc.). That way, your reps can use proven scripts instead of wasting time trying to write up an email.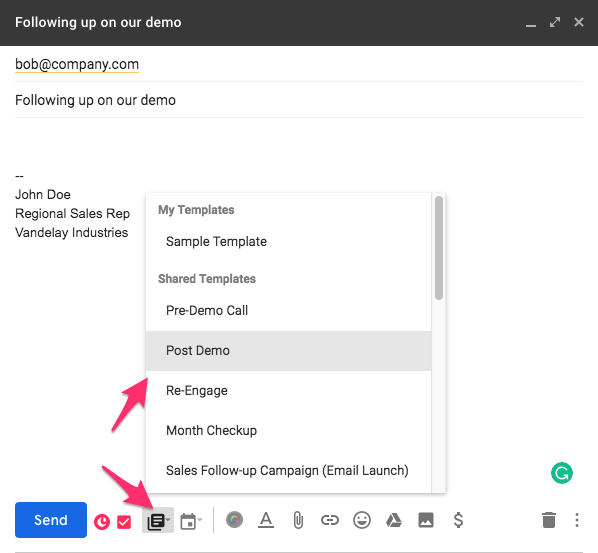 5. Provide content for handling prospect rejection.
Most amateur salespeople think that rejection, like price complaints or product complaints, are an indicator that a sale is going south. But good reps know that rejection means a prospect is genuinely interested in your product or service—they just want to clarify that you'll meet their needs before making a decision.
So, when your reps are getting rejected, rejoice! They're a step closer to closing a deal. However, you need to provide them with the right materials for handling rejection. Here's what you do:
Track customer or prospect complaints. (Such as price rejections, product rejections...)
Have sales managers or your top reps read over the complaints and produce solutions to each one.
Put these rejection solutions in a shared drive or send a copy to each rep on your team.
Update these rejections and solutions on an ongoing basis.
6. Automate your prospecting.
The less time sales reps spend on administrative tasks like filling out spreadsheets and copy/pasting, the more time they'll spend qualifying leads and closing deals. You should automate as much of your sales process as you can:
Communications
Make sure your reps can dial prospects directly from your CRM.
Choose a CRM that can automate call logging so that reps don't have to do this manually.
Make sure your reps are using local phone area codes.
Use a CRM that comes with templates that your team can customize.
Data entry and admin
Use a CRM that populates customer contact data and other information like job title, LinkedIn page, etc.
Make sure reps can take notes within the CRM so that they don't have to waste time switching between applications.
Use a scheduling tool like Calendly, or a CRM with AI that helps set appointments with prospects, so there's no back and forth to schedule calls or meetings.
Prospecting
Use tools like Lead411 to gather lots of new prospect contact data to upload into your CRM for sales reps.
Clean your current prospect lists with tools like Hunter.io so that you're not sending emails to expired addresses.
Set up notifications in your CRM that alert reps when it's time to follow up with a lead.
Pro-tip: If you need ideas for where to start looking, Copper can do most of this.
7. Track and improve your sales performance.
Your entire process, from initial prospect outreach to dropped calls and big wins, needs to be recorded and reported on.
Reporting is an essential piece of sales enablement. If you don't measure it, you can't improve it. Make sure the CRM you're using can customize reports to suit your goal-tracking needs.
8. Give reps the help they need.
If you're tracking KPIs and setting realistic goals and people are still falling short, it's important that you spend time helping your teammates improve their performance. Everybody's different, so one person's learning curve won't be exactly like the other's. To improve performance you can:
Have regular 1-on-1 meetings where you discuss performance and make sure the rep has all the resources they need to be successful.
Track your team's questions and write answers to the more popular ones. Keep answers in a shared drive or folder—this will save time for both reps and management.
Hold workshops and training for all the tools your company uses for sales. Also, train your team on new product features that they might need to demo or explain to prospects.
9. Don't forget the product team.
Everybody knows that sales and marketing have got to work closely, but few people realize how essential the product team's input is becoming to sales organizations. This is especially true for tech companies. Products are more and more complex; it can take years for a new IT sales person to gain the knowledge they need to learn to sell a technical product.
This is where the product team, or product marketing team, comes into play. They know your product inside out. They can explain the benefits of a feature without hesitation. And they can definitely help put together great use cases, guides, blogs, and ebooks for your sales team to use when selling.
Go forth and implement these sales enablement strategies.
TL; DR - You know that for your sales org to perform at its best, it needs the best support. Create a system that helps your sales team achieve goals by:
Streamlining and automating your processes. Use a CRM with email templates, automate email drips, and streamline your sales cycle for optimized performance.
Providing sales with the content they need to close deals faster. Prospects need to learn about your product and its benefits—make sure your reps have the documentation they need to articulate that stuff.
Tracking performance to improve performance. Make sure your CRM gives you the reporting customization and options you need. Use these reports to set KPIs and goals so that you can help folks who aren't clearing the bar.
How has your company used sales enablement to improve sales performance?