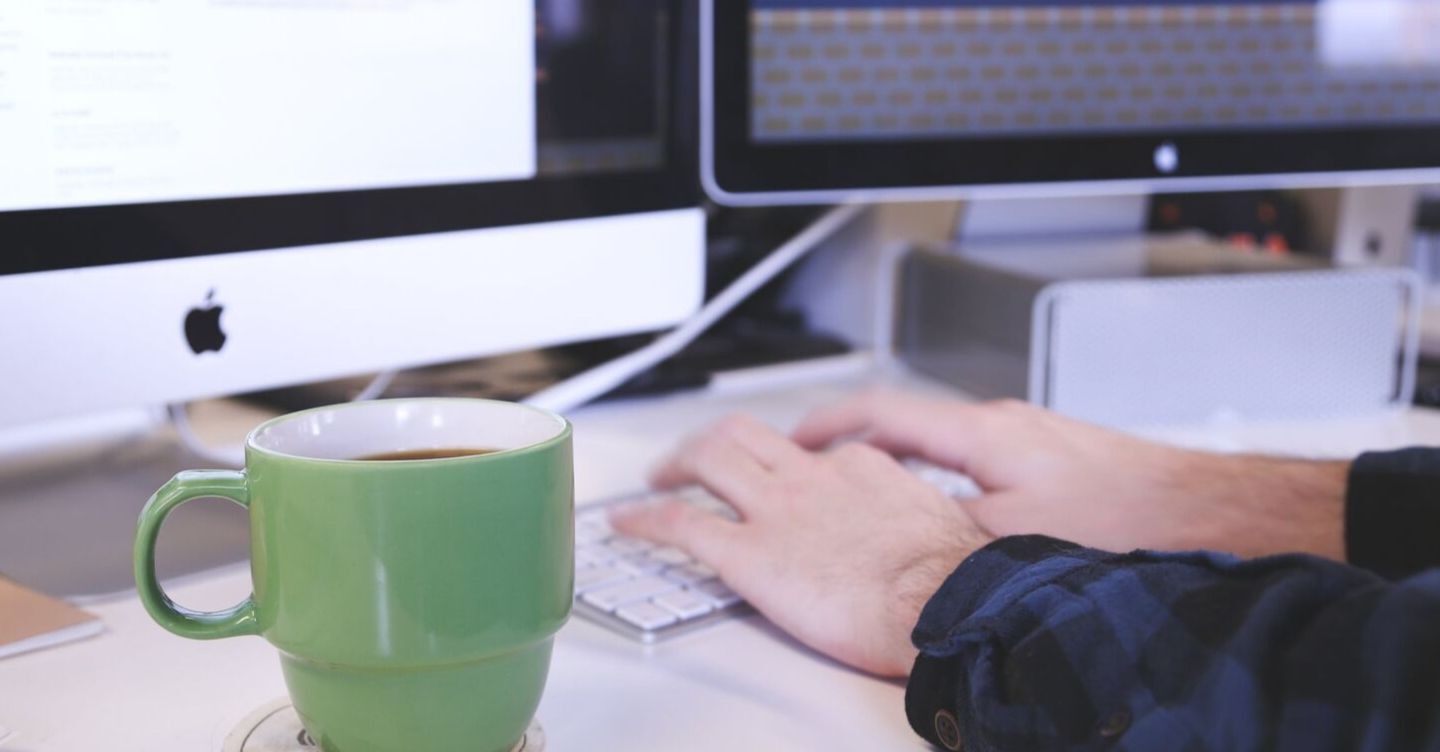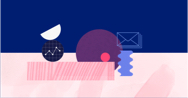 Free Sales Email Boot Camp
Learn how to generate more leads and revenue right from your inbox.
Productivity : 9 min read
How to Send Bulk Email using Gmail
Email is one of the best marketing and communication tools you have at your disposal. As one of the only means of direct contact with your customers, email is an easy way to keep a conversation going.
But sending individual messages to each and every customer is just inefficient.
If you're sending emails to dozens (or hundreds or thousands) of customers, you need to send them in bulk.
Bulk emailing makes the communication process easier. Instead of copying and pasting the same message to different clients for hours on end, you can draft the message once, select the group of people you want to receive it, and hit send.
However, you can't just type every email address you want to contact into the "to" line. There is a right (and wrong) way to send bulk email in Gmail.
Let's walk through the process you should take to send bulk emails in Gmail.

Does Gmail allow bulk emailing?
While Gmail doesn't have any rules stating you can't send bulk messages, they do have some limitations on the number of emails you can send at once.
In a 24-hour period, you can send 2,000 messages if you have a paid work or school account, or 500 messages per day with a free Gmail account.
This same limit applies if you're sending messages through a third-party tool, such as Copper.
Even with the limits, you should be careful about how many bulk emails you're sending. While it's an efficient way to stay in touch with customers, it's easy to cross over into spamming territory.
To avoid having your messages marked as spam, be sure to follow Gmail's sender guidelines.

How to send bulk emails in Gmail
If you're using a CRM that's integrated with Gmail, like Copper, there are actually two ways you can create and send mass emails––through Google itself and through Copper. We're going to show you how to do both, starting with Gmail.
1. Go to your Google Contacts
Your first step to sending bulk emails in Gmail actually doesn't start in the Gmail app––it all begins with Google Contacts.
You can find your Contacts page in your list of G Suite apps, or by going to contacts.google.com: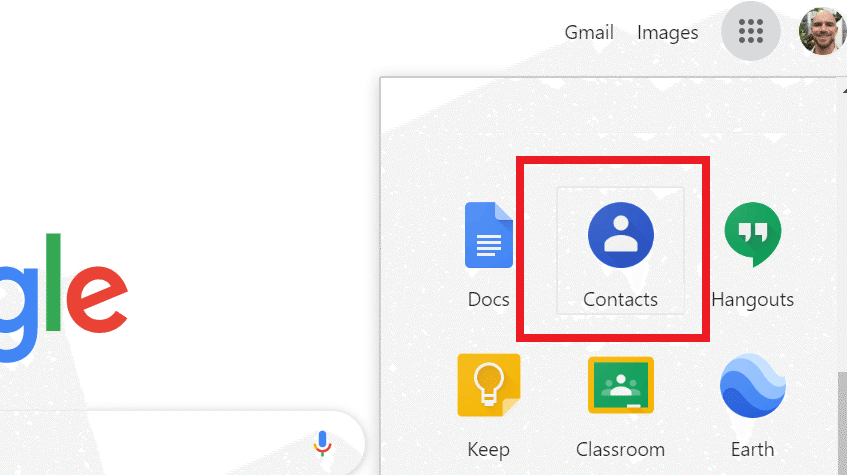 All the contacts you communicate with through Gmail should already be housed here. We'll get to how you can add new contacts in a minute.
2. Create a new label for your contacts
Just like you can create labels for emails, you can create labels for your contacts.
Creating a unique label for each contact group makes it easy to locate and organize all your customers, and makes sure that they get the message that's right for them.
To create a new label, select the "Create label" option in the sidebar: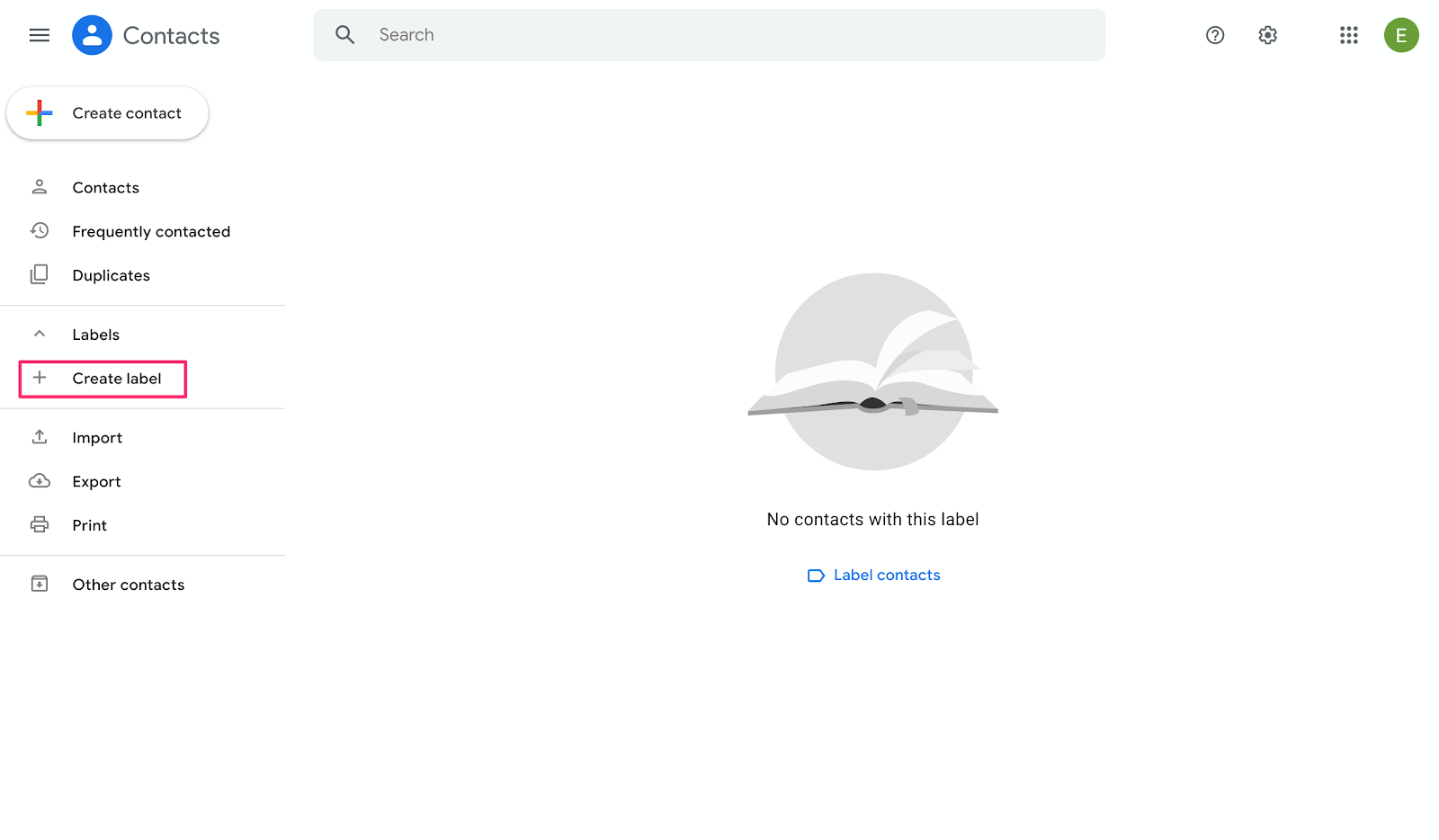 In the pop-up, give your new label a unique name.
For this example, we're going to call our group "Bulk Email #1."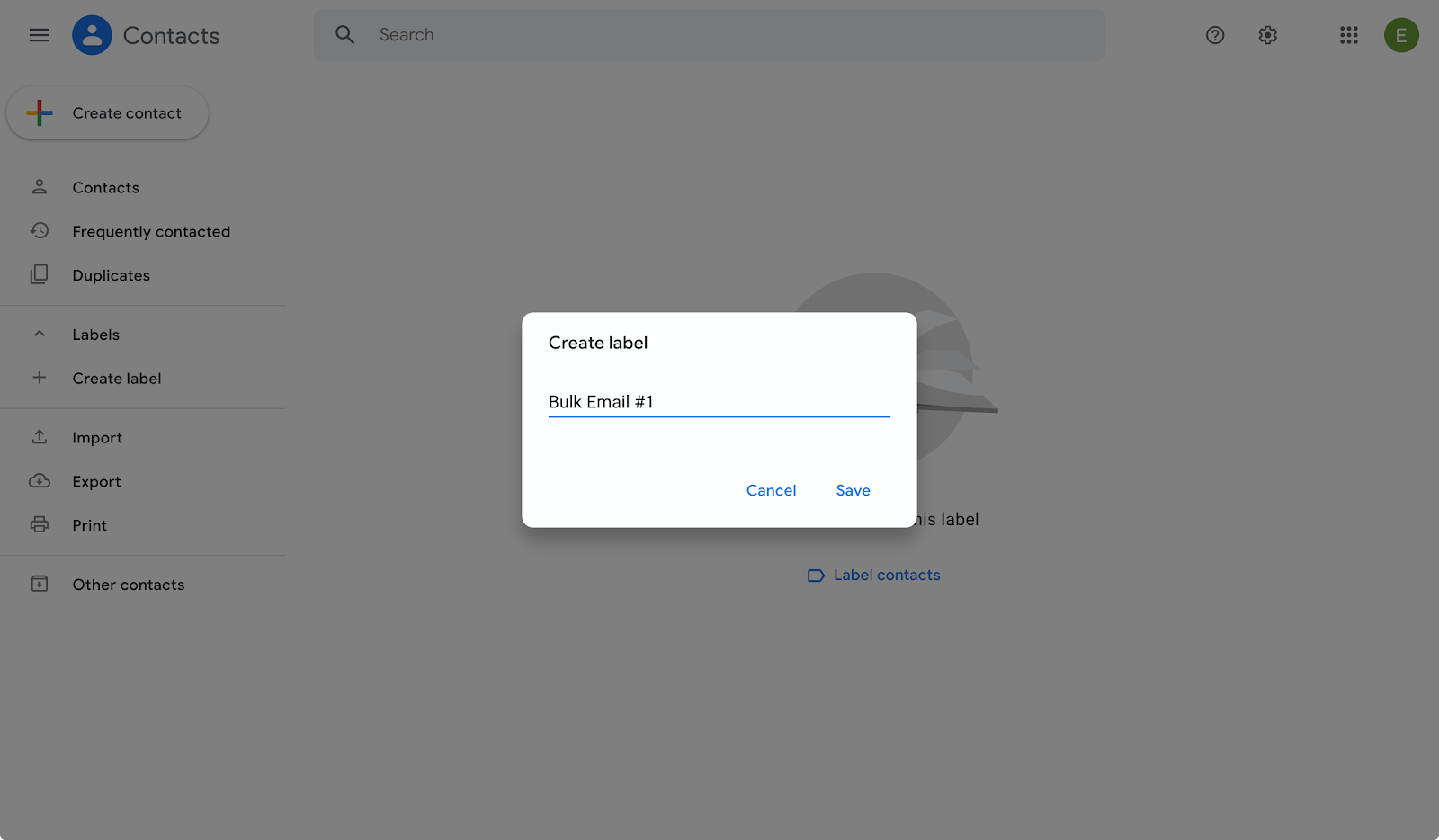 Hit save.
3. Add any missing contacts.
Google Contacts will automatically pull contact information from people you've contacted through Gmail or other apps connected to your account.
You should see them listed in your "Contacts" section.
If there are contacts missing, you can click "Create contact" to add new information.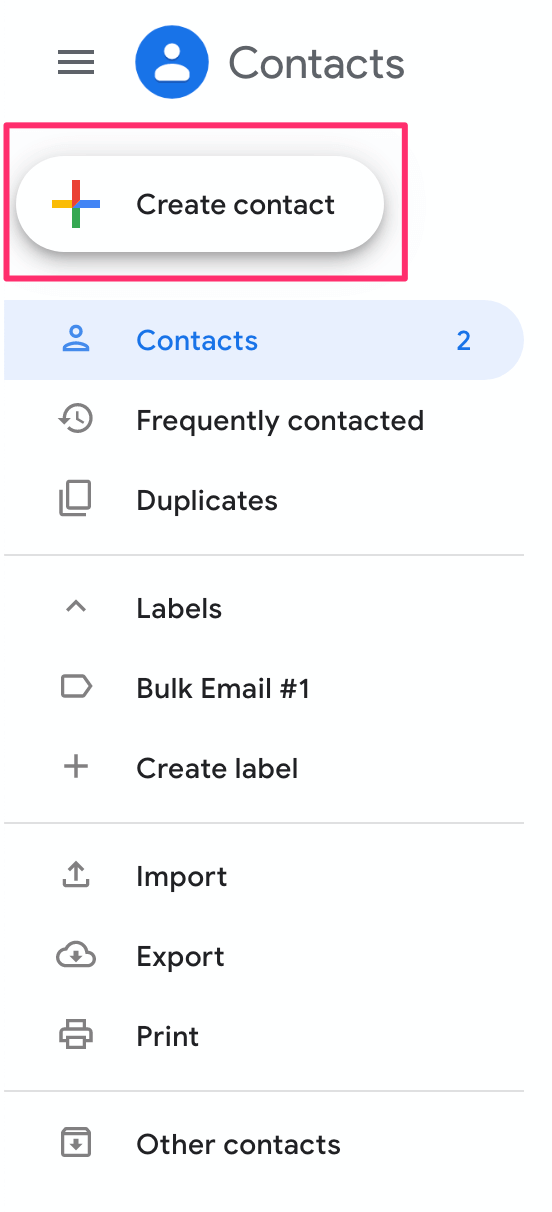 In the popup that follows, add any relevant contact information. At the very least, you'll need to include the contact's name and email address: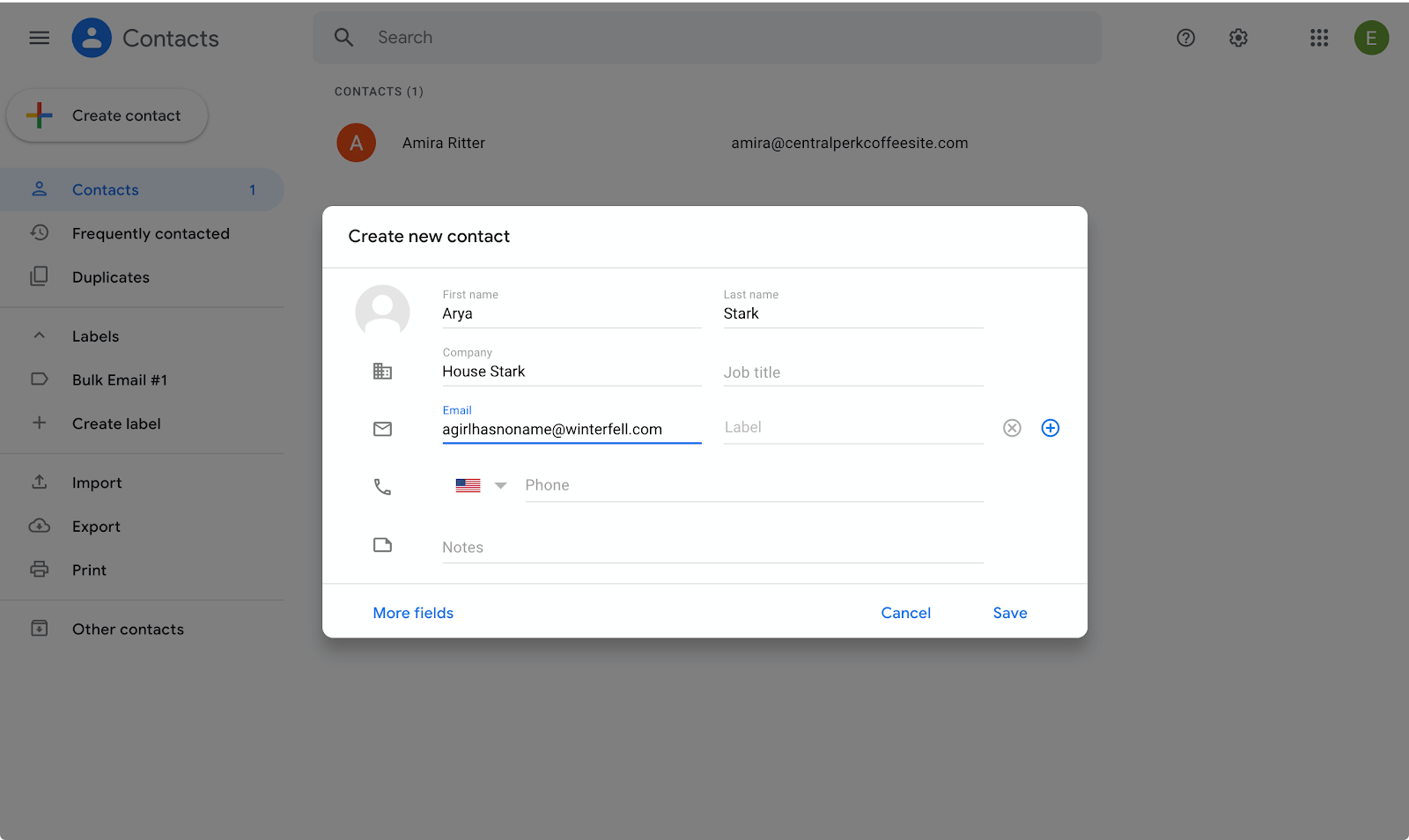 You can also add customer information in bulk with the "Import" feature. This is ideal if you need to add multiple contacts.
To import your contacts, compile them all into a spreadsheet in Excel or Google Sheets.
Now, this is the first area where Google makes things a little more complicated than it needs to be.
If you create your own spreadsheet using your own headers, you run the risk of Google not recognizing certain fields when your contacts are imported.
For example, say you create a simple spreadsheet like this one: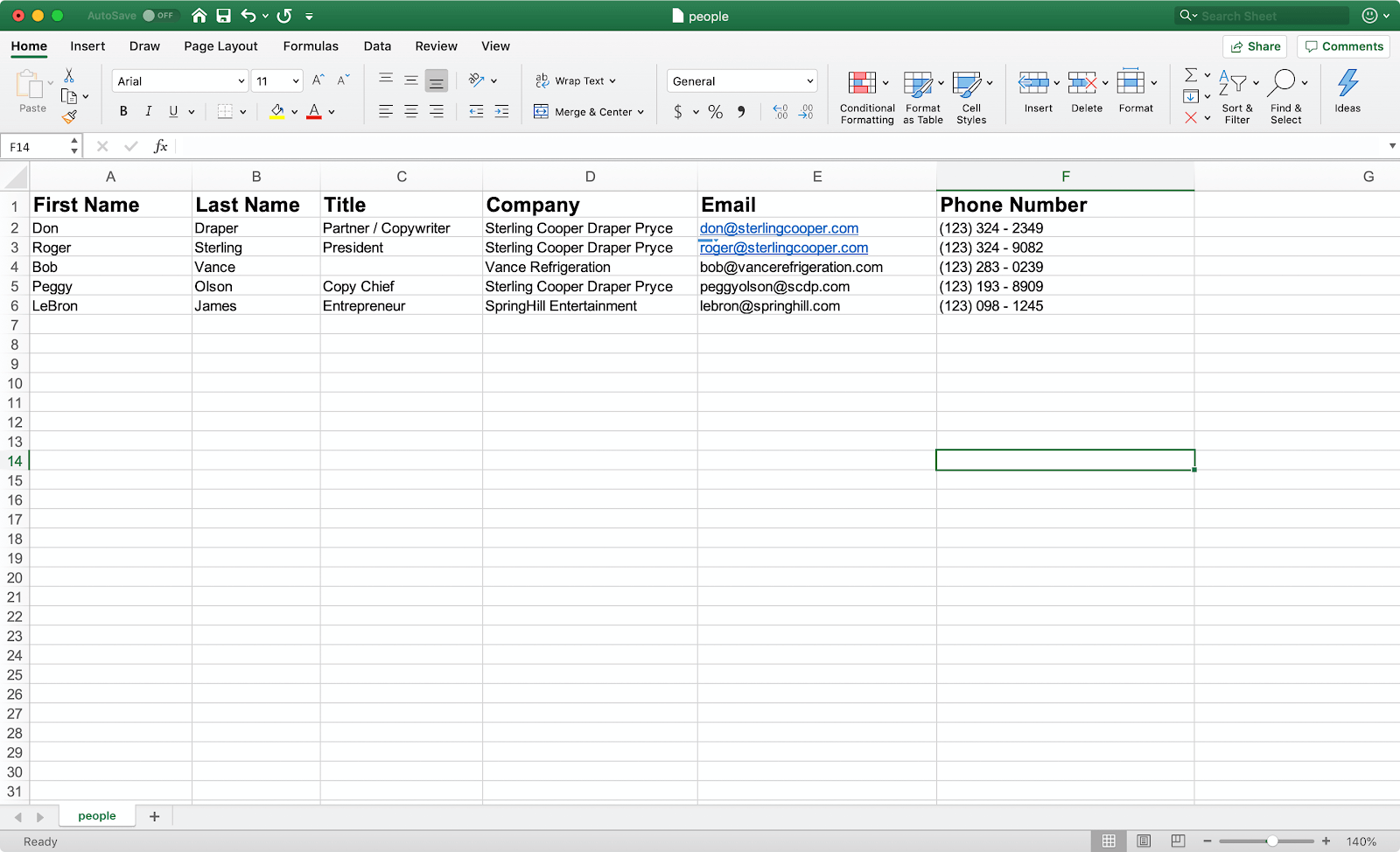 All your information is clearly labeled. Yet, when you go to import it into Google Contacts, the data may not be added in the appropriate fields.
Here's an example: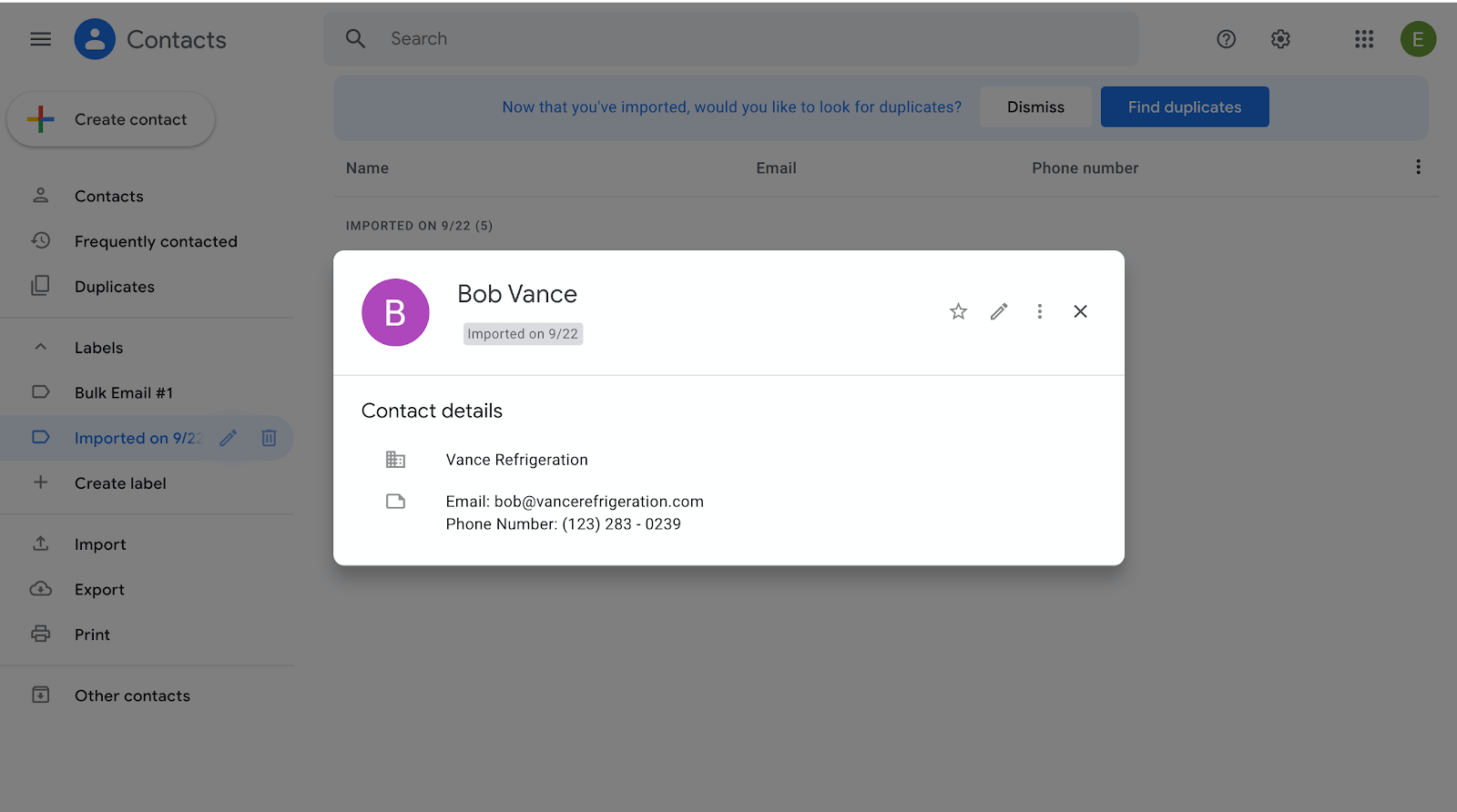 The customer's email address and phone numbers are added in as a note. Unfortunately, you need to have your customer's email address in the appropriate spot to send a bulk message.
Now, you could go in and manually edit each contact to put the correct information in the right place. But this is time-consuming and defeats the purpose of importing contacts in the first place.
The best way to get around this little hiccup is to allow Contacts to create a spreadsheet template for you. You can do this by exporting a completed contact you already have.
Head back to your list of contacts and select a contact that is already completely filled out. If you're starting from scratch, follow the steps above to create a new contact. You only need one to get started.
Hit the three dots below the search bar and choose "Export."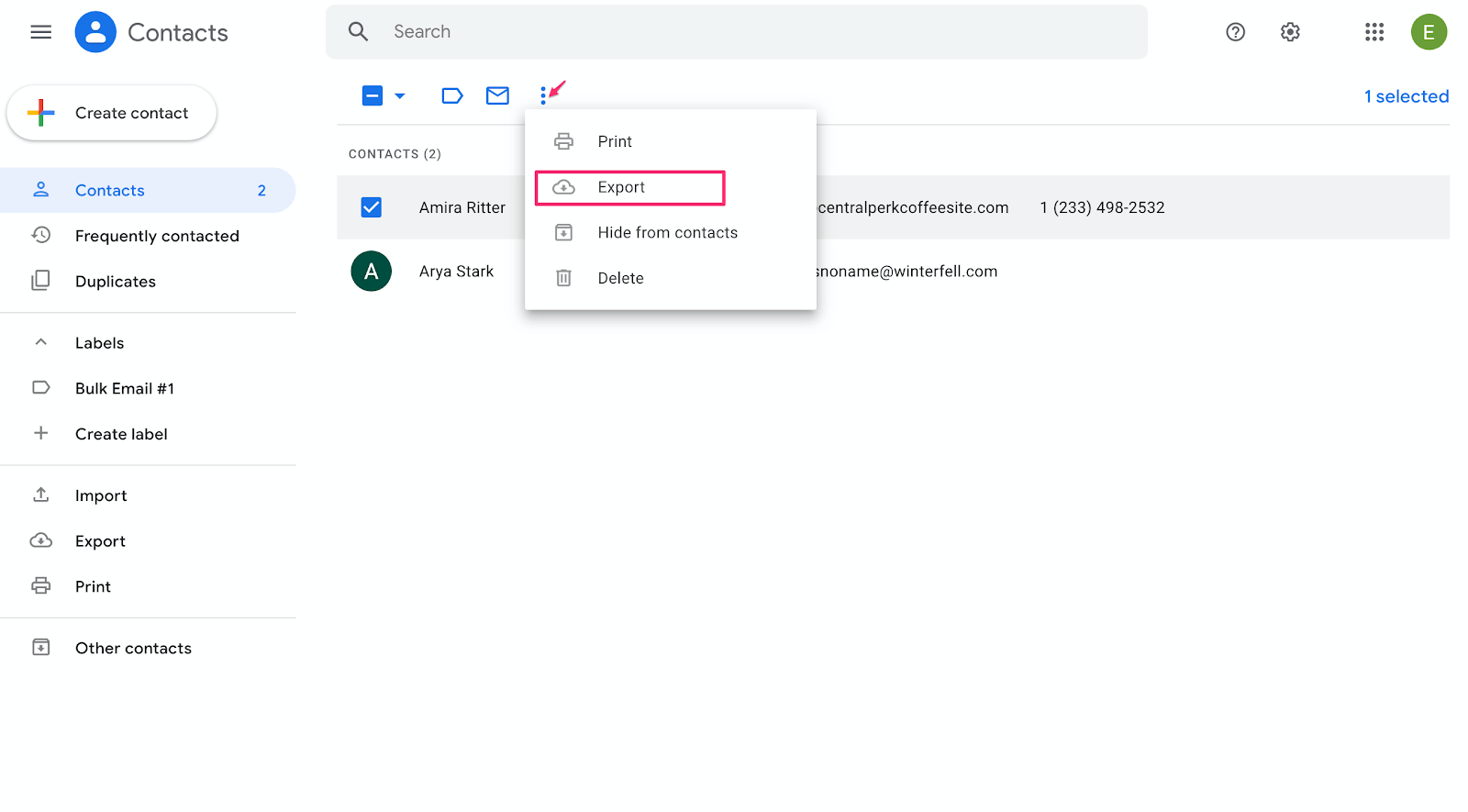 Your contact will download as a .csv file. You can open this using Excel or Sheets.
You'll see that all your contact's information is available. However, you'll notice there are dozens of extra empty fields. Go ahead and delete any field without information.
Now, fill in the spreadsheet with your new contacts. Be sure to follow the same style as your template and don't adjust any of the column headers: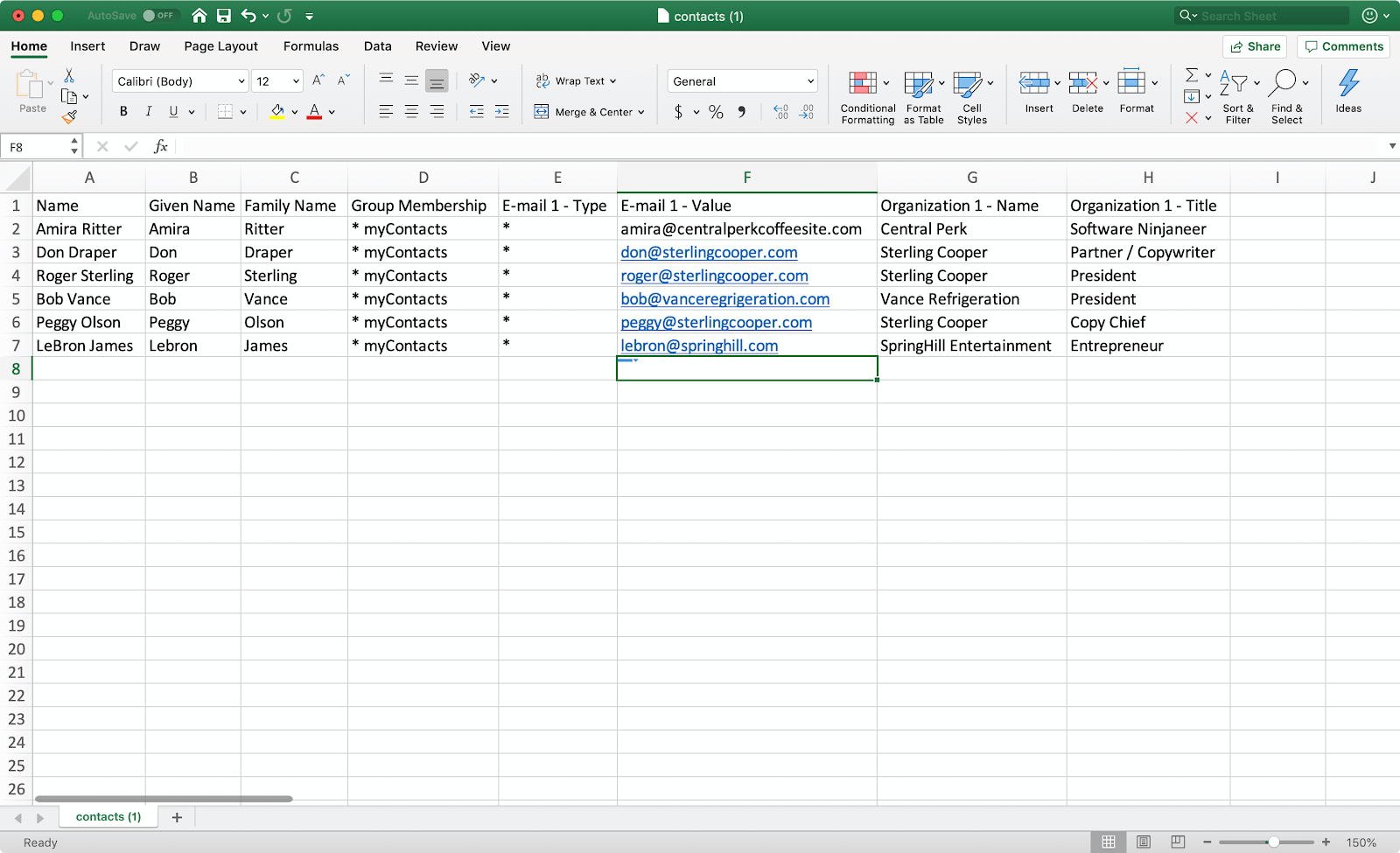 When you're done, save your spreadsheet as a .csv file.
Head back to your Google Contacts page and select "Import" from the sidebar. Find your new CSV file and import it.
You'll see your new contacts have been uploaded with the email address in the proper place.
If you didn't delete your original contact, you might have a duplicate. To delete any duplicate information, select "Duplicates" on the sidebar. Contacts will find matching contacts for you to merge:


Make sure each of your contacts is only added once.
4. Tag all appropriate contacts
Once your contacts are uploaded, you want to group them through the tag you created in Step 2.
Head back to your complete list of contacts and select each individual you'd like to tag. Then, select the tag icon along the top: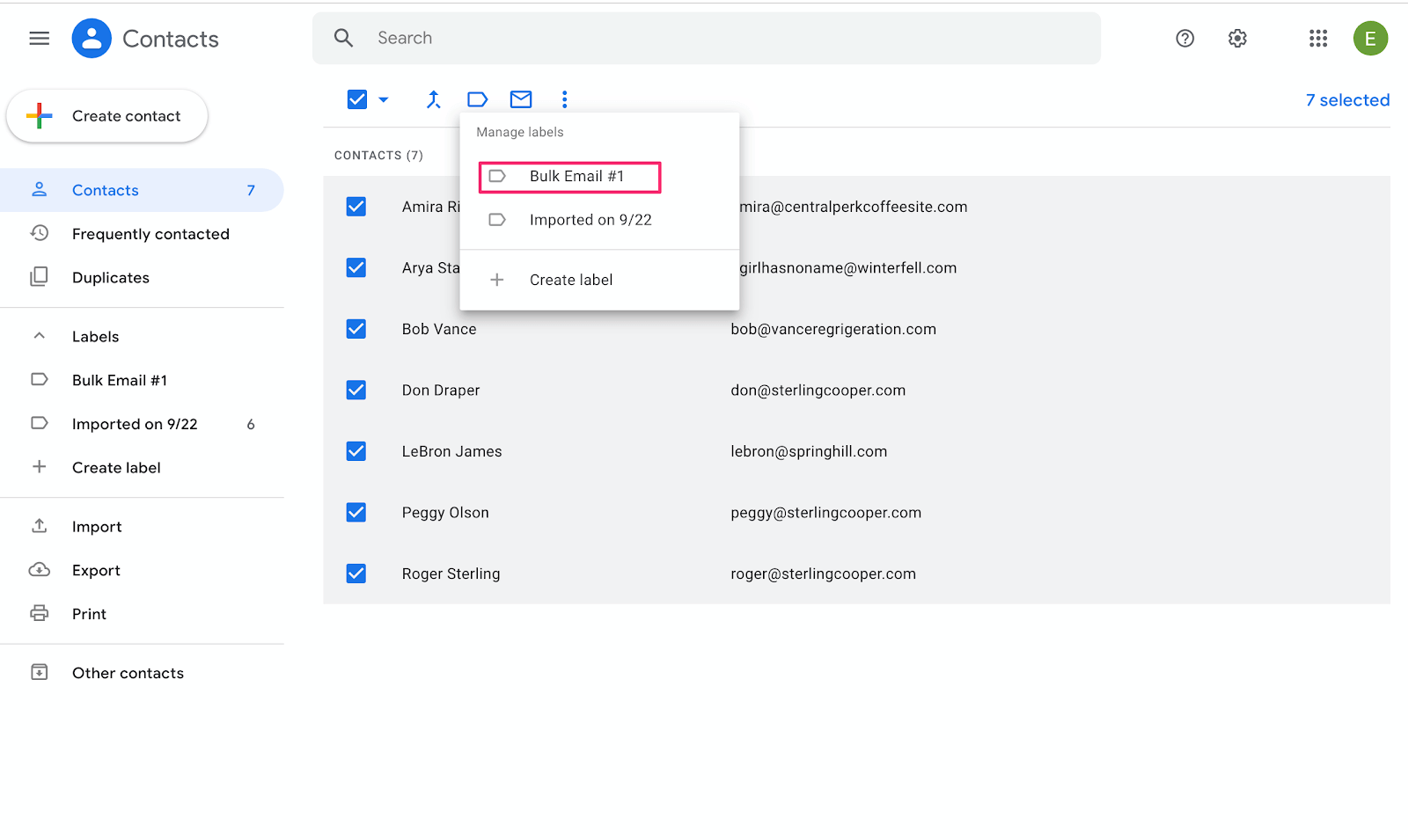 For this example, we're then going to choose "Bulk Email #1" and hit "Apply."
5. Send your bulk email.
The final step in this process is to send the email. You can either do this within the Contact app or within the Gmail app.
In Contacts, go to the label containing the customers you'd like to message and select them all. Then hit the envelope icon along the top: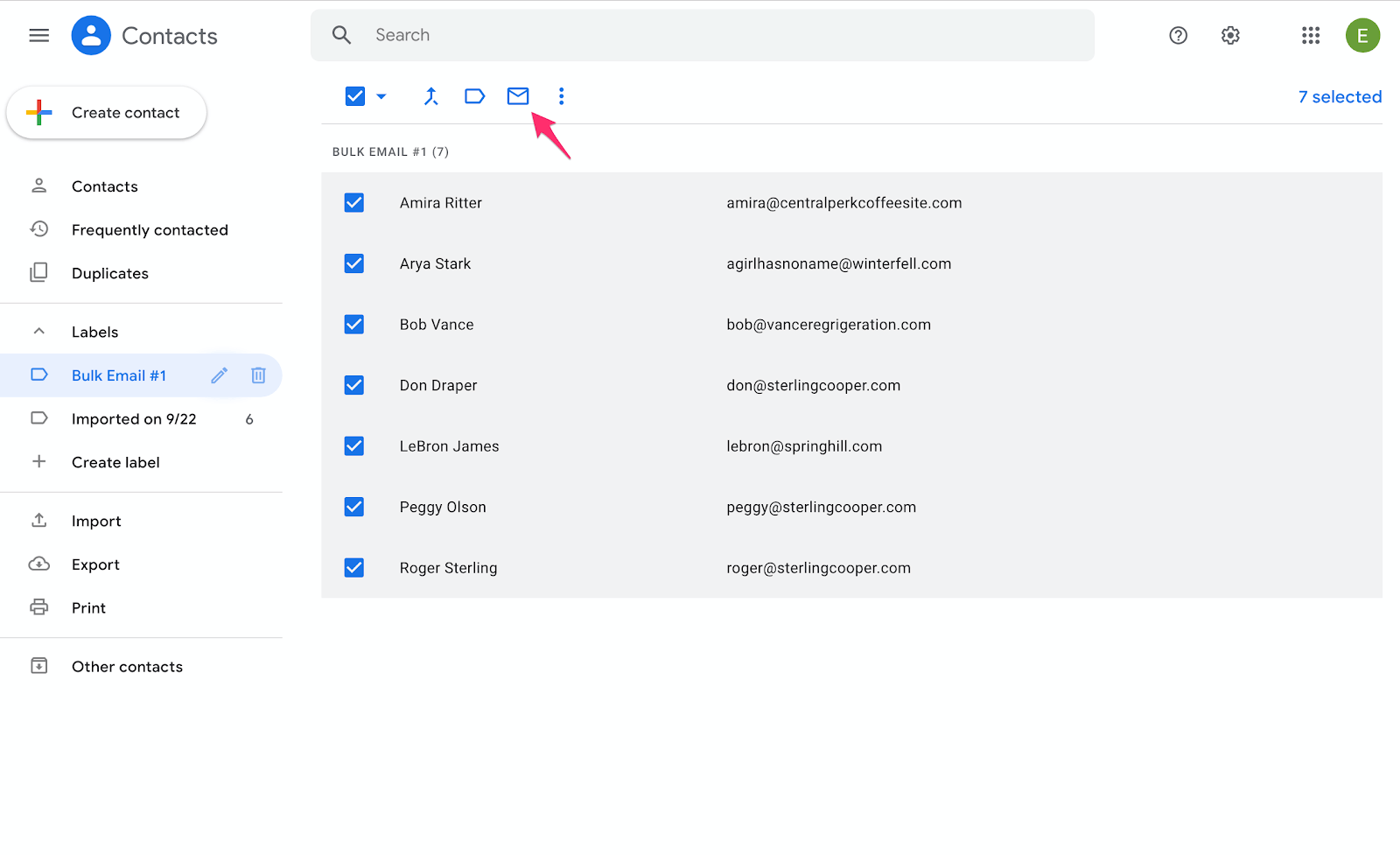 This should pop open with a Gmail window containing each customer in the "To:" section.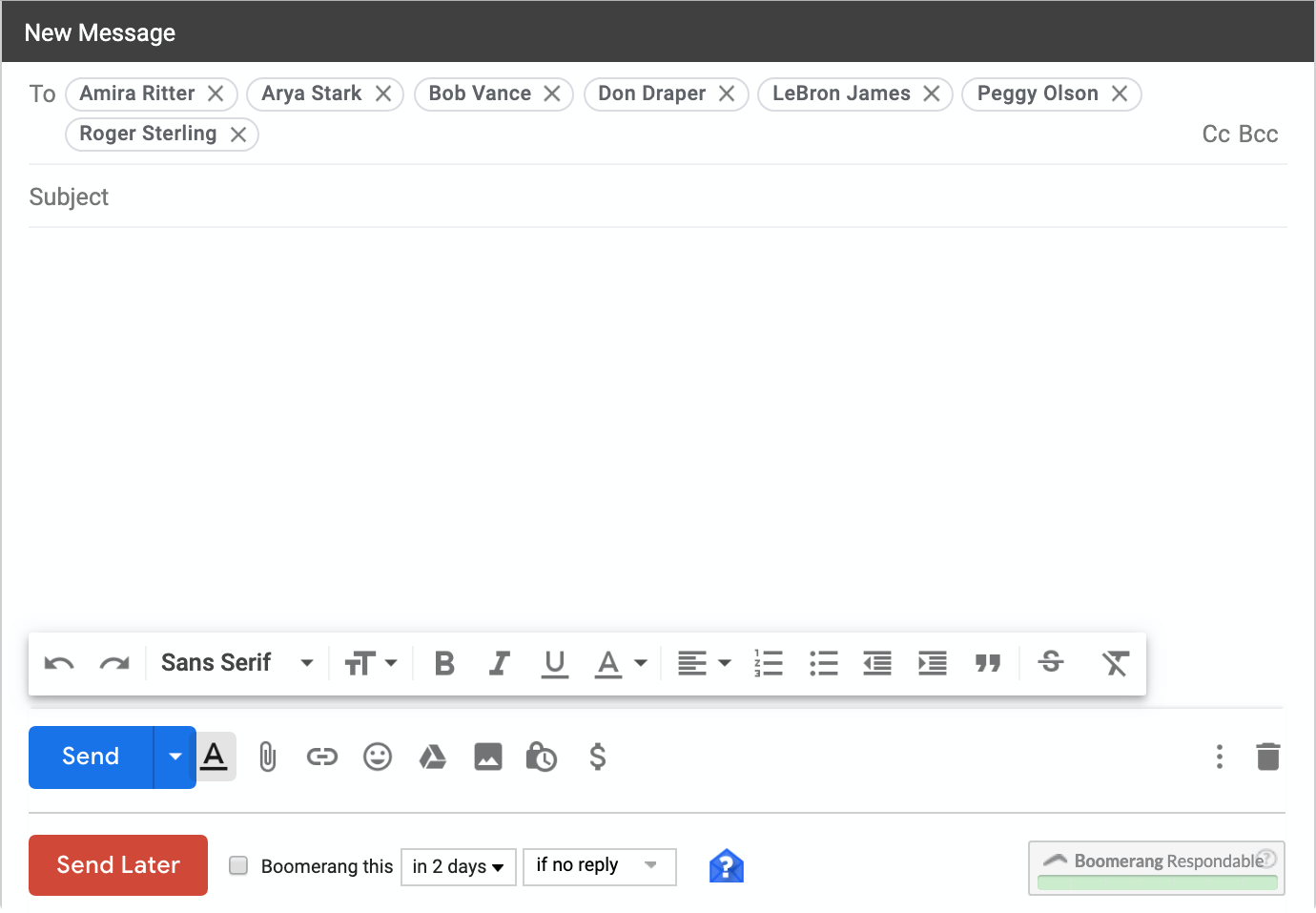 You can also get here in the Gmail app.
Go to Gmail and hit "Compose" at the top of the sidebar: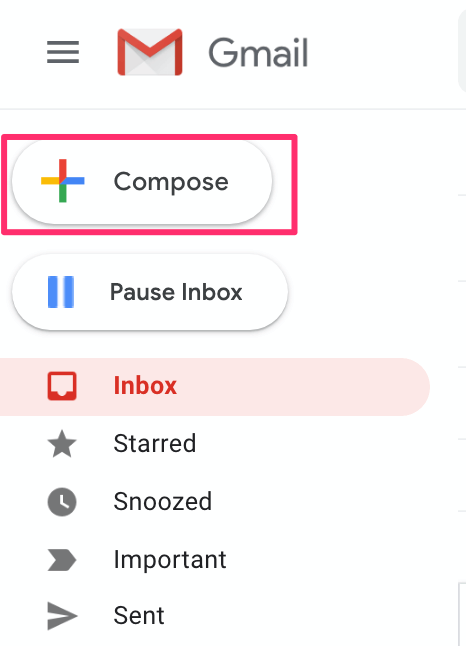 In the new email box that pops up, start typing the name of your contact tag. You can then select this tag to auto populate the "To:" line.
But this is where we run into another problem: sending mass emails in Gmail.
Notice how everyone is receiving the same message, meaning you're not sending unique content to each person.
This is fine if you need to send the exact same message to all your customers, but if you want to take a personalized approach, things can get a little tricky here.
This also creates an issue if one of your customers hits "Reply All." Suddenly, all of your clients are getting that reply message—which, depending on the contents, could do some damage to your reputation.
One way to avoid your customers knowing who else you're sending the message to is to put all additional contacts into the Bcc line. This prevents recipients from knowing who else got the message.
However, this doesn't solve the problem of personalizing content. If you need to send each individual a unique message, or you want to give the impression that the message was sent only to that client, sending bulk messages through Gmail may not be your best option.
While there is a way to send individualized bulk messages through Gmail using Mail Merge, it's a complicated process. If you need an easy way to send mass personalized emails to your customers, Copper would be a better alternative.

How to send bulk emails in Copper
As we mentioned before, you can send bulk emails right within the Copper dashboard. While Copper can't get you around the Gmail rules for number of emails you can send in a day, it can provide you with more opportunities for personalizing your messages and create a better experience overall for your customers.
Here's how to set up a bulk email message in Copper.
1. Outline your message in an email template.
Copper's bulk email function works in conjunction with email templates, so before you can start sending emails, you need to draft what you want to say in an email template.
To add a new template into Copper, go to "Settings" along the sidebar and choose "Email Settings & Templates."

Then, select the "My Templates" tab and choose to "Create Template."
In the popup, enter the content of your message. Include a unique title for the template, as well as a subject for the email.
Copper's email template feature also makes it easy to personalize each message. Using the various merge fields, you can choose placeholders that'll automatically pull information from your contact's profile when the time comes to send your message.
For example, using the #FirstName merge field, your template will automatically pull the contact's first name from their profile. You can also get more specific with merge fields, including job titles, companies, and locations. These all help make your bulk email messages feel more personalized and unique.
To add merge fields to your email template, you can hit the plus sign along the side of the body copy and select different fields to incorporate.
Here's an example of what a finalized email template looks like: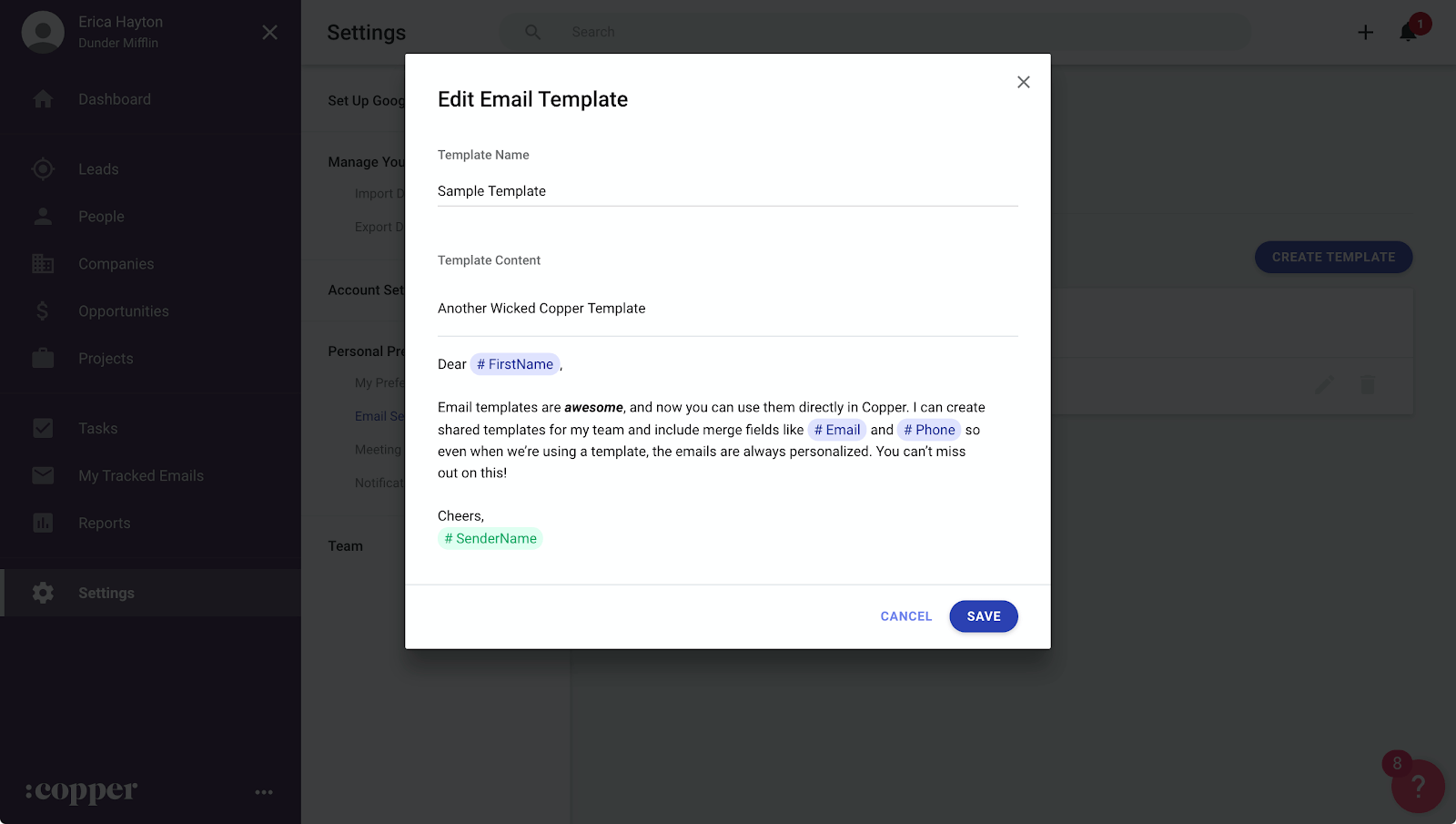 Go ahead and hit save when you're done.
Templates are great for messages that you need to send over and over again. If you're constantly sending a similar message to your customers, having a template on file can really save you some time.
When creating your template, don't worry too much about the nitty-gritty details. For example, if you're creating an email template to alert customers of a promotion, your template doesn't need to include the exact promo code the customer would need. Instead, think of it like the skeleton of the message you want to share and only include a placeholder spot.
You should include all the basics, but if the message will need to change depending on the month, recipient, or other ever-changing factor, you can easily make adjustments when the time comes to send––we'll get to that in a minute.
2. Select the customers to contact.
Once you're done with your template, you're ready to send your message.
Head over to the People section of your Copper dashboard and look for the customers you'd like to send your message to.
If you need to add new contacts, you can do so by selecting the "Add New" button along the top of the page:

You can manually scroll through your list of people to find the individuals you'd like to message, or just use the filter feature along the right hand side to identify people by certain factors, such as activity type, tag, or date of last contact:

Using these filters can make it easy to ensure you're reaching all the appropriate customers and prevents you from accidentally skipping over someone when scrolling through.
For the sake of our example, we're going to include only customers who work at Sterling Cooper Draper Pryce. Select the "Company" filter and type in the organization name.
This brings us a new, refined list of only the customers we want to email:

Select each customer by clicking the check box to the left of their name.
3. Send your bulk email
The first couple steps of sending your bulk email in Copper is actually very similar to the process you'd follow in Gmail.
After selecting the customers you'd like to contact, select the envelope icon at the top of the page:

A popup will appear where you can compose your bulk message. To add the template you already created, hit the plus sign in the "Message" section.
Then choose "Templates" and select the name of the template you previously drafted.
Your message and subject line will automatically fill in their appropriate places. The merged fields that you selected in the template will also automatically pull specific customer details based on the information you have on file for the customer:
This is where Copper really stands out from Gmail alone.
Notice how only one customer is in the "to" line? Copper lets you send bulk messages individually to each customer. This means each individual is getting a unique message, helping your communication feel more personal.
Using the arrows next to the customer's name, you can click through to ensure each message is ready to go to each individual:
This is also the time to make any last adjustments before hitting send. For example, if you left a space for a seasonal promo code in your template, you can make changes without changing the underlying template you have saved.
However, keep in mind that if you change one email, it will change the other bulk messages as well. Now isn't the time to congratulate a customer on an award or promotion—other recipients will get that same congratulatory message and be confused.
When you're happy with the message, go ahead and hit "Send X Emails."
Bulk emails is a great way to stay in touch––when done correctly. 
There is no denying that G Suite is a powerful and comprehensive tool. But even though Gmail has the capability to email large groups at one time, it's a bit lacking in the personalization department.
Gmail is great for sending an email to a small group of individuals who don't need a personalized touch. For example, if you need to email a group of customers from the same company or you want to alert your clients that you're going to be out of town for the next week.
However, because the app lacks the ability to tailor your messages, sending bulk messages through Gmail alone can feel spammy pretty quickly.
Copper helps you send bulk emails the right way. With their merging fields and individual messages, customers will feel like the message was written just for them. This unique, personalized touch can give your relationship a much-needed boost.
If you want to send bulk emails faster (and make them personalized), give Copper a try for free.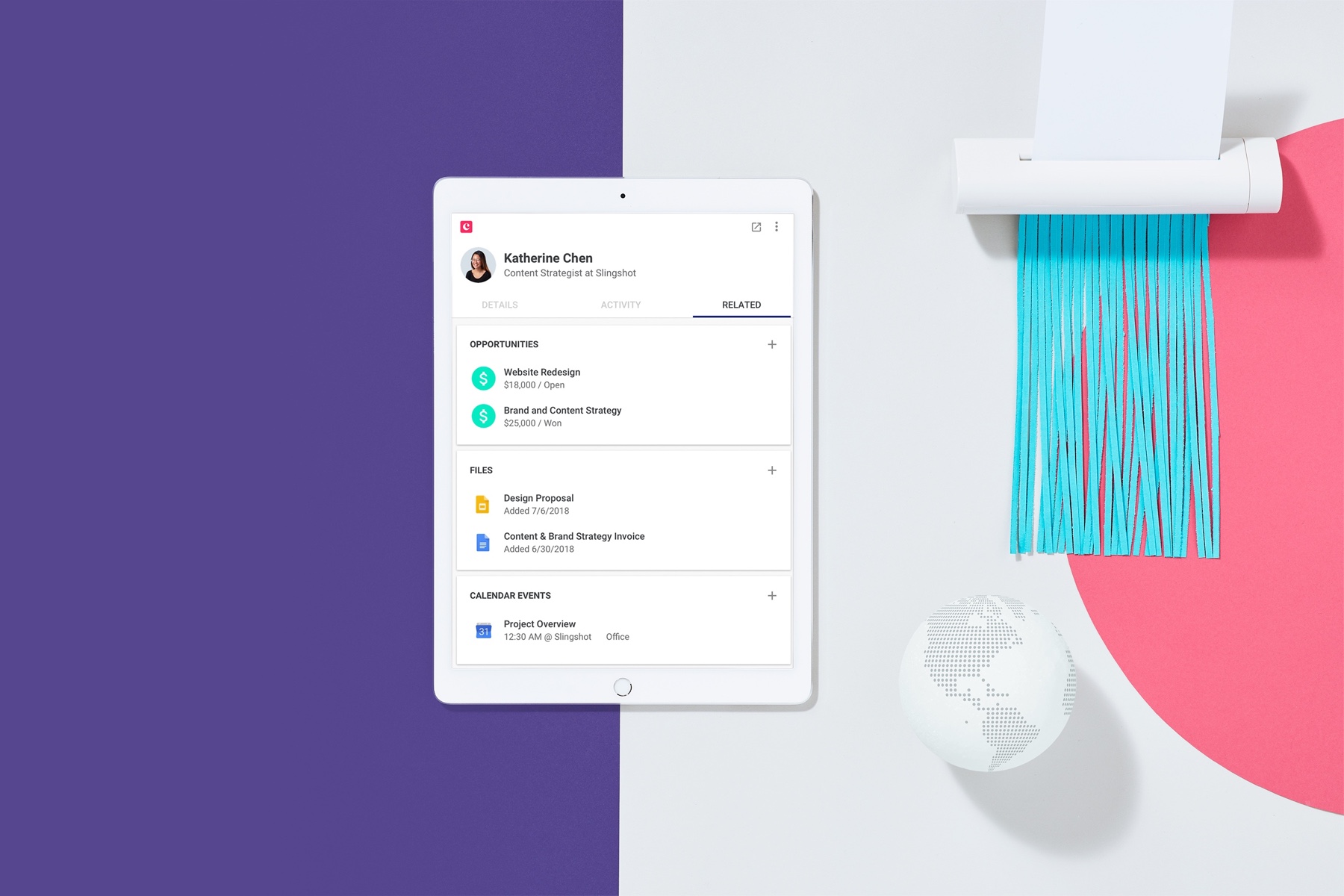 X
Try an actually easy-to-use CRM for free.
Manage all your contacts, deals, emails, files, and more in one place.
By signing up, I agree to Copper's privacy policy & terms of service.