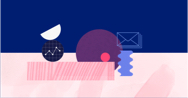 Free Sales Email Boot Camp
Learn how to generate more leads and revenue right from your inbox.
Managing your leads is no easy task.
The process involves many moving parts, and involves both the sales and marketing teams. That's why having a clearly defined lead management process is essential: otherwise, you risk losing valuable time—or worse, valuable leads.
X
Get Your Fix
Get the latest learnings in your inbox
Want to know everything about growing a business? We'll deliver it straight to your inbox.
By signing up here I agree to receive Copper's email newsletter and other offers.