Copper Staff
Contributors from members of the Copper team
"Another sales meeting!"
Not ideal to sense gripes from your team when a sales meeting agenda is announced.
Let's be honest: In the eyes of many employees and managers, meetings can sometimes feel like a total time-suck.
Whether attendees go off on tangents or you're faced with an uninspired presentation, a would-be productive sales meeting — and meeting agenda — can easily go completely off the rails.
That said, as a sales manager, you obviously can't afford to slash your face-to-face meetings altogether. Even if you're working in a 100% remote environment, you have to collaborate with your team, whether it's via a Google Meet video chat or Slack. And these remote meetings can quickly get off track, especially with everyone working from home.
Successful sales teams need to be on the same page when it comes to company goals during a sales team meeting. Since 36% of workers say they're less engaged during remote meetings, you've got to find innovative ways to keep your team focused.
If you're responsible for running your company's sales meetings, you have to keep your team informed and aligned without wasting precious time.
So, how do you overcome video chat fatigue and create an engaging sales meeting agenda?
You can make horrible, boring meetings a relic of the past. Follow these 5 tips to hold speedier sales meetings that won't bore your team to death.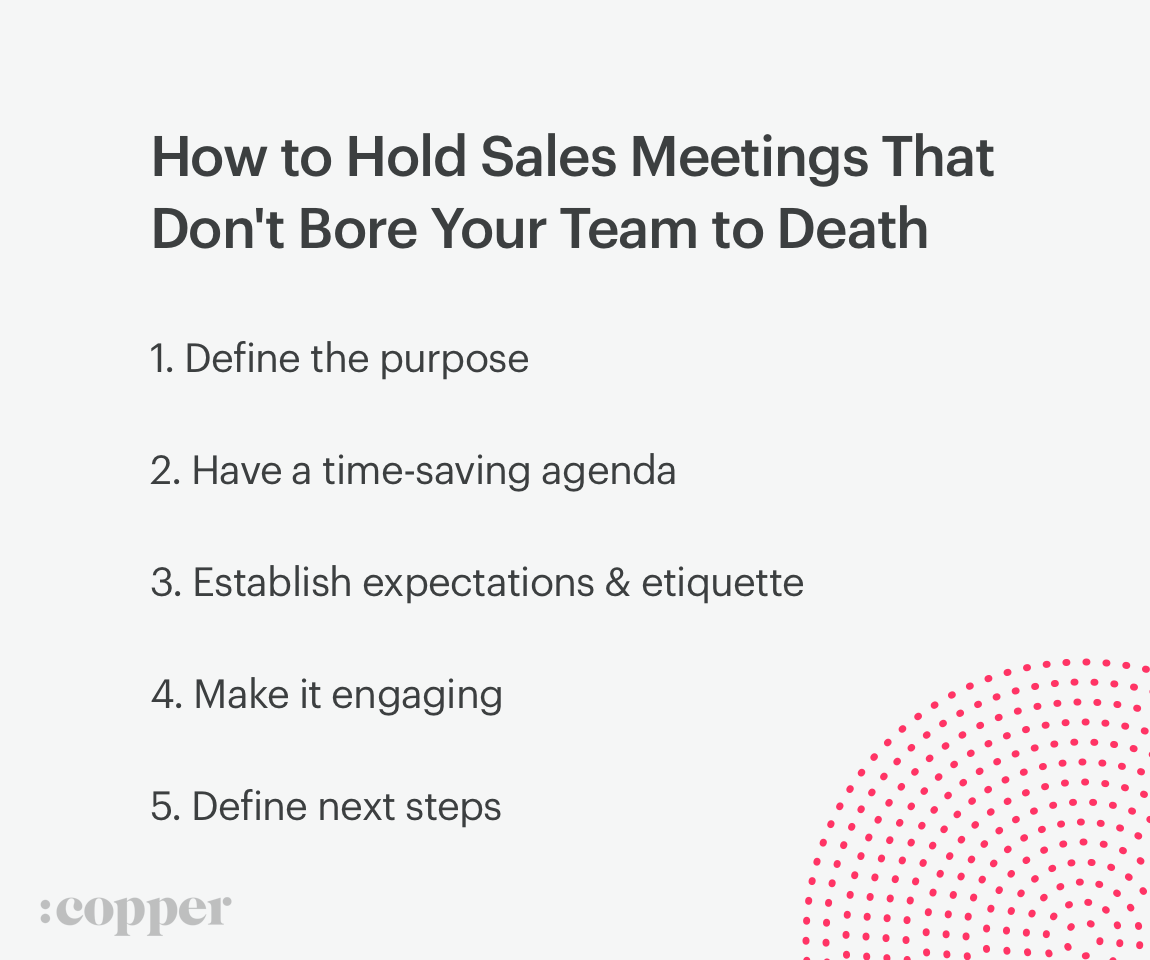 1. Define the purpose of your sales meeting
Spoiler alert: sales meetings with each sales rep shouldn't happen "just because."
Sure, you might block off some time week after week so your sales team can get together for regular sales meetings. But falling into a routine can create a sense of complacency.
And if there isn't a point to your meetings, you can't be shocked when your meetings feel, well, pointless.
Instead of treating your sales meetings as yet another calendar item, create a discussion topic or "big idea" beforehand in a meeting agenda that each sales rep can view. This will not only help you come up with an agenda but also provide your team with expectations. After all, if you schedule a vague meeting that just says "Discussion," there's a good chance your employee thinks you're about to fire them.
Consider how you can boil down your sales meeting into a single mission statement. For example:
"Provide an update on the status of Account X and outline the team's next steps."
"Discuss the upcoming product launch and how it affects our sales strategy."
"Review results and initiatives from Q1, highlighting trends and top-performers."
With a purpose propping up each sales meeting, attendees know exactly why they're showing up when the get that Google Calendar alert. Tools like Copper make this even easier, pulling context from your CRM and tying it to your Google Calendar meeting. You and your sales reps can look at their leads, customer engagements and related items without even leaving Google Calendar thanks to the Copper Chrome extension.
2. Come up with a time-saving agenda
Want to slash the time spent in any sales meeting in half? Look no further than your sales team meeting agenda.
A little bit of planning for a team meeting can go a long way. Think of your agenda as a roadmap for your meeting. Highlighting specific talking points and action items cuts down on questions and tangents. This also puts some responsibility on the shoulders of your team because they understand what they need to bring to the table as well.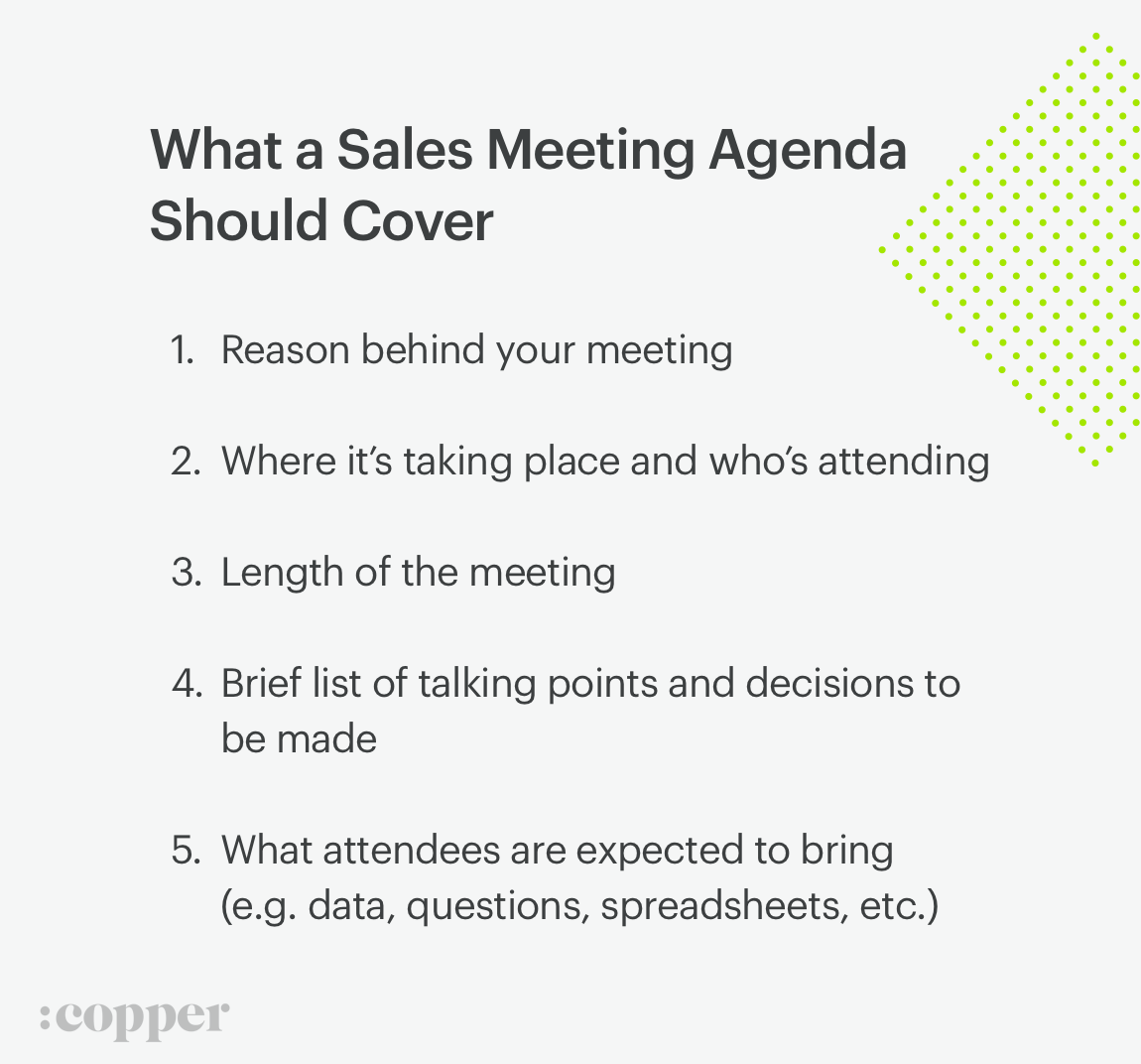 Will you be reviewing CRM data? Discussing potential business targets? Brainstorming fresh ideas? If so, let your team know beforehand.
The sooner you can send your agenda, the better. Make a point to send your agendas to attendees via email a few days in advance. This gives your attendees ample time to respond and send over any potential questions they might have. This alone can cut down on preventable back-and-forth chatter on the day of your meeting.
With an actionable agenda, your attendees know exactly what they're getting into. This translates into getting in, getting down to business, and then getting out without wasting any time. It's no wonder that detailed agendas can cut your meeting times by up to 80%.
3. Establish expectations and etiquette
If your sales meetings tend to go long or devolve into chaos, you might need to hit the reset button on how you run your meetings altogether, especially if you are a sales manager. This means explicitly addressing expectations and etiquette when preparing regular sales meetings. If you want to save time, set these expectations with your team:
Block off time to meet regularly: The most important expectation is to set aside time for a weekly meeting. Remember to keep it short so you and your team will actually meet during this time. Most meetings are 15 - 30 minutes because productivity and engagement tend to drop off after the half hour mark.
Set time limits: You don't want to squash your team's enthusiasm or discourage anyone from asking questions. But just as people are given the chance to speak, you also reserve the right to cut them off when the clock's ticking. Remember, the purpose of putting a hard time limit on your meetings is to keep things moving, not stress anyone out. Try to block out action items (for example, five minutes per bullet point on the agenda) to keep up an engaging pace.
Address the issue head-on: Having an explicit heart-to-heart with your sales team about going off-topic might be necessary. In this case, show empathy and foster a culture where team members are comfortable with providing feedback on their time.
Remote communication expectations: Google Meet discussions have different rules of etiquette than in-person meetings. Set expectations with your team like muting yourself, testing your audio and video before the call, calling in with a phone if your wifi is down or dropping questions in the chat instead of asking them aloud. This can cut down on unnecessary calls and save everyone from Zoom fatigue.
Prep or research: Ask your team to review the details for this week's meeting before they show up. Tools like the Copper Chrome Extension make this a cinch so your team can check their activity feed before every meeting.
Sure, "expectations" can sound strict. That's why it's important to frame expectations as a net positive. Let your team know that these expectations help you respect everyone's schedules and abilities instead of wasting their time in long meetings.
4. Make your meetings more engaging.
Your next sales meeting doesn't have to be a snooze-fest. If you have doubts about whether or not your meetings are up to snuff, consider this: only 36% of US workers are engaged at work. While the pandemic certainly accounted for the lion's share of discontent and stress among sales teams, lackluster meetings don't help, do they?
So, what can you do to keep your sales team from dreading your get-togethers?
For starters, don't overlook the importance of enthusiasm and positivity. Think about it: if you treat your meetings like a chore, your team will pick up on your energy.
And no, you don't necessarily need to be a stand up comic or motivational speaker to set the right tone. A common strategy for positively engaging your sales team from the start is to offer some recognition.
Sound like fluff?
44% of employees are looking for a new job because they don't feel recognized or appreciated. Highlighting a job well done (hint: look at your CRM data) or giving a quick shout-out can work wonders for your team's engagement and motivation.
A good place to start is by going over your top performers for the previous week. Copper's sales leaderboard shows your top reps by revenue, meetings set, calls made, and emails sent. It sparks friendly competition and adds a little energy to sales meetings. As a team leader, you can see all of your reps' activity in one high-level dashboard, which makes it much easier to give your team kudos for a job well done.
You can also spice up your sales meetings by:
Calling on attendees: The goal here isn't to single anyone out. Instead, consider how asking attendees questions (on their data or company goals) encourages active listening. This tactic also keeps you from doing all the talking and makes your sales meeting feel like it belongs to the team.
Roleplaying: Acting out sales scenarios and discussing "what-if's" is a brilliant exercise for your team. Roleplaying does the double duty of making your meetings more actionable while giving attendees a chance to participate.
Working in groups: If you have a lengthier sales meeting, give your team an opportunity to talk things out with each other and come to conclusions as a group. This sort of critical thinking keeps your sales team sharp.
Energize your team: Remote meetings can be a drag, especially if your sales team is in Google Meets all day. Whether you invite a llama to your next team meeting or host a mini dance party, a few fun, energetic rewards can keep your team engaged and motivated.
Switch up your setting: If your team is able to meet in person, try holding the occasional meeting beyond the walls of the office. Whether it's a lunch meeting or team-building activity offsite, a change in environment can breathe new life into your get-togethers.
The takeaway here is that your sales meetings don't have to look the same week after week. Evolving your format and approach keeps people on their toes. Bringing in new, engaging activities also cements the expectation that they'll participate in the process.
5. Solidify your next steps.
There's nothing worse than spending 30 minutes on a meeting and thinking, "Okay, now what?" This is why all sales meetings need to result in some kind of action.
In other words, each team member should walk away from the team meeting with an understanding of what they should do next. For example, maybe that means they need to hit a certain sales target or put together a report for next week's meeting.
Take detailed sales notes during the meeting and end with a quick recap and confirmation from your team. This shows that your meeting was successful and sets the stage for the next one. As a refresher, you can also email your attendees meeting notes or reference your last meeting in your next agenda.
Ready to step up your next sales meeting?
Bottom line: you don't need to treat sales meetings as some sort of necessary evil. Implement these 5 sales meeting ideas to engage your team and get down to business. With a dash of purpose and a smidge of interaction, you can create meetings with your sales team that are not only useful, but even enjoyable.
Tools like Copper make sales meetings less of a drag, too. See all of your reps' sales data within Google Calendar and add more context to your meetings with the Copper Chrome extension. Work with fewer interruptions and make sure your team shows up effortlessly prepared for every meeting. Try Copper free for 14 days.