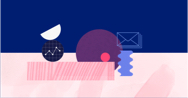 Sales Bootcamp
Learn how to generate more leads and revenue right from your inbox.
Managing your leads is no easy task.
The process involves many moving parts, and involves both the sales and marketing teams. That's why having a clearly defined lead management process is essential: otherwise, you risk losing valuable time—or worse, valuable leads.
X
Try an actually easy-to-use CRM for free.
Manage all your contacts, deals, emails, files, and more in one place.
By signing up, I agree to Copper's privacy policy & terms of service.